Balance Matters: Counseling, a first encounter of the helpful kind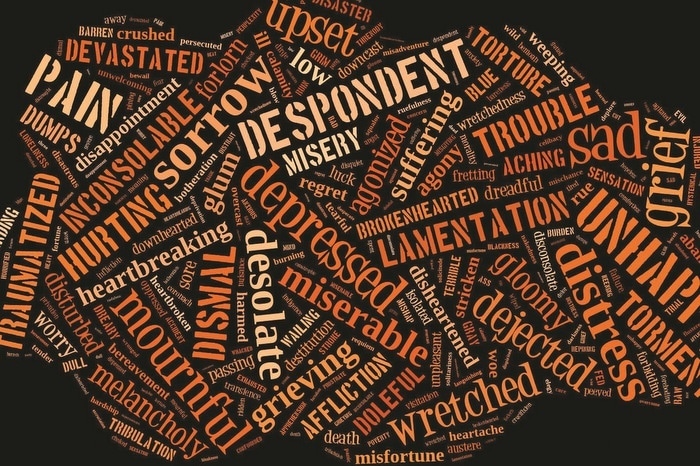 PHUKET: Roughly one out of 15 people are affected by poor mental health at least one time in their life, but many don't realize that they need help, that help exists, how it works or indeed how to find it. Most of us have heard of counseling (also referred to as therapy or psychotherapy), but that doesn't help people understand what counseling is or what to expect.
Just to get the ball rolling, let me paint a fictional example for you of a scenario I have seen many times over the years.
Susan, James and their son Charlie, moved to Phuket last year amid great excitement and expectations about living in an island paradise. At first, everything was new, exciting and fun and James advanced his career in the company. Soon, however, James was spending less and less time at home and Susan was left to cope with raising a child in a foreign land while building a social network.
When James was home, he just wanted to relax and enjoy Phuket. The two soon began to quarrel – something that Charlie had never seen before. Charlie began to act up in school, which then led to more tension at home. Within nine months of moving here, life in their island paradise was beginning to tear the family apart.
The school suggested Charlie see a counselor. It soon became clear that Charlie's issues were not purely his own and that the parents' participation was critical; not only for Charlie but for their own happiness as well. The counselor held sessions with Charlie alone, then individually with each parent and together, and then finally with the family as a whole.
Everyone in the family learned a lot about themselves as people and also how their actions, words and attitudes affect the other family members. The counselor helped the family prioritize their issues and deal with them in a constructive manner. Susan and James were pleasantly surprised to see that their counselor remained neutral throughout the process and allowed them to individually air their views without interruption. For the first time in months, Susan and James were able to address their problems by expressing how they truly felt. Eventually, life became easier and the family bond strengthened to the point where they could thrive together and individually.
This is what counseling is. It provides a safe, confidential place to talk about issues in your life. It is a process whereby client and counselor come together to create a strong therapeutic relationship to enable effective changes in the life of the client or enhance their well-being.
Some individuals come for counseling because they are finding life events difficult to deal with, such as relocation to Thailand, divorce, bereavement or health issues. Others want to improve their relationships, better understand themselves or to reduce particularly disruptive behavior. Children and adolescents may attend counseling because of a change in their behavior due to bullying, friendship issues, excessive worry, fear or anxiety, sibling issues, parental separation or divorce, or exam preparation.
Most counselors work with clients face-to-face. Other counselors are available for consultation over the telephone, online, or in a group. Whichever setting you and your counselor decide upon, it is valuable to be aware of what to expect during your first encounter.
The first session explores what you feel you are coming to counseling for, what you would like to achieve during the sessions and agreeing on how you will both work together. In some cases you may not have any idea of what you are coming for and what you hope to get out of it. This is perfectly okay.
Your counselor should make you feel able to relax and not feel pressured or rushed and will ask you a number of questions to assess how you can work together.
Rita Dobson, MBPS, BACP, is a professional counselor with a graduate diploma in psychology and an MA in counseling from Monash University. Rita has lived in Southeast Asia for more than 20 years. She has been working with youths in community centers, schools and young offenders' institutions, as well as supporting their families. Rita can be reached at rita@balancegroup.asia

— Rita Dobson
Keep in contact with The Thaiger by following our
Facebook page
.
21% of Thai teenagers are gambling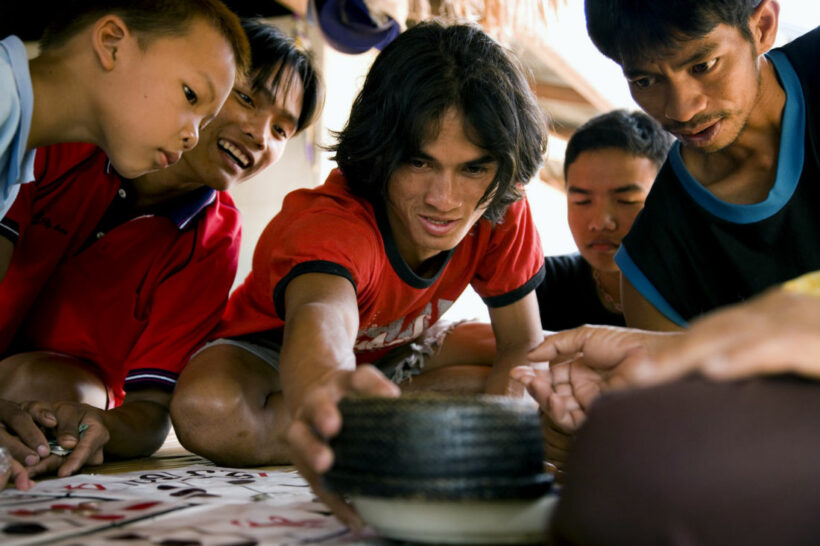 PHOTO: Gambling, local style, Rai Et, north-east Thailand – Pinterest
Early in October the Thai Health Promotion Foundation met to discuss the gambling situation in Thailand in 2019. Also present were the Centre for Gambling Studies, Stop Gambling Foundation and related groups.
The meeting was set up after a report revealed that more than half (57%) of the Thai population, or 30.42 million people, gamble. The director-general of the Centre for Gambling Studies at Chulalongkorn University shared the report, which was based on data from a survey of 44,050 people across 77 provinces.
The figure is an increase of 1.49 million people from 2017. While most Thai gamblers are of working age, 2.4% of the total were aged between 15-18 years. This means that 21% of that age group are gambling.
According to California's Council on Problem Gambling, youth, like everyone else, gamble for many reasons, including entertainment; socialisation; competition; loneliness, and boredom; to get rich quick; to impress others; be the centre of attention; make new friends, and because winning provides an instant, temporary boost of confidence.
"The California Council on Problem Gambling lists depression as one reason youth turn to gambling, noting that depression can just as easily be an effect as a cause. This is especially important to note in a country like Thailand."
In an article in The ASEAN Post, it was noted that in December 2017, Thailand's Department of Mental Health (DMH) reported that an estimated one million teenagers are believed to suffer from depression, many of whom go untreated, with two million more are at risk, making upward of three million among a population of eight million teens then.
The DMH said that stress and anxiety may affect a student's ability to concentrate and perform well at school, and they may show several warning signs, such as lack of attention, loss of interest in daily activities, lethargy, sadness, and sleeping issues.
"It is clear from studies that depression and gambling go hand-in-hand: the unfortunate case in Thailand is that it is affecting children too."
SOURCE: The ASEAN Post
Keep in contact with The Thaiger by following our
Facebook page
.
Professor: Military government too interested in tourism – not people's welfare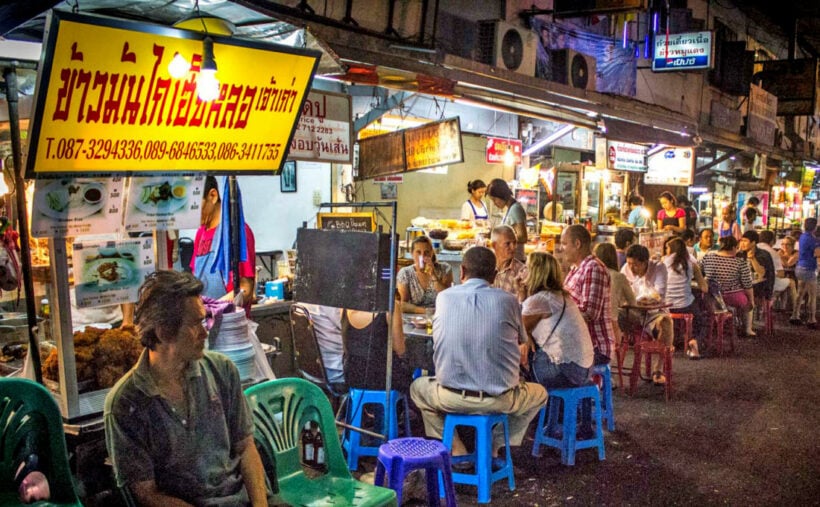 A professor of Rangsit University has criticised the previous military government for focusing too much on tourism and not enough on the welfare of the Thai people. The professor was speaking at Chulalongkorn University at a seminar discussing street stalls and urban development.
She questioned the National Council for Peace and Order's policy of clearing street vendors in all but a few areas such as Yaowarat and Khao San Road that mainly cater to tourists.
She claimed that the NCPO – in power since the coup of 2014 until this year's election – was more interested in economic development through tourism than in the welfare of the public.
Having affordable street food options was not just about tourism, she said, it was vital for poor workers who have migrated from the countryside, adding that it was part of an informal rather than a formal economy.
"For years people had earned their living from selling goods and services, including food, on the streets."
This in turn provided an affordable option to eat for workers who came to Bangkok on for large investment projects. The issue, she said, was not just about tourism but the wider economy that might benefit.
The professor noted that CNN had once called Bangkok the best place in the world for street food but this had changed with the sanitized food trucks that have appeared since stalls and vendors were banned from most areas.
The Thaiger notes that banning street vendors has divided the capital. Many are happy that the sidewalks are easier to navigate, but others – including tourists – have said that the lifeblood and character of the city has suffered.
SOURCE: Naew Na | ThaiVisa Forum
Keep in contact with The Thaiger by following our
Facebook page
.
Journey back to Tham Luang in 'The Cave' – VIDEO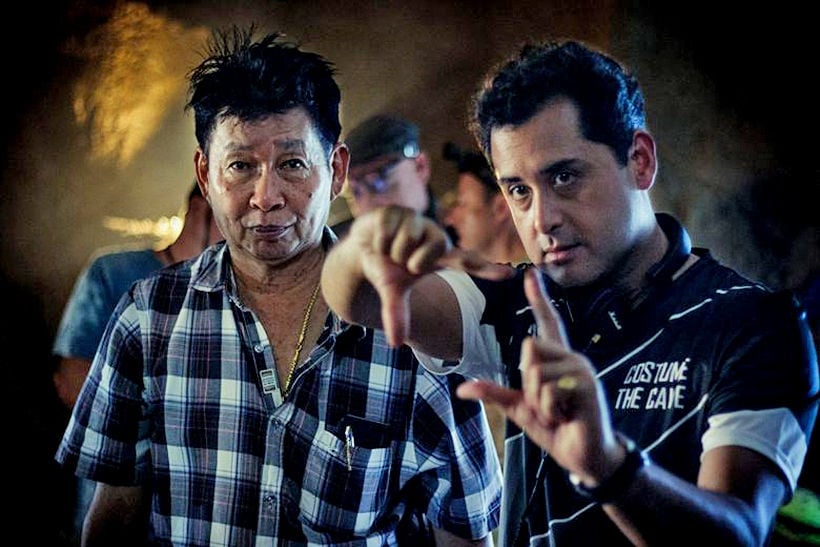 PHOTO: Tom Waller on site during the filming of The Cave – AFP
Determined divers racing against time. Rising waters threatening lives. 12 teenagers and their soccer coach trapped inside for two weeks. A remote cave that most had never heard of.
The stuff of a Hollywood drama, except that it's all true and happened in Chiang Rai last year. Now the first of several re-tellings of the story comes to the big screen in The Cave.
The ordeal in late June and early July last year had barely ended when filmmakers began their own race to get the nail-biting drama onto cinema screens. The first of those projects premiered at the start of October, when director Tom Waller's The Cave showed at the Busan Film Festival in South Korea.
The film was shot over three months earlier this year and has been in post-production since then. The 45 year old Thai-British filmmaker says the epic tale of the Wild Boars (Mu Pa) football team was a story he simply had to tell.
"I took the view that this was going to be a story about the people we didn't know about, about the cave divers who came all the way from across the planet."
The 13 young men entered the Tham Luang cave complex after soccer practice and were quickly trapped inside by rising floodwater. The boys were forced to spend nine nights lost in the cave, whilst Navy Seal and other diver searched frantically, before they were spotted by a British diver.
It would take another eight days before they were all safe, against all odds, in a risky mission.
Waller was visiting his father in Ireland when he saw television news accounts of the drama.
"I thought this would be an amazing story to tell on screen."
But putting the parts together after their dramatic rescue proved to be a challenge. Thailand's government, led by the military NCPO, became very protective of the story, barring unauthorised access to the Mu Pa team or their parents. Waller often feared his production might be shut down.
His good fortune was that the events at the Tham Luang cave in Chiang Rai province had multiple angles and interesting characters. Especially compelling were the stories of the rescuers, particularly the expert divers who rallied from around the world. He decided to make a film "about the volunteer spirit of the rescue."
Other people proposed telling the story from the point of view of the boys, and Netflix nailed down those rights in a deal brokered by the Thai government.
"I took the view that this was going to be a story about the people we didn't know about, about the cave divers who came all the way from across the planet. They literally dropped everything to go and help, and I just felt that that was more of an exciting story to tell, to find out how these boys were brought out and what they did to get them out."
Waller even had more than a dozen key rescue personnel play themselves.
Waller said they were natural actors, blending in almost seamlessly with the professionals around them, and helped by the accuracy of the settings and the production's close attention to detail.
"What you are really doing is asking them to remember what they did and to show us what they were doing and what they were feeling like at the time. That was really very emotional for some of them because it was absolutely real."
Waller says his film is likely to have a visceral effect on some viewers, evoking a measure of claustrophobia.
"It's a sort of immersive experience with the sound of the environment, you know, the fact that is very dark and murky, that the water is not clear."
"In Hollywood films, when they do underwater scenes, everything is crystal clear. But in this film it's murky and I think that's the big difference. This film lends itself to being more of a realistic portrayal of what happened."
Some scenes were filmed on location at the entrance to the actual Tham Luang cave, but most of the action was shot elsewhere.
"We filmed in real water caves that were flooded, all year-round. It is very authentic in terms of real caves, real flooded tunnels, real divers and real creepy-crawlies in there. So it was no mean feat trying to get a crew to go and film in these caves."
The Cave goes on general release in Thailand on November 28.
ORIGINAL ARTICE: Associated Press | Time.com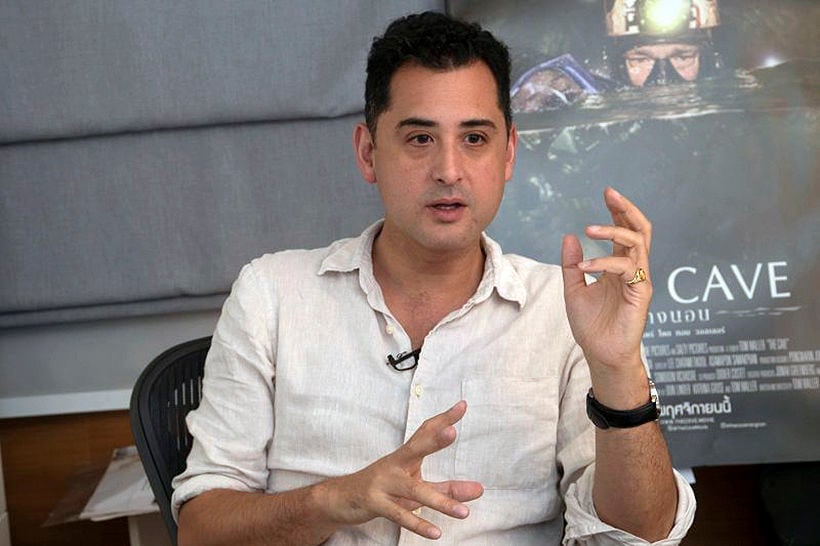 PHOTO: Tom Waller – Associated Press/Sakchai Lalit
Keep in contact with The Thaiger by following our
Facebook page
.