A very Asian tale "Crazy Rich Asians" opens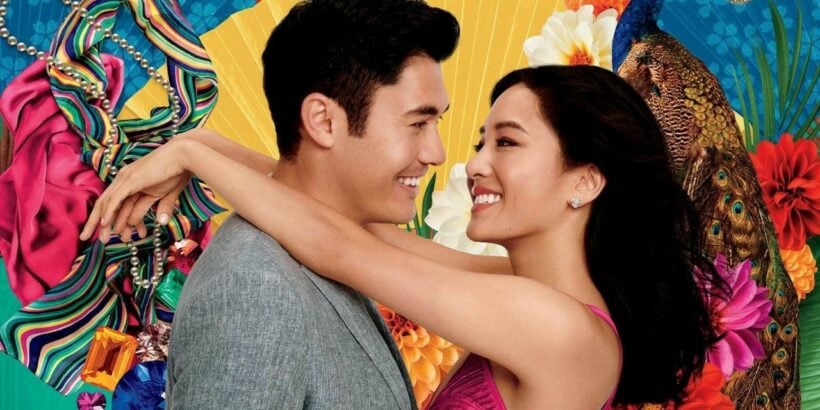 "The last high-profile Hollywood film with an all-Asian cast was The Joy Luck Club released in 1993."
By The Star, Asia News Network, Kuala Lumpur
It was a sweltering night in Singapore and the production of Crazy Rich Asians was in the last leg of filming. Director Jon M. Chu was sweating buckets and it's not entirely because of the humid weather.
Chu, who has worked on big budget Hollywood sequels like G.I. Joe: Retaliation and Now You See Me 2, said Crazy Rich Asians presented a whole new set of challenges for him.
Check out the Hollywood premiere of Crazy Rich Asians.
"Sometimes dressing people up for a wedding takes a lot more effort than filming ninjas on a mountain," Chu shared briefly on the set of Crazy Rich Asians, before rushing back to finish another scene.
Members of the media were observing the filming of an emotionally-charged moment featuring Rachel (Constance Wu, TV's Fresh Off The Boat) screaming into the night. In the scene with her were Tan Sri Michelle Yeoh and veteran actress Lisa Lu.
Some context: The ladies were all dressed to the nines for a high society wedding. At a later interview, Wu did not want to talk about how she prepared for that screaming scene.
"It's just actor stuff. If I have to tell you, it would be like I'm telling you how to fix a car, it's just boring," 36 year old Wu said with a laugh. Mind you, she had to do that scene over and over again just to get it right.
The truth is, there is nothing boring about what her character Rachel goes through in Crazy Rich Asians.

For the love of money
Rachel is an Asian-American economics professor living in New York with her charming boyfriend Nicholas Young (Henry Golding). One day, Nicholas invites her back to his country, Singapore, to attend his best friend's wedding.
It is only then that she finds out that her boyfriend is from a wealthy and well-connected family. Just how wealthy is this guy? Think crazy rich.
Based on the book by Kevin Kwan, Crazy Rich Asians is said to be inspired by real families and wealthy personalities in Asia. Kwan goes into specific details on what the rich do when they have too much money. From buying a hotel just to get rid of a snobby manager to hiring the Vienna Boys' Choir for a wedding, nothing is off-limits for the ultra-wealthy characters in the book.
However, Kwan won't divulge who these actual crazy rich Asians are.
"Nicholas is from this old money family. Wealth is passed through generations. He is very acutely aware that he is the heir to the riches that his family holds," Golding, 31, said about his character.
It's one thing to be rich but to be dating someone who is not from the same exclusive social circle? Oh, the madness.

Financial security
56 year old Yeoh steps in as Eleanor, Nicholas' mother and respected (think feared) matriach of the Young family. Eleanor makes it clear that she does not approve of Rachel. To be fair, she's just like most mothers with an only child who is set to inherit the family fortunes; tiger mum becomes (over)protective.
So, Eleanor hatches a plan to sabotage the relationship between Rachel and Nicholas.
"Eleanor would do anything for her son. She would die for him. And the thing is, she's not afraid to tell him all that," Yeoh laughed while explaining her character's motivation.
But that's not the craziest thing about Crazy Rich Asians. The fact that Hollywood is making a contemporary romantic comedy featuring Asians in leading roles is something unheard of.
Wu noted: "We've never had a studio movie with an all-Asian cast that was not a period piece."

Rich in diversity
The last high-profile Hollywood film with an all-Asian cast was The Joy Luck Club released in 1993. Wu lamented that Asians don't often get to be seen in a Hollywood film with a modern setting.
"Like, why don't we see Asians using cellphones? It's a way to include Asians in the current conversation by showing them in a contemporary context. We are here. Our stories matter and that to me is really groundbreaking," she said.
Other Hollywood cast members in Crazy Rich Asians include Ken Jeong (The Hangover), Awkwafina (Ocean's 8), Gemma Chan (Transformers: The Last Knight) and Sonoya Mizuno (La La Land).
From this region, expect to see the likes of Ronny Chieng, Pierre Png, Carmen Soo, Tan Keng Hua and Fiona Xie on screen. Hollywood newbie Golding described filming for Crazy Rich Asians as "insane" (his pun, not ours). Producer Nina Jacobson said they were looking for someone like Cary Grant to play Nicholas.
"There's a sense of class and elegance to Nicholas. At the same time, he's also down to earth. It was hard to find all those things."
"Henry did amazingly well on his screen test and he had all those qualities that we were looking for," Jacobson explained why the studio went with a newcomer.
While Golding has made Malaysia proud, his casting also stirred some controversy. There were those who noted how Golding was not "Asian enough" for the role seeing that he is part European.
Instead of dwelling on the backlash, Golding said he is proud to represent a part of South-East Asia that is mostly unknown to his Western counterparts.
"We have such a melting pot of identities in South-East Asia and that is something to be proud of. It's really important that we make this film. We're breaking boundaries and that is the most important takeaway," he said.
Value for money
Despite its very specific setting, Jacobson believes Crazy Rich Asians has stories that will resonate globally.
"We have a great universal story for anyone who has been rejected by their in-laws or people who have their foot in two different cultures," she said.
She also identified with Rachel as someone who is fascinated by a strange yet familiar new world.
"When I first read the book, I couldn't put it down. The expectations on Nick from his family was relatable. The story felt fresh and new. It took me to somewhere that I wanted to go," Jacobson said.
Will Nicholas' love for Rachel triumph over his family money?
Yeoh said you can't live on love alone: "When you're in love, you say you don't need money or you don't need anything (else). When love cools down and reality sets in, then what? Love is not bread and butter. You have to be sensible."
Yeoh saw Crazy Rich Asians as more than just a story about unimaginable wealth.
"It's also about the responsibilities of a family. Many people depend on them (Nicholas' family) for their livelihood. It's not just about them getting rich, it's also about the community.
"It's good to have money but it's what you do with it that really counts," she concluded.
And that token of wisdom is priceless.
STORY: The Nation
Keep in contact with The Thaiger by following our
Facebook page
.
Never miss out on future posts by
following The Thaiger
.
K-Pop fans show their support for the young Thai protesters, donate 3 million+ baht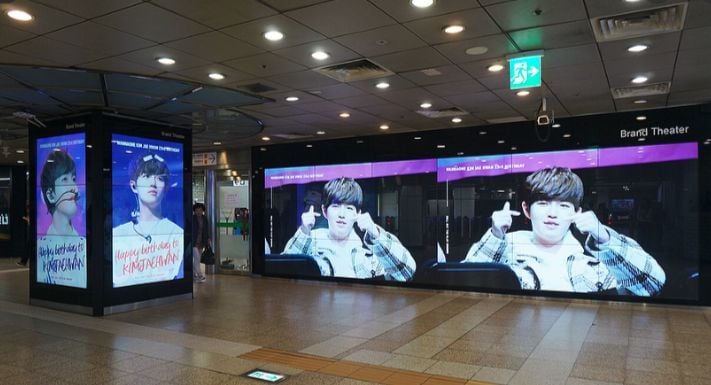 Art meets politics again, this time with hundreds of thousands of K-Pop fans raising funds in support of the growing student protest movement in Thailand. So far they've raised more than 3 million baht (as of 10am this morning) but the amount is rising quickly as Thai and overseas K-Pop fans respond. The most popular band in Thailand at the moment is BTS, the South Korean septet which is currently the most popular band in the world (as of today BTS commands the Number 1 and Number 2 positions on the US Billboard singles chart).
BTS fans have so far been the largest contributors donating funds to the protest cause.
The BTS Thailand page, not to be confused with the BTS Skytrain, is urging K-pop fans to stop the practice of paying for billboards in support of their favourite idols and to celebrate the birthdays of the 7 members. RM, Jin, Suga, J-Hope, Jimin, V and Jungkook issued a statement on their fanpage asking fans to stop funding the BTS and MRT "inconvenienced protesters and normal citizens from getting home and putting them in danger".
Bangkok's two main rail systems were closed down over the weekend as police and protesters played a cat and mouse game. The protesters were withholding the announcement of protest locations to the last minute whilst police second-guessed their moves, ending up in mass inconvenience for the wider public in shutting down the entire network, including the Airport link.
"We're calling Armys and other fans to stop buying ad projects with the BTS and MRT." ("Army" is the name of BTS fans.
Fans of K-pop groups as well as other "idol" groups often pool their resources to purchase display ads in the MRT and BTS stations wishing their stars happy birthday or on other significant anniversaries.
It's thought that many more millions of baht will be raised by the K-Pop fans in the next few days.
The young Thai protesters are tapping into a strong social media network, and have "weaponised" the social media and messaging platforms. The main App they are now using, to communicate their intentions, is "Telegram", developed by a young Russian couple but now operating out of Germany. The App features encypted messages, impossible to track, and has 400 million monthly active users.
Telegram is a cloud-based instant messaging, video telephony and voice over IP service with end-to-end encryption for secret chat only, whereas Cloud chat uses client-server/server-client encryption and its messages are stored encrypted in the Telegram Cloud – Wikipedia
Meanwhile, other K-Pop acts that have mobilised their fans win support include Girls' Generation, GOT7, NCT, WannaOne, Nu'est, X1, Day 6, Red Velvet, MonstaC, Woodz, Shinee, Super Junior and R1se. We're sure the fans of Black Pink are also contributing but didn't have their figures available at the time of publishing. Fans of popular Thai actors and celebrities are also donating to the pool.
Keep in contact with The Thaiger by following our
Facebook page
.
Never miss out on future posts by
following The Thaiger
.
Rock star Eddie Van Halen loses cancer battle – VIDEO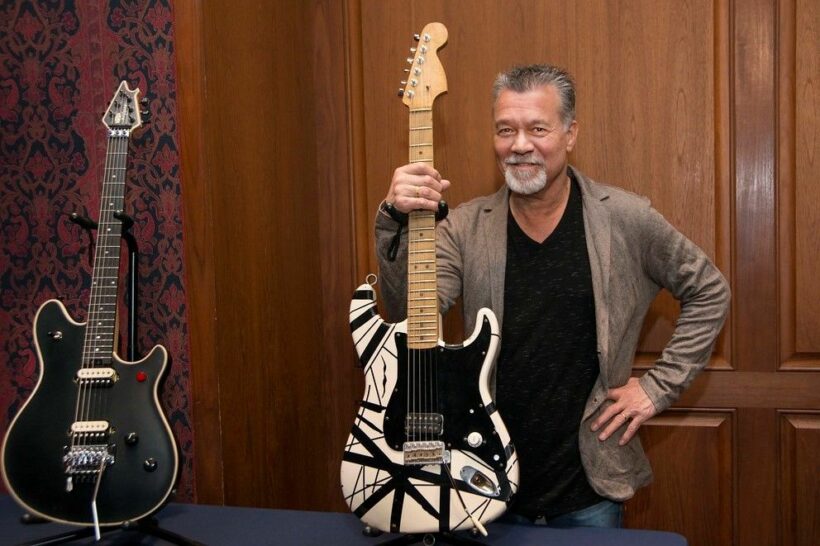 Rock icon Eddie Van Halen has died, after losing a long battle with cancer. His son, Wolfgang Van Halen, took to Twitter to announce the death of his 65 year old musician father.
"I can't believe I'm having to write this, but my father, Edward Lodewijk Van Halen, has lost his long and arduous battle with cancer this morning. He was the best father I could ever ask for. Every moment I've shared with him on and off stage was a gift. My heart is broken, and I don't think I'll ever fully recover from this loss. I love you so much, Pop."
Born Edward Lodewijk Van Halen in the Netherlands, Eddie Van Halen's family moved to California when he was 6 years old. Eddie took piano lessons from a young age and went on to become one of the world's biggest rock stars, forming the band Van Halen with his brother Alex and singer David Lee Roth. The band had numerous hits, including their most successful single, Jump, released in 1983.
Tension between Van Halen and singer Roth saw the latter leave the band in 1985, but he returned for a 2007 reunion tour. A 2012 tour had to be cancelled due to Eddie Van Halen's health problems, but a 2015 tour of North America was able to go ahead.
Eddie Van Halen had a well-documented history of alcohol and drug abuse and several health problems that impacted negatively on his work. The alcoholism and drug addiction were major contributors to his divorce in 2007 after a 16 year marriage to actress Valerie Bertinelli. In 2015, he spoke out about his addictions and the effect they had had on him personally and professionally.
"I was an alcoholic, and I needed alcohol to function. I didn't drink to party. Alcohol and cocaine were private things to me. I would use them for work. The blow keeps you awake, and the alcohol lowers your inhibitions. I'm sure there were musical things I would not have attempted were I not in that mental state."
In 2000, a year after undergoing hip surgery, he was diagnosed with tongue cancer following years of smoking. The diagnosis led to him having part of his tongue removed. In 2002, he was declared cancer-free, but the illness subsequently re-surfaced and he was reported to be receiving treatment again last year.
Tributes from some of the biggest names in the music world poured in Tuesday following news of his death.
From Black Sabbath's Tony Iommi…
"I'm just devastated to hear the news of the passing of my dear friend Eddie Van Halen. He fought a long and hard battle with his cancer right to the very end. Eddie was one of a very special kind of person, a really great friend. Rest In Peace my dear friend till we meet again."
From Yusuf/Cat Stevens…
"Sad to hear Eddie Van Halen has passed away. A guitar innovator with a fierce spirit of musical and technical exploration. Prayers and thoughts with his family and friends."
US songwriter Diane Warren said in a tweet that "guitars are gently weeping everywhere. Shred In Power Eddie Van Halen."
The rocker is survived by his second wife Janie Liszewski and his son, as well as his first wife Bertinelli.
SOURCE: Bangkok Post
Keep in contact with The Thaiger by following our
Facebook page
.
Never miss out on future posts by
following The Thaiger
.
Khao San Road to reopen for Halloween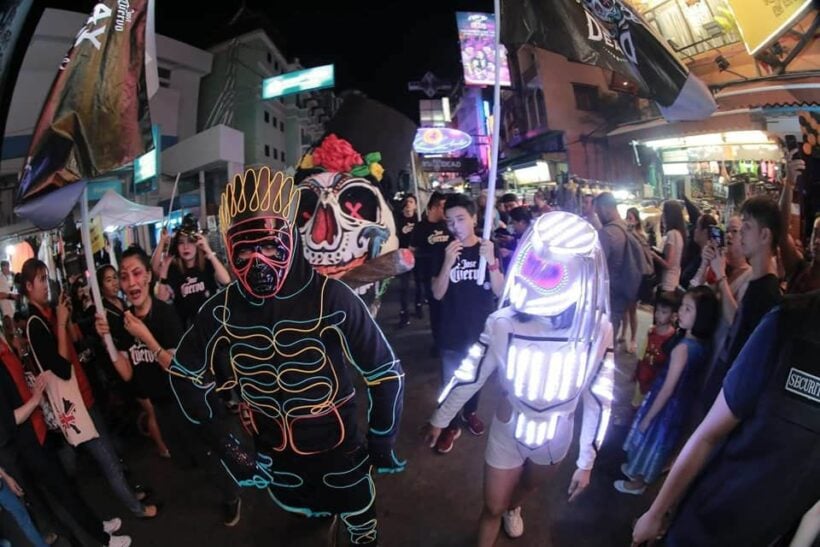 The party is coming back to Khao San Road this Halloween. The once booming backpacker district went through a renovation during the lockdown period and now the Bangkok governor says they're ready to reopen the street.
Khao San Road has long been a district frequented by foreign backpackers. It's known for it's grungy and lively bar scene as well as its eccentric mix of street food, like scorpion on a stick. During the lockdown, 48.4 million baht was put into the streets for major renovations like leveling out the road and footpaths, adding some gutters and designating space for emergency vehicles.
Bangkok governor Aswin Kwanmuang says a Khao San Road Halloween party to help stimulate travel. There was talk about removing street vendors from Khao San Road, but the idea got a lot of backlash. Luckily, street food will stay put and 240 food vendors will be set up along the street from 9am to midnight for the Halloween weekend.
Khao San Road will also run a street market and set a stage for performances on the November 28 and 29 as well as News Years weekend, according to Nation Thailand.
Aswin says events are also planned for Loy Krathong and New Years. The area around the street was so packed during last year's New Years, that streets and alleyways were more like mosh pits. Phones were stolen, fights broke out. It was a mess.
Loy Krathong happens every year on the 12th month of the Thai lunar calendar. People make offerings for the water goddess and ask for forgiveness. A krathong is usually made of banana stems, leaves, flowers, candles and incense sticks. It's then floated down a river.
Khao San Road isn't known as a place where people ask for forgiveness, but apparently Loy Krathong will be celebrated along with other cultural events, according to Coconuts Bangkok. Loy Krathong happens to fall on Halloween this year.
SOURCES: Coconuts Bangkok | Nation Thailand | Bangkok Post
Catch up with the latest daily "Thailand News Today" here on The Thaiger.
Keep in contact with The Thaiger by following our
Facebook page
.
Never miss out on future posts by
following The Thaiger
.