The 'flat-earth' business is going global. Ummm, hang on…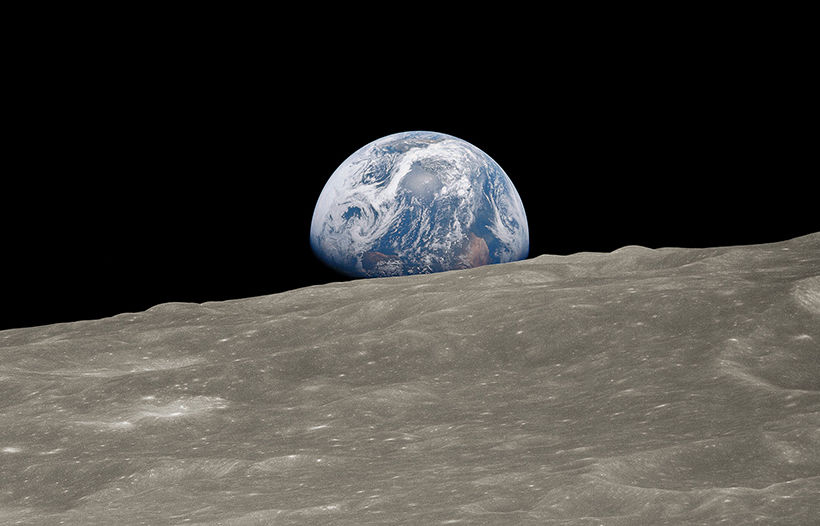 PHOTO: 'Earthrise' taken by Apollo 8 astronaut William Anders in December 1968 – NASA
Last week saw the running of the third annual Flat Earth International Conference, held in suburban Dallas, Texas. The conference attracted around 600 die-hard flat-earthers – people that actually believe that the earth isn't spherical, it's a flat plate floating in space. Actually many of the adherents believe that 'space' and even gravity don't exist either.
Conferences in the past have been in Raleigh and Denver. Brazil, Britain and Italy have also held flat-Earth conventions this year.
The flat-earth 'business' is starting to become a 'thing', with some YouTubers making a very profitable living out of making videos full of conspiracies and 'evidence' of a flat world, that attract millions of views.
A YouGov survey of more than 8,000 American adults last year indicated that as many as 1 in 6 Americans are not "entirely certain the world is round". And a 2019 Datafolha Institute survey of 2,000+ Brazilians showed only 7% of people reject the concept of a flat earth.
Back in Dallas speakers were finishing off their PowerPoint presentations with topics… "Space is Fake" and "Testing The Moon: A Globe Lie Perspective."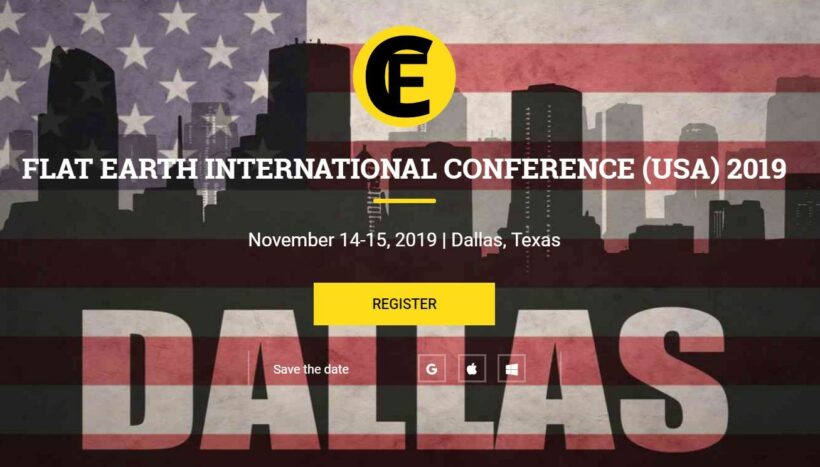 On a clear day, and if you're flying very high, up around 40,000 feet, the curvature of the Earth can be seen from your seat in a conventional jet. When the Concorde was flying it was the one common theme all passengers remarked about – that you can see the curvature of the horizon. But the people attending the conference in Dallas, many of them who flew on a plane to get there, think it's all fake.
Modern flat Earth societies are organisations that promote the belief that the Earth is flat rather than a globe. Such groups date from the middle of the 20th century. Some adherents are serious and some are not. Those who are serious are often motivated by pseudoscience or conspiracy theories.
Flat Earth advocates, like David Weiss claim, without evidence, there are millions of closet flat-earthers, including Hollywood A-listers, commercial airline pilots and scientists. Ever since David tried and failed to find proof the Earth is a sphere four years ago, he's believed, with passion, that our world is not only flat but stationary.
Several more scientifically-minded entrepreneurs have set up funds to debunk this flat-earth nonsense. Some flat-earthers asserted they will have to have a mission to the 'edge' of the flat earth (aka. Antarctica) so they can prove their claims. They have been offered millions to venture to the 'edge' but no flat-earthers have taken the money to complete an expedition to 'prove' the world is a flat plate.
Mike Hughes, a self-confessed daredevil and flat-Earth supporter, used a homebuilt manned-rocket in an attempt to see for himself if the Earth is flat on March 24, 2018. His scrap metal rocket was estimated to have cost $20,000. He used a mobile home as a custom launchpad managed to climb 1,875 feet (571 metres).
Hughes strapped himself inside, launched, but ended up with a hard landing with the crafts' parachutes deploying successfully but not working very well because of the low-altitude reached. The rocketeer was not seriously injured and continues to maintain his flat Earth beliefs. He claims that real evidence will come with "larger rockets". Mike would have had to reach a height of around 10-15 kilometres to see the curvature of the earth.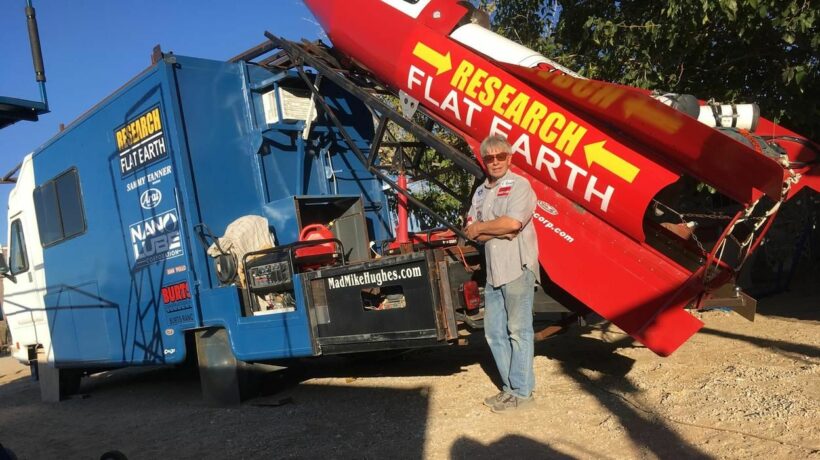 According to flat-earthers, the 'reality', is that the flat 'earth plate', sun, moon and stars are contained in a "Truman Show"-like dome. Photos of the Earth from space, (you can monitor some satellite feeds 24/7 on the internet), photos of 'earth rising' taken from Apollo missions to the moon, Astronaut testimony, daily pics from the International Space Station, 6th grade science experiments with clocks and sun-dials… etc. All a conspiracy, all doctored 'evidence'. Or Photoshopped.
According to the organiser of the Dallas conference, Robbie Davidson, the mainstream flat-earth community believes that space does not exist, the world sits still and the moon landing was faked. Most believe the planet is a circular disk with Antarctica acting as an ice wall barrier around the edge. Gravity, apparently, is also an 'illusion' according to many of the flat-earth adherents.
It has actually been known that the Earth was round since the time of the ancient Greeks. Pythagoras reasoned that if the Moon was round, then the Earth must be round as well. After that, sometime between 500 BC and 430 BC, a Greek called Anaxagoras determined the true cause of solar and lunar eclipses – and then the shape of the Earth's shadow on the Moon during a lunar eclipse was also used as evidence that the Earth was round.
Around 350 BC, Aristotle declared that the Earth was a sphere (based on observations he made about which constellations you could see in the sky as you travelled further and further away from the equator) and during the next hundred years or so, Aristarchus and Eratosthenes actually measured the size of the Earth.
Many flat-earthers at the conference, not content with just one ludicrous conspiracy theory, usually believe many of the other conspiracy theories still floating around the dark corners of the internet as well. At Dallas there were also plenty of of anti-vaxxers, 9/11 'truthers', Illuminati subscribers, 'the-moon-landing-was-fake' believers, the British Royal Family, the Rockefellers and the Rothschilds 'run the world'.
Robbie Davidson says "they're all in on it!"
Earlier this year, YouTube started burying a lot of flat earth videos that made 'outrageous claims' and reduced recommendations of "borderline content".
But new flat-earth content keeps attracting millions of clicks on YouTube and new postings often go viral.
The flat-earthers have made NASA their 'bad guy' and claim they're in on the conspiracy. You can read NASA's commentary about the actual shape of the earth HERE.
Keep in contact with The Thaiger by following our
Facebook page
.


Find more SE Asian News courtesy of The Thaiger.

Broke? Find employment in Southeast Asia with JobCute Thailand and SmartJob Indonesia. Rich? Invest in real estate across Asia with FazWaz Property Group or get out on a yacht anywhere with Boatcrowd. Even book medical procedures worldwide with MyMediTravel, all powered by DB Ventures.

British diver's lawyer claims jury blundered in Elon Musk defamation trial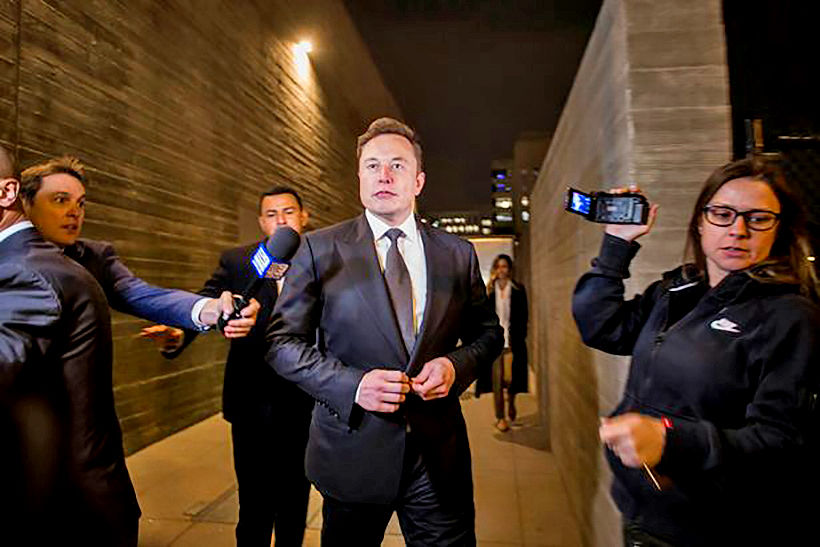 PHOTO: Getty Images
"That is a serious problem. It doesn't matter whether you're a bullying billionaire or a penniless troll, that behaviour is ­destructive." – Vernon Unsworth's lawyer, Mark Stephens
Elon Musk could face a retrial in his defamation case after a lawyer for the British cave diver Vernon Unsworth, based in Chiang Rai, claimed the jury blundered. The Tesla founder had a spat with diver Vernon Unsworth over the rescue of 13 young men trapped in the flooded Tham Luang cave in June and July last year. Read The Thaiger story of the trial verdict HERE.
In a Twitter spat in July last year, the US Tech-guru branded Vernon as the "pedo guy". Vernon had criticised Elon's offer of an 'escape tube' saying it was (paraphrasing) impractical and just a 'vanity project' by the American tech crusader – the founder of Space X and Tesla electric cars.
At the time Vernon branded Elon's gesture a "PR stunt", telling him to "stick his submarine where it hurts".
On Friday Elon Musk told the court the phrase "pedo guy" was a common slur in South Africa where he grew up. But Vernon claimed the remarks were effectively "a life sentence without parole", saying the defamatory comment would 'stick' even though Elon later retracted them.
Vernon Unsworth made a claim for US$190 million in damages but Elon Musk was cleared of the defamation suit last Friday.
Now Vernon's lawyer, Mark Stephens, claims post-verdict interviews with jurors show they decided the tycoon was not liable because he did not name Mr Unsworth in his tweet, according to an article in the mirror.co.uk.
Mr. Stephens claims the jurors made a mistake that could set a dangerous precedent for future 'Twitter' based defamation cases.
"We all know jurors make mistakes on occasion."
SOURCE: mirror.co.uk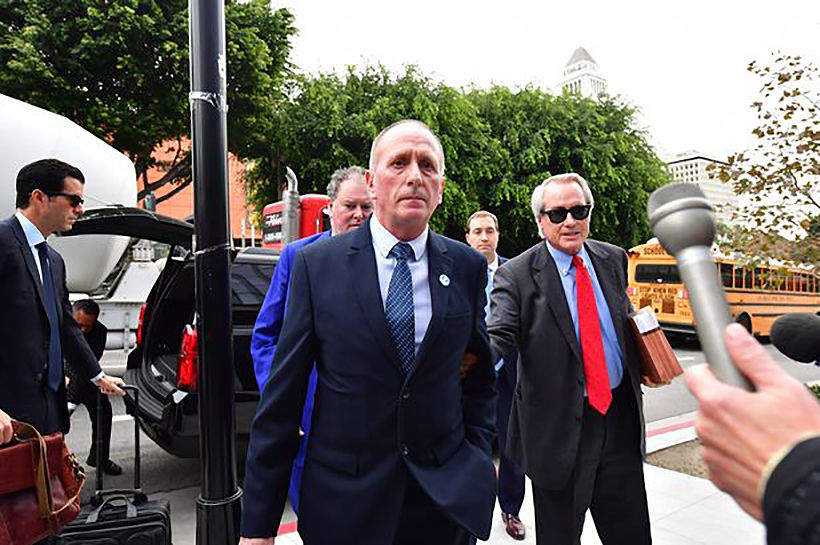 PHOTO: Vernon Unsworth arrives for the trial verdict last Friday – Getty Images
Keep in contact with The Thaiger by following our
Facebook page
.
You introduce new visa requirements? We don't send any tours." – Taiwan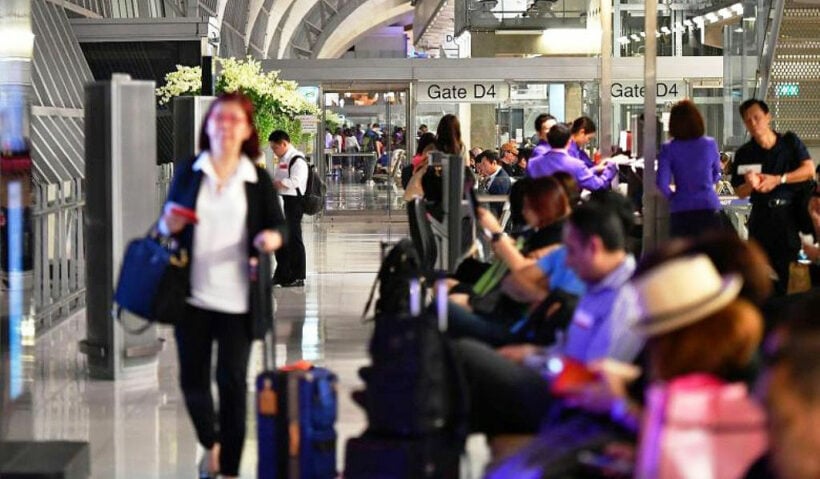 PHOTO: Chiang Rai Times
"This is not the first time the Thailand Trade and Economic Office has come under fire for enforcing unpopular policies that were introduced without a lot of thought."
It's now emerged that the proposed requirement for Taiwanese tourists to submit financial statements to obtain a Thai visa happened after the Travel Agents Association of Taiwan threatened to boycott tours to Thailand. Nothing like a threat of tourist numbers to convince the Thai government to review its stance on the Taiwanese tourists' visas!
In November the Thailand Trade and Economic Office in Taipei announced a new policy requiring tourist visa applicants to submit submit bank details for the previous three months to prove that they could cover their travel expenses. Unlike in the past, they would also be required to apply online for an appointment, then submit the documents in person.
The new policy, which was to take effect on December 1, would have eventually applied to Taiwan, China, Britain and France. The TTEO says it chose Taiwan to implement the procedure because of its "advanced information technology".
Travel Agents Association of Taiwan chairman Hsiao Po-jen (蕭博仁) says the Taiwanese ministry should halt its visa-waiver program for Thai tourists."
Travellers and travel agents in Taiwan have said the policy was disrespectful and said the Taiwanese government humiliated itself by agreeing to it. But the TTEO decided on the policy unilaterally and the Taiwan government was not involved, according to a spokesperson
The China News Agency reports that the plan will now be postponed until March 1 "to give applicants sufficient time to prepare and to acquaint themselves with the new method".
Nearly 700,000 Taiwanese tourists travel to Thailand each year.
"Why do they need a financial statement when they apply for visas? Taiwan is not a third world country," the head of the Travel Agent Association of Taiwan said. "The policy is just ridiculous."
Many people also complained that they couldn't even access the new online visa-application system."
This is not the first time the TTEO has come under fire for enforcing unpopular policies that were introduced without a lot of thought. Last year, the Association protested a proposed 470 baht increase in visa fees, threatening to stop sending tourists to Thailand. The proposal was eventually scrapped
SOURCE: Taipei Times
Keep in contact with The Thaiger by following our
Facebook page
.
Thai army takes delivery of Chinese battle tanks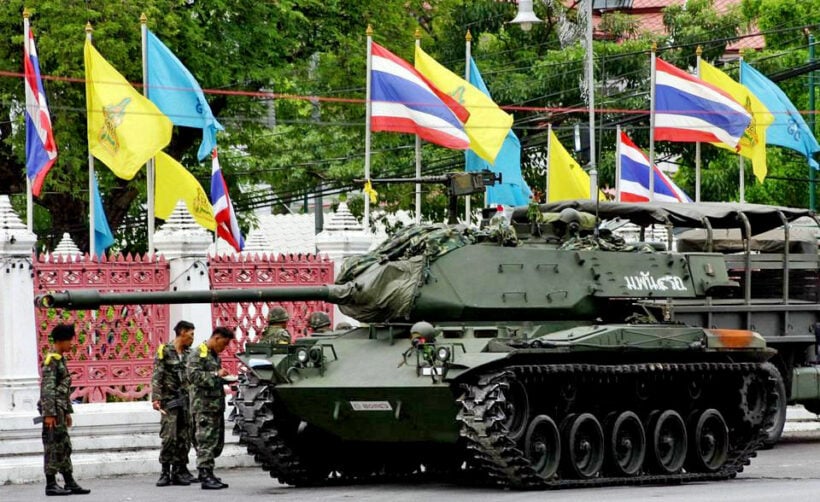 Thailand's Army has taken delivery of Chinese tanks and armoured personnel carriers, just three months after receiving armoured infantry vehicles from the US.
The army received 10 shiny new tanks and 38 armoured personnel carriers from China. All the hardware was taken to the Adisorn Cavalry Centre in Saraburi province for inspection.
The government hasn't officially acknowledged its Chinese acquisitions and there has been fierce domestic criticism over its defense budget during an economic slowdown.
PM Prayut Chan-o-cha's government has allocated 233 billion baht (7.7 billion $US) for security in fiscal year 2020, when Thailand's economy is expected to to slow to 2.5-3% growth.
The US froze 4.7 million dollars worth of military aid and cancelled security agreements with Thailand in May 2014, after Prayut, then the head of the Thai Army, led a bloodless coup that deposed elected PM Yingluck Shinawatra.
The cancellation was a result of the US Foreign Assistance Act, which bars the US from sending aid to countries whose elected governments have been toppled by coup. Military ties improved when civilian rule was officially restored this year, although critics allege Prayut manipulated the election.
The latest delivery from China was part of a 50 tank deal ordered in 2016 by the Thai military government. The deal was worth about 7 billion baht ($231 million), the Chiang Rai Times reports
Thailand has also agreed to buy three Chinese submarines, worth 36 billion baht ($1.1 billion), with the first delivery expected within five to six years.
The NCPO approved the budget for the first submarine in January 2017 after delaying the purchase the previous year due to public criticism. In September this year Thailand also signed a deal with China Shipbuilding Industry Corporation for an amphibious landing platform dock warship.
As part of its military modernisation, Thailand will also buy eight Boeing attack helicopters and related hardware from the USs in a deal worth 400 million dollars, and 70 Stryker armoured personnel carriers worth 5.4 billion baht ($175 million) according to US officials.
SOURCE: Chiang Rai Times
Keep in contact with The Thaiger by following our
Facebook page
.