The 'flat-earth' business is going global. Ummm, hang on…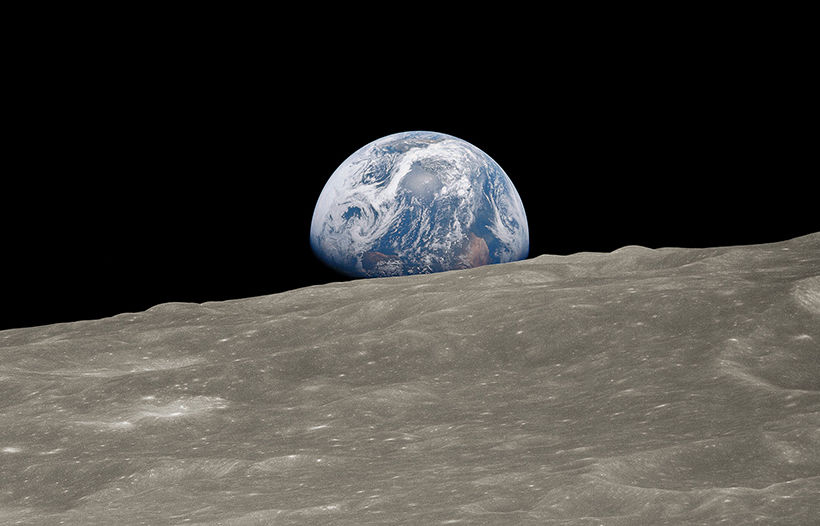 PHOTO: 'Earthrise' taken by Apollo 8 astronaut William Anders in December 1968 – NASA
Last week saw the running of the third annual Flat Earth International Conference, held in suburban Dallas, Texas. The conference attracted around 600 die-hard flat-earthers – people that actually believe that the earth isn't spherical, it's a flat plate floating in space. Actually many of the adherents believe that 'space' and even gravity don't exist either.
Conferences in the past have been in Raleigh and Denver. Brazil, Britain and Italy have also held flat-Earth conventions this year.
The flat-earth 'business' is starting to become a 'thing', with some YouTubers making a very profitable living out of making videos full of conspiracies and 'evidence' of a flat world, that attract millions of views.
A YouGov survey of more than 8,000 American adults last year indicated that as many as 1 in 6 Americans are not "entirely certain the world is round". And a 2019 Datafolha Institute survey of 2,000+ Brazilians showed only 7% of people reject the concept of a flat earth.
Back in Dallas speakers were finishing off their PowerPoint presentations with topics… "Space is Fake" and "Testing The Moon: A Globe Lie Perspective."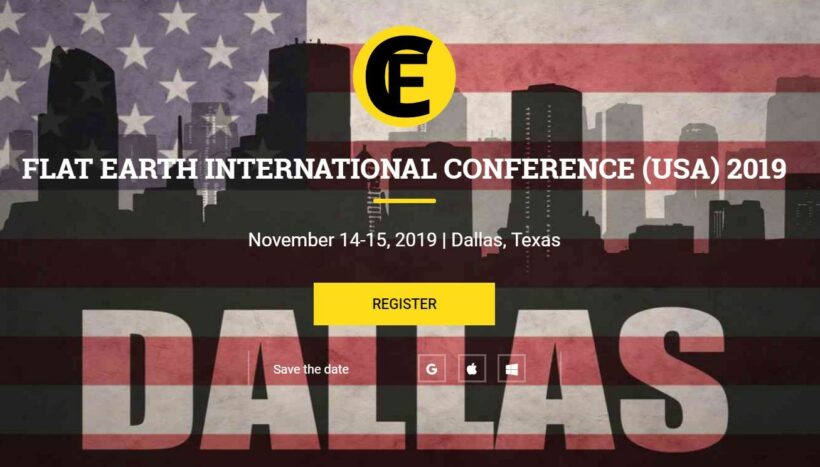 On a clear day, and if you're flying very high, up around 40,000 feet, the curvature of the Earth can be seen from your seat in a conventional jet. When the Concorde was flying it was the one common theme all passengers remarked about – that you can see the curvature of the horizon. But the people attending the conference in Dallas, many of them who flew on a plane to get there, think it's all fake.
Modern flat Earth societiesare organisations that promote the belief that the Earth is flat rather than a globe. Such groups date from the middle of the 20th century. Some adherents are serious and some are not. Those who are serious are often motivated by pseudoscience or conspiracy theories.
Flat Earth advocates, like David Weiss claim, without evidence, there are millions of closet flat-earthers, including Hollywood A-listers, commercial airline pilots and scientists. Ever since David tried and failed to find proof the Earth is a sphere four years ago, he's believed, with passion, that our world is not only flat but stationary.
Several more scientifically-minded entrepreneurs have set up funds to debunk this flat-earth nonsense. Some flat-earthers asserted they will have to have a mission to the 'edge' of the flat earth (aka. Antarctica) so they can prove their claims. They have been offered millions to venture to the 'edge' but no flat-earthers have taken the money to complete an expedition to 'prove' the world is a flat plate.
Mike Hughes, a self-confessed daredevil and flat-Earth supporter, used a homebuilt manned-rocket in an attempt to see for himself if the Earth is flat on March 24, 2018. His scrap metal rocket was estimated to have cost $20,000. He used a mobile home as a custom launchpad managed to climb 1,875 feet (571 metres).
Hughes strapped himself inside, launched, but ended up with a hard landing with the crafts' parachutes deploying successfully but not working very well because of the low-altitude reached. The rocketeer was not seriously injured and continues to maintain his flat Earth beliefs. He claims that real evidence will come with "larger rockets". Mike would have had to reach a height of around 10-15 kilometres to see the curvature of the earth.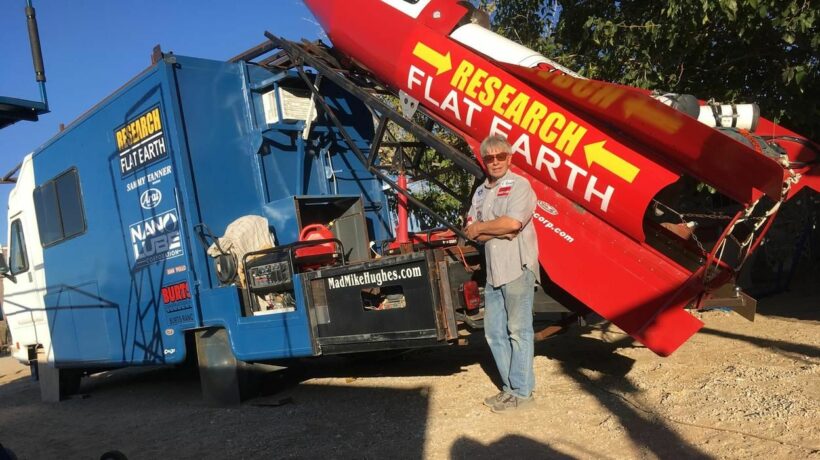 According to flat-earthers, the 'reality', is that the flat 'earth plate', sun, moon and stars are contained in a "Truman Show"-like dome. Photos of the Earth from space, (you can monitor some satellite feeds 24/7 on the internet), photos of 'earth rising' taken from Apollo missions to the moon, Astronaut testimony, daily pics from the International Space Station, 6th grade science experiments with clocks and sun-dials… etc. All a conspiracy, all doctored 'evidence'. Or Photoshopped.
According to the organiser of the Dallas conference, Robbie Davidson, the mainstream flat-earth community believes that space does not exist, the world sits still and the moon landing was faked. Most believe the planet is a circular disk with Antarctica acting as an ice wall barrier around the edge. Gravity, apparently, is also an 'illusion' according to many of the flat-earth adherents.
It has actually been known that the Earth was round since the time of the ancient Greeks. Pythagoras reasoned that if the Moon was round, then the Earth must be round as well. After that, sometime between 500 BC and 430 BC, a Greek called Anaxagoras determined the true cause of solar and lunar eclipses – and then the shape of the Earth's shadow on the Moon during a lunar eclipse was also used as evidence that the Earth was round.
Around 350 BC, Aristotle declared that the Earth was a sphere (based on observations he made about which constellations you could see in the sky as you travelled further and further away from the equator) and during the next hundred years or so, Aristarchus and Eratosthenes actually measured the size of the Earth.
Many flat-earthers at the conference, not content with just one ludicrous conspiracy theory, usually believe many of the other conspiracy theories still floating around the dark corners of the internet as well. At Dallas there were also plenty of of anti-vaxxers, 9/11 'truthers', Illuminati subscribers, 'the-moon-landing-was-fake' believers, the British Royal Family, the Rockefellers and the Rothschilds 'run the world'.
Robbie Davidson says "they're all in on it!"
Earlier this year, YouTube started burying a lot of flat earth videos that made 'outrageous claims' and reduced recommendations of "borderline content".
But new flat-earth content keeps attracting millions of clicks on YouTube and new postings often go viral.
The flat-earthers have made NASA their 'bad guy' and claim they're in on the conspiracy. You can read NASA's commentary about the actual shape of the earth HERE.
Keep in contact with The Thaiger by following our Facebook page.
Never miss out on future posts by following The Thaiger.


Find more SE Asian News courtesy of The Thaiger.

Broke? Find employment in Southeast Asia with JobCute Thailand. Rich? Invest in real estate across Asia with FazWaz Property Group. Even book medical procedures worldwide with MyMediTravel, all powered by DB Ventures.

15,000+ Covid-19 patients in Japan on waiting list for hospitals and health care accommodations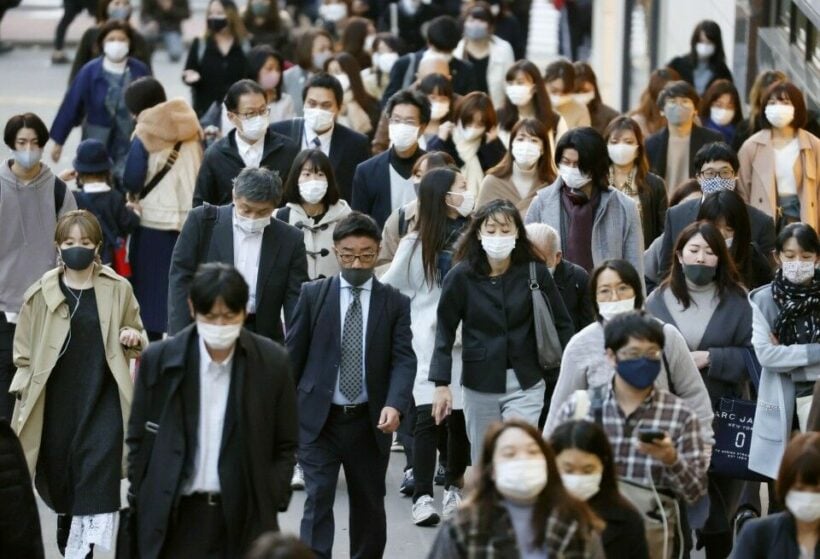 Thousands of people in Japan who are infected with Covid-19 are on the waiting list for hospitals or other accommodations for those with the virus due to the rising number of cases. Kyoto News conducted a survey and reports at least 15,058 are on the waiting list for proper treatment and accommodation.
The number of new infections in Japan has been growing sharply since last November. Last Tuesday, Japan saw a rapid increase of new infections, including Tokyo. According to the WHO's report as of yesterday, Japan recorded 4,587 new cases, 360,661 confirmed cases and 5,019 deaths.
In Japan, local public health officials are in charge of arranging hospital stays and treatment for people infected with the virus as well as the appropriate accommodation for people with mild symptoms. The process of making those arrangements is taking longer, and the newly infected people are forced to stay home because of bed shortages. Some are reported dead in their houses.
A survey by Kyodo News found Tokyo had the most infected people waiting to be hospitalised or accommodated at other facilities, jumping 4.8 times from 1,563 as of December 19 to 7,539. Every prefecture has reported a similar rise.
On January 7, Japanese PM Yoshihide Suga declared a state of emergency for 11 prefectures out of a total of 47 prefectures until February 7. Under the state of emergency, people are asked to stay home and restaurants are urged to shorten their opening hours.
SOURCE: Kyodo News
Keep in contact with The Thaiger by following our Facebook page.
Never miss out on future posts by following The Thaiger.
Anti-lockdown protests in the Netherlands turn violent, Covid-19 testing centre burnt down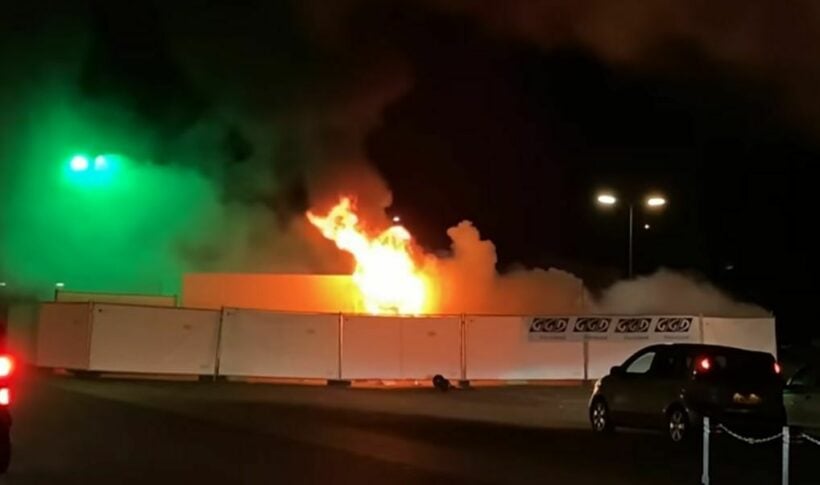 Violence broke out in the Netherlands and a Covid-19 testing centre was burnt down after a nationwide curfew was imposed over the weekend to help slow the spread of the coronavirus. In Eindhoven and Amsterdam, riot police deployed water cannons to disperse the crowds of anti-lockdown protesters.
The Netherlands has been under a tough lockdown since mid-December, leading to clashes between anti-lockdown protesters and police. Just last week, police in Amsterdam used the water cannon on hundreds of protesters. Local officials say the riot police had been called to break up the crowd because people weren't abiding by social distancing measures.
On Saturday, a new 9pm to 4:30am curfew was imposed, tightening the already tough restrictions. As the curfew went into effect that night, rioters set fire to a portable coronavirus testing facility by a harbour in Urk, a fishing town around 80 kilometres northeast of Amsterdam. That night and early the next morning, 3,600 people in the Netherlands were fined for breaching the new curfew. Police say 25 people were arrested for breaching the curfew and violence.
Local officials say the riots in Urk were a "slap in the face, especially for the local health authority staff who do all they can at the test centre to help people from Urk."
The next day, in the southern city Eindhoven, rioters threw rocks at police and set fires in the centre of the city. Riot police used water cannons and tear gas to break up the crowds. Rocks and shattered glass littered a central square in the city. At least 55 people were arrested, according to the Associated Press.
In the capital of Amsterdam, police used a water cannon to break up a group of anti-lockdown protesters. The Associated Press says more than 100 people were arrested.
SOURCE: Associated Press
Keep in contact with The Thaiger by following our Facebook page.
Never miss out on future posts by following The Thaiger.
Asia's biggest drug kingpin arrested in Netherlands
Asia's biggest drug kingpin is under arrest in the Netherlands after years of authorities chasing him worldwide. 57 year old Tse Chi Lop, a Chinese-born Canadian citizen, was arrested by Dutch police acting on a request by Australia's federal police.
The UN Office on Drugs and Crime named him as the suspected leader of the Asian mega-cartel known as "Sam Gor", a major producer and supplier of methamphetamines worldwide. Tse is commonly compared to the Mexican drug lord Joaquin "El Chapo" Guzman.
Sam Gor is suspected of laundering billions in drug money through businesses such as casinos, real estate and hotels in Southeast Asia's Mekong region. Australia's federal police said Friday's arrest came after a 2012 operation that arrested 27 people linked to a crime syndicate spanning five countries. The groups was accused of importing large amounts of heroin and methamphetamine into Australia, according to police.
"The syndicate targeted Australia over a number of years, importing and distributing large amounts of illicit narcotics, laundering the profits overseas and living off the wealth obtained from crime."
The arrest of Tse Chi Lop almost 10 years after that operation's launch is a major break for Australian authorities. The country's attorney-general will now begin preparing a formal extradition request for the alleged drug lord to face trial.
Most of Asia's meth comes from "Golden Triangle" border areas between Laos, Myanmar, Thailand and southwest China. The production of methamphetamine, either in tablet form or the highly potent crystalised "ice" version, take place in Myanmar's eastern north Shan state. Ketamine and fentanyl are also produced there as well, mostly in 'portable' labs that hide underneath the thick rainforest canopy.
In 2018 alone, Thailand netted more than 515 million methamphetamine tablets, a number 17 times the amount for the entire Mekong region 10 years ago. Traffickers are constantly finding more creative ways to ship their products as drug busts are featured daily on the news in those regions.
SOURCE: The Bangkok Post
Keep in contact with The Thaiger by following our Facebook page.
Never miss out on future posts by following The Thaiger.