One small step for man – 50 years ago today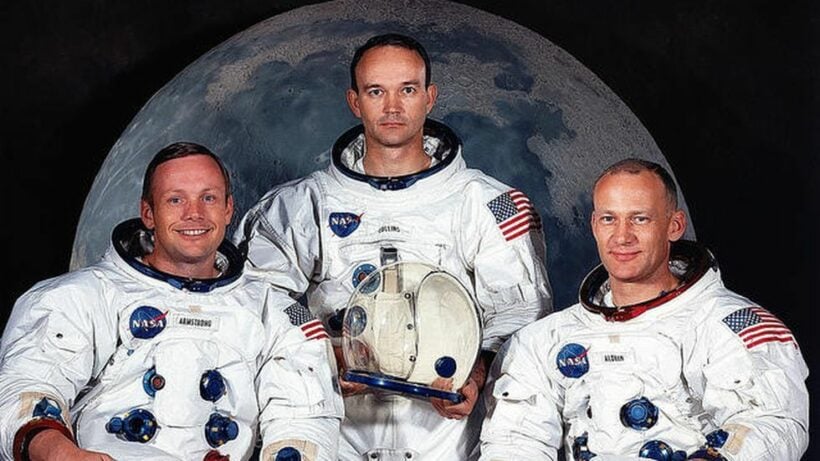 On this day, a mere 50 years ago, Neil Armstrong stepped onto the powdery surface of the moon. It was the first time humans had stepped anywhere other than the 'pale blue dot' of Earth.
Everyone alive at the time can recall 'where they were' at this historic moment. It was a triumph of American ambition and engineering. Some 300,000 people were involved with the mission that was promised to the world by then-President John F. Kennedy eight years earlier in 1961.
"We choose to go to the Moon in this decade and do the other things, not because they are easy, but because they are hard; because that goal will serve to organise and measure the best of our energies and skills, because that challenge is one that we are willing to accept, one we are unwilling to postpone, and one we intend to win, and the others, too."
NASA delivered on the promise, 6 months before deadline, in a decade where America was also grappling with the Vietnam War (Indochina War), social upheaval, civil rights and a youth demanding to be heard, sometimes violently.
Half a century later and there are still a few who, despite the advances in science, knowledge and education accumulated in those 50 years, still believe the moon landing was a 'hoax' and that the earth is flat.
I was a 10 year old sitting in my school library watching a 25″ black and white TV along with 200 other students. Honestly, we couldn't see a lot as the fuzzy pictures were transmitted back from the moon (via Honeysuckle Creek tracking station in Australia), but we knew the moment was historic and we'd been well primed for months by teachers telling us "you'll be telling your grand children about this mission". Luckily it was around lunchtime for us in eastern Australia – well timed by NASA, thanks.
The mission to send men to the moon was less a human adventure and more about a nation's paranoia and fear in the Cold War era. The Russians had a jump on the Americans with the first satellite in space and then the first man in space. America needed to get 'ahead' and Congress was willing to spend big to save face and regain the lead in the space race.
But like anything, keeping the PR momentum following the Apollo 11 mission, was difficult and the other moon landing missions attracted fewer viewers and front page headlines. Apollo missions 18-20 were even cancelled. NASA then focussed on the 'space' a lot closer to earth with a space station and the Shuttle program.
We all know the names of the Apollo 11 crew. But name the crew of Apollo 12. No? Either can I.
This week President Donald Trump greeted the surviving two astronauts from the Apollo 11 mission – Buzz Aldrin and Michael Collins – to the White House. Neil Armstrong died following heart surgery in 2012 but his relatives were invited.
The President asked Buzz Aldrin, the second human ever to walk on the moon, what he thought about the US' current ability to operate in space 50 years after the Apollo 11 mission, the ex-astronaut had a ready response.
"Actually, I've been a little disappointed over the last 10 or 15 years," Aldrin told Trump.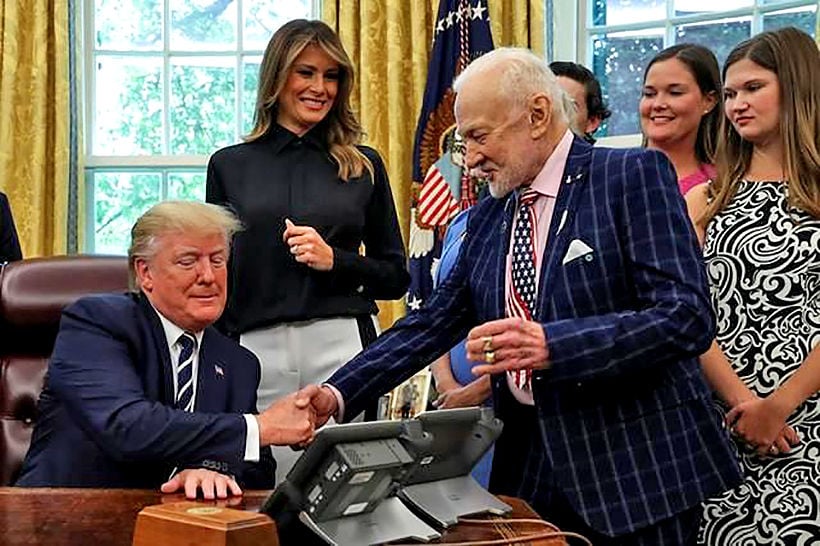 PHOTO: President Tump and 88 year old Apollo 11 astronaut Buzz Aldrin,the second man to walk on the moon – Reuters
NASA, more through budget cuts that intention, has been restricted in its ambitions since the Apollo missions. The American tax-payers have cut the paltry space-spend and inter-planetary missions have been by robot and unmanned space craft instead. We've actually reached out beyond our own solar system, had 900 kilogram 'rovers' traversing large areas of Mars, built an international space-station and built orbiting telescopes that have probed our known universe almost back to the Big Bang. So NASA's post-Apollo expertise certainly hasn't been wasted.
Now private funding is heralding a new era of commercial space flight with the promise of passenger flights and re-useable rockets. But the reality is that the enormous amounts of money needed to fund the 'big' projects, just like the moon landing 50 years ago, will still take chunks of national budgets, not private funds. Privateers would always need to prove a return-on-spend to their shareholders with low-risk, high yield projects. Manned spaceflight is extremely high risk with no promise on return at all.
But 'man' will next head to Mars and, sometime in the next decade, we may all gather around our smartphones or, alone with our VR goggles, to watch our race take the next small step into space.
Keep in contact with The Thaiger by following our
Facebook page
.


Find more SE Asian News courtesy of The Thaiger.

Broke? Find employment in Southeast Asia with JobCute Thailand and SmartJob Indonesia. Rich? Invest in real estate across Asia with FazWaz Property Group or get out on a yacht anywhere with Boatcrowd. Even book medical procedures worldwide with MyMediTravel, all powered by DB Ventures.

Key ally rejects PM Johnson's Brexit plan – Sterling sags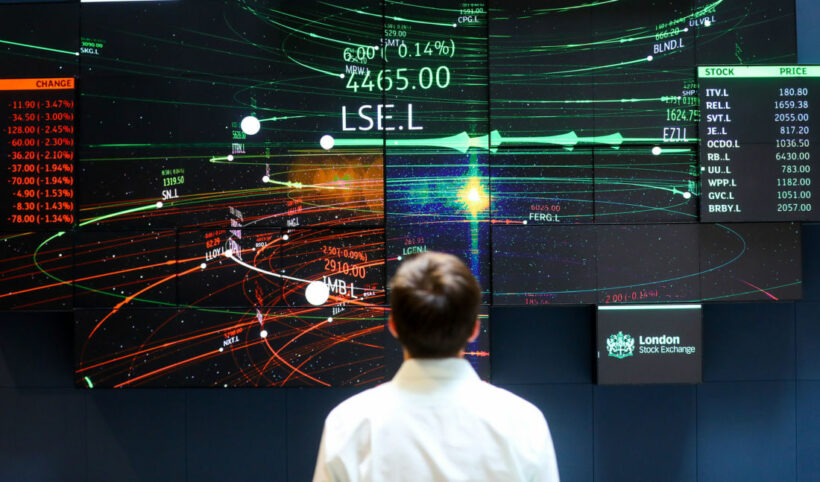 The British Pound tumbled again today after UK PM Boris Johnson's key ally in parliament said it "could not support" his plans for a Brexit deal, throwing a spanner in the works – just as Britain and the EU were closing in on an agreement.
The comment caused an immediate reaction from this morning's Asia Pacific markets.
After years of wrangling, the two sides said they were edging towards the basis for a treaty allowing Britain to avoid an economically catastrophic "no-deal" exit from the European Union.
With both teams working through the night, EU negotiator Michel Barnier said there had been "good progress, and work is ongoing", while France's deputy foreign minister said Thursday a deal was "within reach but is not guaranteed".
There had been optimism that a deal was in the offing, just two weeks before Britain is due to leave the bloc, as they worked towards a solution on the vexed question of British-ruled Northern Ireland.
But Northern Ireland's Democratic Unionist Party (DUP) dropped a bombshell hours before the start of a crunch EU summit Thursday, saying it cannot support the plan.
"As things stand, we could not support what is being suggested on customs and consent issues, and there is a lack of clarity" on Value Added Tax, the DUP, which props up Johnson's government, said in a statement on Twitter.
"We will continue to work with the Government to try and get a sensible deal that works for Northern Ireland and protects the economic and constitutional integrity of the United Kingdom."
DUP leader Arlene Foster had met Johnson several times this week to discuss the progress of talks and had described as "nonsense" previous reports that she was ready to give way.
The pound, which earlier in the day was hovering at five-month highs around $1.2877 sank to $1.2750 before edging back slightly, while it also lost ground to the euro.
The DUP are against any deal that would tie Northern Ireland to EU rules but cut the rest of the United Kingdom loose.
Markets react
In early trade, London's FTSE added 0.1%, Paris was flat and Frankfurt eased 0.2%. In Asia, most markets were in the red, with traders unable to take advantage of weak US retail data that raised the chances of another Federal Reserve interest rate cut. Comments in the Fed's Beige Book update on the economy also pointed to a slowdown.
Hong Kong added 0.7% but Shanghai finished 0.1% lower and Tokyo lost 0.1%.
Sydney sank 0.8%, Singapore shed 0.7% and Seoul retreated 0.2%t, with Wellington and Manila also off. There were gains in Taipei, Mumbai, Bangkok and Jakarta.
Speculation about a possible US rate cut provided support to higher-yielding currencies against the dollar, with the Australian dollar 0.6 percent up and the South Korean won 0.1 percent stronger. The Thai baht, the Mexican peso and the South African rand also posted healthy gains.
Oil prices fell after data pointed to a sharp rise in US stockpiles that reinforced worries about the impact on demand from the China-US trade war and the global economic slowdown.
Key markets today
Pound/dollar: DOWN at $1.2784 from $1.2817 at 2100 GMT
Euro/pound: UP at 86.65 pence from 86.33 pence
Euro/dollar: UP at $1.1081 from $1.1073
Dollar/yen: UP at 108.80 yen from 108.71 yen
London – FTSE 100: UP 0.1 percent at 7,175.09
Tokyo – Nikkei 225: DOWN 0.1% at 22,451.86 (close)
Hong Kong – Hang Seng: UP 0.7% at 26,848.49 (close)
Shanghai – Composite: DOWN 0.1% at 2,977.33 (close)
West Texas Intermediate: DOWN 56 cents at $52.80 per barrel
Brent North Sea crude: DOWN 55 cents at $58.87 per barrel
New York – Dow: DOWN 0.1% at 27,001.98 (close)
SOURCE: Agence France-Presse
Keep in contact with The Thaiger by following our
Facebook page
.
EU and UK zone in on possible breakthrough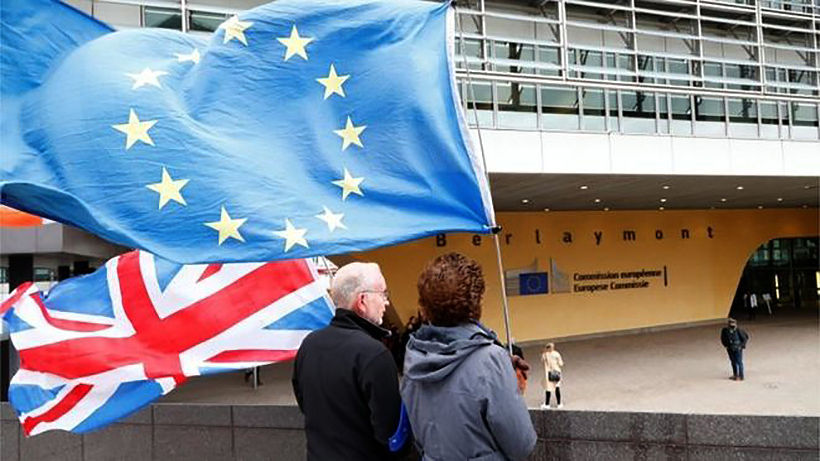 British and European negotiators headed back into intense negotiations on a draft Brexit deal after late-night talks brought them closer but so far fails to confirm an elusive breakthrough.
Reports that Britain has softened its stance on the customs status of Northern Ireland in order to clinch an accord at this week's European summit had raised hopes that a chaotic "no-deal Brexit" can be avoided and is driving the pound higher.
But a marathon overnight negotiating session in the EU's Brussels headquarters brought them to the eve of the meeting with still some distance to go to agree the wording of a treaty to govern the terms of Britain's October 31 departure from the bloc.
"The teams worked into the night and continue to make progress. The teams will meet again this morning," a UK official said, describing the talks as "constructive". He and EU officials said the teams would get back to work at around 9am.
A senior European diplomat told AFP that the negotiators had begun to transcribe the British offer into a legal text that could eventually go before the 28 EU national leaders on Thursday at their European Council summit which begins on Thursday.
But there remain some important differences, he cautioned, while a European official, speaking on condition of anonymity as closed-door negotiations continue, played down hopes that any text would be finalised Wednesday.
Even if a text is prepared for the leaders this week – or if, as many observers in Brussels expect, an extraordinary summit is called later – any deal would have to be approved by a skeptical British parliament, which holds a special session on Saturday.
By agreeing to a form of customs boundary in the Irish Sea, Britain could allow its province of Northern Ireland to remain under EU rules, prevent a return to a hard land border with EU member Ireland and salvage a negotiated withdrawal.
But Prime Minister Boris Johnson may struggle to convince hardline Conservative eurosceptic MPS and his allies from Northern Ireland's loyalist Democratic Unionist Party (DUP) to accept this concession — less than three weeks before Britain is due to leave the EU.
Nevertheless, EU negotiator Michel Barnier and British Brexit minister Stephen Barclay judged that a deal was close enough to justify officials working into the early hours of Wednesday morning.
Barnier had said a text must be on the table by Wednesday if member state governments are to have a chance to consider it before the summit, because the 28 national leaders have no plans to themselves debate the details of the agreement.
But if, as now seems likely, the Wednesday deadline is missed, officials said talks could instead resume next week and a special summit be called just in time for Johnson to fulfil his pledge to lead Britain out of the bloc on October 31.
European leaders warn they will not let Britain use Northern Ireland as a back door to the single market and Barnier said Tuesday that "it is high time to turn good intentions into legal text."
Yesterday, German Chancellor Angela Merkel outlined why EU officials are driving a hard bargain and hoping Britain will commit to a "level playing field" in post-Brexit trade and commerce.
"One thing is clear, Britain will develop into another competitor on the doorstep of Europe. And therefore the EU will be challenged to become more competitive and to assume geopolitical responsibility."
Glimmers of hope
"The last moment is always a bit later than you think," one German government official told AFP, suggesting Brexit would have to be postponed beyond the end of the month if talks are to reach a successful conclusion.
More than three years after Britain's 2016 referendum vote to leave the European bloc, talks remain stuck on how to avoid customs checks on the border between British-ruled Northern Ireland and EU-member Ireland.
The EU has reservations about London's proposed customs arrangements and the role for Northern Ireland's Stormont assembly in giving consent to the plans.
In London, DUP leader Arlene Foster told the BBC that she wanted to support a deal, but would not do so if she felt it divided Northern Ireland from the rest of the UK and added that without her party's support "everybody knows" it would not pass in parliament.
If no deal is reached by Saturday, Johnson will fall foul of a British law demanding he ask the EU to postpone Brexit for a third time rather than risk a potentially disastrous "no deal" departure.
SOURCE: Agence France-Presse
Keep in contact with The Thaiger by following our
Facebook page
.
Burmese surfing team head to SEAsia Games, a first for Myanmar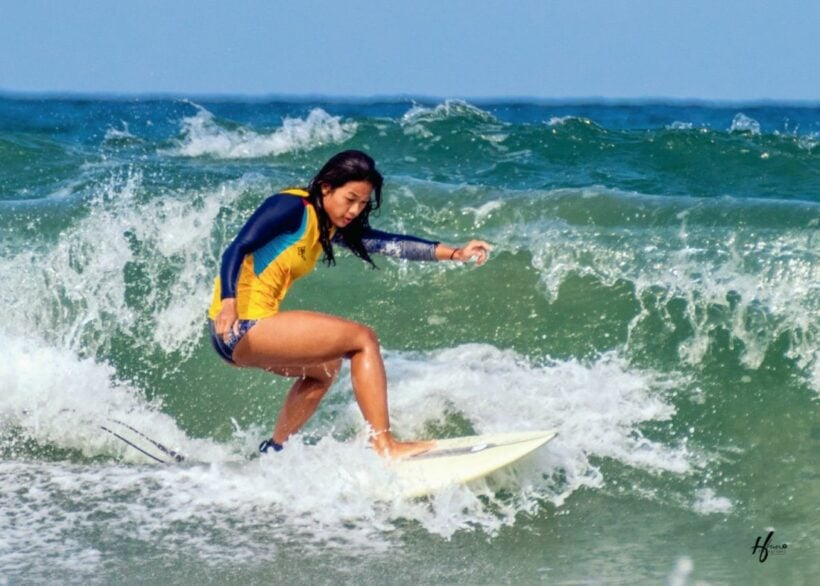 PHOTO: Burmese surfer Thwe Thwe Soe practicing off the coast of Ngwe Saung – Myanmore
Paddling hard and smiling, Thwe Thwe Soe flung herself up on the board just as a wave was breaking, spreading her arms out for balance before getting knocked off.
"I can't live without surfing. I did not expect to be chosen for the national team but I'm thrilled at the opportunity."
Thwe Thwe Soe was speaking after a day in the blue waters off the small coastal resort town of Ngwe Saung. Competitive surfing was barely known in Myanmar a few years ago but one local beach town is riding a wave of enthusiasm to the Southeast Asia Games for the first time ever.
The Southeast Asian country is flanked by surf-ready coasts to the west and south, but decades of military rule, lack of equipment and poverty kept aspiring athletes from testing the waters. The 25 year old encountered the sport while studying in southern California and has been hooked since, saying she "always feels happy" on the water.
Now she is going up against the region's giants at the December games in the Philippines. Thwe Thwe Soe has one of the best chances to medal among the handful of surfers going, but all are training hard.
"We surf for at least four to six hours a day," said American coach Robert Brickell, a 26 year old originally from New York.
The mild waves at Ngwe Saung present a paradox for competitive surfers – they are good to learn on but much tamer than the conditions in surfing hotspots. The team went to Bali in Indonesia for two months to get used to some "big wave surfing" and have made enormous strides in a short amount of time, Brickell said.
"My hope is that we can show everybody that people from Myanmar, we know how to surf, we know how to respect the ocean. And of course our hope is to win some meets."
The Surf Association of Myanmar was established only this year. The sport is slowly gaining prominence thanks to the impassioned surfers, most from a village near the beach and newcomers themselves. Ngwe Saung is the heartland of the growing craze and has now hosted several competitions.
"We hadn't heard of surfing before 2017. It will be a difficult competition but we will do our best for sure." said 19 year old Aung Min Naing.
SOURCE: Agence France-Presse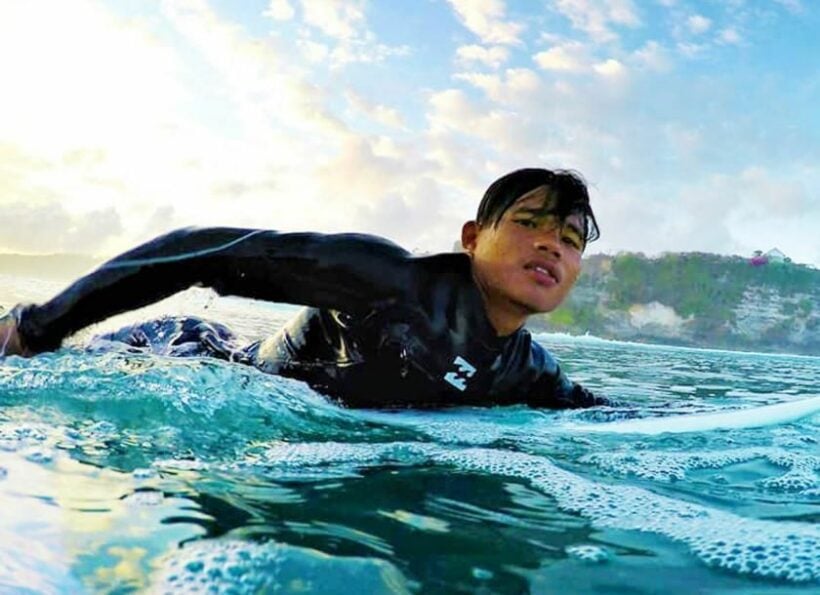 PHOTO: Aspiring new Burmese surfer, Aung Min Naing – MMTimes.com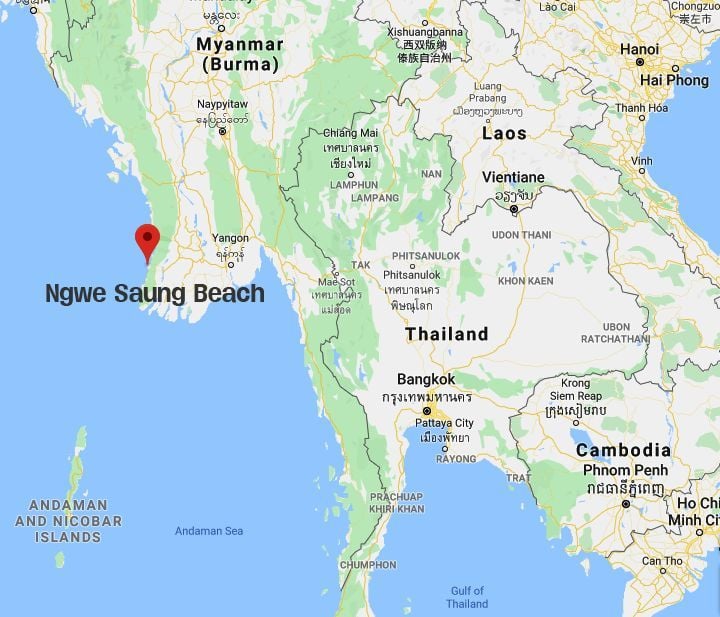 Keep in contact with The Thaiger by following our
Facebook page
.