China's Fujian: A naval game-changer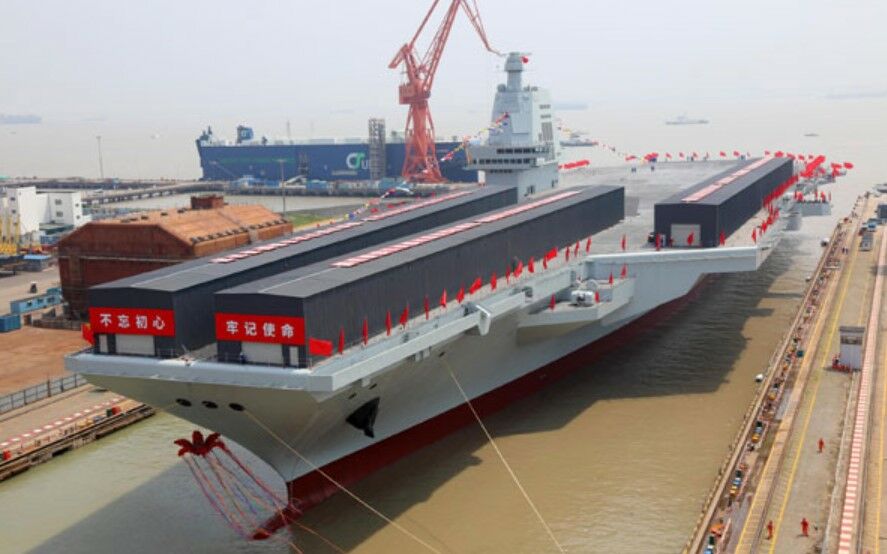 China is about to seriously shake things up in the world of naval warfare, as the latest state-of-the-art aircraft carrier, the Fujian, reportedly gears up to launch new-type aircraft. As soon as this beauty is commissioned, it's expected to be the lynchpin of China's ambitious plans to develop a blue-water navy – making its presence known on the open ocean and far beyond their borders.
The Chinese navy's already got themselves a couple of aircraft carriers up and running. First off, there's the Liaoning – a revamped Soviet Kuznetsov-class carrier that's been doing the rounds since 2012. And then there's Shandong, China's first homegrown carrier, which had folks talking when it took part in a massive exercise around Taiwan in 2019.
But what sets the Fujian apart from its predecessors is its cutting-edge catapult system. This means the piece of kit lets planes take off more often, carry more fuel, and lug around more munitions. On the older carriers, planes had to launch using a ski-jump ramp – a less efficient system that limits just how many aircraft can fit on the flight deck.
So what about these mysterious "new-type" aircraft the Fujian can apparently handle? State broadcaster CCTV didn't give too many details away, but we do know that the list of potential candidates includes fighter jets with folding wings, fixed-wing drones, and early warning and control aircraft.
Things are certainly heating up, as CCTV revealed that the Fujian has nailed its mooring and propulsion tests, which cover the engines, circuitry, and fuel pipes. That's a pretty good sign it's primed and ready for a sea test. Even though the Chinese navy's end goal is to properly spread its wings and operate worldwide, for now, CCTV's only talking about action in domestic waters when it comes to building more aircraft carriers. The programme stated…
"As the Fujian completes further sea trials and finally becomes combat-capable, the People's Navy will truly step into the era of three aircraft carriers. But due to China's vast oceans, the demand cannot be met with only three aircraft carriers – the Liaoning, Shandong and Fujian. Therefore, new aircraft carriers are bound to be built in the future."
With the birth of the Fujian, which is the first of the PLA Navy's Type 003 class, China's now only the second country – alongside Uncle Sam – to have a carrier-class that uses an electromagnetic motor-powered catapult method for launching planes from the deck. This is a huge step up from the older steam-powered launch catapult tech that's been in use since WWII and is still found on some American and French ships.
The advantage this gives the Fujian is that warplanes can preserve more fuel after take-off, meaning they can fly farther and pack an even greater punch. Satellite images snapped earlier this month showed the Fujian was still being worked on in the Jiangnan Shipyard in Shanghai, with its trio of catapults staying under wraps for now.
China officially launched the Fujian on June 17, 2022. This top-of-the-line carrier is not lightweight; fully loaded, it displaces a whopping 80,000 tonnes of water and measures an impressive 320 metres (1,050 feet) long and 73 metres wide. That puts it almost on par with the big dogs of the US Nimitz-class carriers.
World News

Join the conversation and have your say on Thailand news published on The Thaiger.
Thaiger Talk is our new Thaiger Community where you can join the discussion on everything happening in Thailand right now.
Please note that articles are not posted to the forum instantly and can take up to 20 min before being visible. Click for more information and the Thaiger Talk Guidelines.