A summit of hope for peace – Donald Trump and Kim Jong Un arrive in Singapore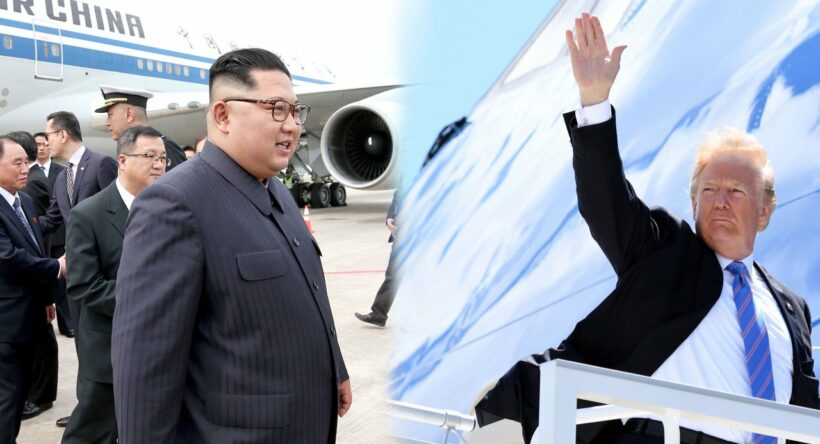 By Wasamon Audjarint and Supalak Gangjanakhundee
The leaders of the US and North Korea are now in Singapore for an unlikely but historic meetingExperts believe the Trump Kim meeting in Singapore tomorrow may see some commitment on denuclearising Korean peninsula.
A historic summit between US President Donald Trump and North Korean leader Kim Jong-un was expected to be a success, according to experts, as Kim was likely to offer a vague promise on denuclearisation when they meet in Singapore tomorrow, leaving tough negotiations over implementation for later.
"Kim's most urgent need is to alleviate the threat of a US preventive military strike and to get at least some of the economic sanctions lifted," Hawaii-based East West Centre's senior fellow of research program Denney Roy told The Nation in an interview via e-mail.
North Korea's nuclear program and missile tests over the past few years have brought the secretive communist regime to the brink of a nuclear state, which has given it strong bargaining powers with Washington.
A summit with the US president is critical for the Pyongyang leader to make his regime secure. "He also wants to gain international prestige, establish a normal relationship with the US where he is treated as an equal, and make progress towards weakening the US-South Korea security cooperation," Roy said.
Kim likely wants to get North Korea into a position where both Beijing and Washington are competing with each other to gain influence in Pyongyang by granting favours, he said. While denuclearisation is the ultimate goal to stabilise the Korean Peninsula, President Trump is likely to hold his cards close to his chest.
"I think that very quickly I'll know whether or not something good is going to happen," Trump told reporters in Quebec over the weekend. US Secretary of State Mike Pompeo, who has met Kim Jong-un twice, said earlier that the reclusive North Korean leader had indicated the regime was prepared to denuclearise.
The top US diplomat refrained from talking about the plan, saying the two leaders would discuss the issue during their summit. An expert on Korean affairs, Roy said the summit could be called a success if there were any commitment on denuclearisation, with the hard bargaining over implementation left for later negotiations. However the key to the success of the summit also depends on the diplomatic style and negotiating skills of the two leaders.
While Trump is unpredictable, Kim is virtually unknown. His first appearance in the diplomatic world was only when he was on camera with his South Korean counterpart Moon Jae-in at Panmunjom in late April.
"At that time, he managed to not look like a monster, which is not very difficult. We don't know how he might perform one-on-one with Trump. I would expect he will be well-prepared and wily," Roy said.
The success or failure of the Singapore summit would have implications for other countries in the region too. China, Japan and South Korea are also stakeholders in the peace and security in the Korean Peninsula. All of them have different interests and agendas in the summit, Roy said.
"So a result that is good for the US might not be so good for Japan, a result that is good for China might not be that good for the US, and so on."
Southeast Asia, where the summit will take place, would also benefit from the historic meeting, Thammasat University political science expert Viboonpong Poonprasit said.
"While this summit would not follow the normal protocol with both leaders making on-the-scene talks, the outcome should be positive or neutral at the least and help guarantee more stability in the concerned regions," he said.
"While Trump looks for denuclearisation of North Korea, Kim would wish for the US to phase out from the Korean Peninsula as well as reduce sanctions," he said, adding, "Their efforts should at least maintain a peaceful atmosphere."
Irrespective of the summit outcome, Thailand's situation would not change as far as abiding with international orders, including economic sanctions regarding North Korea, is concerned, he said.
"Our decreased economic ties with Pyongyang, which is not economically significant, has been to keep the status quo with the international community. I see no need to be eager to change that," he added. Trump indicated that Pyongyang would be rewarded with economic assistance if the regime complied with the denuclearisation programme and Washington expected that developed economies in the peninsula would actively participate.
State Secretary Pompeo said economic assistance and North Korea's denuclearisation are "incredibly linked"
"For North Korea to have the security assurances it needs, it needs to know that it has an economic – economically viable path forward. It has to know that its people can eat and that they can have the wealth that the North Korean people so richly deserve," he said. "So, these are very closely linked issues; it's difficult to separate them out.
And so not only Japan, but South Korea, China – I imagine many nations will want to participate in the North Korean economy if we are successful in Singapore," Pompeo said in an interview with NHK last week.
STORY: The Nation
Asia

Join the conversation and have your say on Thailand news published on The Thaiger.
Thaiger Talk is our new Thaiger Community where you can join the discussion on everything happening in Thailand right now.
Please note that articles are not posted to the forum instantly and can take up to 20 min before being visible. Click for more information and the Thaiger Talk Guidelines.