A tale of two cities, Phuket style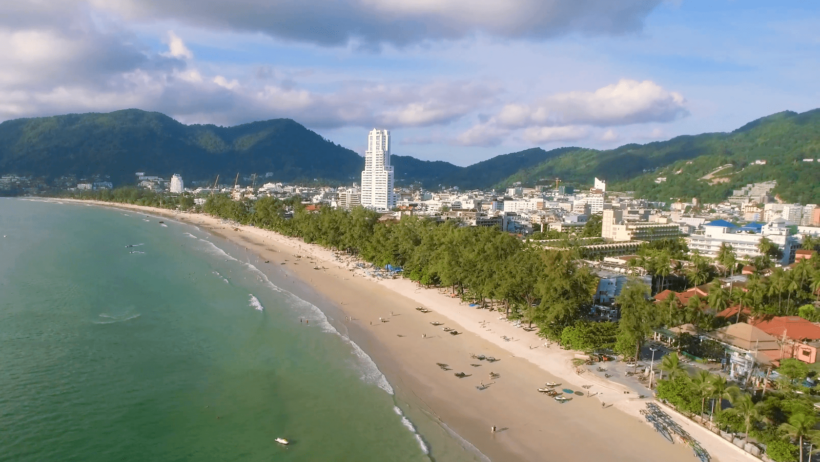 By Bill Barnett of c9hotelworks.com
The raindrops keep falling on my head. Rainy season always brings with it time to dust off the classics, and strangely enough, straight off my top shelf came Charles Dickens' A Tale of Two Cities. Life is played out so well in these tattered pages, which are turned a mottled brown on the edges. There is darkness and light, social injustice and a subtle sense of things comedic bubbling along just under the surface.
Here in Phuket, we have our very own tale of two cities. Well more correctly – one city and one town, but let's not split hairs, Patong is surely headed straight to City-dom, while we all keep referring to Phuket City as Phuket Town. (Please note: the upgrade into the former came in 2004, but old habits die hard.)
Geography has an interesting effect on the way things shift to and fro on the island, in a manner not unlike urban sprawl. Bangkok, for example, has seen a massive shift in its central business district and tourism areas over the last 20 years. Perhaps the biggest game-changer was the BTS Skytrain which derailed both the Chao Phraya River and Silom districts and catapulted Sukhumvit to the nation's front page.


Suddenly, fading superstar hotels were left behind by the high yielding business travellers and many businesses relocated. Next to the river, things have never quite been the same as they were in days past. Will the shiny new commercial areas of Rajdamri suffer the same fate in another twenty years? It's hard to say, but where else in the world can you stroll past a St. Regis, Four Seasons, Grand Hyatt, and soon, a Waldorf Astoria in the span of a few football fields?
What defines much of today's development of rural areas to urbanized centers is transportation. We all know this island lacks mass transport and for the foreseeable future the key spine road that goes from the Sarasin Bridge all the way to Rawai is the main artery of Phuket. There is simply no avoiding the fact. There are no logical alternatives on the west or east coast so this road straight down the middle will divide and conquer the growing metropolis.
Tourism continues to define the local economy and over the past two decades we've seen shifts from the south to the north, east and west. Find the big blocks of land and that is where the resorts will grow. Phang Nga's illogical zoning out of hotels and large scale residential areas from Thai Muang back to the other side of the Sarasin Bridge has simply put more pressure on available land here on the island.
While Phuket City remains the seat of Government, a defined movement was afoot as early as the new Millennium (that's 2000 for those who don't know what the Big M is). First came the hypermarts – Tesco Lotus, Big C and Makro. Then rolled in Central Festival, and the island suddenly stepped up its urban game. The City, or at that time the Town, was on a fast move west, banking up on the main artery of the By-Pass Road and then spilling over into Kathu. Progress was marked by curb appeal and road frontage.
Meanwhile post-tsunami Patong has been ramping up as well, building up an inventory of well over 30% of the island's hotel rooms, and, within the last few years, setting the benchmark for unseasonal year round high occupancy. Retail here again helps shift things back off the main beach area and Jungceylon has somehow become the epicentre of a new highly urbanised resort destination.


As a consultant, I am heavily involved in the planning of new hotels, tourism attractions and residential projects both here and abroad. Often times I'm asked what is the forward looking view of Phuket. In my own opinion, the shifting sands of development will see the collision of Phuket City and Patong over the next decade. Logically the Kathu area will be the biggest beneficiary of this evolution as the two 'cities' continue to spill into the middle of the island.
We already see large Board of Investment (BoI) tourism attractions coming into the area and another Bangkok-based retail giant has started construction of a second mega-mall near the Samkong Underpass. Central Festival's expansion will open in the second half of this year. Even the Chalong Circle underpass will eventually be finished and, in the same way the other three underpasses have assisted traffic flow in the middle of the island, the same will happen in the south.
Will the two tribes merge into one larger highly urbanised business, tourism and commercial district, or will they create a new more centralised version? It's hard to say, but most likely it will be a combination of both. Phuket's story is continuing to be written but if you want to gaze into a crystal ball, it's best to follow the transport infrastructure to spot where the action is. Just watch the real estate boom around each of the stop-offs for the new Phuket Light Rail when it eventually kicks off.


Find more property for sale and rent across Thailand at Thaiger Property, powered by FazWaz. You can even list your property for free.
Belarusian 'Anastasia' will be in Moscow detention another 3 days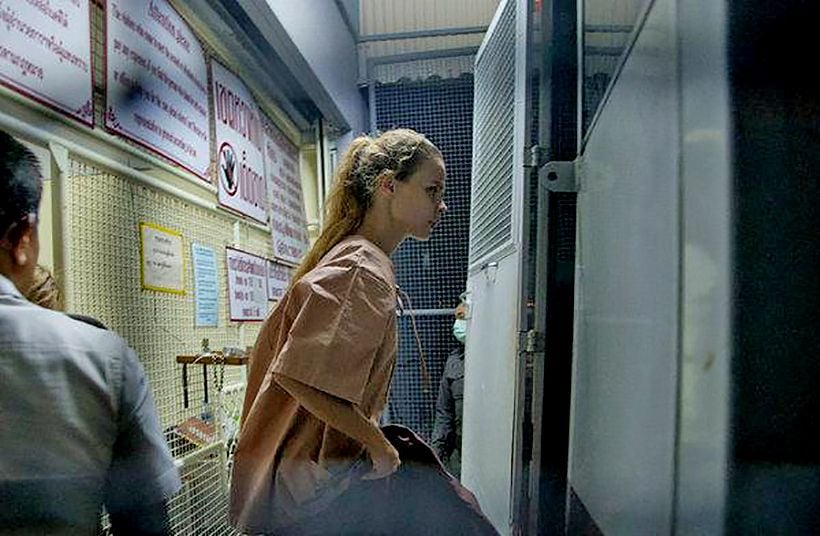 Anastasia Vashukevich, aka. Nastya Rybka, the Belarusian model/sex-educator/Instagramer who spent a year in a Thai jail awaiting last week's Court case, and was then deported, remains in a Moscow jail as of last night after the presiding judge decided to extend her detention by 72 hours.
She was arrested at Moscow airport on Thursday after being deported from Thailand on Tuesday night. She, and seven others, pleaded guilty last Tuesday for participating in a "sex training course" in Pattaya nearly 12 months ago.
During a hearing yesterday in Moscow, she said she did not want to "in any way compromise aluminum mining magnate, Oleg Deripaska".
According to Interfax she said in the hearing, "I have had enough."
Her lawyer Dmitry Zatsarinsky, told reporters that his young client "has committed no crime" and had "nothing to do with" Deripaska and "still less with US President Donald Trump".
On Friday her lawyer denounced Anastasia's arrest, which was made while she was in transit in Moscow after a flight from Thailand on her way to Belarus.
The Belarusian gained notoriety last year when she claimed she had proof of Russian collusion with the Trump Presidential election campaign. She has now had her detention in Moscow extended by three days by a Russian court.
According to Interfax reports, she told the court she denied the accusation of prostitution, telling the court that "I am not guilty of what I am accused."
She unexpectedly pleaded guilty in a Bangkok court to charges of prostitution relating to last February's sex training course in Pattaya. The Thai judge suspended the group's sentences but deported them, effective immediately.
Anastasia had been in custody in Thailand since a police raid in what AFP described as the "sleazy seaside resort of Pattaya" last February.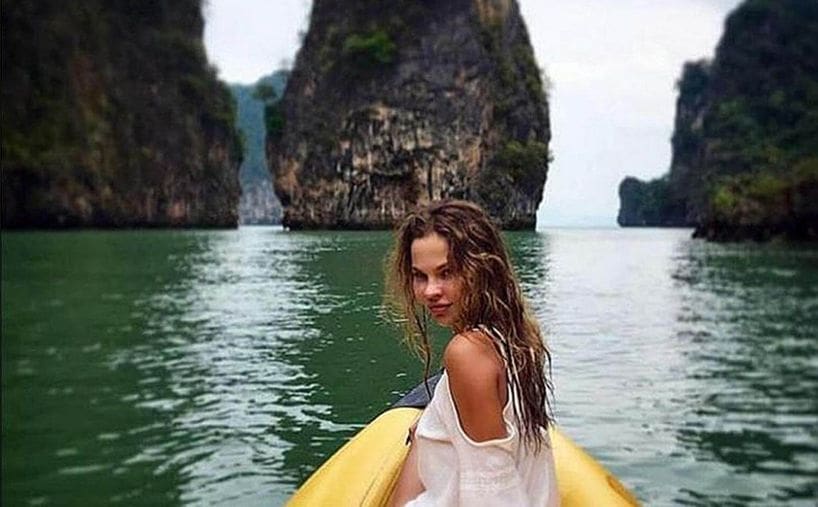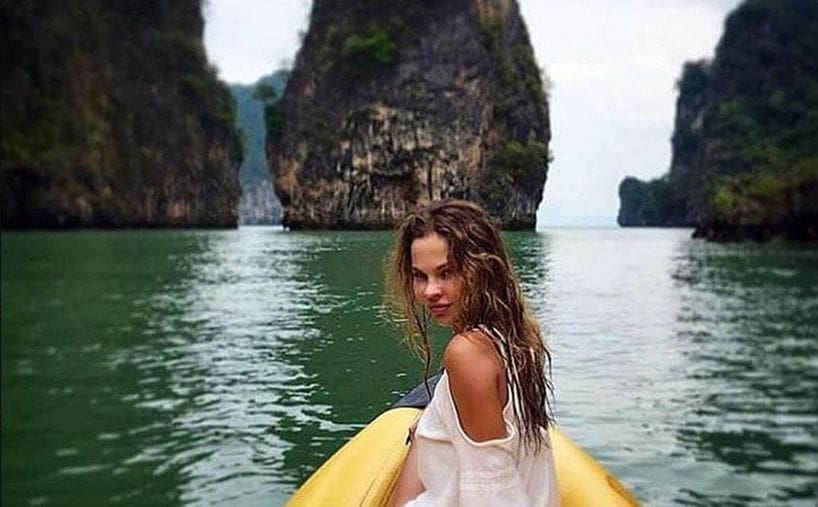 Anastasia cruising around Phang Nga in 2017 – Instagram
New 500 baht fine for drunk cycling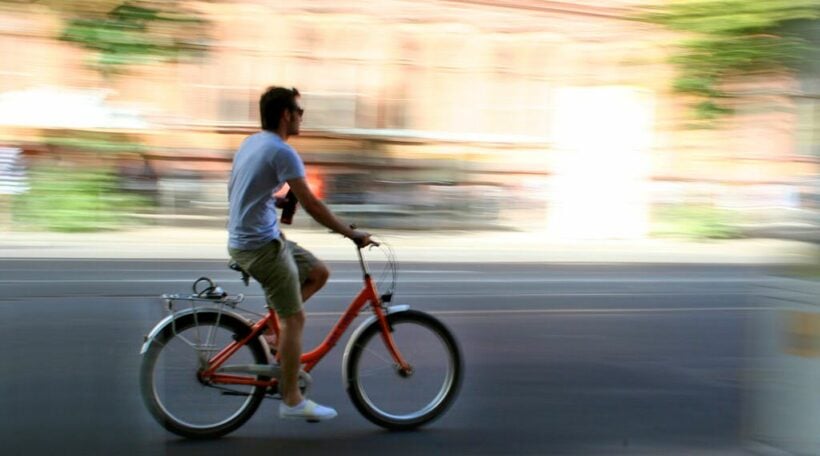 Up to now drink-driving cyclists have not been included in the laws governing drunk drivers of other vehicles in Thailand. But with the rising popularity of cycling as a fitness trend, that's about to change with a new 500 baht fine if bought drunk in control of a bike.
Drunk bicyclists who are currently immune to litigation because there is no law to make drunk cycling an offence. The new laws are covered in the upgraded traffic bill which passed the first reading of the National Legislative Assembly last week.
But, according to the Bill drafters, riding bicycles in public while being drunk is still regarded as a petty offence and the penalty would be just a 500 baht fine.
The same new traffic bill also seeks to empower traffic police to seize driving licenses of drivers found to be drunk behind the wheels and judged incapable of driving.
The bill will also merge the Land Transport Department and police databases to coordinate and share information on backgrounds and traffic violations records of drivers and motorcyclists.
A score system is being introduced under which law-breaking drivers will have their scores cut for every traffic violation.  Everyone will start a 12 month period with 12 points. If the scores are down to zero, the drivers will have their driving licenses suspended for up to 90 days.
Bangkok smog: Police get out their hoses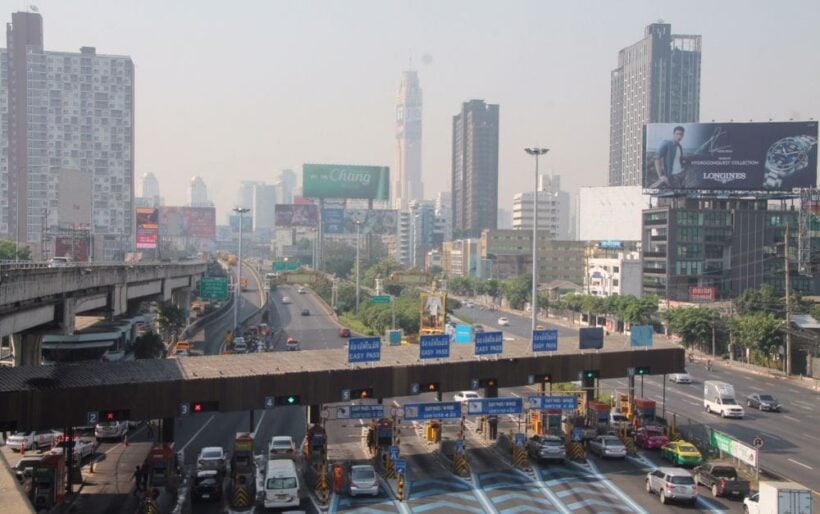 by Kornkamon Aksorndech 
Traffic police and volunteers sprayed water at four locations in Bangkok this morning in a bid to curb the dust and smog pollution.
Pol Maj General Nithithorn Jintakanon, commander of the Traffic Police Division of the Metropolitan Police Bureau, presided at the dispatch of 150 police officers and volunteers from his headquarters on Vibhavadi-Rangsit Road.
They chose four high-traffic locations and sprayed water in front of the Government Complex on Chaeng Wattana Road, the Din Daeng expressway toll gates and at the Ratchadapisek-Lat Phrao intersection on Lat Phrao Road and a Ramkhamhaeng Road intersection.
#pissinginthewind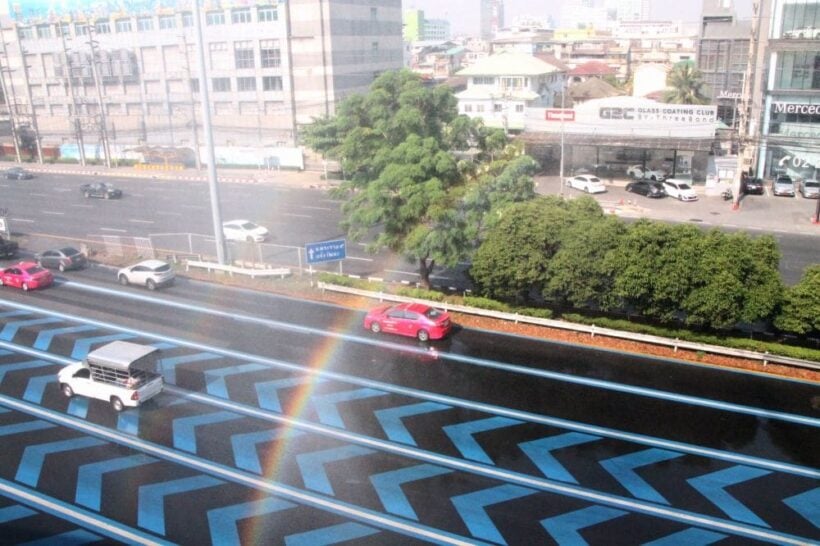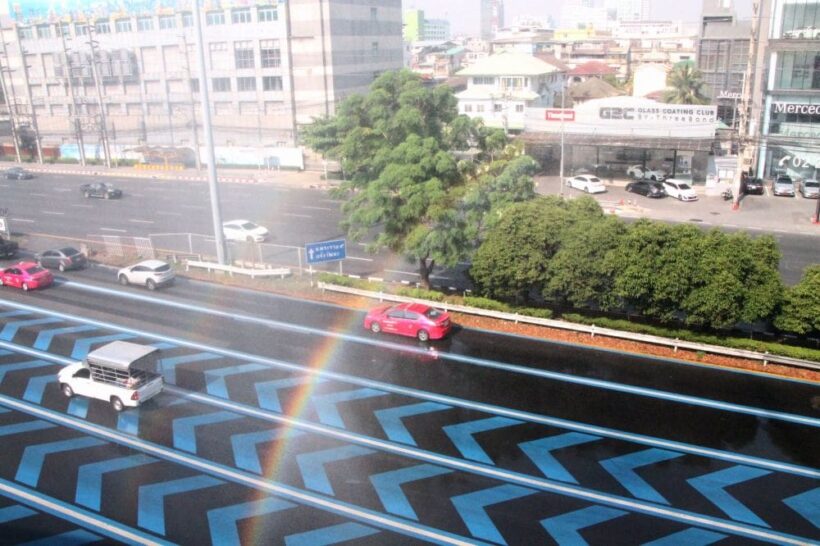 SOURCE: The Nation