World News: Many dead as desert siege ends; Dreams back to earth; WADA gives UCI a bitter pill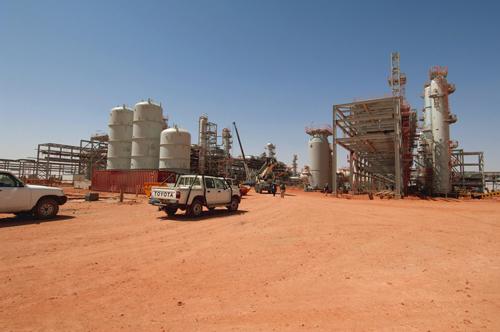 PHUKET MEDIA WATCH
– World news compiled by Gazette editors for Phuket's international community
Algeria ends desert siege, but dozens killed
Reuters / Phuket Gazette
PHUKET: Algerian forces stormed a desert gas complex to free hundreds of hostages but 30, including several Westerners, were killed in the assault along with at least 11 of their Islamist captors, an Algerian security source told Reuters.
Western leaders whose compatriots were being held did little to disguise their irritation at being kept in the dark by Algeria before the raid – and over its bloody outcome. French, British and Japanese staff were among the dead, the source said.
An Irish engineer who survived said he saw four jeeps full of hostages blown up by Algerian troops whose commanders said they moved in about 30 hours after the siege began because the gunmen had demanded to be allowed to take their captives abroad.
And while a crisis has ended that posed a serious dilemma for Paris and its allies as French troops attacked the hostage-takers' al Qaeda allies in neighbouring Mali, it left question marks over the ability of OPEC-member Algeria to protect vital energy resources and strained its relations with Western powers.
Two Japanese, two Britons and a French national were among at least seven foreigners killed, the source told Reuters. Eight dead hostages were Algerian. The nationalities of the rest, as well as of perhaps dozens more who escaped, were unclear. Some 600 local Algerian workers, less well guarded, survived.
Fourteen Japanese were among those still unaccounted for this morning, their Japanese employer said.
Americans, Norwegians, Romanians and an Austrian have also been mentioned by their governments as having been captured by the militants who called themselves the "Battalion of Blood" and had demanded France end its week-old offensive in Mali.
Underlining the view of African and Western leaders that they face a multinational Islamist insurgency across the Sahara – a conflict that prompted France to send hundreds of troops to Mali last week – the official source said only two of the 11 dead militants were Algerian, including the squad's leader.
The bodies of three Egyptians, two Tunisians, two Libyans, a Malian and a Frenchman were found, the security source said.
The group had claimed to have dozens of guerrillas on site and it was unclear whether any militants had managed to escape.
The overall commander, Algerian officials said, was Mokhtar Belmokhtar, a veteran of Afghanistan in the 1980s and Algeria's bloody civil war of the 1990s. He appears not to have been present and has now risen in stature among a host of Saharan Islamists, flush with arms and fighters from chaotic Libya, whom Western powers fear could spread violence far beyond the desert.
Boeing Dreamliners grounded worldwide on battery checks
Reuters / Phuket Gazette
PHUKET: Airlines scrambled yesterday to rearrange flights as regulators around the world joined the United States in grounding Boeing's 787 Dreamliner passenger jets while battery-related problems are investigated.
Poland's state-controlled LOT Airlines said it would seek compensation from Boeing for grounding its two planes. It expects delivery of three more Dreamliners by the end of March, but would only take them if the technical issues have been resolved, deputy chief Tomasz Balcerzak told a news conference.
The lightweight, mainly carbon-composite aircraft has been plagued by mishaps, raising concerns over its use of lithium-ion batteries. An All Nippon Airways Co Ltd domestic flight made an emergency landing on Wednesday after warning lights indicated a battery problem.
Boeing shares were up about 0.6 percent at $74.78 in afternoon New York Stock Exchange trading. For the first few weeks of the recent spate of incidents, the stock held up relatively well compared with the broader market, but has weakened recently as analysts grew wary of the costs Boeing might face.
"While it is entirely possible that the current battery issue is resolved in short order, it is also equally possible that the 787s current certification could be called into question," BB&T Capital Markets analyst Carter Leake wrote yesterday, cutting his rating on the stock to "underweight."
The U.S. Federal Aviation Administration (FAA) temporarily grounded Boeing's newest commercial airliner on Wednesday, saying carriers would have to demonstrate the batteries were safe before the planes could resume flying. It gave no details on when that might happen.
It is the first such action since the McDonnell Douglas DC-10 had its airworthiness certificate suspended following a deadly crash in Chicago in 1979, analysts said.
Boeing has sold about 850 of its new aircraft, with 50 delivered to date. Around half of those have been in operation in Japan, but airlines in India, South America, Poland, Qatar and Ethiopia, as well as United Airlines in the United States, are also flying the 787, which has a list price of $207 million.
By Boeing's accounting, the 787 program will not be considered profitable until the company has delivered 1,100 Dreamliners. As it stands, the plane accounts for a small portion of Boeing's revenue, given that it produces five of them a month versus 35 for the 737 model.
WADA slams UCI ahead of Armstrong interview
Reuters / Phuket Gazette
PHUKET: Doping and cycling officials were embroiled in a feud over who was to blame for widespread doping within the sport just hours Lance Armstrong breaks his silence over his alleged drug use in a television interview last night.
In a scathing attack, World Anti-Doping Agency (WADA) chief John Fahey blasted the International Cycling Union (UCI), calling the independent commission set up by the governing body to look into the use of performance-enhancing drugs in cycling a "useless exercise."
"It has again become apparent that rather than deal with the obvious problems that exist within the sport of cycling, the UCI once again would like to avoid its responsibilities and instead seek to blame WADA and others," Fahey said in a statement.
Armstrong, who is widely expected to come clean about his drug use in a two-part interview with Oprah Winfrey to be aired over Thursday and Friday, could also shed light on how he was able to escape detection from drug-testers while winning a record seven Tour de France titles.
The American cyclist was stripped of his victories last year after an investigation by the United States Anti-Doping Agency found him to be the ringleader of "the most sophisticated, professionalised and successful doping program that sport has ever seen."
In December, the UCI set up an independent commission to look into allegations and statements made in the USADA decision on Armstrong concerning the complicity of the UCI and its officials in doping and the manner in which cycling's governing body has conducted its anti-doping program.
WADA has refused to take part in the inquiry, saying the commission was doomed to failure in part because of its refusal to agree to some form of immunity for witnesses who come forward.
"There is no question that the system put into place by Armstrong and others was sophisticated, but the USADA decision raises many other questions that remain unanswered," said Fahey.
"For the UCI to say it knew
— Phuket Gazette Editors
Keep in contact with The Thaiger by following our
Facebook page
.
Never miss out on future posts by
following The Thaiger
.


Find more SE Asian News courtesy of The Thaiger.

Broke? Find employment in Southeast Asia with JobCute Thailand. Rich? Invest in real estate across Asia with FazWaz Property Group. Even book medical procedures worldwide with MyMediTravel, all powered by DB Ventures.

The man who wrote the bad reviews for Koh Chang's Sea View Resort has a criminal record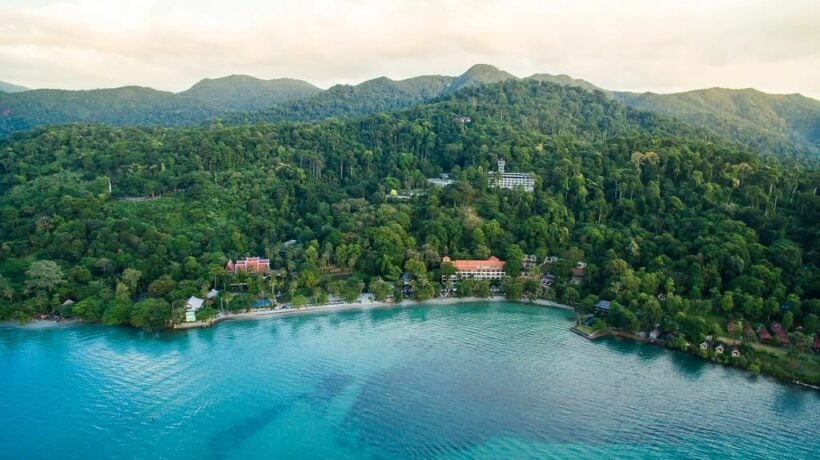 In the ongoing stoush between the American, Wesley Barnes, and Koh Chang's Sea View Resort, the story is now reaching way beyond Thailand's borders, being reported in mainstream media around the world. Much of the media discussion has focused on whether it is appropriate to be able to sue people over a bad review with criminal defamation.
Defamation is a criminal offence in Thailand, and carries a maximum sentence of 2 years in prison, along with a 200,000 baht fine.
Now it's come to light that Mr Barnes has been of interest to the US judicial system in the past, being accused of firing a weapon at a bar in Jackson County, Missouri (below).
But let's get up to speed…
"A US man is facing up to two years in jail in Thailand after posting negative reviews of a hotel he stayed in. He was sued by the resort under the country's strict anti-defamation laws." – BBC
"An American man is facing two years in prison in Thailand after posting negative online reviews of a hotel resort." – The Guardian
Wesley Barnes, who has been working in Thailand, posted a number of negative reviews on different platforms, including Trip Advisor, allegedly accusing the resort of "modern day slavery", amongst other complaints. He stayed at the resort in June this year.
But the Sea View Resort, claims his criticism was "harsh", untrue and damaging to the hotel's reputation.
"The owner filed a complaint that the defendant had posted unfair reviews on his hotel on the TripAdvisor website." – AFP
"Wesley Gene Barnes is an American citizen who worked as a teacher in Thailand while the world was battling against the new coronavirus (COVID-19) pandemic. He made headlines after posting a negative review of a resort in the Southeast Asian country." – Conan Daily
The incident started with an argument over Mr Barnes bringing his own bottle of alcohol while dining in the resort's restaurant. Arguments over the corkage fee "caused a commotion", later sorted out by an on-duty manager. Since his stay at the resort earlier this year Mr Barnes has posted negative reviews of the property. Then the hotel sued him for defamation.
Mr Barnes was detained and says he spent two nights in prison before he was released on bail.
But this isn't the first time Mr Barnes has come to the attention of police.
In the US there was an incident which is now public record. There was an official police complaint against 34 year old Wesley G. Barnes, signed off by JEAN PETERS BAKER, the Prosecuting Attorney Jackson County, Missouri, in October 2017.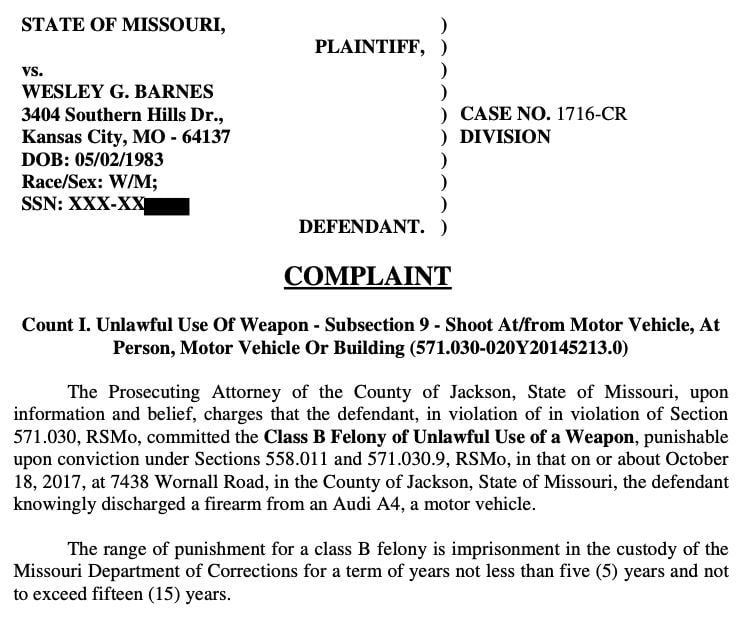 You can read the full complaint HERE.
A Kansas City man accused of firing a weapon near Waldo Bar and later at a convenience store told people he was a federal agent prior to the initial incident, prosecutors said.
Jackson County Prosecutor Jean Peters Baker charged Wesley G. Barnes, 34, with two counts of unlawful use of a weapon and two counts of armed criminal action.
Barnes is accused of firing shots from a gun after leaving Waldo Bar about 1 a.m. Wednesday. The bar is near 75th Street and Wornall Road.
Read the rest of the story from The Kansas City Star HERE.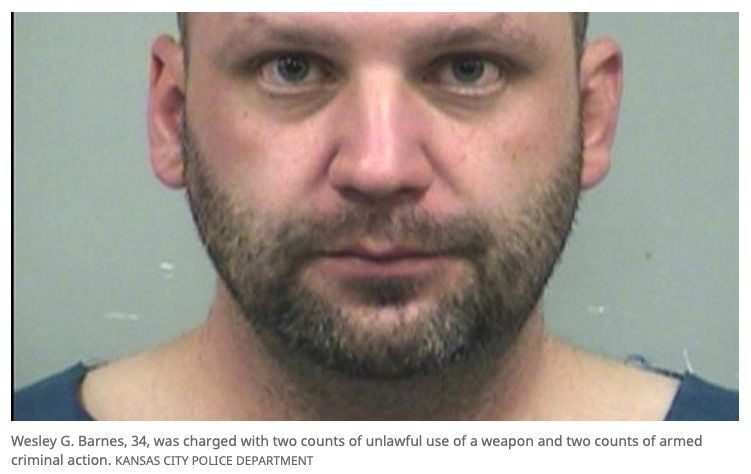 For its part, the Sea View Resort says that, following the reviews, they had received cancellations and inquiries about employee treatment. The management claims that it had told Mr Barnes repeatedly they "would not go ahead with pressing charges if he stopped writing new false reviews".
"Despite our multiple efforts to contact him to resolve the matter in an amicable way for well over a month, he chose to ignore us completely. He only replied to us when he had been notified of our complaint by the authorities," according to the BBC story.
Keep in contact with The Thaiger by following our
Facebook page
.
Never miss out on future posts by
following The Thaiger
.
The world's Top 10 languages, spoken by native speakers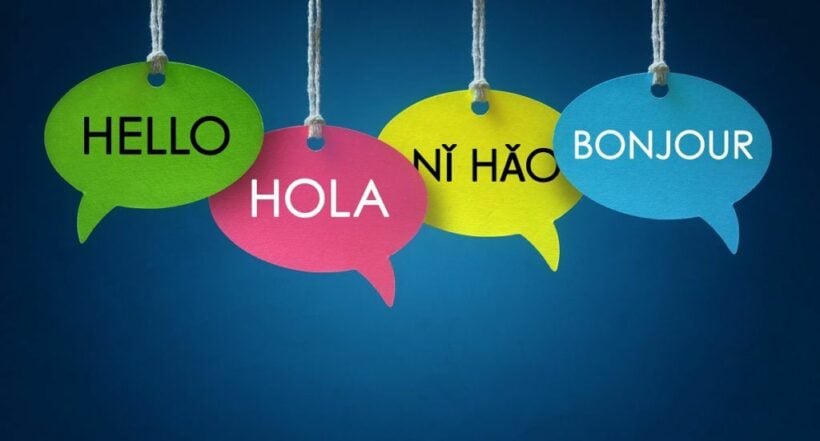 I battle to speak one language, English, and can barely order my lunch in Thai. And, whilst studying French for 7 years at school, I can only ask a French-speaker for the time or order coffee. Sacre Bleu! The world's most common languages changes over time and a world interlinked on the internet and aviation, like never before, is making profound changes to the way we communicate, as a species..
You can be sure the 'conversation' will stir some heated debate over which is the most spoken languages, generally, and natively. But the numbers win (which we have updated from statistics in recent years).
For pop culturalists, we're sad to report that neither 'Klingon' (used by the Star Trek foes) or 'Minionese' have made it into the top 10 most spoken languages in the world.
When tallied, according to number of native speakers only, the following are the most spoken languages in the world, the languages people learn as their primary spoken tongue. When you count the Top 10 most spoken languages – the total number of people who actually speak them natively and as a second or third language, English is just slightly ahead of Chinese as the most spoken language in the world.
But here are the Top 10 languages, as spoken by native speakers…
1. Chinese, 1.3 billion Native Speakers
1.3 billion native speakers, roughly 918 million of whom speak Mandarin Chinese. It's definitely the most spoken language in the world with 1 in 6 of the world's population being a native Chinese speaker. Seeing as Chinese is a tonal language that uses thousands of logograms, it will certainly keep you busy. Even if you only count the speakers of Mandarin Chinese, it still has more than twice the number of native speakers than the second most spoken language. China's other main dialect is Cantonese, generally the lingua franca of southern Chinese.
2. Spanish, 460 million Native Speakers
Looking at native speakers, Spanish is just ahead of English with about 460 million native speakers. If you want a language that will open up entire continents to you, Spanish is considered a good choice. It is certainly the main language of the majority of South and Central America, Spain, and even large swathes of the US.
3. English, 380 million Native Speakers
You may have already noticed that this article is written in English, so you're one of the 380 million native English speakers. An additional 754 million people speak English as a second or third language, not necessarily fluently. English has had success as the lingua franca (common language) of business, trade, travel, aviation and international relations. The pervasive cultural power of the US in the second half of the last century means that English still dominates the world stage, for now anyway. For people in developing nations, 'English' means 'opportunity' and a 'better quality of life'.
4. Hindi, 340 million Native Speakers
To complicate matters, India has 23 official languages, with Hindi and Urdu leading the way. It is widely debated if these two dialects are separate or just one big language, Hindustani. It is spoken mainly in northern India and parts of Pakistan. At the moment there are moves to have Hindi displace English in the southern Indian states as the primary language of official communication. You probably didn't know it, but you already speak Hindi when you use the words bungalow, shampoo, jungle, bandana, pyjamas, cashmere, punch (the drink) and jodhpurs.
5. Arabic, 317 million Native Speakers
Arabic, like Chinese, is again broken up into numerous dialects that some could even describe as separate languages just lumped together the sake of convenience. Modern Standard Arabic is a primarily written form, closely related to the Classical Arabic of the Quran.
6. Bengali, 228 million Native Speakers
Huh, what? That's a language? Yep, and it's number 6 on the list. People who speak Bengali are principally in the western parts of today's India and Bangladesh. The Partition of Bengal by the British in 1947 separated West Bengal, now part of India, from its counterpart East Bengal, now Bangladesh. Bengali is the language of Kolkata, the Andaman Islands and 160 million Bangladeshis. The country is almost completely surrounded by Indian territory and faces the Bay of Bengal.
7. Portuguese, 220 million Native Speakers
Thanks to some intrepid explorers in the 15th century, Portuguese is spoken in a few colonial outposts and not just in Portugal. Portuguese traders and conquerors brought their language to Africa, Asia and the Americas. Apart from Portugal, the language is natively spoken in Brazil, Goa, Angola, Mozambique, Cape Verde, Guinea-Bisseau, São Tomé, Príncipe (all former Portugues colonies) and, interestingly, Macau.
8. Russian, 154 million Native Speakers
Russian remains one of the 6 languages spoken in the United Nations, and responsible for the literary classics of Dostoyevsky, Nabokov, Chekhov, Gogol and Tolstoy. Not a lot of Russian words have become commonly used in English, except maybe 'Vodka'. Hmmmm.
9. Japanese, 128 million Native Speakers
Japanese speakers mostly live in Japan, one of the most ethno-centric cultures in the world. Japanese boasts two distinct written forms – hiragana and katakana, and makes extensive use of Chinese Kanji characters. Some Japanese speakers also live in the US, the Philippines and Brazil.
10. Lahnda, 118 million Native Speakers
Lahnda (Western Punjabi), is a Pakistani language that primarily includes Western Punjabi. The Punjab was sliced in two by the British when they left, and millions of people were forced to abandon their homeland. But they're slowly taking their revenge, Bollywood-style. Punjabi music now account for 50% of Indian chart-toppers.
French? German? Indonesian? You get a chance in this next list, the most commonly spoken languages by the total numberof people who speak them.
1. English, 1.134 billion total speakers
2. Mandarin Chinese, 1.118 billion total speakers
3. Hindi, 615 million total speakers
4. Spanish, 534 million total speakers
5. French 280 million total speakers
6. 'Standard' Arabic, 274 million total speakers
7. Bengali, 265 million total speakers
8. Russian, 258 million total speakers
9. Portuguese, 234 million total speakers
10. Indonesian, 199 million total speakers

SOURCE: Babbel.com
Keep in contact with The Thaiger by following our
Facebook page
.
Never miss out on future posts by
following The Thaiger
.
Covid-19 deaths surpass 1 million whilst more reports emerge about former patients' "brain fog"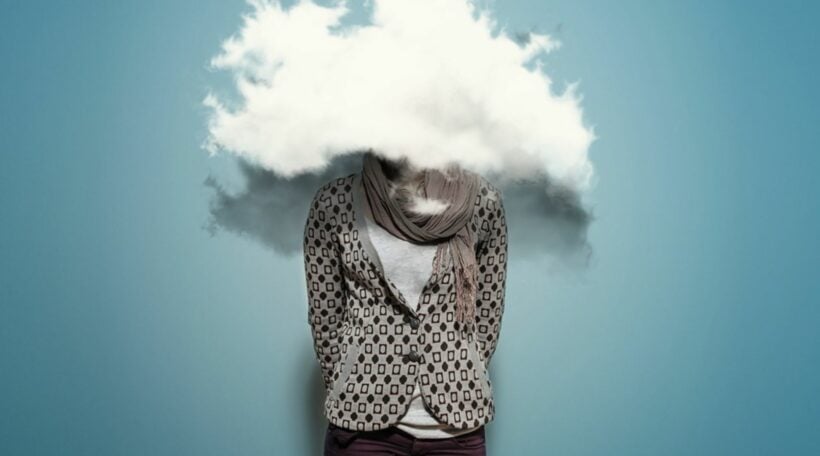 The world's Covid-19-related deaths has passed the 1 million mark overnight as the the cycle of the world's lockdowns and re-openings are getting mixed results. As of this morning, Thai time, the number of total deaths has reached 1,002,389, with 4,000-6,000 deaths still being recorded, globally, every day. And rising. On a more positive note, the number of daily deaths continues to level off, even dropping some weeks, as treatments continue to improve and the virus is better understood. At this stage, officially, only 0.42% of the world's population has so far been infected, according to worldometers.info.
The milestone comes in a week where another report from the UK catalogues the "brain fog" experienced by former Covid-19 sufferers.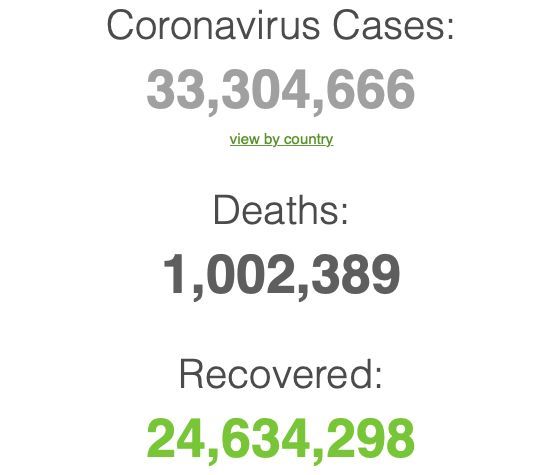 The current hotspots for the virus, now 9 months in circulation, of new daily cases is led by India. Yesterday, India added 82,000+ cases to the world total whilst the US is showing a resurgence in new cases after dropping the average down during August. There is also a resurgence in new cases in parts of Europe, including the UK, which is now recording more new cases than it was at its peak in the first wave in April and May this year. The following graphs records the top 10 countries for new Covid-19 cases recorded yesterday…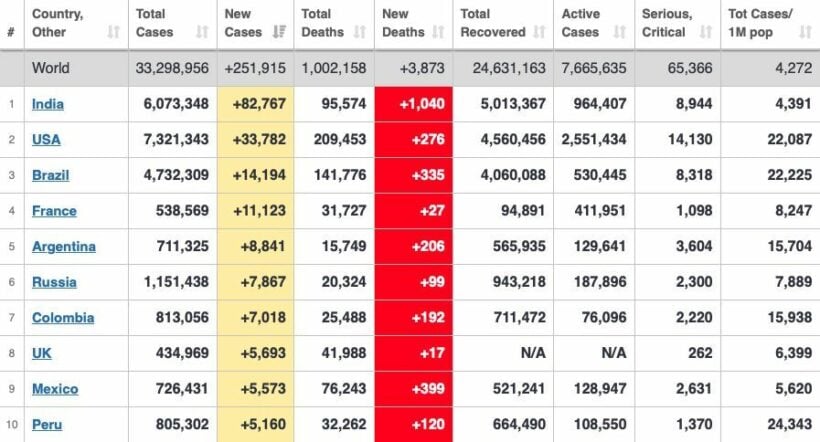 SOURCE: worldometers.info
Both South America and India are showing the highest rates of new cases, in pure numbers, whilst US health authorities are concerned about the latest surge in new cases as the country starts to head into its autumn and cooler weather.
Meanwhile, more former Covid-19 patients, even those who only suffered mild symptoms, continue to report about long-term effects from the coronavirus.
In Canada, some 130,000 Canadians have recovered but some patients report that they're experiencing "debilitating side effects" months after their infection. Canadian scientists report that they are finding some of the long-term effects of Covid-19 include heart damage as well as neurological issues like "brain fog" and "difficulty thinking". Other patients are reporting hair loss, fatigue and even painful lesions called "Covid toes," many weeks or even months after infection.
One study based out of Italy reports that nearly 90% of patients who have recovered from Covid-19 reported at least one persistent symptom two months later.
39 doctors wrote about these "long-haulers" and their battle with Covid-19 and their persistent symptoms in a manifesto published in the British Medical Journal. Following the report, the doctors called on politicians, scientists and public health officials to conduct more research into chronic Covid-19 symptoms and to create additional clinical services.
"Failure to understand the underlying biological mechanisms causing these persisting symptoms risks missing opportunities to identify risk factors, prevent chronicity, and find treatment approaches for people affected now and in the future."
The reports also defined the affected patients as not in the current list of "at risk" Covid-19 patients – usually elderly with underlying conditions – but instead representing a much wider demographic of younger and healthy patients who were experiencing the post-Covid symptoms.
SOURCE: BBC | CTV News
Keep in contact with The Thaiger by following our
Facebook page
.
Never miss out on future posts by
following The Thaiger
.