World News: Obama begins historic Myanmar visit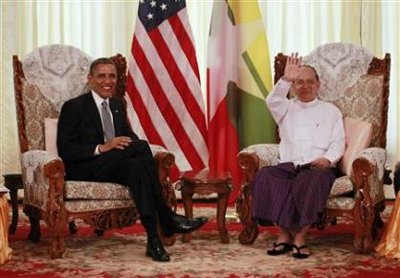 PHUKET MEDIA WATCH
– World news selected by Gazette editors for Phuket's international community


Praise and pressure as Obama begins historic Myanmar visit
YANGON: Barack Obama became the first serving U.S. president to visit Myanmar today, trying during a whirlwind six-hour trip to strike a balance between praising the
government
's progress in shaking off military rule and pressing for more reform.
Obama's first stop was a meeting with President Thein Sein, a former junta member who has spearheaded reforms since taking office in March 2011.
"I've shared with him the fact that I recognise this is just the first steps on what will be a long journey," Obama told reporters, with Thein Sein at his side.
"But we think a process of democratic and economic reform here in Myanmar that has been begun by the president is one that can lead to incredible development opportunities," he said, using the country name preferred by the government and former junta, rather than Burma, normally used in the United States.
Thein Sein, speaking in Burmese with an interpreter translating his remarks, responded that the two sides would move forward, "based on mutual trust, respect and understanding".
"During our discussions, we also reached agreement for the development of democracy in Myanmar and for promotion of human rights to be aligned with international standards," he added.
Tens of thousands of well-wishers, including children waving tiny American and Burmese flags, lined Obama's route to the old parliament in the former capital, Yangon, where he met Thein Sein.
Some held signs saying "We love Obama". Approaching the building, crowds spilled into the street, getting close enough to touch Obama's vehicle.
Obama moved on to meet fellow Nobel Peace Prize laureate and long-time opposition leader Aung San Suu Kyi, who led the struggle against military rule and is now a lawmaker.
On the way, Obama made a surprise stop at the landmark Shwedagon Pagoda, where the president, Secretary of State Hillary Clinton and their entire entourage, secret service agents included, went barefoot up the giant stone staircase.
As two monks guided Obama around, the security team fanned out, talking quietly into their radios.
Obama's trek to Myanmar is meant to highlight what the White House has touted as a major foreign policy achievement – its success in pushing the country's generals to enact changes that have unfolded with surprising speed over the past year.
But some international human rights group object to the visit, saying Obama is rewarding the government of the former pariah state for a job they regard as incomplete.
Speaking in
Thailand
on the eve of his visit, Obama denied he was going to offer his "endorsement" or that his trip was premature.
"I don't think anybody is under the illusion that Burma's arrived, that they're where they need to be," Obama said. "On the other hand, if we waited to engage until they had achieved a perfect democracy, my suspicion is we'd be waiting an awful long time."
Obama's Southeast Asian trip, less than two weeks after his re-election, is aimed at showing how serious he is about shifting the U.S. strategic focus eastwards as America winds down wars in Iraq and Afghanistan. The so-called "Asia pivot" is also meant to counter China's rising influence.
Freeing prisoners
Aides said Obama was determined to "lock in" democratic changes already under way in Myanmar, but would also press for further action, including freeing remaining political prisoners and stronger efforts to curb ethnic and sectarian violence.
A senior U.S. official said Obama would announce the resumption of U.S. aid programmes in Myanmar during his visit, anticipating assistance of $170 million in fiscal 2012 and 2013, but this, too, would be dependent on further reforms.
"The president will be announcing that the United States is re-establishing a USAID mission in Burma, which has been suspended for many years," the official told reporters in
Bangkok
, declining to be named.
The United States has softened sanctions and removed a ban on most imports from Myanmar in response to reforms already undertaken, but it has set conditions for the full normalisation of relations, such as the release of all political detainees.
Asked if sanctions could be lifted completely at this stage, a senior administration official insisted they could not. "All these things are reversible," he said.
In a move clearly timed to show goodwill, the authorities in Myanmar began to release dozens of political prisoners on Monday, including Myint Aye, arguably the most prominent dissident left in its gulag.
Some 66 prisoners will be freed, two-thirds of them dissidents, according to activists and prison officials.
The government will also let the International Committee of the Red Cross resume prisoner visits, according to a statement late on Sunday, and the authorities plan to "devise a transparent mechanism to review remaining prisoner cases of concern by the end of December 2012".
In a speech to be given at Yangon University to an audience that will include several high-profile former prisoners, Obama will stress the rule of law and allude to the need to amend a constitution that still gives a great role in politics to the military, including a quarter of the seats in parliament.
"America may have the strongest military in the world, but it must submit to civilian control. As President and Commander-in-Chief, I cannot just impose my will on our Congress, even though sometimes I wish I could," he will say.
He looks forward to a future "where national security is strengthened by a military that serves under civilians, and a constitution guarantees that only those who are elected by the people may govern".
Ethnic strife
Violence between majority Buddhists and the Rohingya Muslim minority in western Myanmar is a top concern, and Obama's aides said he would address the issue directly with Myanmar's leaders.
Myanmar considers the Rohingya Muslims to be illegal immigrants from neighbouring Bangladesh and does not recognise them as citizens. A Reuters investigation into the wave of sectarian assaults painted a picture of organised attacks against the Muslim community.
At least 167 people were killed in two periods of violence in Rakhine state in June and October this year.
Obama did not refer to this in the excerpt of his speech released to media ahead of delivery, but he will recall the sometimes violent history of the United States, its civil war and segregation, and say hatred could recede with time.
"I stand before you today as president of the most powerful nation on earth, with a heritage that would have once denied me the right to vote. So I believe deeply that this country can transcend its differences, and that every human being within these borders is a part of your nation's story," he will say.
Thein Sein, in a letter to U.N. Secretary-General Ban Ki-moon last week, promised to tackle the root causes of the problem, the United Nations said.
Despite human rights concerns, the White House sees Myanmar as a legacy-building success story of Obama's policy of seeking engagement with U.S. enemies, a strategy that has made little progress with countries such as Iran and
North Korea
.
Obama's visit to Myanmar, sandwiched between stops in Thailand and Cambodia, also fits the administratio
— Reuters
World News

Join the conversation and have your say on Thailand news published on The Thaiger.
Thaiger Talk is our new Thaiger Community where you can join the discussion on everything happening in Thailand right now.
Please note that articles are not posted to the forum instantly and can take up to 20 min before being visible. Click for more information and the Thaiger Talk Guidelines.