Pilot locked out of cockpit in Germanwings Airbus crash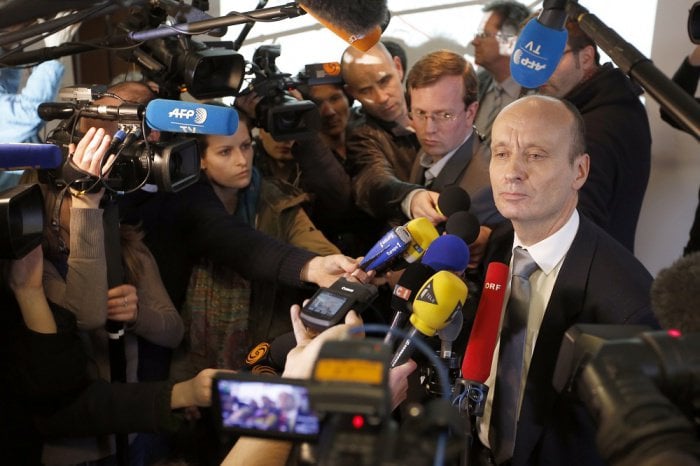 PHUKET MEDIA WATCH
– World news selected by Gazette editors for Phuket's international community
Pilot locked out of cockpit in Germanwings Airbus crash
Reuters / Phuket Gazette
PHUKET: Investigators have retrieved cockpit voice recordings from one of the black boxes of the German Airbus plane that crashed into the Alps, killing everyone onboard, officials said on Wednesday.
The New York Times reported that evidence from the recordings showed that one of the pilots left the cockpit and could not get back in before the flight went down.
"The guy outside is knocking lightly on the door and there is no answer," an unnamed investigator told the Times, citing the recordings. "And then he hits the door stronger and no answer. There is never an answer."
"You can hear he is trying to smash the door down," the investigator added.
The retrieval of the recordings came as French President Francois Hollande, Germany's Angela Merkel and Spain's Mariano Rajoy travelled to the crash site in a remote French Alpine region to pay tribute to the 150 victims, mostly Germany and Spanish.
While Hollande promised that authorities would not rest until the causes of the crash were known, France's BEA air incident investigation bureau said it was still far too early to draw meaningful conclusions on why the plane, operated by the Germanwings budget arm of Lufthansa, went down.
"We have just been able to extract a useable audio data file," BEA director Remi Jouty told a news conference at its headquarters outside Paris.
"We have not yet been able to study and to establish an exact timing for all the sounds and words heard on this file," he said.
He expected initial analysis in "a matter of days" but that rough read-out could be subject to errors and that more work would be needed for a full interpretation.
Although he said "words" had been heard on the tape, Jouty would not confirm whether that meant the Airbus A320's pilots were conscious and he gave no details of the recordings.
The New York Times quoted a senior military official involved in the investigation as saying the cockpit audio showed "very smooth, very cool" conversation between the pilots in the early part of the flight. The audio then indicated one of the pilots left the cockpit.
"We don't know yet the reason why one of the guys went out," the official added. "But what is sure is that at the very end of the flight, the other pilot is alone and does not open the door."
Interior Minister Bernard Cazeneuve earlier said a terror attack was not the main hypothesis being worked on. Jouty said, however, that no theory could be excluded at this point.
While stressing it was too early to form a clear picture, he ruled out a mid-air explosion having taken place and said the crash scenario did not appear to be linked to depressurization.
Jouty said the second black box had not yet been found but could not confirm Hollande's remark that its casing had. Among the new details, he said the airliner had flown in a straight line directly into the mountain – but would not say whether that suggested at the hand of a pilot or auto-pilot.
Germanwings said 72 Germans were killed in Tuesday's crash, the first major air passenger disaster on French soil since the 2000 Concorde accident just outside Paris. Spanish officials said 51 Spaniards were among the victims.
As well as Germans and Spaniards, victims included three Americans, a Moroccan and citizens of Britain, Argentina, Australia, Belgium, Colombia, Denmark, Israel, Japan, Mexico, Iran and the Netherlands, officials said. However, DNA checks to identify them could take weeks, the French government said.
Lufthansa CEO Carsten Spohr described the crash as incomprehensible and said Lufthansa has never lost a plane during the cruise stage of flight.
"This represents the darkest hours in the 60 year history of our Lufthansa group. We are still in a state of shock," he said.
Hollande, Merkel and Rajoy thanked search teams and met residents in the village of Seyne-les-Alpes, where the salvaging operation has been set up.
"Dear Angela, dear Mariano, rest assured … we will find out everything," Hollande told German Chancellor Angela Merkel and Spanish Prime Minister Mariano Rajoy, pledging to get to the bottom of what caused the crash. "France stands by you."
Merkel replied: "It feels good that in a difficult hour like this that we're standing so closely together in friendship. Dear Francois, I'd like to say to you a heartfelt 'thank you' in the name of millions of Germans who are deeply appreciative of this German-Franco friendship."
'INEXPLICABLE'
A tribute ceremony took place on a site with a view in the distance of the mountain against which the Airbus crashed.
Earlier, Lufthansa said it could not explain why the Airbus run by its low-cost Germanwings unit crashed.
Lufthansa said the 24-year-old plane had just on Monday had repairs to the hatch through which the nose wheel descends for landing. A spokeswoman said that was not a safety issue but that repairs had been done to reduce noise.
Police and forensic teams on foot and in helicopters investigated the site about 100 km (65 miles) north of Nice where the airliner slammed into mountains in what aviation officials was a sharp descent but not freefall.
"When we go to a crash site we expect to find part of the fuselage. But here we see nothing at all," pilot Xavier Roy, coordinating air operations, said of the confetti of debris.
Roy said teams of investigators had been dropped by helicopter onto the site and were working roped together at altitudes of around 2,000 meters (6,000 feet).
FLOWERS, CANDLES
Germanwings said it cancelled one flight on Wednesday and was using 11 planes from other carriers for about 40 flights after some of its crew members had refused to fly.
Employees laid candles and flowers by Germanwings headquarters at Cologne/Bonn airport, while Lufthansa and Germanwings staff worldwide held a moment of silence at 10:53 a.m. local (0953 GMT) – the moment the plane went missing.
Among the victims were 16 teenagers and two teachers from the Joseph-Koenig-Gymnasium high school in the town of Haltern am See in northwest Germany. They were on their way home after a Spanish exchange visit near Barcelona.
"On Tuesday last week we sent off 16 happy young people, with two happy young colleagues, on a journey and what was meant to be a happy trip … has ended in tragedy," headmaster Ulrich Wessel told reporters.
Barcelona's Liceu opera house said two singers, Kazakhstan-born Oleg Bryjak and German Maria Radner, died while returning to Duesseldorf after performing in Wagner's "Siegfried".
Germanwings said on Tuesday the plane started descending a minute after reaching cruising height and lost altitude for eight minutes. Experts said that while the Airbus had descended rapidly, it did not seem to have simply fallen out of the sky.
The A320 is one of the world's most used passenger jets and has a good safety record.
At 24-years-old, the plane was older than many others at Lufthansa, where the average for its fleet is 11-and-a-half years. It was delivered to Lufthansa in 1991 and had clocked up around 58,000 flight hours over 46,000 flights, Airbus said.
— Phuket Gazette Editors
Keep in contact with The Thaiger by following our
Facebook page
.


Find more SE Asian News courtesy of The Thaiger.

Broke? Find employment in Southeast Asia with JobCute Thailand and SmartJob Indonesia. Rich? Invest in real estate across Asia with FazWaz Property Group or get out on a yacht anywhere with Boatcrowd. Even book medical procedures worldwide with MyMediTravel, all powered by DB Ventures.

EU and UK zone in on possible breakthrough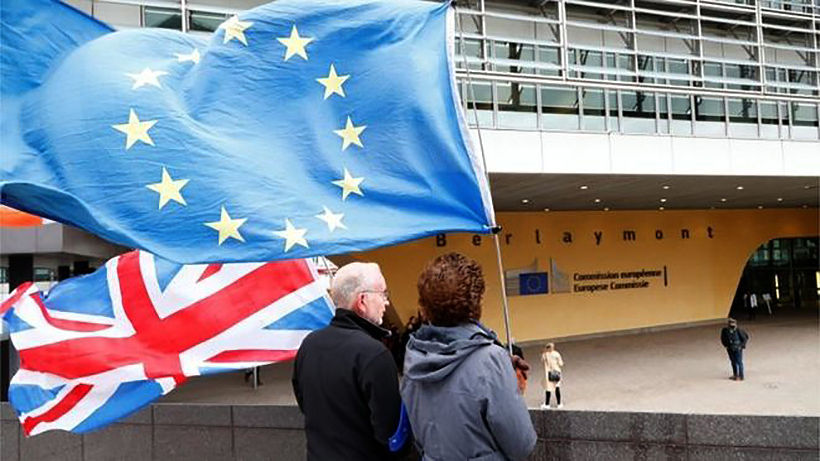 British and European negotiators headed back into intense negotiations on a draft Brexit deal after late-night talks brought them closer but so far fails to confirm an elusive breakthrough.
Reports that Britain has softened its stance on the customs status of Northern Ireland in order to clinch an accord at this week's European summit had raised hopes that a chaotic "no-deal Brexit" can be avoided and is driving the pound higher.
But a marathon overnight negotiating session in the EU's Brussels headquarters brought them to the eve of the meeting with still some distance to go to agree the wording of a treaty to govern the terms of Britain's October 31 departure from the bloc.
"The teams worked into the night and continue to make progress. The teams will meet again this morning," a UK official said, describing the talks as "constructive". He and EU officials said the teams would get back to work at around 9am.
A senior European diplomat told AFP that the negotiators had begun to transcribe the British offer into a legal text that could eventually go before the 28 EU national leaders on Thursday at their European Council summit which begins on Thursday.
But there remain some important differences, he cautioned, while a European official, speaking on condition of anonymity as closed-door negotiations continue, played down hopes that any text would be finalised Wednesday.
Even if a text is prepared for the leaders this week – or if, as many observers in Brussels expect, an extraordinary summit is called later – any deal would have to be approved by a skeptical British parliament, which holds a special session on Saturday.
By agreeing to a form of customs boundary in the Irish Sea, Britain could allow its province of Northern Ireland to remain under EU rules, prevent a return to a hard land border with EU member Ireland and salvage a negotiated withdrawal.
But Prime Minister Boris Johnson may struggle to convince hardline Conservative eurosceptic MPS and his allies from Northern Ireland's loyalist Democratic Unionist Party (DUP) to accept this concession — less than three weeks before Britain is due to leave the EU.
Nevertheless, EU negotiator Michel Barnier and British Brexit minister Stephen Barclay judged that a deal was close enough to justify officials working into the early hours of Wednesday morning.
Barnier had said a text must be on the table by Wednesday if member state governments are to have a chance to consider it before the summit, because the 28 national leaders have no plans to themselves debate the details of the agreement.
But if, as now seems likely, the Wednesday deadline is missed, officials said talks could instead resume next week and a special summit be called just in time for Johnson to fulfil his pledge to lead Britain out of the bloc on October 31.
European leaders warn they will not let Britain use Northern Ireland as a back door to the single market and Barnier said Tuesday that "it is high time to turn good intentions into legal text."
Yesterday, German Chancellor Angela Merkel outlined why EU officials are driving a hard bargain and hoping Britain will commit to a "level playing field" in post-Brexit trade and commerce.
"One thing is clear, Britain will develop into another competitor on the doorstep of Europe. And therefore the EU will be challenged to become more competitive and to assume geopolitical responsibility."
Glimmers of hope
"The last moment is always a bit later than you think," one German government official told AFP, suggesting Brexit would have to be postponed beyond the end of the month if talks are to reach a successful conclusion.
More than three years after Britain's 2016 referendum vote to leave the European bloc, talks remain stuck on how to avoid customs checks on the border between British-ruled Northern Ireland and EU-member Ireland.
The EU has reservations about London's proposed customs arrangements and the role for Northern Ireland's Stormont assembly in giving consent to the plans.
In London, DUP leader Arlene Foster told the BBC that she wanted to support a deal, but would not do so if she felt it divided Northern Ireland from the rest of the UK and added that without her party's support "everybody knows" it would not pass in parliament.
If no deal is reached by Saturday, Johnson will fall foul of a British law demanding he ask the EU to postpone Brexit for a third time rather than risk a potentially disastrous "no deal" departure.
SOURCE: Agence France-Presse
Keep in contact with The Thaiger by following our
Facebook page
.
Burmese surfing team head to SEAsia Games, a first for Myanmar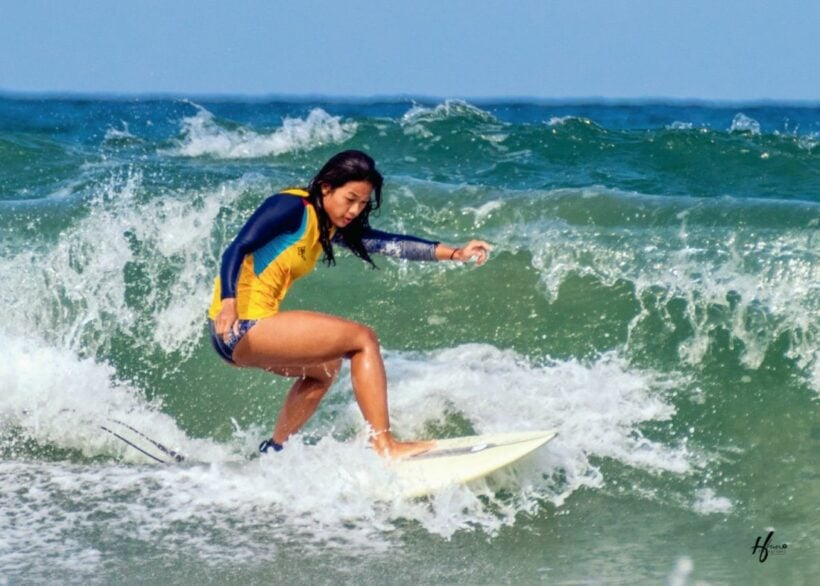 PHOTO: Burmese surfer Thwe Thwe Soe practicing off the coast of Ngwe Saung – Myanmore
Paddling hard and smiling, Thwe Thwe Soe flung herself up on the board just as a wave was breaking, spreading her arms out for balance before getting knocked off.
"I can't live without surfing. I did not expect to be chosen for the national team but I'm thrilled at the opportunity."
Thwe Thwe Soe was speaking after a day in the blue waters off the small coastal resort town of Ngwe Saung. Competitive surfing was barely known in Myanmar a few years ago but one local beach town is riding a wave of enthusiasm to the Southeast Asia Games for the first time ever.
The Southeast Asian country is flanked by surf-ready coasts to the west and south, but decades of military rule, lack of equipment and poverty kept aspiring athletes from testing the waters. The 25 year old encountered the sport while studying in southern California and has been hooked since, saying she "always feels happy" on the water.
Now she is going up against the region's giants at the December games in the Philippines. Thwe Thwe Soe has one of the best chances to medal among the handful of surfers going, but all are training hard.
"We surf for at least four to six hours a day," said American coach Robert Brickell, a 26 year old originally from New York.
The mild waves at Ngwe Saung present a paradox for competitive surfers – they are good to learn on but much tamer than the conditions in surfing hotspots. The team went to Bali in Indonesia for two months to get used to some "big wave surfing" and have made enormous strides in a short amount of time, Brickell said.
"My hope is that we can show everybody that people from Myanmar, we know how to surf, we know how to respect the ocean. And of course our hope is to win some meets."
The Surf Association of Myanmar was established only this year. The sport is slowly gaining prominence thanks to the impassioned surfers, most from a village near the beach and newcomers themselves. Ngwe Saung is the heartland of the growing craze and has now hosted several competitions.
"We hadn't heard of surfing before 2017. It will be a difficult competition but we will do our best for sure." said 19 year old Aung Min Naing.
SOURCE: Agence France-Presse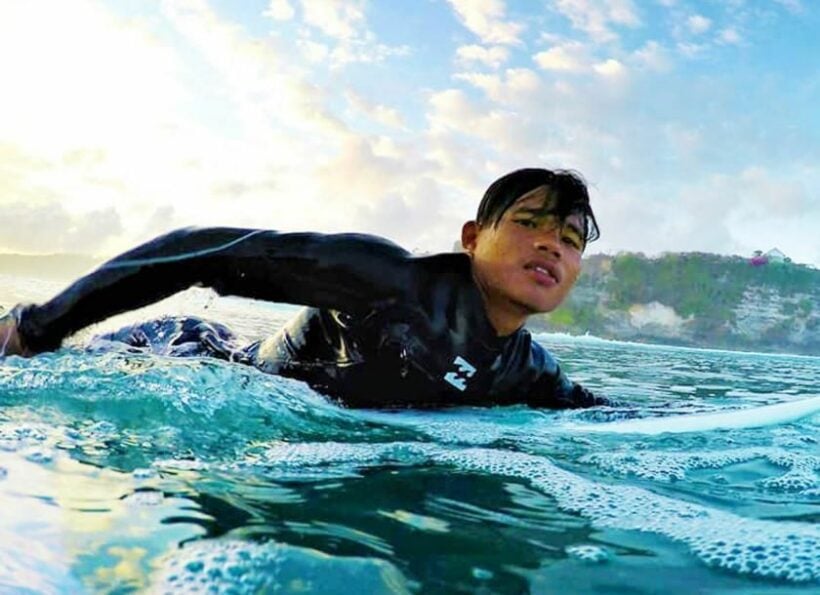 PHOTO: Aspiring new Burmese surfer, Aung Min Naing – MMTimes.com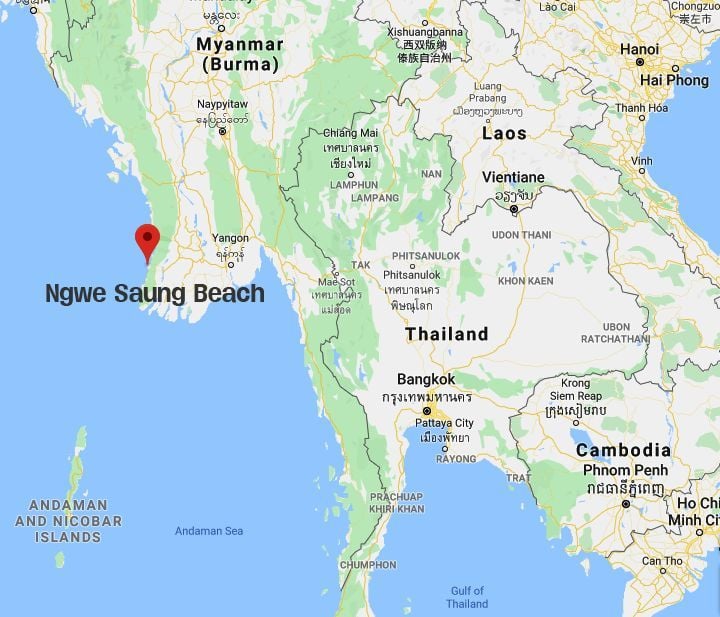 Keep in contact with The Thaiger by following our
Facebook page
.
The K-pop Olympics: performers battle in the K-pop festival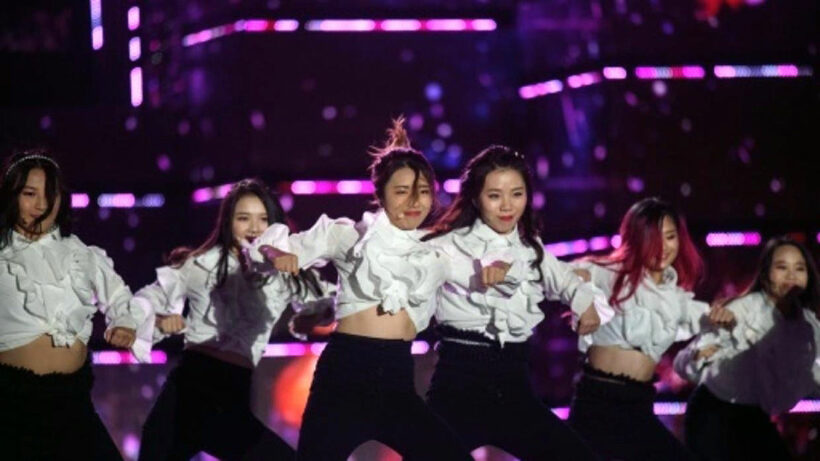 On the streets, in parks and garages, seven Cuban youngsters spent seven months practising K-pop moves to secure a spot on their dream stage: an appearance in South Korea to imitate their idols. 13 final teams from 80 countries are competing in the 2019 event.
At the grandly titled and government-funded Changwon K-pop World Festival contestants from around the globe perform imitation dances or sing cover versions of the genre's biggest hits, with thousands of fans cheering them on.
In terms of global heft, South Korea is overshadowed by its much larger neighbours China and Japan, but the event is a way for Seoul to derive soft power from one of the country's biggest cultural exports. In terms of pop-power, South Korea's K-Pop is now a recognised world-wide music phenomenon with bands like BTS and Blackpink figuring amongst the other big-hitters on the Billboard charts and outselling their western counterparts with millions of albums and downloads.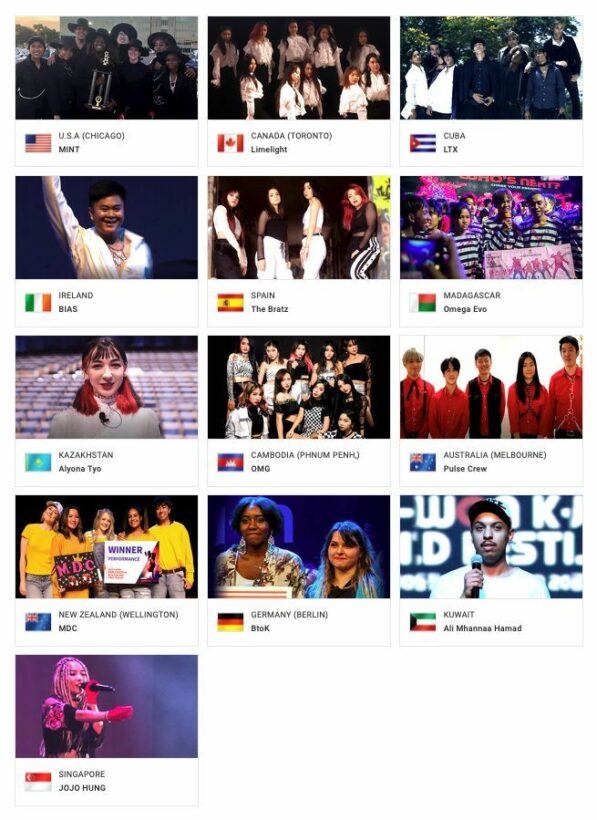 Finalists for this year
Cuba's Communist government is one of North Korea's few remaining allies: when President Miguel Diaz-Canel, successor to the Castro brothers Fidel and Raul, visited Pyongyang last November he was only the third foreign head of state to do so since leader Kim Jong Un inherited power in 2011.
But rather than geopolitics, Havana performer Karel Rodriguez Diaz – whose mannerisms and sleek hairstyle could easily be mistaken for those of a K-pop star – is more motivated by high-tempo beats and superslick dance moves.
"We never had a place with a mirror or a choreographer who could teach us the steps" but they kept on practising, he said.
His team-mate Elio Gonzalez added: "We are so excited to represent not just Cuba but also the whole of Latin America."
Some 6,400 teams from more than 80 countries entered the competition, according to organisers, with 13 groups from places as diverse as Kuwait and Madagascar winning through to the final in Changwon, where they appeared on stage waving their national flags.
"This is like watching the Olympics, a K-pop Olympics," said the event's host Lia, a member of K-pop group ITZY.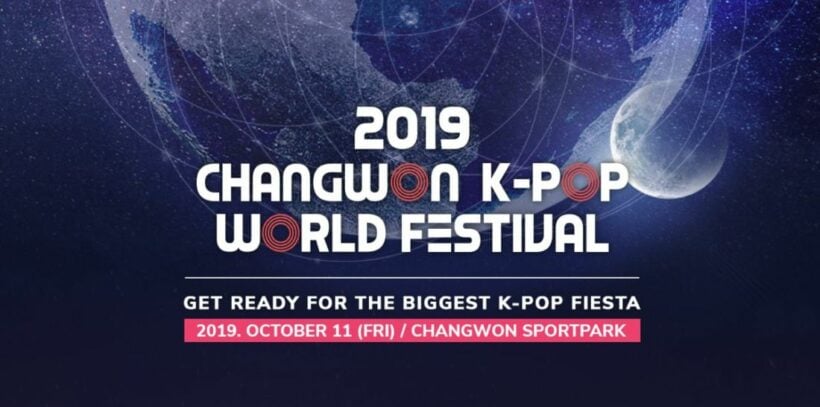 The Korean Wave
K-pop – along with K-drama soap operas – has been one of South Korea's most successful cultural exports to date. A key part of the "Korean Wave" which has swept Asia and beyond in the last 20 years, the K-pop industry is now estimated to be worth $5 billion, with boyband BTS its latest high-profile exponent, becoming the world's most successful band in the past 12 months, selling out stadium concerts within minutes, around the world.
The South Korean government has financed a variety of K-pop themed events in what CedarBough Saeji, a visiting professor at Indiana University Bloomington in the US, said was a form of long-term "soft power diplomacy".
"When you are covering you get to 'become' those idols for the three and a half minutes of the song," she said, adding that performers will go so far as matching their clothing, accessories and hairstyle to their heroes and heroines.
"The cover dancers of today will be diplomats, news reporters, and business leaders in forty years," she went on.
"And hopefully they'll still have a soft spot in their heart for Korea. Korea can't win the world through hard power – armies, economic bullying – but with soft power even a small country like Korea has a chance."
The music also provides an artistic alternative for overseas fans, especially those in developing countries, Saeji added.
"The West, especially the United States, has been so dominant culturally for so long, and having a different cultural pole to look to provides hope that one's own country can experience similar success in the future."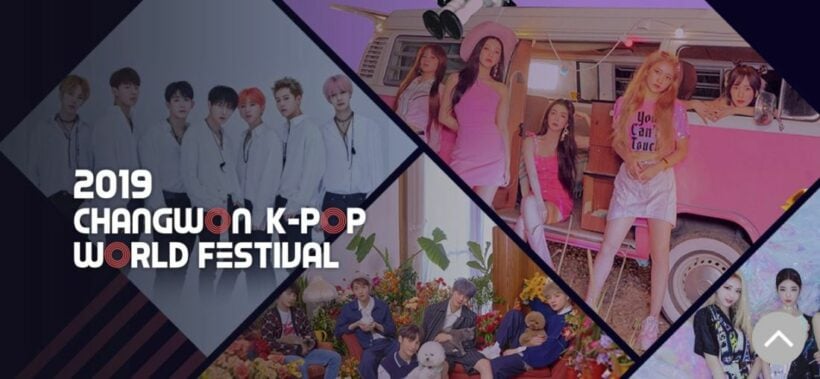 Be who you want
Beneath its glitz and glamour, the K-pop industry is also known for its cutthroat competition, a lack of privacy, online bullying and relentless public pressure to maintain a wholesome image at all times and at any cost.
Sulli, a popular K-pop star and former child actress who had long been the target of abusive online comments was found dead on Monday, with her death sending shockwaves through fans around the world.
"I think a day where (people) would be ashamed of the K-show business will surely come," a South Korean online user wrote in the wake of the star's death.
"I think an industry that makes money by (making people) sing, dance, undergo plastic surgeries and go on a diet to please the gaze of others since they are teenagers should really go bankcrupt."
But for Kenny Pham, a finalist from the US at last week's contest, K-pop's diversity – with some tunes having dark themes, while others were "cute" or sensual – is what gives him a sense of liberation.
"I like how expressive you could be," the 19 year old told AFP last week.
"I feel like it's a place where you could show the passion you have for music, dance or fashion. No one is bashing you for what your likes are."
SOURCE: Agence France-Presse
Keep in contact with The Thaiger by following our
Facebook page
.