Phuket Media Watch: North Korea defiant; Fires rage in Los Angeles; Sailor rescued 5 days after ship sinks off Vietnam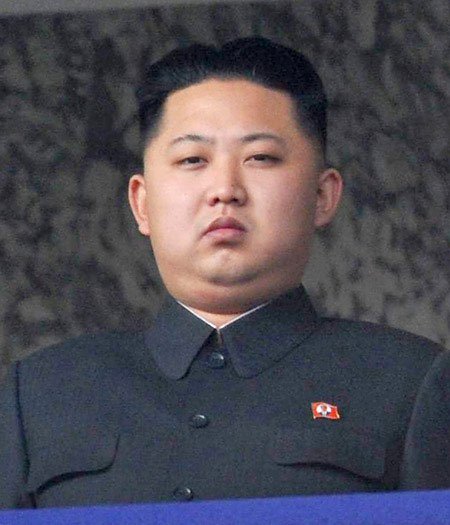 PHUKET MEDIA WATCH
– World news compiled by Gazette editors for Phuket's international community
North Korea warns South Korea on 'hideous crimes'
Phuket Gazette / News Wires

PHUKET: The North Korean military on yesterday said the South "will pay for its hideous crimes" during the mourning period for Supreme Leader Kim Jong-il, and warned it may launch a retaliatory strike to "smash the stronghold of the puppet forces."
A statement from the National Defense Commission of the Democratic People's Republic of Korea (DPRK/North Korea) condemned the South Korean government for immediately putting its forces on alert and convening an emergency meeting following the announcement of Kim Jong-il's death.
"When the whole nation is overcome with grief over the great loss, only the South Korean puppet group committed thrice-cursed crimes," the Commission said in a long statement. "The DPRK National Defense Commission, above all, discloses before the world and the nation the truth about those crimes of the South Korean puppet group."
The Commission said the South's actions created the impression that a "golden opportunity" had arrived to lead the North to a system change. "The South Korean authorities put the three services of the puppet army on an emergency alert and ordered them to adopt combat posture, creating a war-like atmosphere," it said.
North Korean state-run media published a series of articles yesterday which were critical of South Korea. While threats against South Korea have been made in the past, yesterday's was the first since Kim Jong-il's son, Kim Jong-un, took over as Supreme Leader.
The Commission said the statements yesterday were made to "clarify" its principles in regards to South Korea, mainly because of the events during the mourning period. "As already declared, the DPRK will have no dealings with the Lee Myung-bak group of traitors forever," it said. "To keep company with them is a disgrace for the clear and honest-minded Korean nation as they are ignorant in politics, vulgar in morals and lack elementary human nature."
The military warned: "We will surely force the group of traitors to pay for its hideous crimes committed at the time of the great national misfortune. The veritable sea of tears shed by the army and people of the DPRK will turn into that of retaliatory fire to burn all the group of traitors to the last one, and [turn our] wailing into a roar of revenge to smash the stronghold of the puppet forces."
Police hunt arsonist after 20 fires hit Los Angeles overnight
Phuket Gazette / News Wires
PHUKET: As many as twenty suspicious fires were set in Hollywood and the City of Los Angeles early yesterday morning, police said. One firefighter was injured while responding to one of the fires.
Sheriff's officials said the first fire was set just after midnight in a car port in West Hollywood, a city in Los Angeles County. Over the next two hours, officials say, at least four other fires were started throughout the area in car ports. No residents were injured in any of the fires, but one firefighter was transported to the hospital after falling from a ladder.
At the same time, up to 15 other fires were started in the city of Los Angeles, which is within a two-mile (3.2 kilometer) radius of West Hollywood.
"The City of West Hollywood arson fires are definitely related to the LA City fires," said Los Angeles County Police Detective Ed Nordskog.
Several of the fires raged in homes and other buildings, including the former home of U.S. musician Jim Morrison, according to the DPA news agency. Dozens of residents had to be evacuated from an apartment building after two fires were set shortly after 2am local time (5pm Phuket time). The last fire was started after 4am.
"We are very fortunate that these outrageous crimes didn't result in injuries or death," said Captain Kelley Fraser at the West Hollywood Sheriff's Station. "We are asking for the public's help in the search for the arsonist(s). If you saw or see anyone or anything suspicious, please report it immediately."
Vietnamese sailor found 5 days after shipwreck killing 22
Phuket Gazette
PHUKET: A Vietnamese sailor was found alive on yesterday after his cargo ship sank off the coast of Vietnam on Sunday, killing nearly two dozen people, officials said.
The English MV London Courage ship found 31-year-old Dau Ngoc Hung adrift in a life boat, five days after the Vinalines Queen capsized after it passed the Phillipines island of Luzon, which is located east of Vietnam.
Nguyen Anh Vu, the director of the Vietnam Maritime Search and Rescue Co-ordination Center, told the Vietnam News Agency that Hung is the only surviving crew member of the 23 people who worked aboard the ill-fated ship.
The accident occurred on Christmas Day when the Vinalines Queen went missing while transporting 54,000 tonnes of Nikel from Indonesia to China. The ship did not send out a distress signal, slowing down rescue operations.
Hung said the boat suddenly overturned and quickly sank, explaining that he was the only one of the crew who was able to reach a life boat. Search and rescue operations were carried out by different teams from the Philippines, Japan and Taiwan, as well as a number of other countries, which have already been informed of the rescue.
The cause of the accident remains unknown.
— Phuket Gazette Editors
Thai-owned Dusit D2 Hotel under fire in Nairobi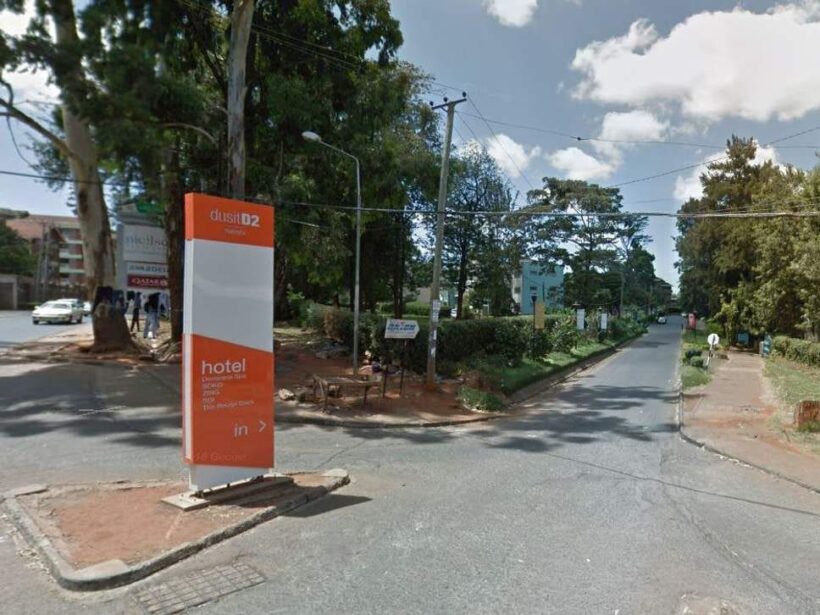 PHOTO: Google Maps
Two explosions and gunfire have been heard amid an apparent attack at an upscale hotel and office complex in Kenyan capital Nairobi. News just in from independent.co.uk
"We are under attack," another person in an office inside a complex in the DusitD2 hotel told Reuters, then hung up. Local television showed smoke rising from the area.
"I just started hearing gunshots, and then started seeing people running away raising their hands up and some were entering the bank to hide for their lives," a woman working in a neighbouring building told the news agency. She also heard two explosions, she said.
Nairobi police commander Philip Ndolo said officers had cordoned off the area around Riverside Drive due to a suspected robbery.
However, police spokesman Charles Owino told local media officials were not ruling out an attack by militants.
Read the rest of the Reuters report HERE.
Paralyzed from rare disease, Caroline returns home from Thailand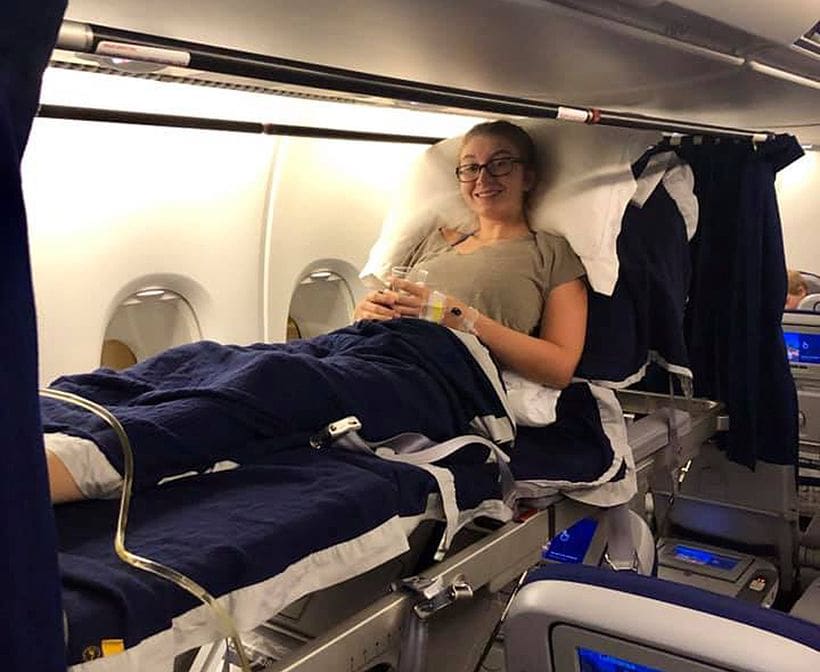 Original report by Karina Bolster and David Hylton. PHOTOS: Facebook/Jim Brader
A 22 year old woman from Virginia, US, who was paralyzed after her diagnosis of a rare auto-immune disease while teaching in Thailand, has arrived back home in the US.
Caroline Bradner was hospitalised in Thailand ever since.
A travel insurance company had agreed earlier this month to help Bradner get home. Caroline had originally travelled to Surat Thani in southern Thailand for a marketing internship but soon fell in love with teaching English to young children.
"She thought that would help broaden herself and also give back to other people," said her father Jim Bradner.
But two months in to her six month stay the unexpected happened.
On December 22 Caroline woke up in her apartment in Thailand unable to move, according to her sister.
"It's a punch in the gut," Bradner said.
Read more about Caroline's condition and the challenge to get her home HERE.

A friend, also from Virginia, took Caroline to the hospital after she started exhibiting symptoms of weakness, abdominal pain and paralysis.
Doctors in Thailand diagnosed her with Guillain Barre Syndrome, a rare auto-immune disease that causes your body's immune system to attack your nerves.
The family found out about Caroline's situation when they were picking her sister up at the airport.
Caroline's mother flew out Christmas Eve to help with her daughter's recovery while the rest of the family focused on finding a way to get her home.
Last night (Saturday), her father posted photos to Facebook as Caroline arrived home.
Friends, family and strangers donated to a GoFundMe page, originally created to help pay for transportation.
"Any additional funds will be donated to GBS/CIDP Foundation International," the fundraising page said.
Original article HERE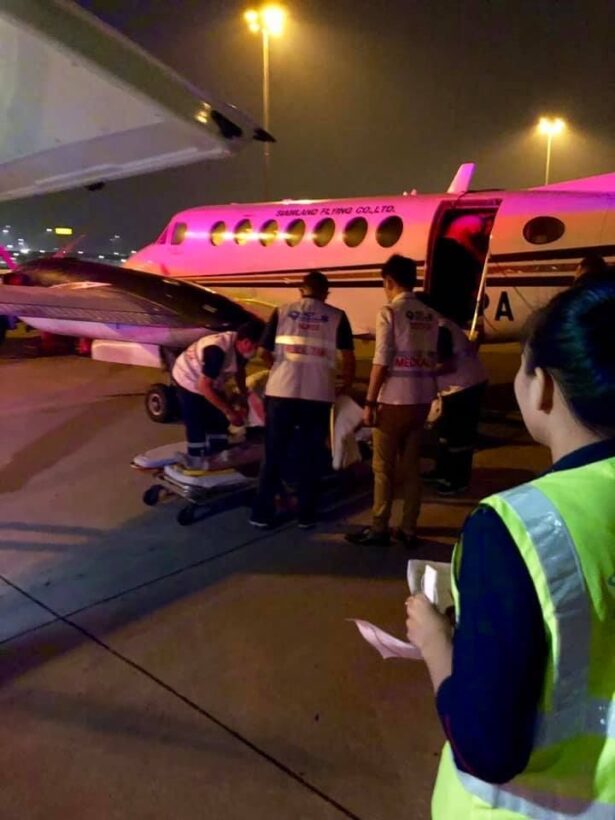 Rahaf al-Qunun arrives in Canada – no mention in Saudi media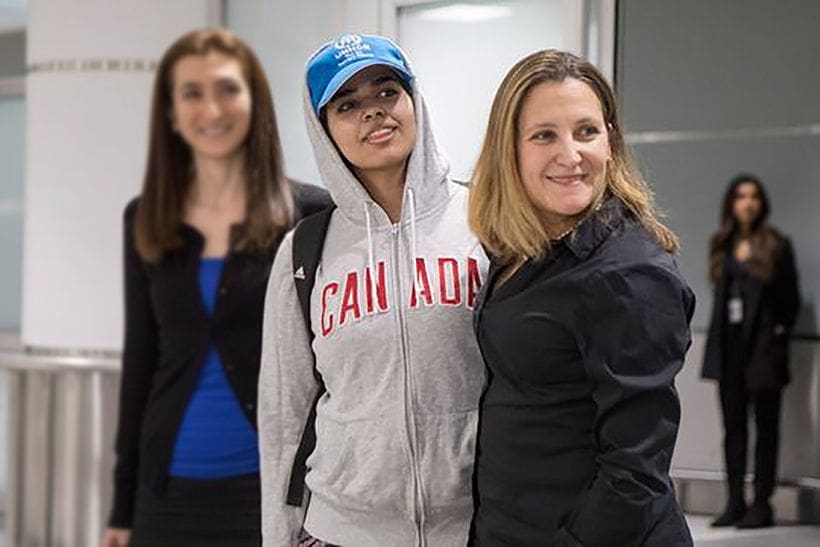 The 18 year old Saudi runaway who says she feared her family and possible death if she was deported back to Saudi Arabia, has arrived in Canada. Canadian officials offered her asylum in a case that became global news after the plucky woman mounted a Twitter storm, barricaded in her airport hotel room last weekend.
The Canadian Foreign Minister Chrystia Freeland met Rahaf Mohammed al-Qunun at Toronto's airport after arriving on a Korean flight from Bangkok, via Seoul.
"This is Rahaf al-Qunun, a very brave new Canadian." 
Al-Qunun smiled as she exited an airport arrival door wearing a Canada zipper hoodie and a UN High Commissioner for Refugees cap.
Her arrival in Canada ended a dramatic seven days that started with her fleeing her family while visiting Kuwait and flying to Bangkok. 
After a week of diplomatic 'push and pull' between the Thai, Saudi, then Australian and Canadian governments, the UN High Commissioner for Refugees was allowed to step in and assess the woman's request for refugee status.
On Friday, Prime Minister Justin Trudeau announced that Canada would accept Al-Qunun as a refugee. The Canadian PM said the situation has highlighted the cause of women's rights in Saudi Arabia.
Upon her arrival yesterday the Canadian FM said Qunun preferred not to take questions.
"It was a pleasure for me this morning to welcome her to her new home."
"She is obviously very tired after a long journey and she preferred to go and get settled. But it was Rahaf's choice to come out and say hello to Canadians. She wanted Canadians to see that she's here, that she's well and that she's very happy to be in her new home."
Freeland said Qunun commented about the cold weather and she responded that it gets warmer in Canada.
Qunun Tweeted two pictures from her flight. One with what appears to be a glass of wine and her passport and another holding her passport while on the plane #I did it and emojis showing plane, hearts and wine glass.
There was no immediate Saudi government reaction, nor any mention of her arrival in state media.