World
Phuket Gazette World News: US fiscal talks stumble; Putin political rival facing jail time; al Qaeda suspect pleads innocent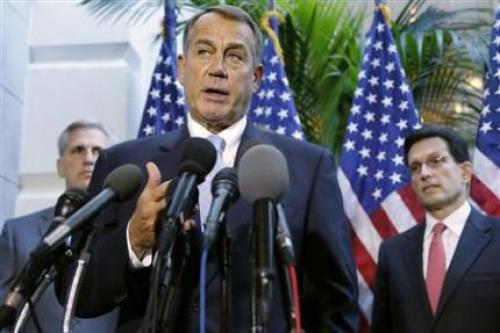 PHUKET MEDIA WATCH
– World news compiled by Gazette editors for Phuket's international community
U.S. fiscal talks stumble as lawmakers race against time
Reuters / Phuket Gazette
PHUKET: Stop-start negotiations to end the U.S. fiscal impasse left congressional leaders and President Barack Obama desperately searching yesterday for a way to reopen the government and raise the country's debt limit ahead of a Thursday deadline.
Fitch Ratings warned it could cut the sovereign credit rating of the United States from AAA citing the political brinkmanship over raising the federal debt ceiling.
Fitch's action emphasized how close to an economically damaging default Washington has come and sent U.S. stock futures lower.
Republicans in the fractious House of Representatives said they would try a new approach after their first attempt crash-landed. But differences with an emerging Senate proposal could complicate prospects for final passage before October 17, when the U.S. Treasury says the government will reach its borrowing limit.
The first alternative plan from House Republican leaders failed to gain enough support in a closed-door morning meeting for the House to proceed. The disarray raised questions about what the House will ultimately be able to pass and stoked 11th-hour uncertainty.
"We're going to continue to work with our members on both sides of the aisle to try to make sure that there is no issue of default, and to get our government reopened," House Speaker John Boehner told reporters after the meeting.
The Senate had appeared to be on a productive track with their own tentative bipartisan fiscal deal, but negotiators halted talks as they waited for House Republicans to move first.
The new plan from House Republicans would not include a previous effort to delay a tax on medical devices that would be used to pay for Obama's healthcare plan. Obama had objected to that proposal.
But the new plan, which would extend the federal debt limit until February 7 like the Senate, would only provide government funding until December 15. The Senate, which had been close to an agreement, would keep the government open longer, until January 15.
The House will vote on their plan later this morning, Republican Representative Devin Nunes of California told reporters. It is unclear when the Senate will act.
The U.S. Treasury Department seized on the downgrade threat to press Congress. "The announcement reflects the urgency with which Congress should act to remove the threat of default hanging over the economy," a Treasury spokesperson said.
After the Fitch announcement, S&P 500 futures fell 9.6 points while Dow Jones industrial average futures sank 60 points and Nasdaq 100 futures fell 7.5 points.
Fits and starts

In the coming hours, much of the focus will be on Boehner and whether he agrees to the demands of the more conservative wing of his party.
Conservative House members, driven by the Tea Party small-government faction, have continued to push for changes to Obama's signature healthcare law as part of any budget deal.
Those demands sparked the partial government shutdown that began with the dawn of the new fiscal year on October 1, temporarily throwing hundreds of thousands of government employees out of work.
If Congress fails to reach a deal by Thursday, checks would likely go out on time for a short while for everyone from bondholders to workers who are owed unemployment benefits. But analysts warn that a default on government obligations could quickly follow, potentially causing the U.S. financial sector to freeze up and threatening the global economy.
Earlier yesterday, lawmakers expressed hope that the Senate could vote as soon as this morning on a deal being hashed out between Senate Democratic Leader Harry Reid and Republican Leader Mitch McConnell.
"We were on track and Boehner stepped in," Richard Durbin of Illinois, the No. 2 Senate Democrat, told reporters. "McConnell is waiting on Boehner and Boehner is waiting on his caucus."
After Durbin's comments, markets got increasingly nervous about the prospects of a last-minute deal.
The House Republican proposal initially floated would have funded the government through January 15, and raised the $16.7 trillion debt ceiling by enough to cover the nation's borrowing needs through February 7, similar to the Senate plan, aides said.
But unlike the Senate, it would have included the two-year suspension of the medical device tax included in Obama's healthcare law, and a requirement that members of Congress and the administration be covered under the law.
Both House versions would not allow the U.S. Treasury to renew its extraordinary cash management measures to stretch borrowing capacity for months, which had tentatively been allowed under the Senate plan.
Numerous polls show Republicans have taken a hit in opinion polls since the standoff began and the government shutdown. A Washington Post/ABC News poll released on Monday found that 74 percent of Americans disapprove of the way congressional Republicans have handled the standoff, compared with a 53 percent disapproval rating for Obama.
Another survey released by Gallup yesterday showed American confidence in the U.S. economy fell another five points last week as the government shutdown continued.
The crisis is the latest in a series of budget battles in recent years that have hurt consumer confidence and weighed on the economy. A Monday estimate by the Peter G. Peterson Foundation, a think tank, said the uncertainty from the frequent showdowns had boosted the unemployment rate by 0.6 of a percentage point, or the equivalent of 900,000 jobs since late 2009.
Putin foe Navalny faces prison if appeal is rejected
Reuters / Phuket Gazette
PHUKET: Convicted at a trial he describes as Vladimir Putin's revenge for his political challenge, Russian opposition leader Alexei Navalny faces five years in prison if his appeal against a theft conviction is rejected today.
The court hearing in the remote city of Kirov also poses a conundrum for President Putin.
Jailing Navalny would keep Putin's most prominent critic out of elections for years, curtailing any threat from a young rival with presidential ambitions who scored a strong second-place showing in a Moscow mayoral vote last month.
But it could also revive street protests by Putin's opponents and human rights activists over what they see as a clampdown on dissent since the 61-year-old president started a six-year third term in 2012.
While Putin denies exerting influence over the courts, many Russians suspect that rulings in high-profile cases are dictated by the Kremlin and result from careful political calculation.
"The Kremlin has an unpleasant decision to make," said Dmitry Oreshkin, a political analyst.
A ruling upholding the five-year sentence would be seen by many as evidence that tough tactics will continue despite signals meant to suggest a let-up, such as Putin's promise of a prisoner amnesty later this year.
A blogger against corruption among Russia's elite, Navalny helped lead the biggest protests of Putin's 13-year rule, which were stoked by allegations of fraud in a December 2011 parliamentary election.
The protests have faded, but Navalny has emerged as the main opposition leader, making his trial the most closely watched in Russia since jailed former oil tycoon Mik
— Phuket Gazette Editors

Join the conversation and have your say on Thailand news published on The Thaiger.
Thaiger Talk is our new Thaiger Community where you can join the discussion on everything happening in Thailand right now.
Please note that articles are not posted to the forum instantly and can take up to 20 min before being visible. Click for more information and the Thaiger Talk Guidelines.