World
Phuket Gazette World News: Toronto mayor in crack up; Egypt's Mursi trial begins; Anonymous hacks Australia; France rues journalists' executions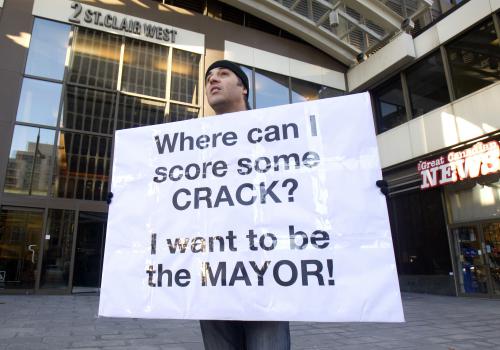 PHUKET MEDIA WATCH
– World news compiled by Gazette editors for Phuket's international community
Toronto mayor urges police to release video, apologizes for 'mistakes'
Reuters / Phuket Gazette
PHUKET: Toronto Mayor Rob Ford on Sunday urged his police chief to release a video that media reports say show him smoking what appears to be crack cocaine and issued an apology for unspecified "mistakes" in his past.
But Ford, who has previously said he does not use crack, and who did not discuss the content of the video, also said he would not step down and planned to run in the next election.
"Chief, I'm asking you to release this video now," Ford said on his weekly radio show, referring to Toronto Police Chief Bill Blair.
"Whatever this video shows … Toronto residents deserve to see it, and people need to judge for themselves what they see on this video," Ford said.
"I'm the first one to admit I'm not perfect. I have made mistakes. I have made mistakes and all I can do right now is apologize for the mistakes. I sincerely, sincerely apologize to my family, to the citizens, to taxpayers of this great city."
Ford said he wanted to move forward, but recognized he has to make changes in his life.
"Unfortunately I cannot change the past. I can just move forward and learn from the past, which I'll assure you I'm doing," he said.
The mayor's apology comes after Toronto police said last week they had recovered a copy of a video that was "consistent" with one reportedly seen by journalists at the Toronto Star newspaper and by media blog Gawker earlier this year.
Both the Star and Gawker said the video shows the mayor smoking what appears to be crack cocaine.
Ford's lawyer said on Friday that his client was not smoking crack in the video, which has dominated Canadian headlines for months, even though it has been seen by only a few people.
The Star and Gawker said they were shown the video, separately, by a man who wanted to sell it to them. Gawker raised funds to buy the video, but said it was unable to re-establish contact with the seller.
Ford, a right-wing politician elected on a cost-cutting platform in 2010, said on Thursday he could not comment on the matter because the video was evidence in a separate case before the courts.
Police Chief Blair said on Thursday police had retrieved the video from a deleted hard drive recovered in a drug investigation.
Blair would not describe what was happening on the video, but said it showed the mayor, and that he was "disappointed" by what he saw.
Mursi faces trial in Egypt in test of democracy
Reuters / Phuket Gazette
PHUKET: The first freely elected Egyptian president, Mohamed Mursi, goes on trial on Monday, the second time in just over two years that a deposed president has found himself in court in Egypt, a pivotal Arab nation some fear is sliding back into autocratic rule.
The trial raises the fear of deepening instability in the Arab world's most populous country, as Mursi's Muslim Brotherhood has said it would defy a security crackdown and press on with street protests to pressure the army, which toppled Mursi on July 3, to reinstate him.
A popular uprising that ousted Hosni Mubarak in 2011 raised hopes that Egypt would embrace democracy and eventually enjoy economic prosperity.
Instead, the struggle between the Brotherhood and the army-backed government has created deep uncertainty.
The trial of Mursi and 14 other Brotherhood officials is likely to be the next flashpoint in their confrontation.
They face charges of inciting violence relating to the deaths of about a dozen people in clashes outside the presidential palace in December after Mursi enraged his opponents with a decree expanding his powers.
The Brotherhood had won every election since Mubarak's fall and eventually propelled Mursi into power after the Islamist movement endured repression under one dictator after another.
But millions of Egyptians who grew disillusioned with Mursi's troubled one-year rule took to the streets this summer to demand his resignation.
The army, saying it was responding to the will of the people, deposed him and announced a political roadmap it said would lead to free and fair elections.
But the promises have not reassured Egypt's Western allies, who had hoped the stranglehold of Egyptian military men would be broken.
Mursi is due to appear in court at the same Cairo police academy where his autocratic predecessor Mubarak also faces trial. The defendants could face a life sentence or death penalty if found guilty.
On the eve of Mursi's trial, Egypt's Al Watan newspaper released a video on its website of what it said was him speaking to unidentified individuals during his incarceration.
Dressed in a tracksuit, Mursi described his ouster as "a crime in every way". The newspaper did not say when the video was made.
The Brotherhood has called on its supporters to stage mass protests on Monday, but the size of their demonstrations has shrunk dramatically in the face of an onslaught by security forces.
Riot police crushed two-Mursi protest camps on August 14, and hundreds of Islamists have been killed and thousands arrested, including the Brotherhood's top leaders.
Egypt's oldest and most influential Islamist group has also been banned and its funds seized. Army chief Abdel Fattah al-Sisi, who toppled Mursi, has become immensely popular. Few doubt he would win if he runs for president.
The Brotherhood, which is in disarray, has released a succession of statements urging millions of Egyptians to take to the streets to express support for Mursi. Few heed the call.
"We have faith that the heroic Egyptian people will not let go of their freedom, dignity and value and will instead crawl to the unfair farce of a trial to show the world they are a people … who will never yield their commitment and legitimacy," the Brotherhood said in a statement.
Speaking to a local television channel, Interior Minister Mohamed Ibrahim issued a stern warning to the group:
"If the Brotherhood commit any violations, they will regret it."
Motives behind the trial
The Brotherhood maintains Mursi's ouster was a coup that reversed the democratic gains made after Mubarak's overthrow.
Human rights groups believe the trial will be a key indicator of whether Egypt will return to democracy or accept domination by the generals once again.
"Tomorrow's trial is a test for the Egyptian authorities. They should present Mohamed Mursi in court and grant him a fair trial, including the right to challenge the evidence against him in court," said Hassiba Hadj Sahraoui, Amnesty International's Deputy Director for the Middle East and North Africa Programme.
"Failing to do so would further call into question the motives behind his trial," she said, emphasising that the trial cannot proceed without Mursi's presence in court.
In the most senior visit to Cairo by a U.S. official since Mursi's fall, Secretary of State John Kerry also called for a fair, transparent trial for all Egyptians.
Egyptian officials admit the path to democracy has been rocky, but say a proper democratic transformation will take time.
Speaking to Reuters by phone, Osama Mursi, the deposed president's 30-year-old son, said his father had not authorised a defence lawyer and the family would not be attending the trial.
"
— Phuket Gazette Editors

Join the conversation and have your say on Thailand news published on The Thaiger.
Thaiger Talk is our new Thaiger Community where you can join the discussion on everything happening in Thailand right now.
Please note that articles are not posted to the forum instantly and can take up to 20 min before being visible. Click for more information and the Thaiger Talk Guidelines.