Phuket Gazette Thailand News: Amnesty bill protests spread; Tourism takes a hit; Six killed in Pattaya ferry disaster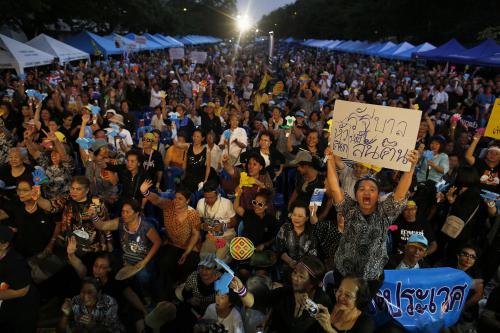 PHUKET MEDIA WATCH
– Thailand news compiled by Gazette editors for Phuket's international community
Amnesty opponents to rally nationwide
The Nation / Phuket Gazette
PHUKET: Yingluck Shinawatra's government is walking a tightrope as opposition against the Amnesty Bill has now gained momentum with various groups, including the Democrat Party and many red shirt groups who formerly supported her, openly launching their campaigns to tear down the explosive draft law.
The ruling Pheu Thai Party, meanwhile, will convene a meeting today to discuss on measures needed to address the tense situation.
The Democrat Party has staged its rally against what it calls the "whitewashing law" in Bangkok's Samsen Area for days already. Now, it has encouraged the like minded to join its movement.
"We are pleased to welcome all demonstrators who are against the Amnesty Bill," Bangkok Democrat MP Ekanat Prompan said yesterday.
The Democrat Party's rallies against the controversial bill have now spread to various other provinces as well. A number of demonstrators, for example, yesterday attended the rallies in Phuket and Surat Thani.
Somkid Lertpaitoon, Rector of Thammasat University said law academics, lectures, students and officials in the university expressed their opposition to the amnesty bill as it was unconstitutional and against rule of law. The group of 578 academics of the university who signed a petition said they were worried about the conflict in the society. They urged parliamentarians to stop their effort to pass the bill into the law.
Chamlong Srimaung, former leader of the People's Alliance for Democracy, led his protesters under People's Army against Thaksin regime from Lumpuni Park to join the group of student and people network for Thailand reform at Uripong insection in their protest against the amnesty bill.
A red shirt leader Sombat Boon-ngarm-anong will organise the "10,000 Up" rally at the Ratchaprasong Intersection to denounce the Amnesty Bill. The bill was unfair and unjust for the red-shirt protesters who died in the crackdown since responsible persons were granted amnesty, he said.
Thida Tavornset leader of Democratic Alliance against Dictatorship said a group of some 3000 red shirt would come to Bangkok for a training at Don Muang Technical College and they have liberty to join the protest against the bill.
Police warn protest leaders to move cautiously, as they will be held responsible for what happen.
"Protest leaders must be aware that they must be ready to take responsibility for any consequence," Police Spokesman Maj General Piya Utayo said yesterday. He is also the spokesman for the Centre for Administration of Peace and Order (Capo).
He said police were now quite worried about the growing possibility that the opponents to the bill would be marching to various venues in Bangkok.
"The marches will affect Bangkok's traffic. They also raise the possibility of confrontations with people who think differently," Piya said.
Capo's deputy spokesman Maj General Anucha Ramayanantana said National Police Commissioner General Adul Saengsingkaew had instructed all police units to closely monitor the rallies both in Bangkok and in provinces.
National Security Council secretary general Paradorn Pattanatabut, so far, said there was no need to invoke the Internal Security Act to control the situation at the moment. He suggested that the turnout at rally sites was not really that huge.
Democrat Party's deputy leader Alongkorn Ponlaboot said his party would work with all people's networks to stop the Amnesty Bill.
"With the legislation of this bill, the government is destroying the good governance and good principle in the country. If the bill is passed, corruption cases between 2004 and August 2013 will be dropped," he said.
Alongkorn said the Amnesty Bill, if legislated, would run against the UN Convention against Corruption that Thailand had ratified.
"Thailand's credibility will suffer badly then," he said, "The country can't give amnesty to the corrupt. Otherwise, the corrupt will keep doing the wrong things. They will think only by acquiring state power, their wrongdoings will be nullified".
Alongkorn said the Democrat Party, in collaboration with allies, would hold various rallies to inform people of what the Amnesty Bill would bring.
According to him, the rally will be held in Phetchaburi today, in Trat tomorrow, and in Chon Buri on Wednesday and in Pathum Thani on Thursday.
"We will go to all provinces," Alongkorn said.
Pheu Thai Party's spokesman Prompong Nopparit, meanwhile, said Pheu Thai MPs would today have a meeting as they would have an assignment to explain to people why the Amnesty Bill should be passed.
"The Amnesty Bill is based on the principle of forgiving so that the country can move ahead," he said.
Prompong also attacked the Democrat Party for orchestrating many rallies in the South.
"The tourism season for the South has just begun and relevant entrepreneurs are now worried," he said.
Week of protests – A look ahead
The Amnesty Bill is now an explosive issue. What will be coming next?
Today (November 4)
9.30am Core members of the Council of University Presidents of Thailand will convene a meeting to plan its next step in regard to its opposition to the Amnesty Bill.
10am Opponents of the bill will converge with Democrat Party leaders in Samsen in Bangkok. Marches are likely.
12.30pm The Business Club for Democracy will organise a rally on the footpath in Silom Road. They plan to blow whistles.
2pm The Joint Standing Committee on Commerce, Industry and Banking will announce its stance.
2pm The Thai Chamber of Commerce will announce its stance.
3pm Thammasat University will call on the Senate, asking it to reject the Amnesty Bill.
Tomorrow (November 5)

4pm The Chula Network for Morality will hold a rally at Chulalongkorn University to express opposition to the Amnesty Bill.
Wednesday November 6

Lecturers and students from Mahidol University will join the rally at Urupong Intersection.
Thursday November 7
Alumni of Thammasat University will call on the Senate president to express their opposition against the Amnesty Bill.
5pm The Group of 40 Senators will announce their stance against the Amnesty Bill at the Democracy Monument.
Friday November 8
The Anti-Corruption Organisation of Thailand will announce its stance.
Saturday November 10

Noon Sombat Boon-ngarm-anong will organise the "10,000 Up" rally at Ratchaprasong Intersection to denounce the Amnesty Bill.
People with royal descent will express their stance.
Markets fall on political instability
The Nation / Phuket Gazette
PHUKET: The SET Index eased 1.8 per cent in the past two weeks to close at 1,443 points on October 31, mainly on concerns over rising political temperatures in Thailand.
The SET Index lagged regional peers, represented by the MSCI Asia ex-Japan Index, which inched up 0.24 per cent in the period.
Foreign investors were net buyers in the last two weeks with a slight net-buy position of Bt444 million. Leading the decline were stocks in the tourism (-5.7 per cent), information and communications technology (-5.0 per cent) and transport (-3.6 per cent) sect
— Phuket Gazette Editors
Keep in contact with The Thaiger by following our
Facebook page
.
Never miss out on future posts by
following The Thaiger
.
Pattaya residents accuse Greek expat of throwing sewage, threatening neighbours, and damaging property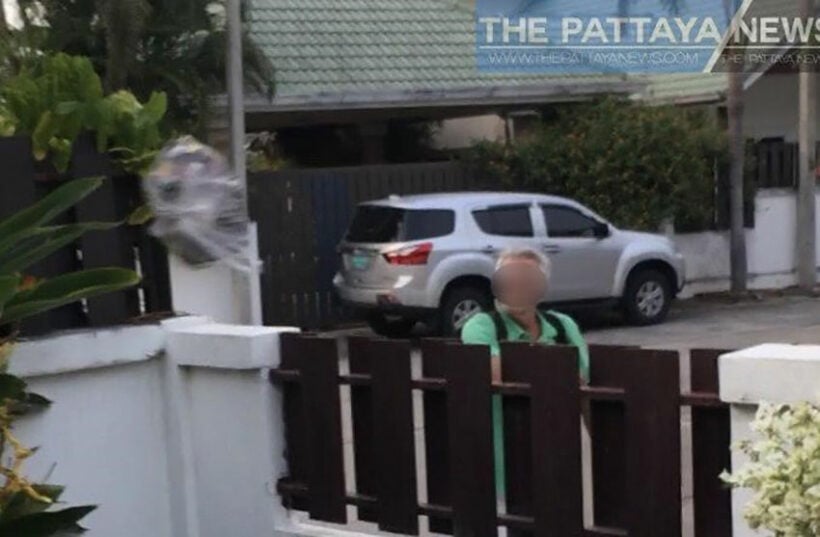 Residents of a housing estate in the district of Banglamung in Pattaya, have filed a police report against an expat they accuse of threatening and damaging behaviour. According to The Pattaya News, neighbours say the Greek national has threatened them, as well as "throwing sewage" at their homes, and damaging their fences. They add that, despite filing a police report about the man's behaviour, which has also been captured on CCTV, they feel nothing is being done.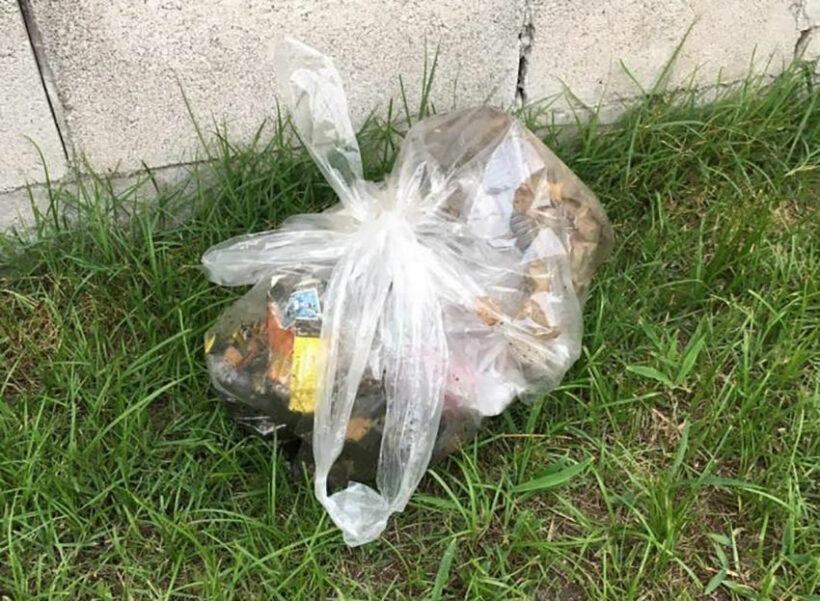 PHOTO: The Pattaya News
In the police report, neighbours say the man is from Greece and around 50 years old. They accuse him of destroying fences with a hammer, while threatening and screaming at residents. According to the report, he has also thrown bags of sewage and other trash over fences and onto other people's property. He is also accused of attacking a security guard and an elderly woman in the estate.
Residents say they are mystified as to why the man is acting this way, insisting they have done nothing to provoke such behaviour. The man's name has not been disclosed.
SOURCE: The Pattaya News
Keep in contact with The Thaiger by following our
Facebook page
.
Never miss out on future posts by
following The Thaiger
.
Pattaya bar ladies use YouTube to make money during pandemic – VIDEO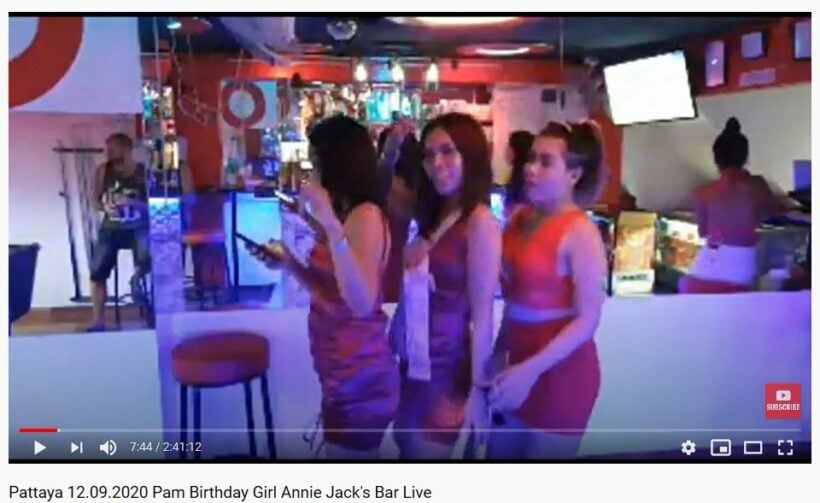 Can't visit the ladies in Pattaya? Just go to YouTube and type "Pattaya bar live" in the search bar. A number of videos and live streams will come up from various bars in Pattaya. The area was hit hard by the Covid-19 pandemic with a ban on international tourists, battering the local economy that heavily relied on foreign visitors. But it looks like many of the bars, that cater to foreign, male customers, are making money by reaching out to customers who aren't even in Thailand.
Many bars than now stream on YouTube list a link to a PayPal to allow customers to make a donation or buy a drink for one of the female bar staff. Some live stream at the bar, allowing the customers sitting at home in another country to connect with the bar staff, as if they were there.
Sweet Media, an account which started in March, posted a video of a pool party in Pattaya saying "nice to see the girls enjoying getting wet and letting their hair down at the pool party," with a link to donate to the "Next Thai Girls Pool Party fund" and another link to buy a lady a drink for 150 baht.
A Pattaya bar under the YouTube account "S3xy bar soi buakhao" has been live streaming for months. They started with just a few hundred views and now break a thousand. They have chatroom rules: "Be nice to the girls, the bar and all customers past, present and future."
Pattaya's Oh Bar joined YouTube in August. They have live stream videos at the bar as well as pre-recorded videos like "Beer Bar Lady Beach Volleyball." The women didn't play much volleyball and lined up on the beach, each in a different coloured bikini to stretch. They took some shots of holding the ball before passing it around in a circle. Another video is of "Beer Bar Lady Amy" studying English, showing the woman at a desk in her pajamas, flipping through a textbook for 8 minutes.
Oh Bar also did a video asking the bar staff "What type of customer do you like?" Here's what so of the Oh Bar ladies said …
"I like a man who takes care of me. I come to Pattaya to find man who support and marry me."
"I like old man. I think old man makes me good and takes care of me and my family."
"I like warm man. Good style. Takes care of me. Love me and friendly, comfortable… Marry me."
Catch up with the latest daily "Thailand News Today" here on The Thaiger
Keep in contact with The Thaiger by following our
Facebook page
.
Never miss out on future posts by
following The Thaiger
.
Pattaya bars making money from live streaming for customers overseas – VIDEO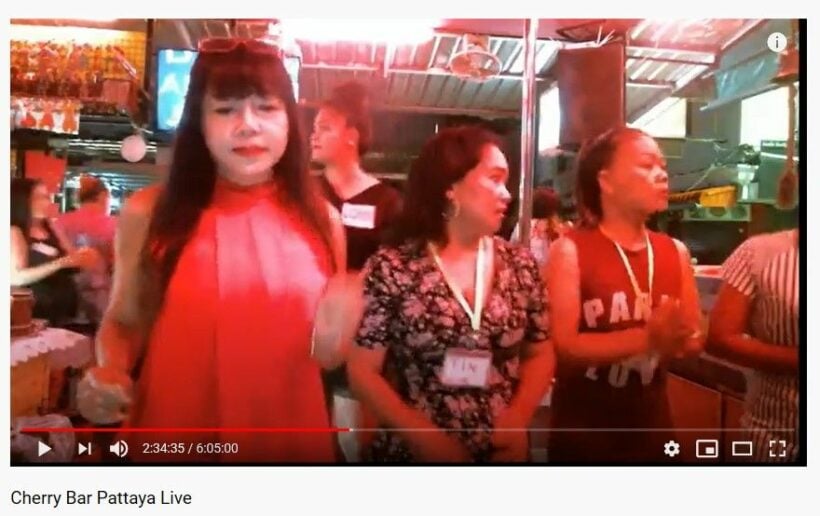 Since foreign tourists can't visit the bars in Pattaya, some of the bars are live streaming and posting videos online to allow people to chat and connect with the female bar staff, partially making up for revenue lost during the pandemic. The Pattaya News says the chats aren't explicit, just a friendly chat between the bar staff with men who are stuck in other countries and unable to travel to Thailand. Facilities have also been set up so they can send money to the ladies.
Pattaya's Cherry Bar started live streaming on YouTube, asking the viewers to buy drinks for the staff. It's understood the staff get commission when a customer buys a drink for them, much the same as the situation when gentlemen attend the bars in person. There's music, noise, banter, innuendo, short pants, over-priced drinks and too much eye make-up, just like the real thing.
"To buy a drink for the staff, please click this link! 125 baht each, or ring the bell for 900 baht."
Apparently, the live streaming is working. Pattaya News says some bars have made "tens of thousands of US dollars." Some have dedicated audiences. The Cherry Bar's YouTube page started posting videos 3 months ago and has livestreams as well as videos of parties and women pole dancing at other Pattaya bars.
On a video of 2 women pole dancing at Destiny GoGo, a commenter wrote "Can't wait get back Pattaya going to barfine both ladys" (we didn't correct his mistakes) and Cherry Bar responded by saying "The sooner they reopen the airport, the better."
On Pattaya's Walking Street, bars now only have a few customers, mostly retired expats who were living in Thailand long-term, according to Pattaya News. Some foreign expats who frequent the Pattaya bars say they disagree with live streaming and are concerned about being filmed without their permission. Others say the staff are ignoring the customers at the bar and paying more attention to the customers online.
Other businesses in Pattaya have changed since the pandemic. Some are now marketing to a Thai customer base since there has been a ban on international tourists. Hotels that once catered to foreign travellers have been turned into alternative state quarantine facilities for Thais returning home from overseas. The Pattaya News even says some bars used to ban transgender people are now welcoming them.
To watch live streamed videos from Cherry Bar, click on the link here…
https://www.youtube.com/channel/UC-v3sT9I9V8NWkT3bYTntgw/videos
SOURCE: Pattaya News
Catch up with the latest daily "Thailand News Today" here on The Thaiger.
Keep in contact with The Thaiger by following our
Facebook page
.
Never miss out on future posts by
following The Thaiger
.