Phuket Gazette World News: Syrian peace call; Berlusconi Bunga; Pirates seize tanker; Belgian child killer appeal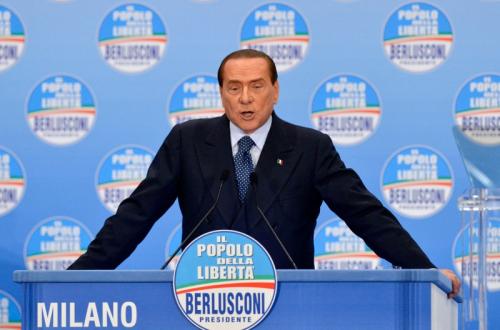 PHUKET MEDIA WATCH
– World news compiled by Gazette editors for Phuket's international community
Syrian Opposition chief calls to offer Assad peaceful exit
Reuters / Phuket Gazette

PHUKET: Syrian opposition leader Moaz Alkhatib urged Syrian President Bashar al-Assad's government on Monday to start talks for its departure from power and save the country from greater ruin after almost two years of bloodshed.
Seeking to step up pressure on Assad to respond to his offer of talks – which dismayed some in his own opposition coalition, Alkhatib said he would be ready to meet the president's deputy.
"I ask the regime to send Farouq al-Shara – if it accepts the idea – and we can sit with him," he said, referring to Syria's vice president who has implicitly distanced himself from Assad's crackdown on mass unrest that became an armed revolt.
Speaking after meeting senior Russian, U.S. and Iranian officials, Alkhatib said none of them had an answer to the 22-month-old crisis and Syrians must solve it themselves.
"The issue is now in the state's court…to accept negotiations for departure, with fewer losses," the Syrian National Coalition leader told Al Arabiya television.
Pirates seize French tanker, 17 crew off Ivory CoastReuters / Phuket Gazette

PHUKET: Suspected Nigerian pirates have hijacked a French-owned Luxembourg-flagged tanker along with its 17-member crew off Ivory Coast, Ivorian officials and the International Maritime Bureau said on Monday.
The Gulf of Guinea area is second only to the waters off Somalia for piracy and there has been a spate of violent attacks in vessels in recent days, prompting the bureau to issue a security alert for the region.
The
Gascogne
was the second vessel to be seized off Ivory Coast in less than three weeks and the first to have been taken so far from shore.
Many of the pirate gangs are offshoots of militant groups that once operated in Nigeria's oil-rich Niger Delta and mainly target ships carrying refined petroleum products that are easily sold on the local black market.
Ivory Coast authorities said the
Gascogne
had been chartered by South Korean petroleum transporter SK Shipping. It had taken on 3,000 tonnes of diesel fuel in Abidjan on January 30 but had already off loaded a portion of its cargo when it was seized on Sunday.
The
Gascogne
was 70 nautical miles (130km) south of Ivory Coast's commercial capital Abidjan when it went missing. The 17-strong crew comprised seven Togolese, two Senegalese, two Ivorians, one South Korean, one Chinese and four sailors from Benin.
SEA-Tankers, the ship's French owner, said it lost contact with the vessel on Sunday morning.
"We don't know who (the attackers) are. We don't know what kind of weapons they have… We don't have the means to keep a watch over Ivorian territorial waters," said Bertin Koffi Tano, Ivory Coast's head of maritime and port affairs.
Berlusconi sex trial begins, Monti Promotes Women's Rights Reuters / Phuket Gazette

PHUKET: Italian Prime Minister Mario Monti spoke of the importance of women's rights on Monday, while his election rival Silvio Berlusconi sought to have his latest hearing in a trial for underage prostitution postponed.
Berlusconi's "Bunga Bunga" sex scandal was one of the factors that cut short his last spell as prime minister in late 2011 at the height of the euro zone debt crisis.
Monti, who took over as a "technocrat" premier, used a conference on female genital mutilation to underline the importance of women in Italy, which ranks 80th in the world for gender equality according to one league table.
"We must not allow people to abuse and exploit women and then forget them because they are no longer considered useful. We must acknowledge their intelligence, humanity and qualities that can be developed at all stages of their lives," he said.
Around the time Monti was speaking, judges in Milan agreed to a request by Berlusconi's lawyers to postpone by a week his trial for paying for sex with an underage prostitute, due to his busy agenda of interviews as he bids for a fifth term.
Several young women who had aspired to be showgirls on Berlusconi's television channels have described lurid stripteases during parties at his Milan villa. He has said the parties were "elegant dinners" and denies any wrongdoing.
Belgian child killer requests early releaseReuters / Phuket Gazette

PHUKET: Belgium's most notorious killer launched a bid for early release on Monday, despite little chance of getting parole.
Marc Dutroux, who was convicted of the kidnapping and rape of six girls and the murder of four of them in the 1990s, put his case to judges in a closed-door hearing in Brussels.
The case touches a nerve in Belgium because of the horrific nature of the murders, and the fact that Belgian police visited one of Dutroux's houses while two victims, both eight years old, were being held there without finding them. The two subsequently starved to death in a makeshift dungeon.
Under Belgian law, criminals can be freed after serving a third of their sentences, or after 15 years in the case of those who have received life, a perpetual sentence in Belgium.
However, thousands of protesters called for tougher rules on convicts when Dutroux's ex-wife was granted conditional freedom last year and moved to a convent. She had to request parole several times before it was granted.
Before Monday's hearing, armed police placed razor wire barriers along the side of the courtroom, an unusual security measure in Belgium. Officials also erected a metal detector across the center of Belgium's main courthouse.
Dutroux, who was arrested in 1996, was sentenced to life in 2004. He served two extra years under a separate charge, meaning he is free to request early release this year.
Colombian ELN rebels capture two 'likely Germans'Reuters / Phuket Gazette

PHUKET: Colombian rebels from the National Liberation Army (ELN) said on Monday they have captured two men believed to be from Germany, the second time in a month the armed group has seized foreigners.
The ELN, Colombia's second largest guerrilla group, said in a statement the two were seized in Catatumbo, near the border with Venezuela. It identified the two captives as Uwe Breuer and Gunther Otto Breuer.
The ELN said it considered the two "for now" to be intelligence agents because they could not explain why they were in the area, the statement said.
"In the weeks they have been held, they have not been able to justify their presence in the territory, for which reason they are considered, for now, to be intelligence agents and will continue to be investigated," the ELN statement said.
The German Embassy in Bogota was unable to provide further information but said it was investigating.
— Phuket Gazette Editors
Keep in contact with The Thaiger by following our
Facebook page
.
Never miss out on future posts by
following The Thaiger
.


Find more SE Asian News courtesy of The Thaiger.

Broke? Find employment in Southeast Asia with JobCute Thailand. Rich? Invest in real estate across Asia with FazWaz Property Group. Even book medical procedures worldwide with MyMediTravel, all powered by DB Ventures.

IATA proposes Covid testing before travelling to replace quarantine on arrival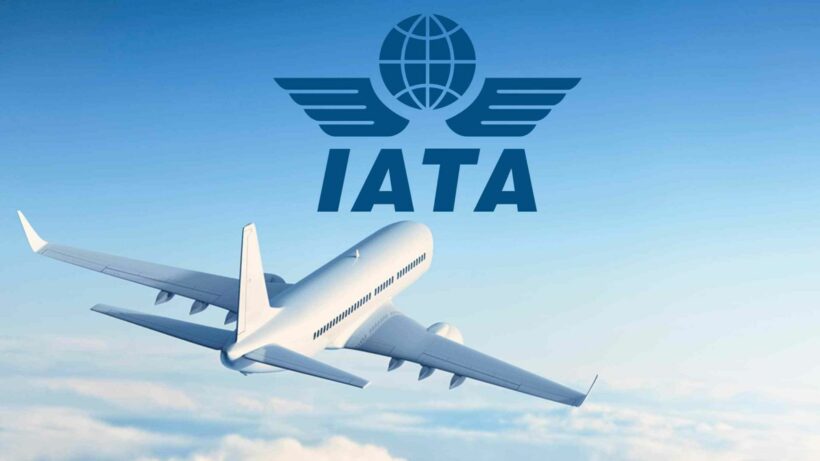 The International Air Transport Association is proposing travellers to take a Covid test prior to departure to replace worldwide mandatory quarantines on arrival. The push comes after it announces that international travel is down by 92% this year due to the Covid-19 pandemic. As many countries are imposing mandatory quarantines that can be not only expensive but up to 14 days long, the IATA is calling for all countries to work together to create a pre-flight testing requirement in all airports.
Alexandre de Juniac, IATA's Director General and CEO says that Covid testing is getting faster, cheaper and more accurate, which is why it is urgent to help kick-start the world economy by doing away with mandatory quarantines.
"The key to restoring the freedom of mobility across borders is systematic COVID-19 testing of all travelers before departure. This will give governments the confidence to open their borders without complicated risk models that see constant changes in the rules imposed on travel. Testing all passengers will give people back their freedom to travel with confidence. And that will put millions of people back to work."
He says the removal of such quarantine requirements for nations like Canada and UK would also help those nationals to leave their countries confidently by knowing that accurate testing would be in place. IATA has also asked for feedback and says of those travellers polled, 65% agree that if a person tests negative for Covid-19, then they should not have to undergo a quarantine on arrival. 84% also agree that, instead, travellers should be required to get tested with 88% even agreeing that they would submit to testing as part of the travel process.
Over 5000 travel businesses have reportedly backed the IATA's proposal after submitting an open letter to the president of the European Commission, demanding the EU to take action. However, testing and later vaccinating 75 billion people could prove to be a monumental task, one that may take months to devise a streamlined plan to carry out.
SOURCE: Travel Off Path
Keep in contact with The Thaiger by following our
Facebook page
.
Never miss out on future posts by
following The Thaiger
.
Covid-19 deaths about to surpass 1 million whilst more reports emerge about former patients' "brain fog"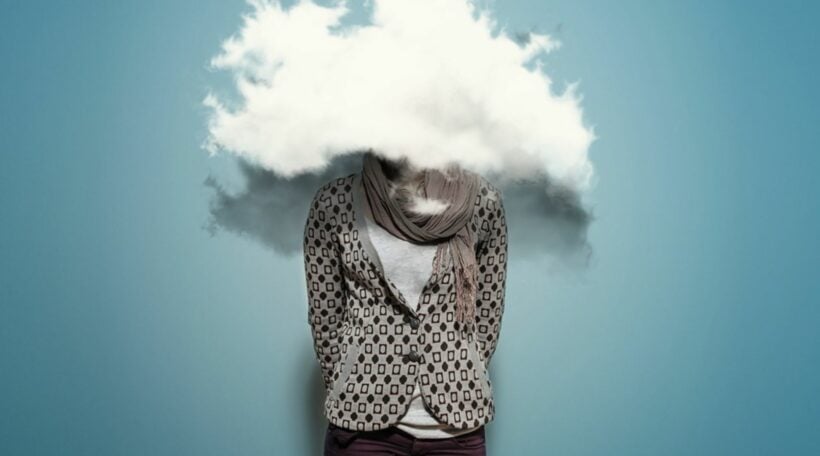 The world's Covid-19-related deaths will pass 1 million today as the the cycle of country lockdowns and re-openings are getting mixed results. As of this morning, Thai time, the number of total deaths has reached 998,721 , with 4-6,000 deaths still being recorded, globally, every day. The surge in daily new world Covid-19 cases has levelled off a bit since July but there has still been 300-320,000 new cases being added every day in September. On a more positive note, the number of daily deaths continues to level off, even dropping some weeks, as treatments continue to improve. At this stage, officially, only .42% of the world's population has so far been infected.
The milestone comes in a week where another report from the UK catalogues the "brain fog" experienced by former Covid-19 sufferers.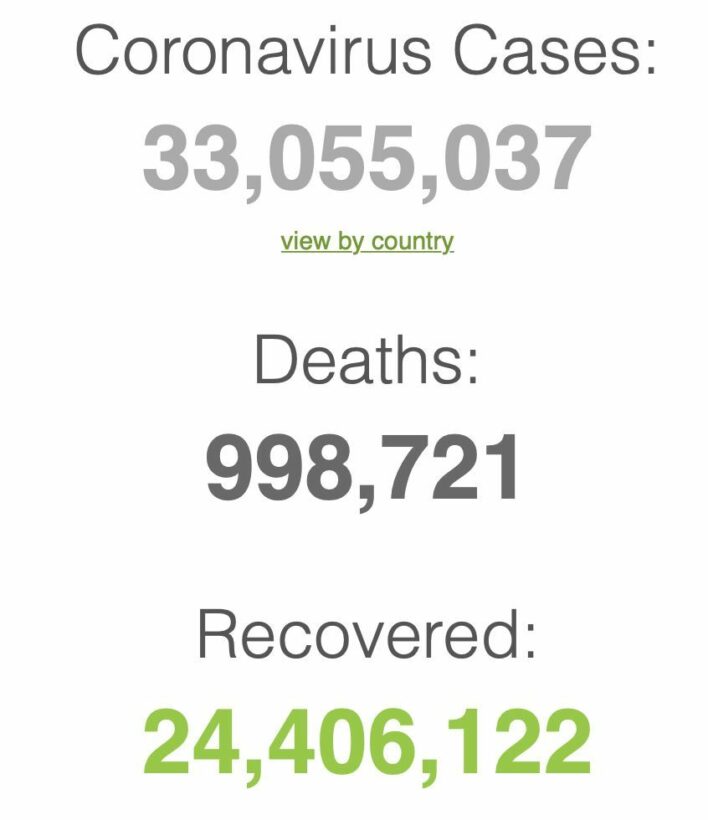 The current hotspots for the virus, now 9 months in circulation, of new daily cases is led by India. Yesterday India added nearly 90,000 cases to the world total whilst the US is showing a resurgence in new cases after dropping the average down during August. There is also a resurgence in new cases in parts of Europe, including the UK, which is now recording more new cases as it was at its peak in the first wave in April and May this year. The following graphs records the top 10 countries for new Covid-19 cases recorded yesterday…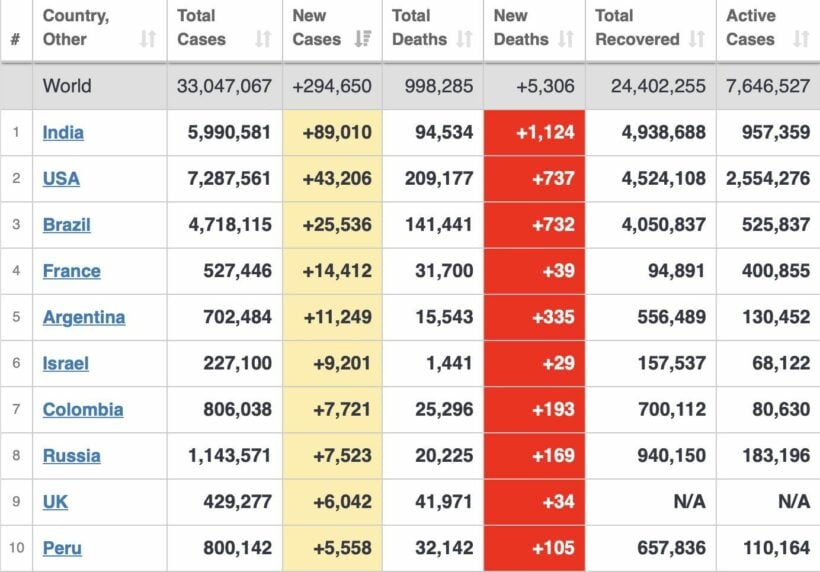 SOURCE: worldometers.info
Both South America and India are showing the highest rates of new cases, in pure numbers whilst US health authorities are concerned about the latest surge in new cases as the country starts to head into its autumn and cooler weather.
Meanwhile, more former Covid-19 patients, even those who only suffered mild symptoms, continue to report about long-term effects from the coronavirus.
In Canada, some 130,000 Canadians have recovered but some patients report that they're experiencing "debilitating side effects" months after their infection. Canadian scientists report that they are finding some of the long-term effects of Covid-19 include heart damage as well as neurological issues like "brain fog" and "difficulty thinking". Other patients are reporting hair loss, fatigue and even painful lesions called "Covid toes," many weeks or even months after infection.
One study based out of Italy reports that nearly 90% of patients who have recovered from Covid-19 reported at least one persistent symptom two months later.
39 doctors wrote about these "long-haulers" and their battle with Covid-19 and their persistent symptoms in a manifesto published in the British Medical Journal. Following the report, the doctors called on politicians, scientists and public health officials to conduct more research into chronic Covid-19 symptoms and to create additional clinical services.
"Failure to understand the underlying biological mechanisms causing these persisting symptoms risks missing opportunities to identify risk factors, prevent chronicity, and find treatment approaches for people affected now and in the future."
The reports also defined the affected patients as not in the current list of "at risk" Covid-19 patients – usually elderly with underlying conditions – but instead representing a much wider demographic of younger and healthy patients who were experiencing the post-Covid symptoms.
SOURCE: BBC | CTV News
Keep in contact with The Thaiger by following our
Facebook page
.
Never miss out on future posts by
following The Thaiger
.
Vietnam's booming manufacturing sector reduced to a trickle as world pandemic kills demand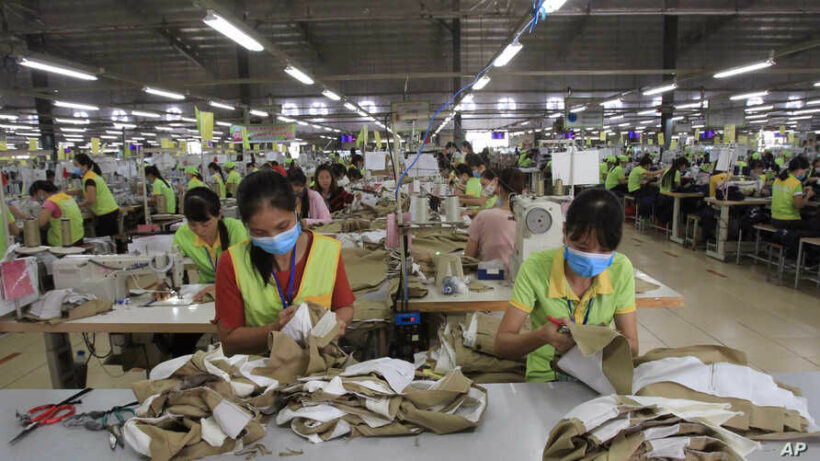 Vietnamese finance officials are downgrading expectations for a recovery of the south east Asian nation's economy in 2021. The normally fast-growing gross domestic product in 2020 has stalled due to a huge drop in local and global demand, and the absence of international tourism. The booming economy, growing at an average of 6% per year since 2012, will struggle to reach a growth rate of 2% this year.
Fuelled by manufactured exports, the Vietnam economy has dropped back to a trickle. The Asian Development Bank estimates that this year's GDP growth could be as low as 1.8%. The Vietnamese factories, that usually crank out shoes, garments, furniture and cheap electronics, are seeing dropping demand as the world's consumer confidence drops dramatically.
Stay-at-home rules in Europe and America are keeping are keeping people away from retail stores. And despite the acceleration of online retail, many of the consumers are emerging from the Covid Spring and Summer with vastly reduced spending power.
The headaches of 2020 are also challenging Vietnam to maintain its reputation as south east Asia's manufacturing hotspot. Rising costs and xenophobic foreign policy have put China 'on the nose' with some governments, complicating factory work in China, whilst other south east Asian countries lack infrastructure and are incurring higher wage costs.
One Vietnamese factory operated by Taiwan-based Pou Chen Group, which produces footwear for top international brands, has laid off 150 workers earlier this year. There are hundreds more examples of the impact of falling demand in the bustling Vietnamese manufacturing economy.
Vietnam's border closure is also preventing investors from making trips, setting up meetings and pushing projects forward. Those projects in turn create jobs, fostering Vietnam's growing middle class. Tourism has also been badly affected by the restrictions on travel. "International tourism is dead," says Jack Nguyen, a partner at Mazars in Ho Chi Minh City.
"Inbound tourism usually makes up 6% of the economy."
"Things will only pick up only when the borders are open and there's no quarantine requirements. Who knows when that's going to be."
A mid-year COVID-19 outbreak in the coastal resort city Danang followed by the start of the school year has reduced domestic travel, analysts say. Some of the country's hotels are up for sale as a result.
"Recovery could take 4 years."
The Vietnamese Ministry of Planning and Investment is now warning that global post-pandemic recovery could take as long as 4 years, perhaps more.
Not that foreign investors in the country are pulling out. Indeed, many are tainge a long-term view that Vietnam's underlying strengths will outlive Covid-19. Vietnam reports just 1,069 coronavirus cases overall.
SOURCE: VOA News
Keep in contact with The Thaiger by following our
Facebook page
.
Never miss out on future posts by
following The Thaiger
.