Phuket Gazette World News: Moscow accuses U.S. of fomenting Ukraine coup; recordings leaked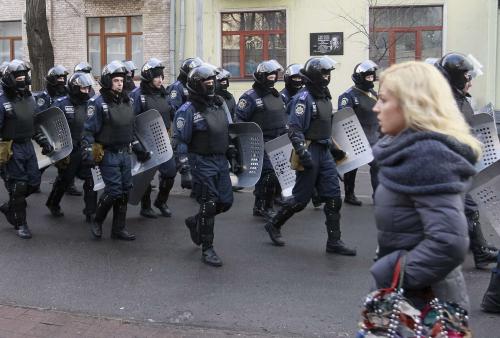 PHUKET MEDIA WATCH
– World news selected by Gazette editors for Phuket's international community
Moscow accuses U.S. of fomenting Ukraine coup; recordings leaked
Reuters / Phuket Gazette
PHUKET: An east-west struggle over Ukraine turned nastier as Moscow accused the United States of fomenting a coup and Washington pointed a finger at Russia for leaking a recording of U.S. diplomats discussing how to shape a new government in Kiev.
As Russian President Vladimir Putin prepared to open the Winter Olympics at Sochi, the first Games in Russia since the Soviet Union hosted the 1980 summer edition, the showdown over Ukraine produced chilly Cold War rhetoric, with a Kremlin aide warning Moscow might act to block U.S. "interference" in Kiev.
U.S.-Russian relations have long been far from warm and there seems little chance yet of conflict going much beyond verbal sparring, but the ferocity of the exchanges was a mark of the importance of Ukraine, a sprawling former Soviet state of 46 million people that Putin wants to keep in Moscow's economic orbit.
He is likely to meet the Ukrainian president in Sochi, possibly to discuss Viktor Yanukovich's plans for a new prime minister – plans on which billions in Russian aid depend. He may also raise concerns, voiced by the Kremlin's point man on Ukraine, that Yanukovich needs to crack down on protesters who have been on the streets for over two months, demanding he quit.
The United States, for its part, described as "a new low in Russian tradecraft" the posting on YouTube of a recording of a senior State Department official discussing plans for a new Ukrainian government with the U.S. ambassador in Kiev.
The White House spokesman said: "Since the video was first noted and Tweeted out by the Russian government, I think it says something about Russia's role."
U.S. officials did not challenge the authenticity of what seemed to be a phone call bugged about 12 days ago and which also contained an obscene comment by Assistant Secretary of State Victoria Nuland about the European Union's efforts to work with Washington in support of the Ukrainian opposition.
Similarly, EU officials said they would not comment on a "leaked alleged" call posted on the same anti-opposition website featuring a senior aide to EU diplomacy chief Catherine Ashton complaining about U.S. criticism that the EU was being "too soft" in its approach to imposing sanctions on Yanukovich.
The simultaneous release of the recordings, whatever their source and authenticity, appeared designed to discredit the Western powers, portray Ukraine's opposition as Western pawns and to drive a wedge between Brussels and Washington.
RUSSIAN "TORPEDO"
Apparently dating from just before January 27, when opposition leader Arseny Yatsenyuk turned down Yanukovich's offer to be prime minister, the recording of Nuland and ambassador Geoffrey Pyatt included them agreeing that another opposition figure, former boxing champion Vitaly Klitschko, should not be in the cabinet.
"I don't think Klitsch (Klitschko) should go into the government," Nuland said in the recording, which carried subtitles in Russian. "I don't think it's a good idea."
She also discussed the prospect of a U.N. envoy endorsing a new government: "That would be great … to have the U.N. help glue it and you know … fuck the EU."
Pyatt responded: "Exactly. And I think we've got to do something to make it stick together because you can be pretty sure that if it does start to gain altitude, the Russians will be working behind the scenes to try to torpedo it."
The furore over the leaks [ID:nL2N0LB1L4] raised questions over security standards among diplomatic missions in Kiev and over possible Russian or Ukrainian bugging of diplomatic lines.
Recent revelations of widespread U.S. monitoring of foreign communications may temper sympathy for Washington's officials.
Yanukovich dilemma
Yanukovich, who triggered mass protests in November when he yielded to Russian pressure and backed out of a free trade pact with the EU, may tell Putin of his plans for a new government.
Moscow has frozen aid it granted after the EU debacle until it knows who Yanukovich names in place of the pro-Russian prime minister removed last week in a bid to appease opponents.
Since the opposition's Yatsenyuk turned down the job, some opposition figures speculate that Yanukovich may now name one of his own hardline allies in an effort to please Moscow.
Kiev needs funds, though is loath to admit it. The central bank announced late on Thursday it was restricting purchases of foreign exchange to try to stabilise its banks and a currency that has fallen 10 percent in three months.
Putin may voice some of the impatience with Yanukovich that was expressed by the Kremlin's point man on Ukraine; Sergei Glazyev, in a typically confrontational newspaper interview, urged the Ukrainian leader to crack down instead of negotiating with "putschists" whom he accused Washington of arming, funding and training to take over the ex-Soviet state.
In a stark reminder of his dilemma of competing choices, before heading for Sochi, Yanukovich met Nuland just before flying out. He assured her, according a statement from his office, that he wanted talks not violence: "Only by dialogue and compromise can we get out of this crisis," he said.
The United States and European Union have urged Yanukovich to form a consensus government involving the opposition and to embark on constitutional and economic reforms that would bring Western financial and other aid to the nation of 46 million.
Alarmed by violence in which at least six people were killed and dozens of others have been wounded or gone missing, Washington and Brussels have also brandished threats of sanctions, particularly travel bans and asset freezes targeted at officials and others involved in repressing dissent.
Kremlin warning
Kremlin aide Glazyev accused Nuland of "blackmail" by privately warning wealthy, mostly Russian-speaking oligarchs who back Yanukovich that they risked their foreign assets being seized if they did not hand power to the opposition.
U.S. officials did not respond directly to Glazyev's remarks, which included an allegation U.S. agents were giving "$20 million a week" to "the opposition and rebels" and that "within the grounds of the American embassy, there is training for fighters" being armed by Washington.
He was asked by Kommersant-Ukraine newspaper whether Russia might "actively intervene".
Recalling the Budapest Memorandum of 1994, which removed Soviet nuclear weapons from Ukraine, Glazyev said: "Under the document, Russia and the USA are guarantors of the sovereignty and territorial integrity of Ukraine and … are obliged to intervene when conflict situations of this nature arise."
Asked by the paper if Yanukovich should now use force to clear the protesters, Glazyev said: "As for starting to use force, in a situation where the authorities face an attempted coup d'etat, they simply have no other course of action."
Russia, he said, was concerned that the country should not split apart. But he suggested that a form of federalism be introduced to give regions substantial powers – to the extent eastern regions might be linked to a customs union with Russia while western Ukraine might have a trade pact with Europe.
— Phuket Gazette Editors

Join the conversation and have your say on Thailand news published on The Thaiger.
Thaiger Talk is our new Thaiger Community where you can join the discussion on everything happening in Thailand right now.
Please note that articles are not posted to the forum instantly and can take up to 20 min before being visible. Click for more information and the Thaiger Talk Guidelines.