Phuket Gazette World News: MiG fighters found on NK ship; Abe in Japan poll victory; King Albert abdicates; Dubai jails woman for rape report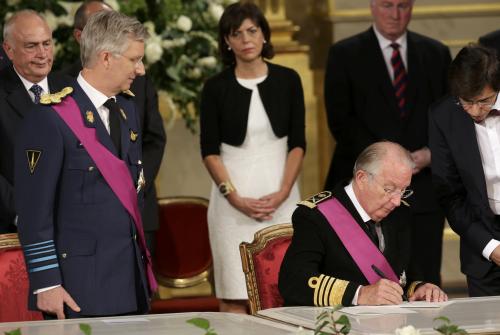 PHUKET MEDIA WATCH
– World news compiled by Gazette editors for Phuket's international community
Panama finds MiG fighter jets on North Korean arms ship
Reuters / Phuket Gazette
PHUKET: Panamanian investigators unloading the cargo of a seized North Korean ship that carried arms from Cuba have found the two MiG-21 fighter jets the Cuban government had said were on board, the government said on Sunday.
Alongside the two supersonic planes, originally produced by the Soviet Union in the late 1950s, officials found two missile radar systems on board the Chong Chon Gang, President Ricardo Martinelli told reporters in the Atlantic port of Colon.
The discovery, which included cables and electrical equipment, was made inside containers on the ship Panama had feared might contain explosive material. None was found.
After stopping the vessel bound for North Korea last week, Panama revealed it had found weapons in the cargo hold late on Monday. In response, Cuba said the shipment contained a range of "obsolete" arms being sent to North Korea for repair.
Panama has asked the U.N. Security Council to investigate the ship and its contents amid suspicion that the vessel is in breach of a wide-ranging arms embargo on North Korea for its nuclear and ballistic missile program.
"One can't take undeclared weapons through the Panama Canal below other cargo," Martinelli said, adding that he had not spoken personally to any Cuban officials since they first asked for the ship to be released last Saturday.
Javier Caraballo, Panama's top anti-drugs prosecutor, said the planes gave off a strong odour of gasoline, indicating that they had likely been used recently. So far, Panama has not found anything not on the Cubans' list of ordnance, he added.
The U.N. team is expected to arrive in early August once Panama has finished unloading the 155 meter (510 foot) ship.
The weapons were hidden under thousands of sacks of sugar on the freighter. Before the arms were discovered, Cuba told Panama the cargo was a donation of sugar for the people of North Korea.
The isolated Asian nation has asked Panama to release the ship and its 35 member crew, who were arrested and charged with attempting to smuggle undeclared weapons through the canal.
Panama has so far dismissed North Korea's requests.
Japan's Abe has chance to show true colors after big election win
Reuters / Phuket Gazette
PHUKET: Japanese Prime Minister Shinzo Abe's ruling coalition scored a decisive victory in an election on Sunday – so big that there are suspicions he will lose interest in difficult economic reforms and pursue his nationalist agenda instead.
The victory in the vote for parliament's upper house gives Abe a stronger mandate for his prescription for reviving the stagnant economy. Ironically perhaps, it could also give lawmakers in his own party, some of whom have little appetite for painful but vital reforms, more clout to resist change.
Public broadcaster NHK said early on Monday that Abe's Liberal Democratic Party (LDP) and its partner, the New Komeito party, had won at least 74 of the 121 seats up for grabs in the 242-seat upper house.
With the coalition's uncontested 59 seats, that ensures it a comfortable majority, tightening Abe's grip on power and raising the chances of a long-term Japanese leader for the first time since the reformist Junichiro Koizumi's rare five-year term ended in 2006.
It also ends a parliamentary deadlock that began in 2007 when Abe, then in his first term as premier, led the LDP to a humiliating upper house defeat that forced him to resign two months later. But the LDP fell short of a majority on its own on Sunday.
Abe, who returned to power after his coalition's big win in a December lower house poll, repeated on Sunday that he would focus on fixing the world's third-biggest economy with his "Abenomics" mix of hyper-easy monetary policy, fiscal spending and a growth strategy including reforms such as deregulation.
"We've argued that our economic policies aren't mistaken, and the public gave us their support. People now want to feel the benefits. The economy indeed is improving," a weary but confident-sounding Abe said at LDP headquarters late on Sunday after his ruling coalition's victory was assured.
"We'd like to do our best to generate a positive cycle – in which job conditions improve and wages rise, boosting personal consumption and prompting companies to invest more – as soon as possible," he added.
But some, including Japanese businesses with a big stake in the matter, worry the hawkish leader will shift to focus on the conservative agenda that has long been central to his ideology.
That agenda includes revising the post-war pacifist constitution, strengthening Japan's defence posture and recasting Tokyo's wartime history with a less apologetic tone.
For now, many experts suggest, Abe is unlikely to turn his back on economic matters as he tries to beef up his so-far disappointing economic reform plans. He also confronts a decision on whether to go ahead with raising the 5 percent sales tax to 8 percent next April, part of a planned doubling by October 2015 aimed at reining in Japan's massive public debt.
"My understanding is that Abe-san has three faces: Abe as right-wing, Abe as a pragmatist, Abe as the economic reformer," said Shinichi Kitaoka, president of the International University of Japan. "He has been showing the third face so far and will try to do the same after the election."
Despite the hefty win, the strength of Abe's mandate was diluted by low voter turnout. Media said turnout was well below the 57.92 percent seen in the last upper house poll in 2010. That could keep up pressure to stay focused on the economy.
Still, Abe is moving toward security policy changes that mark a big shift in a country that has prided itself on pacifist ideals even as it built up a military bigger than Britain's.
Defense policies and history
Among those changes are an expected reinterpretation of the constitution to end a self-imposed ban on exercising the right of collective self-defence, or aiding an ally under attack, such as if an unpredictable North Korea launched a missile attack on security ally the United States.
Another is a review of defence policies that includes a consideration of acquiring the capability to attack enemy bases when an attack is imminent and no other options exist, and creation of a Marines division to protect remote islands such as those at the core of a heated territorial row with China.
One clue to how Abe intends to proceed on the touchy topic of wartime history will be whether he visits Yasukuni Shrine for war dead, where Japanese leaders convicted as war criminals by an Allied tribunal are also honoured, on the emotive August 15 anniversary of Japan's defeat in World War Two.
A pilgrimage to the shrine would outrage China, where bitter memories of Japan's past militarism run deep, and upset security ally Washington, which fears a further fraying of Tokyo's already fraught relations with its neighbours.
"The first Abe really wishes to go (to Yasukuni on August 15) but I guess he will refrain from that," Kitaoka said.
But he added: "Mr. Abe is somewhat unpredictable."
Abe moved quickly to improve ties with China and South Korea at the start of his first 2006-2007 term but it is unclear whether he will repeat that success in his se
— Phuket Gazette Editors

Join the conversation and have your say on Thailand news published on The Thaiger.
Thaiger Talk is our new Thaiger Community where you can join the discussion on everything happening in Thailand right now.
Please note that articles are not posted to the forum instantly and can take up to 20 min before being visible. Click for more information and the Thaiger Talk Guidelines.