World
Phuket Gazette World News: India/US spat; South Sudan clashes leave hundreds dead; More Assad; British drug mules get 7 years in Peru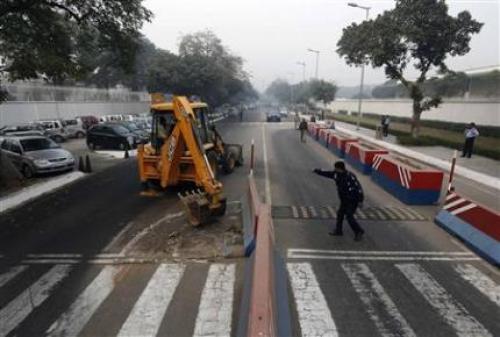 PHUKET MEDIA WATCH
– World news compiled by Gazette editors for Phuket's international community
India removes U.S. Embassy security barriers in spat
Reuters / Phuket Gazette
PHUKET: Indian police removed concrete security barriers outside the U.S. Embassy in New Delhi on Tuesday in apparent retaliation for the treatment of an Indian diplomat who was strip-searched after her arrest in New York last week.
The diplomatic spat was triggered by the December 12 arrest of Devyani Khobragade, a deputy consul general at the Indian Consulate in New York, on charges of visa fraud and making false statements.
On Tuesday, New Delhi police used tow trucks and a backhoe loader to drag away long concrete blocks from roads running past the embassy and leading up to gates of the compound, a Reuters witness said.
The low barriers had prevented vehicles from approaching the compound at high speeds and were presumably designed to help protect the embassy against attack from suicide bombers.
The embassy has multiple layers of security and is also protected by a high wall.
Indian police and government officials declined repeated requests for comment on why the barricades were taken away, but Indian television networks, citing unnamed sources, said their removal was one of several retaliatory measures India planned.
In Washington, the U.S. State Department said it had told the Indian government at a "high" level that Washington expects New Delhi to protect its embassy and stressed it did not want the incident with the Indian diplomat to hurt bilateral ties.
"We understand there are sensitive issues involved here," said State Department spokeswoman Marie Harf. "We don't want this to negatively impact our bilateral relationship."
A senior Indian official, who asked not to be named, said police posted in the area would ensure continued security.
"We take the security of all diplomatic missions in India very seriously. Checkposts are provided. This is only an issue related to traffic flows," the official said.
Strip search
The U.S. Marshals Service, part of the Justice Department, for the first time confirmed on Tuesday that Khobragade had been strip-searched. Indian media had previously reported this.
In a statement, the Marshals Service said it took custody of Khobragade after her arrest by the State Department's Bureau of Diplomatic Security. It confirmed she was strip-searched, saying it followed "standard arrestee intake procedures."
As the dispute over the diplomat's treatment grew, Indian politicians, including the leaders of the two main political parties and the national security adviser, refused to meet with a delegation of U.S. lawmakers visiting India this week.
India's National Security Adviser Shivshankar Menon branded as "barbaric" the treatment of the diplomat, who according to Indian media was handcuffed upon arrest last week and strip-searched before being released on bail.
Khobragade, who was released on $250,000 bail after giving up her passport and pleading not guilty to the charges, faces a maximum of 15 years in jail if convicted on both counts.
India has become a close trade and security partner of the United States over the past decade, but the two countries have not totally overcome a history of ties marked by distrust.
"Everything that can be done will be done, I assure you. We take this thing very seriously," India's Foreign Minister Salman Khurshid told TV news network CNN-IBN.
"We have put in motion what we believe will be an effective way of addressing this issue, but also put in motion such steps that we believe need to be taken to protect her dignity."
Indian TV networks said the other steps included checking the salaries paid by U.S. Embassy staff to domestic helpers and withdrawing consular identification cards and privileges such as access to airport lounges for some U.S. diplomats and families.
India's Foreign Ministry and the U.S. Embassy said they were unable to comment on the media reports.
Khobragade's arrest triggered a fierce debate in India over how to respond to the alleged mistreatment of the helper.
Shashi Tharoor, an Indian government minister and former U.N. diplomat, said many envoys in New York from developing nations were themselves paid less than U.S. minimum wage, adding it was unrealistic to expect them to pay domestic staff more.
Eyes on election

Khobragade falsely stated in her nanny's visa application that she would be paid $9.75 an hour, a figure that would have been in line with the minimum rates required by U.S. law, according to a statement issued last week by the public attorney for the Southern District of New York.
The diplomat had privately agreed with the domestic worker that she would receive just over a third of that rate, the public attorney said.
With general elections due in less than six months, Indian politicians are determined not to be called soft or unpatriotic.
Narendra Modi, the prime ministerial candidate for the opposition Bharatiya Janata Party, and Rahul Gandhi, the scion of the Nehru-Gandhi family that leads India's ruling Congress party, both declined to meet the U.S. delegation.
"Refused to meet the visiting USA delegation in solidarity with our nation, protesting ill-treatment meted (out) to our lady diplomat in USA," Modi said in a tweet.
A senior member of Modi's socially conservative party, currently the favorite to form the next government, said India should retaliate by putting partners of gay U.S. diplomats in the country behind bars.
India's Supreme Court last week effectively ruled homosexuality to be illegal.
"The reason why they have arrested this Indian diplomat in New York is violation of the law of the land in the United States. Now the same violation is taking place wherever U.S. Embassy official have obtained visas for their partners of the same sex," former finance minister Yashwant Sinha told Reuters.
"If American law can apply to Indian diplomats in New York, the India law can apply here," he said.
According to Harf, the State Department spokeswoman, there are different types of diplomatic immunity. Khobragade had what is know as "consular immunity," which applies only to acts committed in connection with official duties, she said.
UN told up to 500 killed in South Sudan clashes
Reuters / Phuket Gazette
PHUKET: The United Nations received reports from local sources in South Sudan on Tuesday that between 400 and 500 people had been killed and up to 800 wounded in the latest violence, and the government said it had arrested 10 politicians in connection with a "foiled coup".
"Two hospitals have recorded between 400 and 500 dead and (up to) 800 wounded," a diplomat in New York said on condition of anonymity, citing an estimate United Nations peacekeeping chief Herve Ladsous gave during a closed-door briefing for the 15-member body.
Another diplomat confirmed Ladsous' remarks, adding that the United Nations was not in a position to verify the figures.
Earlier on Tuesday, a South Sudanese health ministry official told Reuters that at least 26 people were dead after fighting in Juba between rival groups of soldiers from Sunday night into Monday morning. Sporadic gunfire and blasts continued up to Tuesday evening.
The Juba government said it had arrested 10 major political figures and was hunting for its fo
— Phuket Gazette Editors