Phuket Gazette World News: Area of Malaysia plane search now size of Australia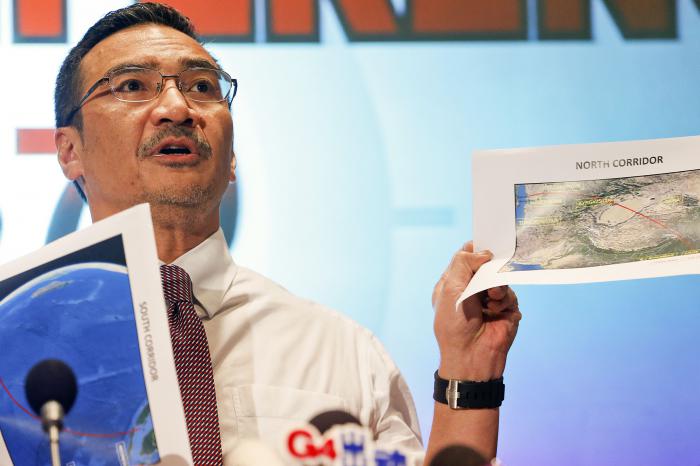 PHUKET: An international land and sea search for a missing Malaysian jetliner is covering an area the size of Australia, authorities said on Tuesday, but police and intelligence agencies have yet to establish a clear motive to explain its disappearance.
Investigators are convinced that someone with deep knowledge of the Boeing 777-200ER and commercial navigation diverted Malaysia Airlines Flight MH370, carrying 12 crew and 227 mainly Chinese passengers, perhaps thousands of miles off its scheduled course from Kuala Lumpur to Beijing.
But intensive background checks of everyone aboard have so far failed to find anyone with a known political or criminal motive to hijack or deliberately crash the plane, Western security sources and Chinese authorities said.
Malaysian Acting Transport Minister Hishammuddin Hussein told a news conference the "unique, unprecedented" search covered a total area of 2.24 million nautical miles (7.68 million sq km), from central Asia to the southern Indian Ocean.
Flight MH370 vanished from civilian air traffic control screens off Malaysia's east coast less than an hour after take-off early on March 8.
Investigators piecing together patchy data from military radar and satellites believe that someone turned off the aircraft's identifying transponder and ACARS system, which transmits maintenance data, and turned west, re-crossing the Malay Peninsula and following a commercial aviation route towards India.
Malaysian officials have backtracked on the exact sequence of events. They are now unsure whether the ACARS system was shut down before or after the last radio message was heard from the cockpit – but said that did not make a material difference.
"This does not change our belief, as stated, that up until the point at which it left military primary radar coverage, the aircraft's movements were consistent with deliberate action by someone on the plane," said Hishammuddin. "That remains the position of the investigating team."
Background checks clean
China's ambassador to Malaysia said his country had investigated its nationals aboard the flight and could rule out their involvement.
U.S. and European security sources said efforts by various governments to investigate the backgrounds of everyone on the flight had not, as of Monday, turned up links to militant groups or anything else that could explain the jet's disappearance.
Malaysian police investigations have also failed to turn up any red flags on 53-year-old Zaharie Ahmad Shah, the captain, or co-pilot Fariq Abdul Hamid, 27.
Accounts of their lives portray them as sociable, well-balanced and happy. Neither fits the profile of a loner or extremist with a motive for suicide or hijacking.
"I've never seen him lose his temper. It's difficult to believe any of the speculation made against him," said Peter Chong, a friend of Zaharie, describing him as highly disciplined and conscientious.
The New York Times cited senior U.S. officials as saying that the first turn back to the west was likely programmed into the aircraft's flight computer, rather than being executed manually, by someone knowledgeable about aircraft systems.
Malaysia Airlines Chief Executive Ahmad Jauhari Yahya told Tuesday's daily news conference that that was "speculation."
Malaysian officials said on Monday that suicide by the pilot or co-pilot was a line of inquiry, although they stressed that it was only one of the possibilities under investigation. Police have searched their homes in middle-class suburbs of Kuala Lumpur close to the airport.
Among the items taken for examination was a flight simulator Zaharie had built in his home.
A senior police officer with direct knowledge of the investigation said the programs from the pilot's simulator included Indian Ocean runways in the Maldives, Sri Lanka, Diego Garcia and southern India, although he added that U.S. and European runways also featured.
"Generally these flight simulators show hundreds or even thousands of runways," the officer said. "What we are trying to see is what were the runways that were frequently used."
Needle in a haystack
Thailand said on Tuesday a re-examination of its military radar data had picked up the plane re-tracing its route across Peninsular Malaysia. The Thai military had previously said it had not detected any sign of the plane.
What happened next is less certain. The plane may have flown for another six hours or more after dropping off Malaysian military radar about 200 miles northwest of Penang Island.
But the satellite signals that provide the only clues were not intended to work as locators. The best they can do is place the plane in one of two broad arcs – one stretching from Laos up to the Caspian, the other from west of Indonesia down to the Indian Ocean off Australia – when the last signal was picked up.
China, which, with Kazakhstan, is leading the search in the northern corridor, said on Tuesday it had deployed 21 satellites to scour its territory.
Australia, which is leading the southernmost leg of the search, said it had shrunk its search field based on satellite tracking data and analysis of weather and currents, but that it still covered 600,000 sq km (230,000 sq miles).
"A needle in a haystack remains a good analogy," John Young, general manager of the emergency response division of the Australian Maritime Safety Authority (AMSA), told reporters.
— Phuket Gazette Editors
Keep in contact with The Thaiger by following our
Facebook page
.


Find more SE Asian News courtesy of The Thaiger.

Broke? Find employment in Southeast Asia with JobCute Thailand and SmartJob Indonesia. Rich? Invest in real estate across Asia with FazWaz Property Group or get out on a yacht anywhere with Boatcrowd. Even book medical procedures worldwide with MyMediTravel, all powered by DB Ventures.

Hong Kong property investors turn to SE Asia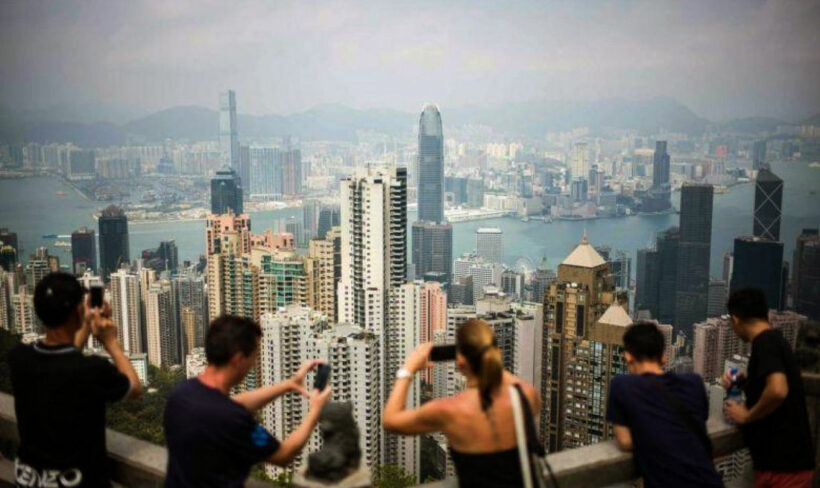 From luxury Singapore apartments to Malaysian seafront condos, Hong Kong investors are shifting cash into Southeast Asian property, demoralised by increasingly violent protests as well as the China-US trade war.
Millions have taken to the streets during four months of pro-democracy demonstrations in the southern Chinese city, hammering tourism while also forcing businesses to lay off staff – and the property sector is feeling the pain. Property stocks in one of the world's most expensive housing markets have plummeted since June, with developers being forced to offer discounts on new projects and cutting office rents.
Hong Kong businessman Peter Ng bought a condominium on the Malaysian island of Penang – which has a substantial ethnic Chinese population and is popular among Hong Kongers – after the protests erupted.
A 48 year old stock market and property investor told AFP he was worried about long-term damage to the Hong Kong economy if the unrest persists.
"The instability was a catalyst for me. Investors will always look at things like that, political stability."
And Derek Lee, a Hong Kong businessman who owns a Penang apartment, said he knew others in the semi-autonomous city who were considering investing in south east Asian property because of the unrest.
"People are thinking about how to quicken their ideas, how to make a more stable life," the 55 year old told AFP. Part of the allure of Malaysia is its relative affordability and prices much lower than Hong Kong.
The Malaysia site of Southeast Asian real estate platform Property Guru has seen a 35 percent increase in visits from Hong Kong, according to its CEO Hari Krishnan.
China-fuelled boom
While Hong Kong's protests are primarily pushing for greater democratic freedoms and police accountability, the summer of rage has been fuelled by years of simmering anger towards Beijing and the local government over falling living standards and the high costs of living.
Hong Kong's property market is one of least affordable in the world with sky-high prices fuelled, in part, by wealthy mainlanders snapping up investments in a city which has failed for years to build enough flats to meet demand.
But now mainland Chinese, who traditionally viewed property in Hong Kong as a safe investment, are opting for rival financial hub Singapore as a result of the protests and the US-China trade war, according to observers.
There has been a jump this year in sales of luxury apartments in the city-state, which like Hong Kong is known for pricey property, driven partially by mainland Chinese buyers, according to the consultancy OrangeTee & Tie.
"The protests in Hong Kong have made some of the (mainland Chinese) based there… (more concerned) about investing in Hong Kong real estate, so they carry that investment to Singapore," said Alan Cheong, executive director of the research and consultancy team at Savills.
As well as hitting China's economy, trade tensions may have discouraged some Chinese from investing in the West and pushed them towards Singapore, with its mostly ethnic Chinese population.
"I think they don't want to go to the West."
Singapore is "the closest country culturally to China other than Hong Kong and I think they feel more comfortable with that". There are further signs the stable, tightly ruled city is benefiting from the Hong Kong turmoil. Goldman Sachs last week estimated as much as $4 billion flowed out of Hong Kong to Singapore this summer.
And analysts warned there was little hope of Hong Kong's property market recovering soon.
"Hong Kong property share prices have corrected by about 15 to 25% since July," said Raymond Cheng, head of Hong Kong and China property at CGS-CIMB Securities International.
Residential sales were still holding up but only when developers offered discounts, office rents were expected to fall by as much as five percent and shop rents were also badly affected, he said.
But despite the unrest, businessman Ng, who will rent his Penang property and has no plans to move there permanently for now, was still hopeful about Hong Kong's long-term prospects.
"The problem may not be solved in the short term but it is not so serious as pessimists think. Everything is still in the government's control."
SOURCE: Agence France-Presse
PHOTO: newlaunches.sg
Keep in contact with The Thaiger by following our
Facebook page
.
Typhoon Hagibis kills 11 in Japan, rescue underway with up to 100 missing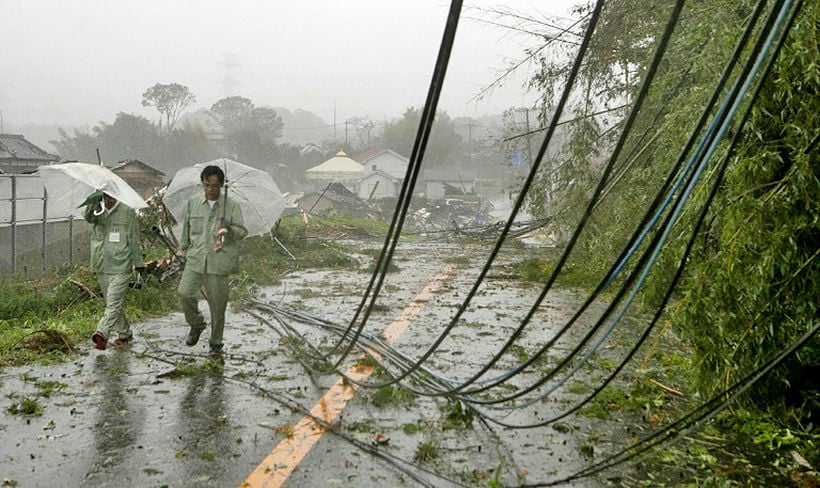 Japan's military is racing to help people trapped by flooding after powerful Typhoon Hagibis as it ripped across the country. So far at least 11 people have died and dozens remain missing.
The storm's heavy rain triggered deadly landslides and caused rivers to burst their banks. The destruction forced Rugby World Cup organisers to cancel the third match of the tournament though the key Japan-Scotland clash will go ahead.
By this morning, the significantly weakened storm had moved back off land, but serious flooding was reported in central Japan's Nagano, where a burst levee sent water from the Chikuma river gushing into residential neighbourhoods, flooding homes up to the second floor.
Japan's military have deployed helicopters to rescue people seen standing on balconies waving towels to attract attention.
"Overnight, we issued evacuation orders to 427 households, 1,417 individuals," Yasuhiro Yamaguchi, an emergency official in Nagano city, told AFP, adding that it was unclear how many homes had been affected.
Aerial footage showed a row of bullet trains half-submerged in muddy waters at a depot in Nagano.
Hagibis smashed into the main Japanese island of Honshu around 7pm (1000 GMT) Saturday as one of the most violent typhoons in recent years, with wind gusts of up to 216 kilometres per hour (134 miles per hour).
Well before making landfall, the outer bands of the storm claimed their first victim, a driver whose van was flipped over in the strong gusts. Several more deaths were confirmed Saturday night, including a man killed in a landslide and another pulled from a flooded home.
And the toll continued to rise as the full scale of the disaster became clearer Sunday morning, with bodies recovered from submerged cars and landslides across several regions of the country.
National broadcaster NHK reports at least 99 people had been injured and more than a dozen were missing after the storm. Among the missing were eight people from a cargo ship that sank Saturday night in Tokyo Bay. The coast guard said they had rescued four of the Panama-flagged ship's crew but were still searching for the others.
At the storm's peak, more than seven million people were placed under non-compulsory evacuation orders, with tens of thousands heeding the call and moving into government shelters. Japan's Meteorological Agency issued its highest-level rain disaster warning, saying "unprecedented" downpours were expected.
"The water came up higher than my head in the house," Hajime Tokuda, a finance professional living in Kawasaki near Tokyo told AFP.
He moved to his family's home nearby, but that flooded too and they had to be rescued by boat.
In Saitama's Higashi Matsuyama city, northwest of Tokyo, rice and flower farmers were counting their losses, with water submerging warehouses full of freshly harvested product.
"We never had a flood like this before in this neighbourhood," said one farmer, who declined to give his name.
"We cannot even go into the flower warehouse due to the water. I don't know where to start cleaning this mess."
Keep in contact with The Thaiger by following our
Facebook page
.
'Unprecedented' Typhoon Hagibis slams into Japan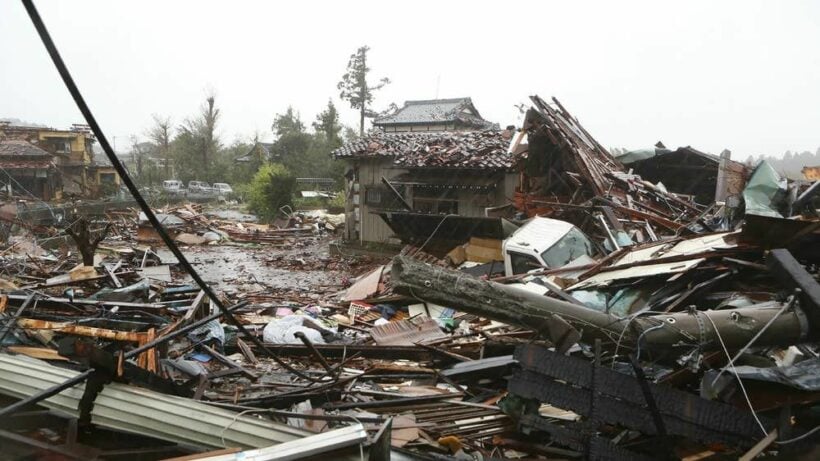 Powerful typhoon Hagibis has made landfall in Japan as torrential rain and winds have already lashed the country causing floods and mudslides.
"The eye of Typhoon Hagibis made landfall shortly before 19:00 (1000 GMT) in Izu Peninsula", southwest of Tokyo, said the Japan Meteorological Agency.
Powerful Typhoon Hagibis roared towards Japan's coast on Saturday, killing one person and bringing "unprecedented" downpours that prompted authorities to issue their highest-level rain disaster warning.
More than 3.2 million people have been placed under non-compulsory evacuation orders as authorities warn of imminent flood and landslide danger after hours of torrential rains.
Hagibis has caused enormous disruption, forcing the cancellation of two Rugby World Cup matches, delaying the Japanese Grand Prix and grounding all flights in the Tokyo region.
Hours before the worst of the storm arrived, its outer bands claimed the first casualty in Chiba, east of Tokyo, where a man was killed when high winds flipped his car. Hours of torrential rain prompted the JMA to issue their highest-level emergency rain warning for heavy rain for parts of Tokyo and surrounding areas.
"Unprecedented heavy rain has been seen in cities, towns and villages for which the emergency warning was issued," JMA forecaster Yasushi Kajiwara said at a press briefing.
"The possibility is extremely high that disasters such as landslides and floods have already occurred. It is important to take action that can help save your lives."
At least one landslide was already confirmed, engulfing three homes in Sagamihara, southwest of Tokyo, where an elderly man was rescued.
Hagibis is forecast to be the first storm rated "very strong" to hit the main island of Honshu since 1991, when the category system was introduced, a JMA official said.
By early afternoon, 3.25 million people were under non-mandatory evacuation orders, and more than 13,500 people had moved to shelters, including some whose homes were damaged by a powerful typhoon that hit the region last month.
"I evacuated because my roof was ripped off by the other typhoon and rain came in. I'm so worried about my house," a 93 year old man told national broadcaster NHK as he sheltered at a centre in Tateyama in Chiba east of Tokyo.
Japan is hit by around 20 typhoons a year, though the capital is not usually badly affected. Hagibis has hit the region just weeks after Typhoon Faxai hit the area with similar strength, killing two and causing major damage in Chiba.
SOURCE: Agence France-Presse
Keep in contact with The Thaiger by following our
Facebook page
.