Mars News: Plate tectonics found on the red planet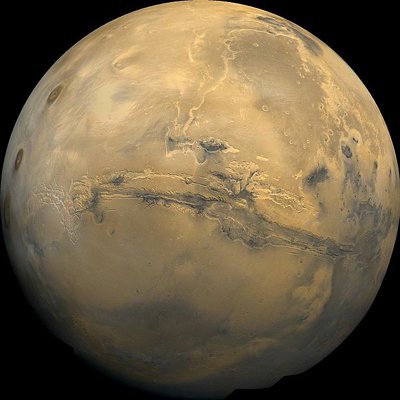 PHUKET MEDIA WATCH
– World news selected by Gazette editors for Phuket's international community
Marsquakes? California scientist discovers plate tectonics on Mars
Phuket Gazette / News Wires
PHUKET: A California scientist has discovered that Mars has at least two plate tectonics, contrary to popular belief that the Red Planet is too small, and its interior too cold, to host plate tectonic processes, his University announced yesterday.
An Yin, a planetary geologist and professor of Earth and space sciences at the University of California – Los Angeles (UCLA), has been studying the surface of Mars for years and recently analyzed about 100 satellite images taken by NASA's THEMIS spacecraft and the HiRISE camera on NASA's Mars Reconnaissance Orbiter.
"When I studied the satellite images from Mars, many of the features looked very much like fault systems I have seen in the Himalayas and Tibet, and in California as well, including the geomorphology," Yin said yesterday. He previously conducted geologic research in the Himalayas and Tibet, where two of the Earth's seven major plates divide.
Yin said he found a very smooth, flat side of a canyon wall which can only be generated by a fault and a steep cliff comparable to cliffs in California's Death Valley, which are also generated by a fault. The Red Planet has a linear volcanic zone, which is a typical product of plate tectonics.
But the surface of Mars is also home to Valles Marineris, a system of canyons that runs along the Martian surface and is more than 4,000 kilometers long, making it one of the largest canyons in the Solar System. Scientists have long been in disagreement about how the canyons formed, but Yin said his new evidence shows Mars has at least two plate tectonics which are divided by Valles Marineris.
"I saw that the idea that it is just a big crack that opened up is incorrect," Yin said. "It is really a plate boundary, with horizontal motion. That is kind of shocking, but the evidence is quite clear. The shell is broken and is moving horizontally over a long distance. It is very similar to the Earth's Dead Sea fault system, which has also opened up and is moving horizontally."
Yin said the two plate tectonics have moved approximately 150km horizontally relative to each other. He pointed out that California's San Andreas Fault, which is over the intersection of two plates, has moved about twice as much – but they are comparable because Earth is about twice the size of Mars.
The planetary geologist, who refers to the two plate tectonics as Valles Marineris North and Valles Marineris South, said the small size of Mars may explain why there are only two plates. "Earth has a very broken 'egg shell,' so its surface has many plates; Mars' is slightly broken and may be on the way to becoming very broken, except its pace is very slow due to its small size and, thus, less thermal energy to drive it," he explained.
The discovery of plate tectonics also suggests the Red Planet may experience so-called "marsquakes", and this adds further support to evidence released earlier this year that a powerful marsquake hit the Cerberus region of the planet in recent history. "I think the fault is probably still active, but not every day. It wakes up every once in a while, over a very long duration – perhaps every million years or more," Yin said.
Earlier this year, earthquake geologist Gerald Roberts at Birkbeck, an institution of the University of London, said there is evidence that our planetary neighbor may have experienced marsquakes in the recent past. He and his team also analyzed imagery from HiRISE and examined boulders along a fault system known as Cerberus Fossae, which cuts across a lava surface on Mars.
Roberts said the images showed boulders that ranged from 2 to 20 meters (6.5 to 65 feet) in diameter, which had fallen in avalanches from cliffs. The size and number of boulders decreased over a radius of 100kms (62 miles) centered at a point along the Cerberus Fossae faults.
"This is consistent with the hypothesis that boulders had been mobilized by ground-shaking, and that the severity of the ground-shaking decreased away from the epicenters of marsquakes," Roberts said in February. He estimated that the magnitude of the marsquakes may have been greater than 7 on the Richter scale.
The scientists said the marsquake likely happened in recent history, within the last few per cent of the Red Planet's 4.5 billion year history, but it is impossible to say exactly when. The British scientists said it is possible that large magnitude quake activity is still occurring on Mars, but it will be difficult to tell until seismographs are taken to Mars.
For Yin, there is still more work to do, as he is unsure how far beneath the surface the two plates are located. "I don't quite understand why the plates are moving with such a large magnitude or what the rate of movement is; maybe Mars has a different form of plate tectonics," he said. "The rate is much slower than on Earth."
— Phuket Gazette Editors
Keep in contact with The Thaiger by following our Facebook page.
Never miss out on future posts by following The Thaiger.


Find more SE Asian News courtesy of The Thaiger.

Broke? Find employment in Southeast Asia with JobCute Thailand. Rich? Invest in real estate across Asia with FazWaz Property Group. Even book medical procedures worldwide with MyMediTravel, all powered by DB Ventures.

Former Thai PM Thaksin makes appearance on popular Clubhouse app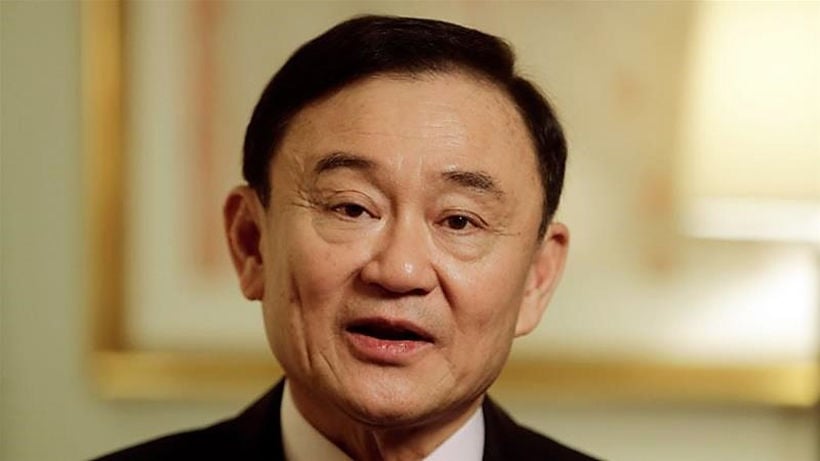 Ex-PM Thaksin Shinawatra, who has been living in exile for over 10 years, has made an appearance on the new "Clubhouse" social media app, in which he discussed his battle with Covid-19. Thaksin's appearance was confirmed by the CARE movement, as he joined a forum hosted by the organisation on Monday night.
Nation Thailand reports that also taking part in the forum were former ministers from Thaksin's cabinet, including Surapong Suebwonglee, Prommin Lertsuridej, Chaturon Chaisang and Pichai Naripthaphan. According to a Facebook post from CARE, Thaksin appeared under the name he has been using while living abroad.
"Thaksin would appear under the name 'Tony Woodsame', as Tony is the name he had used while studying abroad."
During his appearance, Thaksin confirmed he had contracted the Covid-19 virus but has since recovered. He also brought up the "30 baht cure all" policy of his former party, Thai Rak Thai, designed to deal with Thailand's healthcare problems. Asked about the current political turmoil in Thailand and how he would deal with protesters if he was still in power, he emphasised the importance of communicating with Thailand's youth.
"Political rallies in Thailand are caused by young people starting to become uncertain about their future. The government must communicate with these young protesters based on reason, as well as find ways to make Thailand open and free."
The exclusive, invitation-only Clubhouse app is gaining popularity in Thailand and around the world, helped by the approval of prominent figures like Elon Musk, Kanye West, and Jared Leto. Renowned Thai academic, Pavin Chachavalpongpun, himself living in exile, is also a Clubhouse member.
SOURCE: Nation Thailand
Keep in contact with The Thaiger by following our Facebook page.
Never miss out on future posts by following The Thaiger.
US government urges Myanmar military to stop violence and step down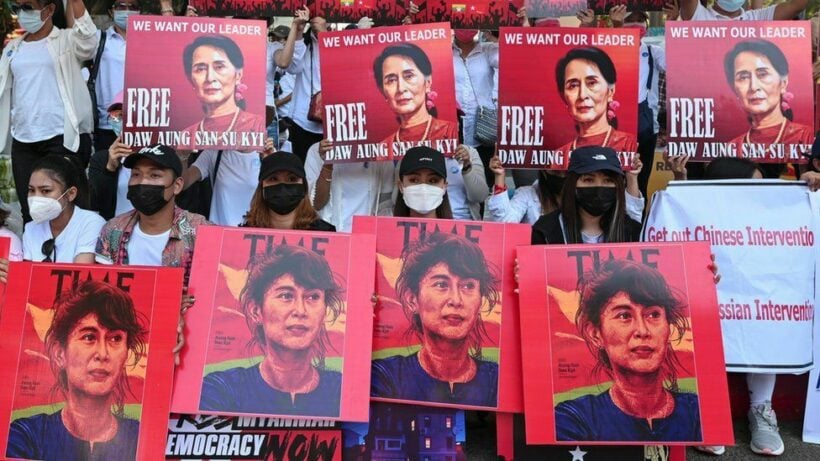 The US government is urging Myanmar's military to stop the violence against coup protesters and step down, after the death of a young woman. The recommendation comes as the US, along with Britain, Australia, and Japan, commit to issuing sanctions against the military regime in an effort to support the toppled democracy.
Last November saw a landslide democratic, electoral victory for revered leader Aung San Suu Kyi's National League for Democracy party. But the military regime labelled its results as fraudulent, without offering any evidence to support its claims. The buildup of tensions in the country led to a coup by the military on February 1, which saw the arrests and detainment of Suu Kyi, along with other major government leaders.
Since then, civilians have taken to the streets in protest, with security forces responding by using increasing force against them. Tear gas, rubber bullets and water cannons have been deployed at the protest sites. But a 20 year old woman, Mya Thwate Thwate Khaing, was shot in the head with a live round of ammunition in the capital last week, leading to her recent death.
The fatality sparked even more protests as some began calling her a martyr on social media, as demonstrators held her photos and a banner created showing the moment she was shot.
"We will regard you as our Martyr. We will bring justice for your loss."
Now, people have created a memorial on the streets of Yangon for the grocery store worker, adorned with flowers and messages for the deceased woman. Her brother recently state that he was saddened, and had no words for the loss and Poh Poh, her sister, called for action.
"Please all join this protest movement to be more successful. That's all I want to say."
Around 550 people have been detained since the coup, with government workers walking off their jobs as part of a civil disobedience campaign. Neighbourhoods have began setting up watch groups to guard against evening arrests, as the nation has seen a overnight internet curfew for 6 days.
Internet monitor Netblocks revealed that Wikipedia, Facebook and other social media services have since been blocked in the country.
SOURCE: The Phuket News
Keep in contact with The Thaiger by following our Facebook page.
Never miss out on future posts by following The Thaiger.
US charges 3 North Korean officials with stealing cryptocurrencies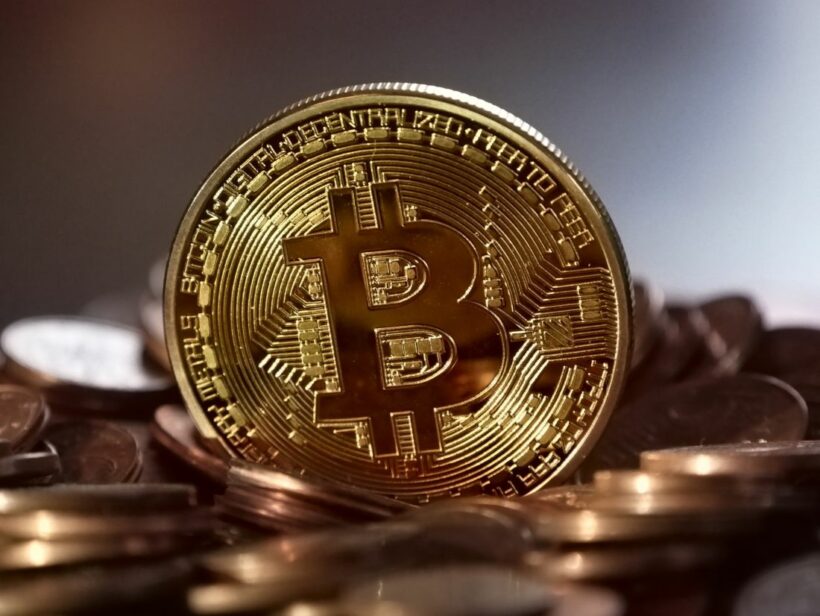 The US Justice Department is accusing North Korea of stealing crypto and traditional currencies and is charging 3 military intelligence officials with the alleged crime. President Joe Biden is calling the incident a "global campaign of criminality."
The accusations include hacking and malware operation cyberattacks to steal $1.3 billion US dollars from banks and other institutions. The actions were allegedly under the radar to avoid UN sanctions that have cut off sources of the government's income.
The US government says the stealing occurred over the last 7 years as the 3 officials allegedly created malicious cryptocurrency applications, hacking into the marketing and trading companies that include bitcoin. The case has been filed in the Los Angeles' federal court and is built on the 2018 charges against 1 of the 3 officials, named Park Jin Hyok.
Hyok was accused in 2018, before the other defendants were identified, for allegedly stealing $6.1 million from Pakistan's Bank Islami ATM machines after gaining access to its computer systems. Now the US government says all 3 worked together in that instance.
Hyok was also charged in 2014 with hacking Sony pictures, creating the WannaCry ransomware as well as the theft of $81 million US dollars from Bangladesh's central bank.
Jon Chang Hyok and Kim Il join Park Jin Hyok in being accused of working together in the Reconnaissance General Bureau, which is known within the cybersecurity community as the Lazarus Group, or APT 38.
The 3 allegedly operated out of North Korea, Russia and China to hack computers that allowed them to empty victims' crypto wallets. They also allegedly robbed digital currency exchanges in Slovenia and Indonesia and extorted a New York exchange of $11.8 million US dollars.
Kim Il has also been accused of developing the blockchain-based digital currency-like "Marine Chain Token" which was used as a fake instrument for investors to buy shares of shipping vessels. He is accused of not telling potential investors that it was designed to hide ship ownership identities to help North Korea avoid sanctions.
Assistant Attorney General John Demers says North Korea used keyboards rather than guns to steal cryptocurrency over bags of cash.
"Nation-state indictments like this are an important step in identifying the problem, calling it out in a legally rigorous format, and building international consensus."
The case is the first open action taken against North Korea by the Biden administration, amid ongoing tensions over Pyongyang's development of nuclear weapons and long-range missiles that could be dangerous to the United States and allies.
State Department spokesman Ned Price said the administration is "reviewing policy toward the country."
SOURCE: Bangkok Post
Keep in contact with The Thaiger by following our Facebook page.
Never miss out on future posts by following The Thaiger.