Two women drown after trying to save swimmers – Ubon Ratchathani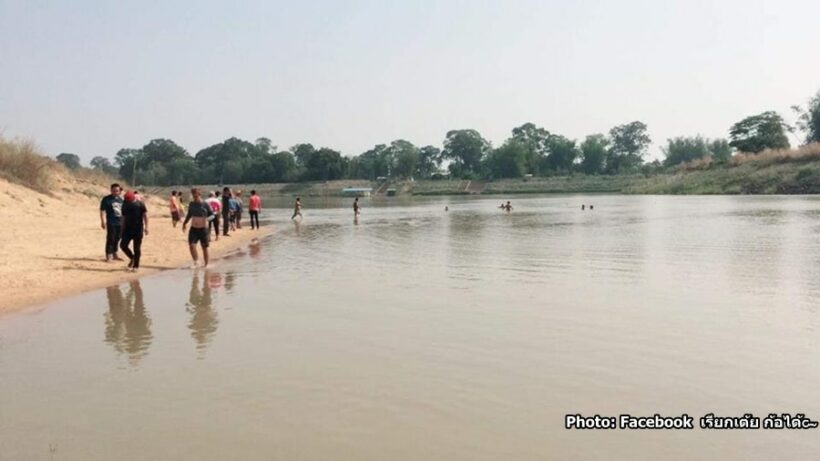 Two women, one of them seven-month pregnant, drowned in the Chi river in Ubon Ratchathani yesterday morning (Friday) as they tried to help a 13 year old and older man as they got into difficulties. Upon Ratchathani is in the country's far east near the Cambodian border.
The tragedy occurred when 35 year old Sudjai Pansiri, who was seven months pregnant, jumped into the Chi river in Ban Kud Kasien to rescue her 13 year old son who appeared to be struggling in the river.
Then a man, identified as Chaiyan Jinarak, saw the incident and jumped into the river to offer another helping hand. The boy was rescued but his pregnant mother drowned whilst trying to save him.
Witnesses said Chaiyan then became exhausted and appeared to be drowning in the middle of the river, prompting his wife to jump into the water to help. Unfortunately she drowned from the strong current while Chaiyan managed to swim to safety.
Villagers organised a search in the river, located and recovered the two bodies.
Keep in contact with The Thaiger by following our
Facebook page
.
Brexit latest – Five possible scenarios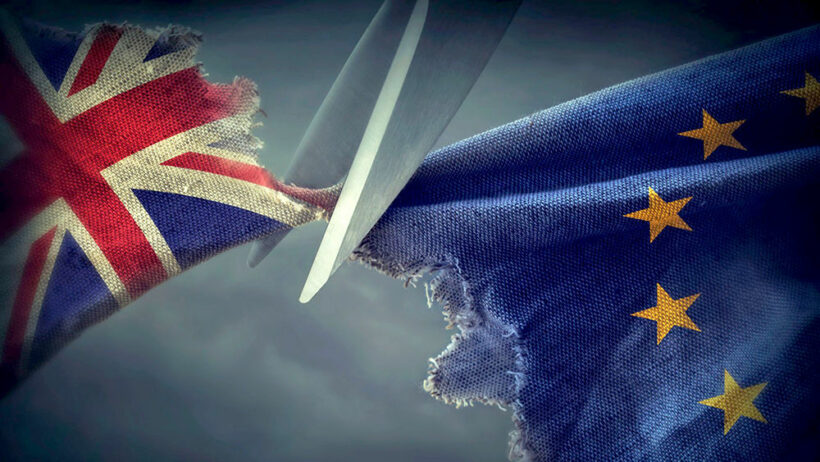 Britain's three year Brexit saga, the UK's most challenging and debilitating political debacle in decades, has taken another dramatic twist with the outcome still difficult to predict. In a landmark vote, MPs finally backed an EU divorce deal – only moments later rejecting British PM Boris Johnson's rushed timetable to turn it into law ahead of the country's scheduled October 31 departure date.
The decision makes that deadline almost impossible to meet, but it does not kill the deal – the first that has got a majority in parliament.
Here are some possible scenarios ahead…
A technical extension
Legislation passed last month stated that unless MPs backed a divorce deal by October 19, Johnson must write to EU leaders asking for Brexit to be postponed for three months to January 31, 2020. The PM reluctantly sent the letter last Saturday, and EU leaders are still considering their response.
European Council President Donald Tusk said yesterday, following the drama in Westminster, that he was now recommending they accept the request. Johnson had earlier told lawmakers who had just defied his bid to fast-track his deal through parliament that he would "pause" the ratification process while the EU decides on an extension.
Although he insisted Britain should still leave on October 31, he may have little choice but to accept a short "technical" delay to allow for a new parliamentary timetable to pass the legislation in the coming weeks.
More delays
Despite Johnson being adamant he will not delay Brexit for months, the EU may also offer Britain the option of a longer extension – which opposition MPs argue the premier would be compelled by law to accept. European leaders could claim a longer delay is necessary to give the country enough time to resolve the issue.
Legislation of this type would normally take months and must be approved again by the House of Commons as well as by the upper House of Lords. There is a real risk MPs could try to hijack its passage and attach various amendments, for example to make approval subject to negotiating a future customs union with the bloc or even to hold a new referendum.
A longer delay could also allow for a general election.
A crash and burn exit
The default legal position is that Britain leaves the EU on October 31 unless the other 27 member states agree to a delay.
Business and markets across Europe fear the shock of a sudden Brexit that even the government's own assessment says would cause economic damage, raising the chances that the EU will offer an extension.
Despite EU leaders claiming they would never cause a no-deal Brexit, their decision to offer a delay must be unanimous and any one of the 27 member states could block such a move. In that highly unlikely scenario, Britain would crash out of the bloc at the end of next week.
Another general election
Johnson warned MPs ahead of the votes yesterday that he would pull his Brexit deal legislation and try to hold a general election if they rejected his timetable – although he did not repeat the threat afterwards.
Riding high in the polls, he has already unsuccessfully tried twice to get an early election to win back a majority in parliament, and seemed buoyed by having secured MPs' initial approval for his new Brexit deal. But he needs the support of the main opposition Labour Party for an election to be called and it has so far resisted.
Labour says it would back an election when the threat of a "no deal" Brexit is off the table.
Another referendum
Labour says any deal should be subject to a new referendum, and has promised to call one if it takes office. Some MPs may try to force the issue during the passage of the Brexit deal legislation, although it is far from clear that they have the numbers to succeed.
SOURCE: Agence France-Presse
Keep in contact with The Thaiger by following our
Facebook page
.
Points deduction system for drivers to be introduced mid-December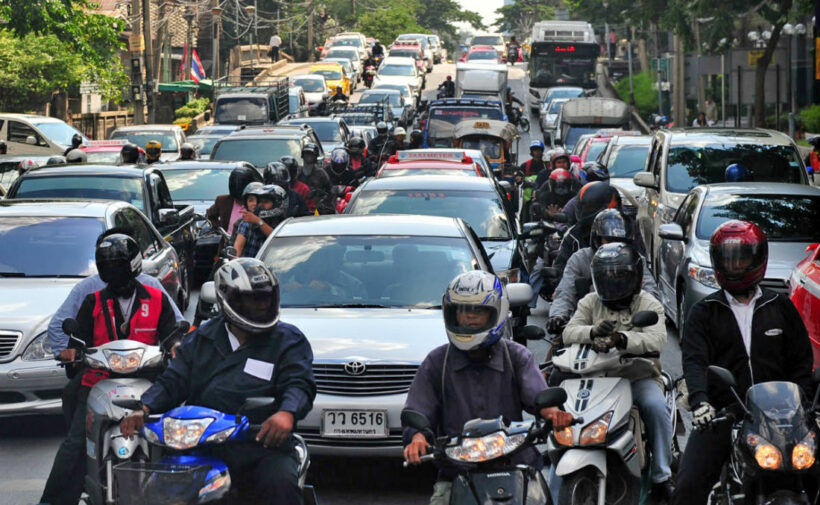 The point deduction system, for traffic and road infringements, is tentatively scheduled for activation for motorists and motorcyclists in mid-December. It is hoped that the system will help reduce road fatalities and injuries on Thai roads.
The deputy commander of Highways Police Command says that every licensed driver will be given an allocation of 12 points. Each time the driver commits a traffic law violation, points will be deducted. When there are no points left, the driver's license will be suspended for 90 days, after which the driver or motorcyclist will have to undergo training administered by the Land Transport Department to get their licence back, and another 12 points.
Those who don't attend the training, however, will have their licence returned after 90 days, but with only 8 points.
Points to be deducted differ, depending on the offence. Offences are divided into four categories:
• One point deduction
Using a cell-phone while driving; exceeding the speed limit; not wearing crash helmets for motorcyclists; not wearing seat belts; not giving way to emergency vehicles, riding on the sidewalk and not stopping for pedestrians on zebra crossings.
• Two points deduction
Running a red light; driving on the wrong side of the road; reckless driving; driving while his/her license is suspended and drunk driving.
• Three points deduction
Organising or promoting street racing without permission; hit-and run; driving while under the influence of narcotics; driving while under the influence of alcohol exceeding 150mg per ml.
• Four points deduction
Driving under the influence of alcohol exceeding 200mg per ml, drunk driving in a way which may cause serious injuries or death to the other people; driving in a manner disregarding the safety of the other people or causing trouble to other people.
SOURCE: Thai PBS World
Keep in contact with The Thaiger by following our
Facebook page
.
Gardens by the bay – Singapore's horticultural showcase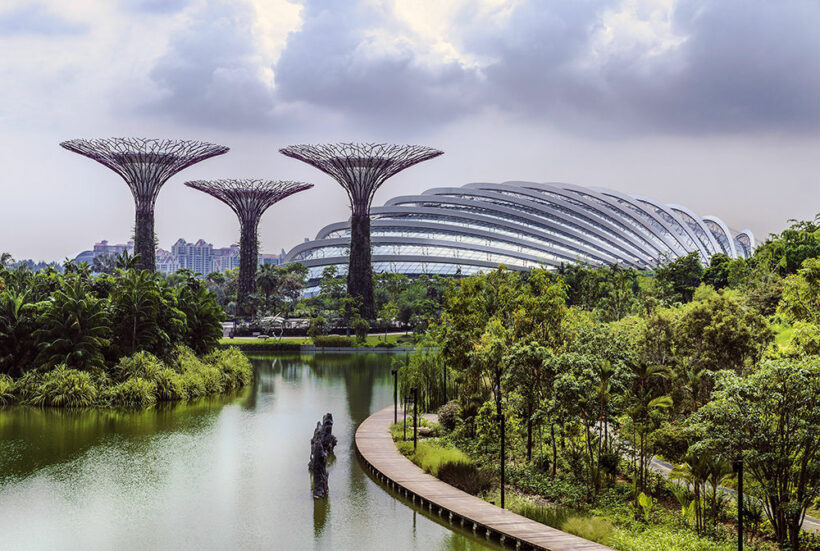 You don't have to be a green-thumb to be amazed by this architectural and horticultural wonder.
Gardens by the Bay is an independent organisation responsible for developing and managing one of Asia's most stunning garden destinations. The destination is a must-see visit on a quick stop over or as part of your extended time in the Lion City. Make sure you allow a full morning or afternoon, even an entire day, to walk around the many exhibits and secret garden worlds.
Gardens by the Bay, opposite the Marina Bay Sands complex in Singapore, is led by a multidisciplinary team of professionals who have been involved in the greening of Singapore, working alongside international and local experts to develop the astonishing architectural, arboreal and floral attraction. It's an ever-evolving, living and breathing display set under two glass domes (an architectural wonder in their own right).
Gardens by the Bay has earned numerous awards and accolades including the World Building of the Year in 2012, the President's Design Award (Singapore) in 2013, the Outstanding Achievement Award by the Themed Entertainment Association in 2014, the Largest Glass Greenhouse (Flower Dome) in the Guinness World Records for 2015, and even a TripAdvisor Certificate of Excellence in 2016.
It has an in-house team of skilled landscape designers, horticulturists, arborists, engineers, plant health, garden and turf management experts, as well as plant research and orchid breeding professionals, who leverage on the extensive global network of plant sources cultivated during the development days.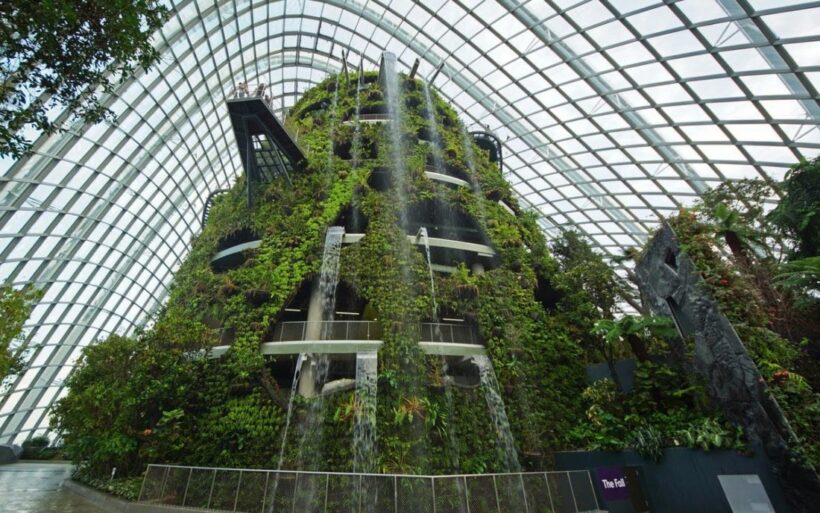 The two main domes are the Flower Dome and the Cloud Forest.
The Flower Dome is a celebration of flowers from around the world with various special displays throughout the year, depending on the seasons. You can meander your way though the extensive paths and walkways, read about the displays or just sit and soak in the wonder of colour.
The Cloud Forest takes you into the world of rainforests where you gaze up in wonder at soaring waterfalls and man-made mountains of lush tropical and cool-climate rainforest species. Or take an elevator up to the top and wander through the tree tops and enjoy the view. This display hits a high note early when you first walk though the doors and are confronted by a 30 metre cascade of water from 10 different man-made waterfalls, the tallest of its type in the world.
Originally constructed as a nature reserve park, a government strategy to convert the city from a "Garden City" to a "City In A Garden", it is much more than just a botanical garden.
The area encompasses the Cloud Forest, the Flower Dome Conservatory, Heritage Gardens, various art installations and locations to just wander and relax. There are also audio tours available which will take you on a guided tour.
So, so much more than just a garden, it's an education about bio-diversity, a hugely enjoyable afternoon or evening stroll around the world of plants and flowers. Warmly recommended for the entire family.
The Gardens are located at 18 Marina Gardens Drive, Singapore, opposite the Marina Bay Sands Hotel and adjacent to the Singapore Eye ferris wheel.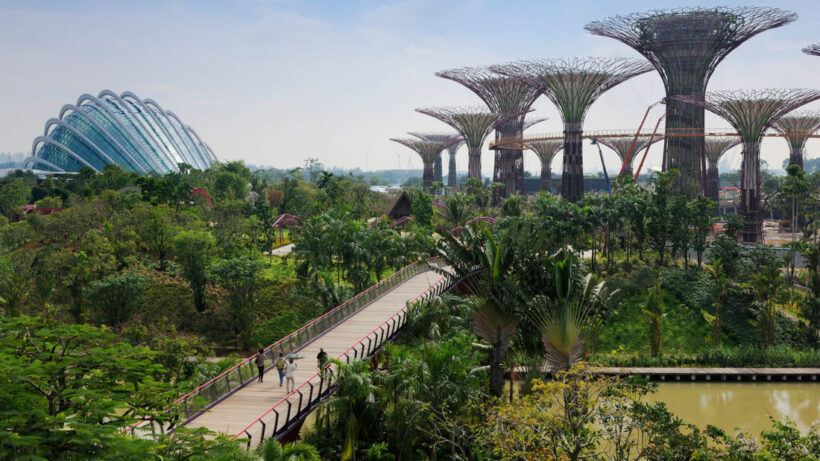 Keep in contact with The Thaiger by following our
Facebook page
.