Two women drown after trying to save swimmers – Ubon Ratchathani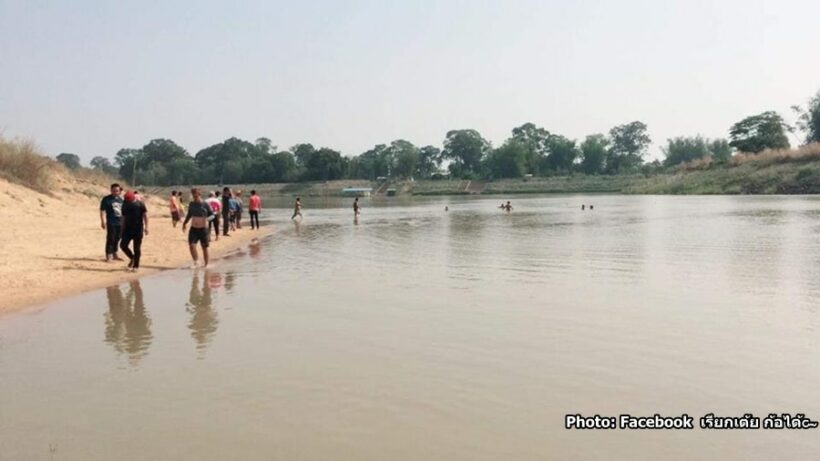 Two women, one of them seven-month pregnant, drowned in the Chi river in Ubon Ratchathani yesterday morning (Friday) as they tried to help a 13 year old and older man as they got into difficulties. Upon Ratchathani is in the country's far east near the Cambodian border.
The tragedy occurred when 35 year old Sudjai Pansiri, who was seven months pregnant, jumped into the Chi river in Ban Kud Kasien to rescue her 13 year old son who appeared to be struggling in the river.
Then a man, identified as Chaiyan Jinarak, saw the incident and jumped into the river to offer another helping hand. The boy was rescued but his pregnant mother drowned whilst trying to save him.
Witnesses said Chaiyan then became exhausted and appeared to be drowning in the middle of the river, prompting his wife to jump into the water to help. Unfortunately she drowned from the strong current while Chaiyan managed to swim to safety.
Villagers organised a search in the river, located and recovered the two bodies.
Keep in contact with The Thaiger by following our
Facebook page
.
Never miss out on future posts by
following The Thaiger
.
Pandemic has washed away Pattaya's "soapy" massage parlours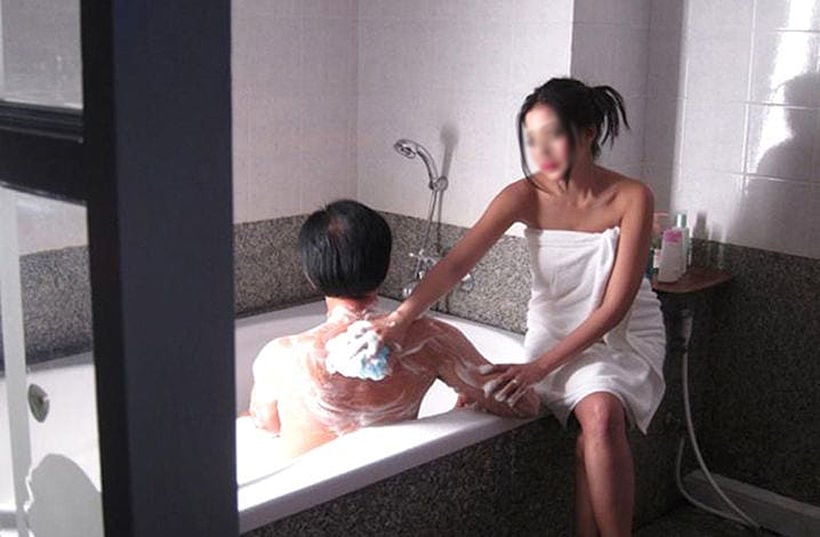 While the Covid pandemic has hit Thailand's businesses hard, it has also washed away its not-so-legal soapy massage parlours after tourism has dried up its clientele. Such places, known as glorified brothels, have left many masseuses out of work as boards have barricaded the once booming establishments.
Soapy Massage (àap-òp-nûat, อาบอบนวด, literally bath, steam, massage)…
These are the bigger massage parlours where girls are presented in the fishbowl and you get the full program (including sex) for a fixed price, depending on the girl starting from 1,500 and up to 5,000 Baht.
Only a few of the soapy services have survived the pandemic in Pattaya, with Honey Massage Parlour being one of them, according to The Pattaya Mail. After adjusting to the new requirements for social distancing, the business has re-opened on November 19. However, its largest shop has closed, once known as Honey 1 on Soi Honey, or Soi 11, the windows are dark and barricaded. Honey Inn is also up for sale.
25 year old masseuse Maywadee, says she used to work in such parlours where she would get a cut of the 1,500 to 2,500 baht fee. She says she used to see up to 7 clients a day, but now that number has been cut in half as Chinese and Japanese tourists, who were her largest group of customers have dwindled. Maywadee says sometimes she will get Thais using her services, but only ones that have come for a holiday. Now, she is mulling over whether to return to her native city of Chiang Mai, to sell handicrafts, as her income has dried up.
Such parlours feature masseuses that are usually not native to the area, as many come from lower socio-economic areas such as Thailands northeastern provinces, otherwise known as Isaan. Many make the trip to tourist-driven cities like Pattaya, Koh Samui, Bangkok and others, in an attempt to make a higher salary than they would if they were back in Isaan. Now, however, many non-natives to such tourist resort areas are returning to their hometowns, after losing their jobs when the Covid pandemic halted tourists from arriving to the kingdom.
SOURCE: The Pattaya Mail
Keep in contact with The Thaiger by following our
Facebook page
.
Never miss out on future posts by
following The Thaiger
.
5 month old Indian baby among 2 new imported cases of Covid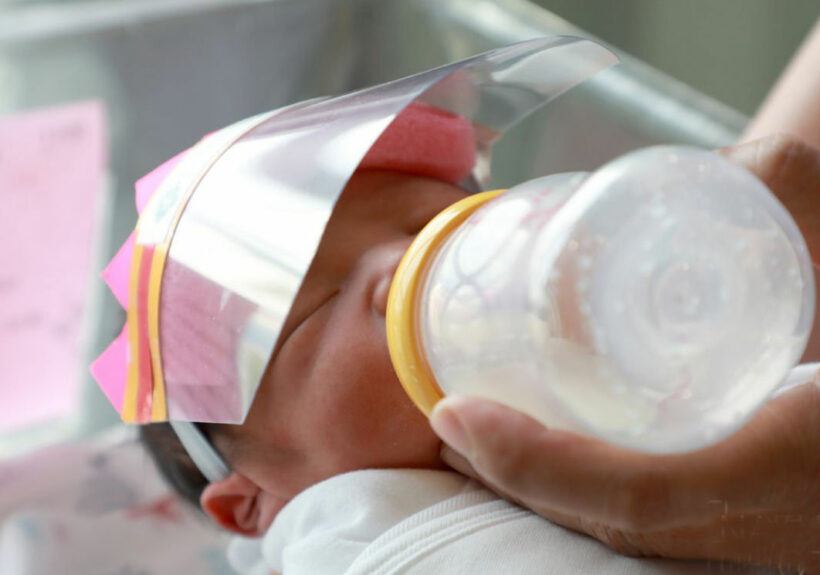 Today, Thailand's CCSA reports 2 new imported cases of Covid, 1 of which is a 5 month old Indian baby girl, bringing the total number of cases to 3,922 with 0 new deaths. The Centre for Covid Situation Administration reported that the girl arrived on November 11 on the same flight as 2 previously confirmed cases.
The baby tested positive 5 days later, while displaying symptoms such as a fever and vomitting. The infant was staying at an alternative state quarantine facility in Bangkok, but was later sent to a private hospital and then to the Queen Sirikit National Institute of Child Health for treatment.
The 2nd case is that of a 31 year old Pakistani businessman who arrived via Dubai on November 16, testing positive 5 days later while displaying no symptoms. He was admitted to a private hospital upon receiving positive test results for Covid after staying at an alternative state quarantine facility.
Thailand has reported 3,922 cases since the onset of the coronavirus outbreak, with 3,772 being listed as recovered while 6 have been discharged over the past 24 hours. Currently, 90 patients are hospitalised while the death toll has remained at 60.
The number of Covid cases worldwide has increased by 503,724 in the past day, bringing the total to 59.51 million diagnosed since the virus began. The curent worldwide death toll has risen by 7,949 over the past 24 hours, bringing the total to 1.4 million.
The United States still ranks number 1 in the amount of cases reported, at 12.78 million. Its death toll is also the worst in the world as it sits at 263,687. India ranks 2nd with 9.18 million cases and 134,254 deaths.
Recently, out of Thailand's 7 potential Covid-19 vaccines, 2 have successfully completed the animal testing stage and will proceed to human testing. Dr Nakorn Premsri from the National Vaccine Institute says the 2 vaccines are the mRNA vaccine from the Chula Vaccine Research Centre and BioNet-Asia's DNA vaccine. Meanwhile there are 3 other international candidate vaccines now vying for an anticipated full release before the end of 2020.
SOURCE: Bangkok Post
Keep in contact with The Thaiger by following our
Facebook page
.
Never miss out on future posts by
following The Thaiger
.
Bad Student protesters highlight patriarchial society where victims are blamed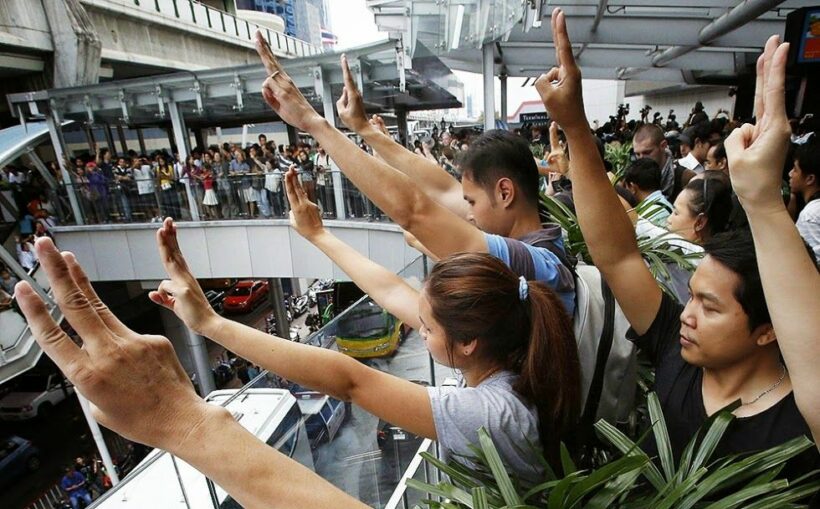 After Saturday's rally featuring the Bad Student group joining the protests, some members have also began highlighting the patriarchial society of Thailand in which obedience and submission runs rampant in educational institutions.
20 year old Nalinrat Tuthubthim bravely demonstrated the need for an open dialogue as she adorned an old school uniform while taping her mouth and holding a sign.
"A teacher sexually assaulted me. The school is not a safe space."
Yet conservative Thais, such as Palang Pracharat MP Pareena Kraikupt, threatened to sue her for dishonoring the school and its uniform because she is no longer a student. And even further pointed out the embarrassment the student was allegedly causing to the country.
Such a deflection of the issue also comes with pointing fingers towards the victim as some Thais question why she didnt report the alleged incident when it happened, and instead, waited 5 years to display a banner at a rally? The shift in blame is all too common as the patriarchy would say it's her fault by pointing out her clothing or by simpley saying she deserves it, เด็กมันยั่ว.
The social hierarchy has long been accused of being corrupt, exploitative and abusive, in which the "poo-yai" superior has complete power over the "poo-noi" inferior. Even questioning a superior is against societal norms. There are no checks and balances on those in power. Nalinrat says it is this type of culture that created fear over reporting sexual abuse, along with her lack of understanding it due to her young age.
In an article for Thisrupt.co, she discussed her psychological trauma and disorder that resulted from the incident, as she has taken to campaigning about sexual abuse in the past 2 years. She says that men make the rules in Thai society and that there is a cultural mindset in which society blames the victim.
Nalinrat says she was met with a wall of denial when she did speak up and was demanded to be silent, finding herself joining the countless other women and children whose stories were ignored. When her story became public, she was met with victim-blaming, just as so many other women and children have suffered, while the abuser is not apprehended.
ฺBut thanks to others boldly bringing the issue to light, other groups such as Bad Medical Student are gaining momentum as they bring such allegations ranging from sexual harrassment, abusive workloads, verbal and emotional abuse, gender discrimination and many more, to light. The group, who took their name after the Bad Student group, is now taking to Twitter to voice what they say is a medical institution environment that is abusive. One Twitter user posted a message that says she was discriminated against because she was a woman.
SOURCE: Thisrupt
Keep in contact with The Thaiger by following our
Facebook page
.
Never miss out on future posts by
following The Thaiger
.