Trucks and buses caught speeding more than 17 million times last year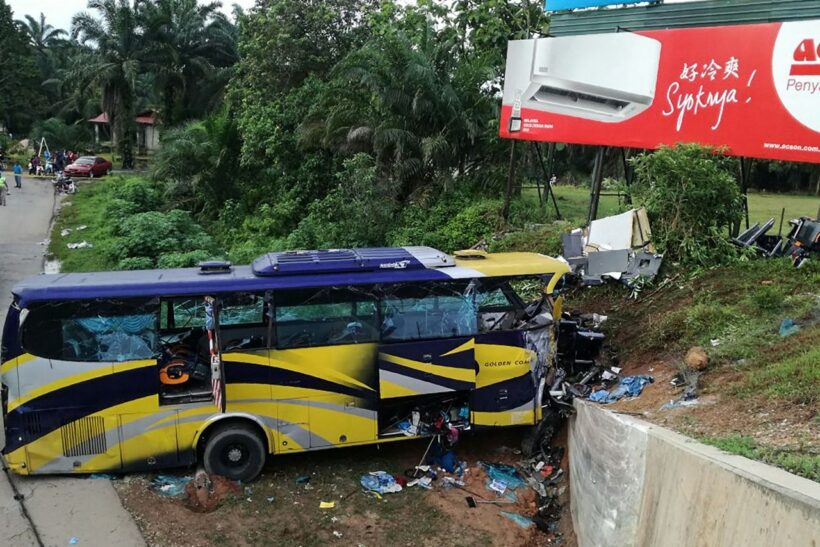 Cargo trucks and public transport buses in Thailand were found to have been speeding beyond the legal limit on more than 17 million occasions last year, according to a GPS-based study by a Bangkok-based university.
The study puts definitive proof at the feet of the Thai government and transport officials in the wake of several appalling weeks on Thai roads, particular for fatal bus crashes, and in the lead up to the annual Songkran Festival, the most dangerous time on Thailand's roads.
The figures don't even include all the other vehicles using Thailand's roads.
The Safety Analysis study, by King Mongkut's Institute of Technology Ladkrabang's Smart City Research Centre (SCRC), found that 250,000 trucks and buses had exceeded a legal speed limit a staggering 17,218,811 times. It also found that cargo trucks travelled at an average speed of 101.58 kilometres per hour. An AVERAGE!
The researchers analysed the 2017 data from the Highway Accident Information Management System (HAIMS), identifying the seven most dangerous spots for crashes and fatalities.
They were:
1. Highway No. 1 between the 708th-726th kilometre markers;
2. Highway No. 2 between the 20th-36th kilometre markers;
3. Highway No. 4 between the 126th-130th kilometre markers;
4. Highway No. 9 between the 30th-38th kilometre markers;
5. Highway No. 32 between the 132nd-137th kilometre markers;
6. Highway No. 41 between the 366th-379th kilometre markers;
7. Highway No. 304 between the 165th-176th kilometre markers and between the 190th-250th markers (cutting through the national forest).
The SCRC joined with the Department of Land Transport to develop a "Smart Mobility" system using global positioning system (GPS) technology to collect data, study drivers' behaviours, positions and travel directions, and detect vehicle speed.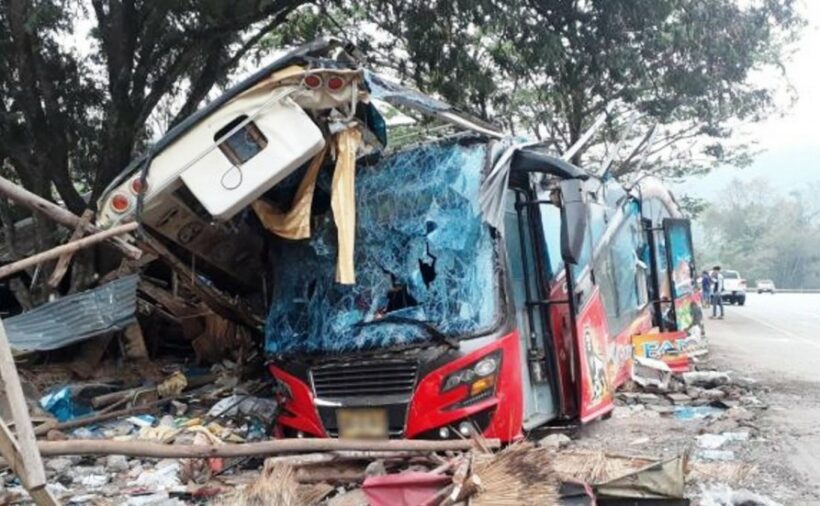 The findings were revealed on Sunday after several serious road accidents involving buses.
They include the March 21 double-decker coach crash in Nakhon Ratchasima's Wang Nam Khieo district that killed 18 passengers and wounded 30 others, and the March 30 incident in which a double-decker bus loaded with Burmese workers crashed and burned in Tak, killing 20 workers.
The former case involves an alleged meth-taking driver who was speeding beyond the 60km/hour legal limit while driving on a winding downhill road.
In the latter case, Dr Thanapong Jinawong, chief of the Road Safety Policy Foundation, raised questions over the bus's condition, speed and the likelihood of it being overloaded as possible contributing factors.

Keep in contact with The Thaiger by following our Facebook page.
Never miss out on future posts by following The Thaiger.
Ask The Thais | Road deaths, dating foreigners, and is 'farang' racist?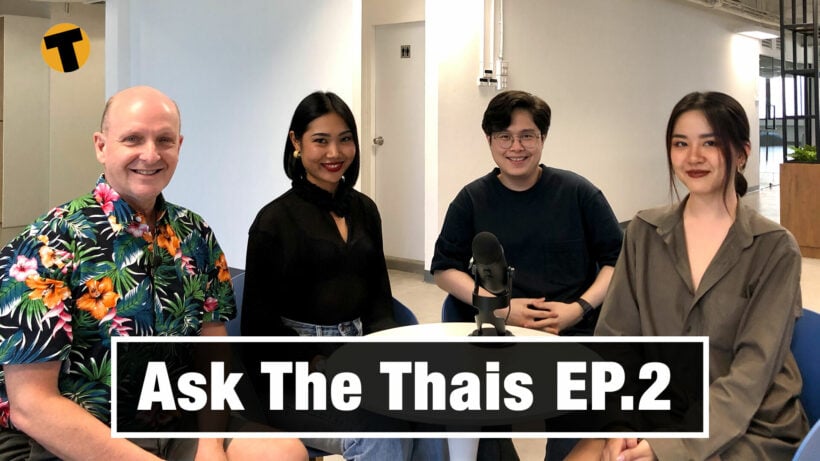 Ask The Thais" is a new segment on The Thaiger where we ask some of our Thai staff to explain some of the unusual and sometimes inexplicable little nuances of Thai culture. You have a question?
Send it in and we'll get our MUCH BETTER LOOKING Thai staff to explain, from a Thai youth perspective, some of their culture and what they really think. Send us your questions below.
YouTube link to the Australian Transport Accident Commission video: https://www.youtube.com/watch?v=Z2mf8DtWWd8
Keep in contact with The Thaiger by following our Facebook page.
Never miss out on future posts by following The Thaiger.
111 people arrested at Koh Pha Ngan party for allegedly violating Covid-19 restrictions
Police raided a party in Koh Pha Ngan and arrested 111 on charges of violating Covid-19 disease control measures under the Emergency Decree. Immigration police and tourist police raided the event at Three Sixty Bar, a venue on a hilltop near Mae Haad Beach on the island known for its 360 degree view.
Out of the 111 people arrested, 89 are foreigners and 20 are Thais. Police say 2 other people admitted to organising the party and were charged with colluding in operating an entertainment venue without permission. All 111 people were taken to the police station for legal action.
According to chief of Surat Thani immigration, police heard about party tickets being sold online. The bar wasn't exactly discrete about hosting an event. Various posts were made on Facebook advertising the "360 Blast & Addict Party" with DJs on 2 dance floors, a music line up until 2am and a "Crazy Market" with clothes, jewelry and food.
Surat Thani Governor also says strict legal action will be taken against the partygoers and breaches of Covid-19 restrictions will not be tolerated.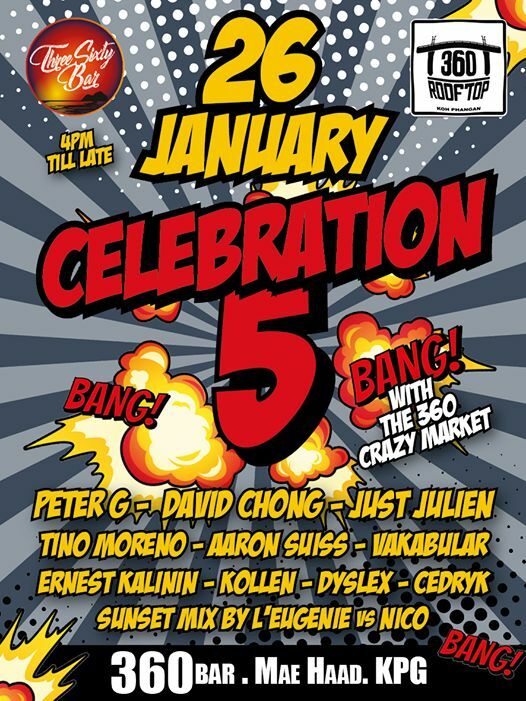 SOURCE: Bangkok Post | PR Surat
Keep in contact with The Thaiger by following our Facebook page.
Never miss out on future posts by following The Thaiger.
Massage shops and spas in Chon Buri get the "okay" to reopen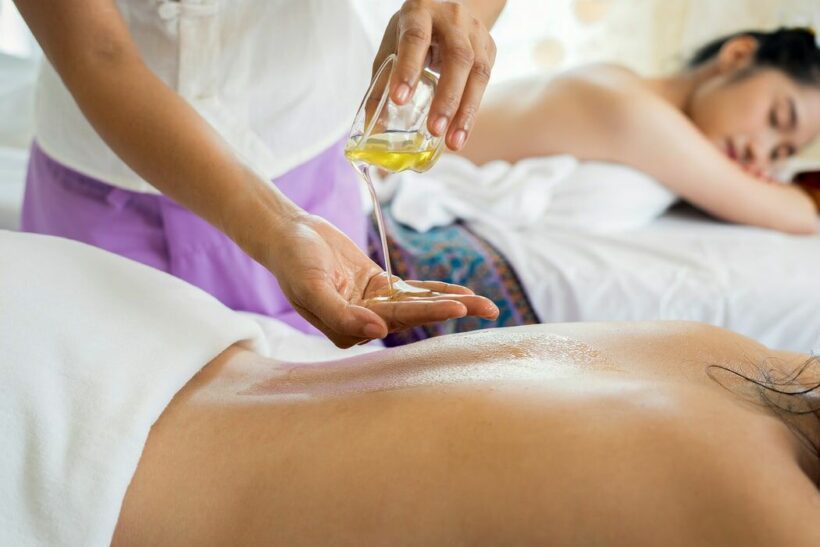 Massage shops and spas as well as other similar venues in Chon Buri will be allowed to reopen after being closed for nearly a month due to strict Covid-19 control measures. Massage and spa workers gathered earlier this week, calling on the government to allow their businesses to reopen.
Along with massage shops and spas, tattoo studios and beauty clinics are also allowed to reopen, but must abide by Covid-19 prevention measures like checking customers' temperatures, supplying hand sanitiser and enforcing social distancing.
Pattaya News notes that gyms, pools, fitness centres, saunas and massage shops offering "soapies" are not included in the order.
Although Chon Buri has gone 6 consecutive days without a local Covid-19 case, it is still classified as a "red zone." The Centre for Covid-19 Situation will hold a meeting on Friday and will discuss whether to reclassify the province as an "orange zone," allowing tourists to visit without permission from a district official.
SOURCE: Pattaya News
Keep in contact with The Thaiger by following our Facebook page.
Never miss out on future posts by following The Thaiger.