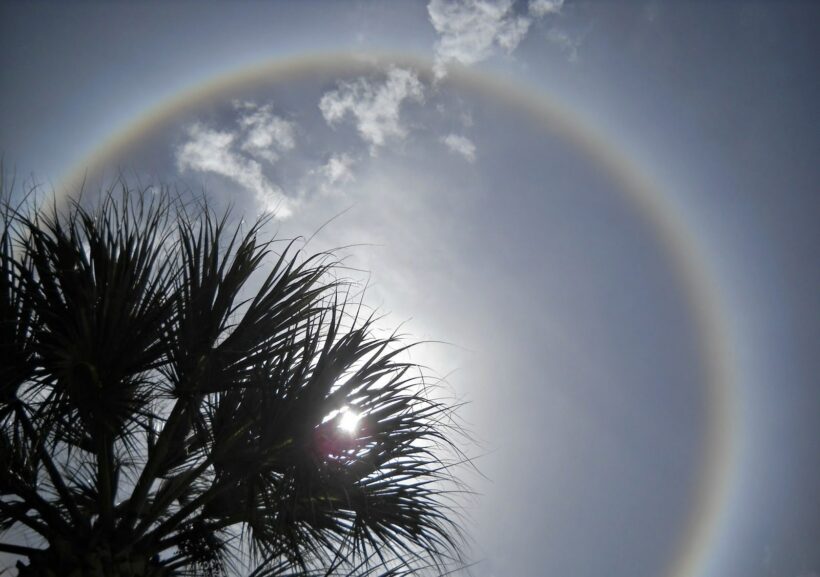 It's a special day of the year and we're glad the sun is out so we can enjoy it. And, if all is well, we'll see more sunshine today than any other day of 2018. So what will you do with all the extra daylight?
The summer solstice is today (June 21) – the longest day in the northern hemisphere. Meanwhile, a halo appeared around the sun in Chiang Mai for close to an hour yesterday causing much excitement.
Chiang Mai locals rushed to take pictures of the phenomenon yesterday after a halo around the sun was seen from the parking lot of Chiang Mai International Convention and Exhibition Center. Many took the opportunity to make wishes. The halo effect took place between 10:45-11:30am.
The National Astronomical Research Institute of Thailand says that the halo was created by cold air in the lowest strata of the earth's atmosphere causing dew to freeze and fracture daylight shining downwards. The phenomenon is similar to a rainbow after a rain shower.
At this time of year, the period of daylight lasts longer in the northern hemisphere. The sun rose today at 5:51am and is estimated to set at 6:47pm, totaling 12 hours and 56 minutes in Bangkok, meaning the longest day of the year. Sunrise in Phuket (a little closer to the equator, and west of Bangkok) was at 6.10am and tonight's sunset is listed as 6.46pm.