Six suspects detained for questioning over Yala massacre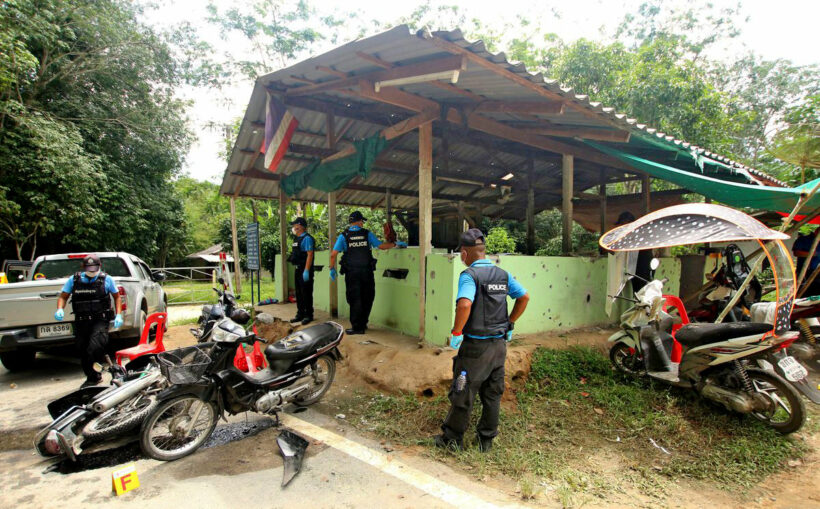 ORIGINAL PHOTO: Reuters
More than 200 troops and police conducted searches in Thailand's southern border provinces on Friday night, looking for suspects in Tuesday's brutal attack in Yala Province that killed 15.
Nine suspects were arrested, but three were released shortly after checks showed they had no prior connections with the insurgency or criminal records. The rest were detained for questioning. Two other suspects were earlier detained as well in the days following the massacre.
Security forces found several knapsacks and bandages during the searches, but no weapons.
Police say background checks showed some of the six had existing arrest warrants, but more checks are needed to determine whether they were involved in the Yala checkpoint attack on Tuesday night.
Thai PM Prayut Chan-o-cha was reported to have ordered a partial curfew in some districts of Songkhla, Yala, Pattani and Narathiwat provinces, effective December 1. But a subsequent clarification from an official Army spokesperson say that there no such command but that they were looking at other ways to tighten security in the tour bled area.
The army says now that won't upgrade the curfew in the troubled deep South following an attack that killed 15 people on Tuesday night.
A spokesman for the Internal Security Operations Command says, contrary to some news reports, no curfew would be imposed at this stage.
Read the rest of that story HERE.
SOURCE: Thai PBS World
Keep in contact with The Thaiger by following our
Facebook page
.
Two suspects in Yala's November 5 deadly attacks, shot and killed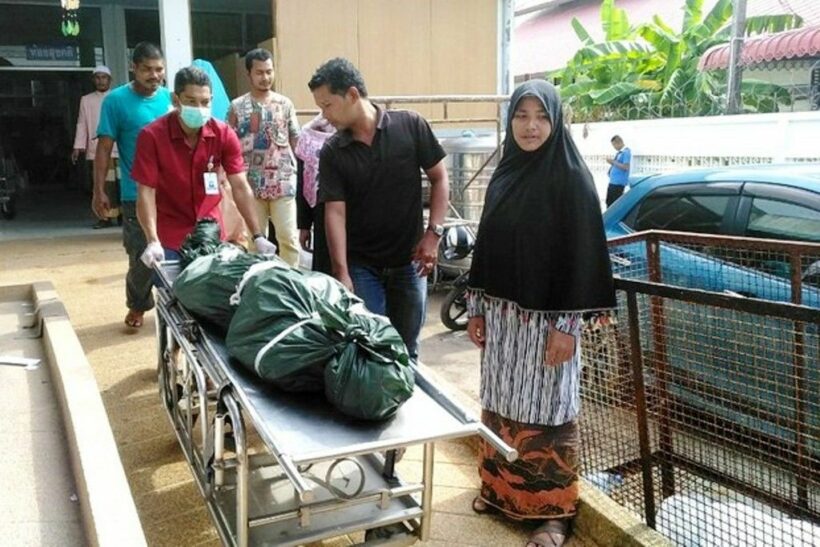 Authorities have shot and killed two men suspected in deadly attacks in southern Thailand earlier this month. Fifteen people, mostly volunteers, staffing a security checkpoint in Yala province were shot and killed when it was ambushed by gunmen.
A day after the attacks, PM Prayuth Chan-o-cha authorised curfews in nine districts of Southern Thailand. The two suspected leaders of local insurgent cells were gunned down on Thursday evening. They exchanged gunfire with authorities during a raid in nearby Pattani province.
Security officials maintain they planned the November 5 attacks on two security checkpoints in Yala province that killed a mix of police, village defence volunteers and civilians, according to an army spokesman. The attacks marked the deadliest day of violence in the restive south since the separatist insurgency reignited in 2004.
A spokesman for the Army said that they are sorry for the victims' relatives and families.
"We used lenient measures and tried to negotiate with them to come out and fight in court. They didn't surrender, leading to the losses."
Authorities learned that the suspects were hiding at a house in Pattani. Local clerics and village leaders tried to persuade them to surrender for about three hours before the firefight with law enforcement ensued, he said.
At a news conference, police said ballistics tests confirmed that a pair of handguns recovered from the suspects were also used in several other insurgent attacks. One of the guns was among the weapons used in the Yala attack. Another weapon, a .45 caliber pistol, was used in the recent killing of a policeman.
"Those two guns were used in 14 separate attacks."
The three southern border provinces of Pattani, Narathiwat and Yala have been in the grips a separatist insurgency for nearly two decades. Nearly 7,000 people have been killed since 2004 – largely unreported world media although the losses and scale of the conflict are even greater than in the battles on the Gaza Strip..
SOURCE: Chiang Rai Times
Keep in contact with The Thaiger by following our
Facebook page
.
Security forces kill two suspected insurgents in Thailand's south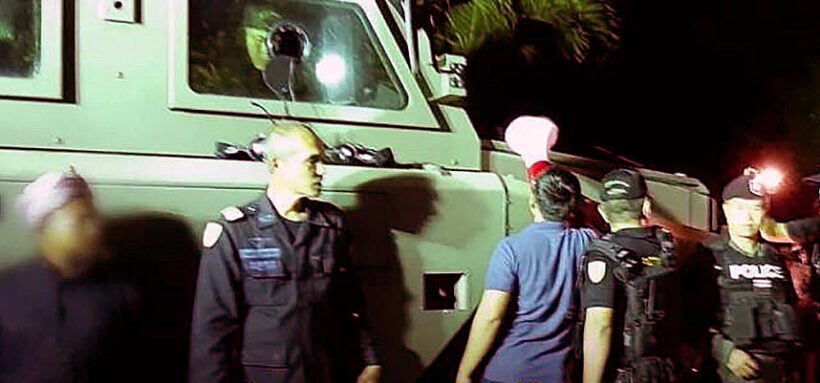 Two men suspected of being Islamic insurgents have been shot dead by security forces in Pattani, southern Thailand. The two militants were believed to be members of the National Revolutionary Front,
Thai PBS World reports that officials received a tip-off that the men were hiding out at a property in Khlong Tan Yong. The house was surrounded by the military and police, with local religious leaders assisting to persuade the men to give themselves up.
It's understood the house remained surrounded for three hours but both men refused to surrender, instead shooting at security forces.
Officials returned fire, with the exchange of gunfire continuing until they entered the property and found both men dead and in possession of two handguns. The men's fingerprints have been taken and are being processed in order to identify them and determine if they've been involved in any other violent incidents.
Speaking to the media, the owner of the house claimed both men had asked for permission to remain there overnight. She claims she cooperated as she feared they would harm her family if she didn't help.
SOURCE: Thai PBS World
Keep in contact with The Thaiger by following our
Facebook page
.
Roadside bomb injures 3 police in Narathiwat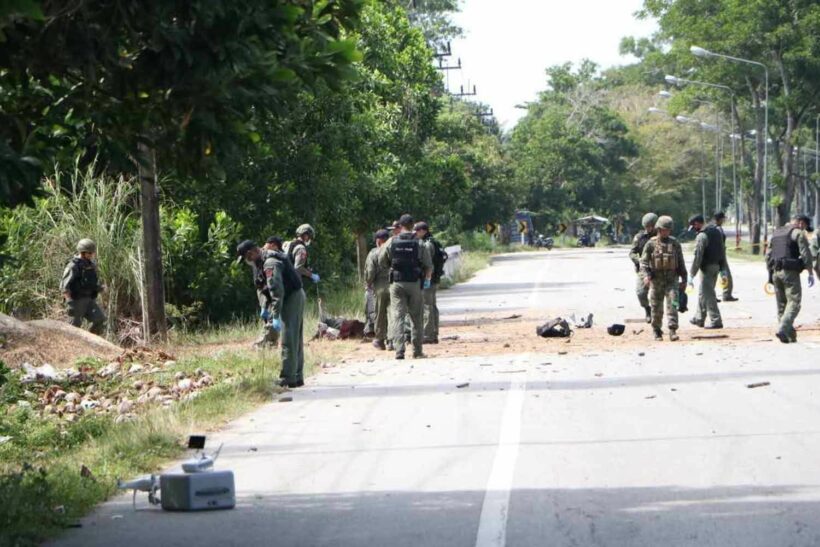 PHOTO: A similar roadside bomb attack in Narathiwat on July 16 this year. – Bangkok Post
Three policemen have been injured, one of them seriously, by a bomb believed to have been planted by insurgents in the southern border province of Narathiwat. The three officers were part of a team of six traffic police deployed at a checkpoint. The bomb was placed near a roadside tree.
Soldiers and police immediately rushed to help the wounded officers, who were found bleeding and laying on the road. They were rushed to hospital, and the police sergeant who sustained the most serious injuries was later transferred by helicopter to Songkhla Nakharin Hospital in Hat Yai.
A message, purportedly from the Barisan Revolusi Nasionale insurgent group, was later posted on social media, threatening to target all defence volunteers, claiming they "are part of Siam's armed forces".
The warning urged all volunteers to quit or "face the consequences". But the message was not verified verified as authentic by security officials.
SOURCE: Thai PBS World
Keep in contact with The Thaiger by following our
Facebook page
.