Insurgents murder teacher and use his vehicle as a car bomb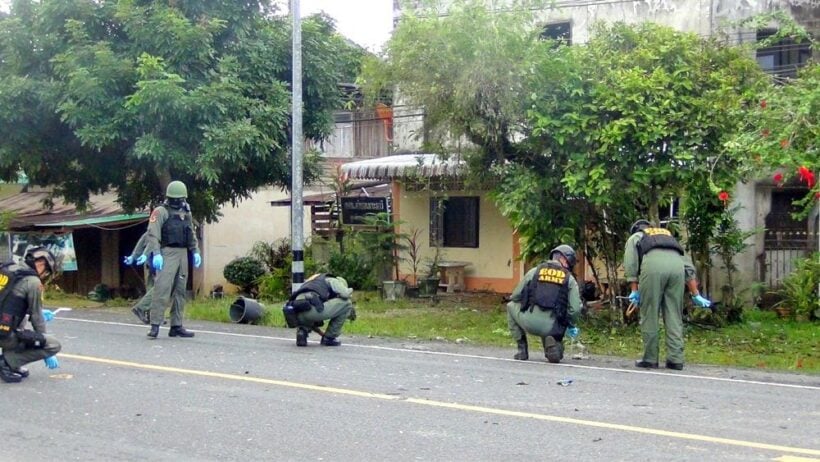 by Somchai Samart & Supitcha Rattana
A car bomb explosion in Songkhla's Thepa district yesterday has shocked locals after insurgents are suspected of killing a 62 year old school teacher and stealing his pickup to be used in the the attack.
Security officials collecting evidence at the scene of the explosion checked the totally destroyed vehicle and found that it belonged to a retired teacher. The teacher was identified as Amata Samotantawee.
When officials visited his house no one answered the door. So they broke in to find Amata in the toilet, hanged from his neck. He was blindfolded, gagged and his hands were tied.
At this stage police believe the attackers killed Amata, stole his pickup and packed it with explosives.
Amata's relatives told police that they had talked to him the previous night, leading police to conclude that the murder happened sometime early Tuesday.
Yesterday's blast on a road in Tambon Tamuang wounded two police officers: Pol Colonel Sineenart Kongput, who suffered injuries to the chest and Pol Lieutenant Somnuk Kaewmun, who had a cut that required 10 stitches.
Security and bomb squad officials rushed to the scene and found Amata's Isuzu pickup in a mangled mess from the impact of the explosion. Evidence at the scene led officials to believe that the attackers hid the explosives inside the car and triggered them with a timer.
Pol Maj-General Pairoj Thamtam, a Songkhla commander, said his unit was tipped off about possible attacks in the area. He believed that the target of yesterday's attack was a Songkhla task force, as the attack spot was on a road that was close to the officials' accommodation.
In a similar instance, Southern militants in 2017 murdered a merchant from Yala province after luring him with a promise of business before stealing his pickup and using it to bomb a Big C department store. In August 2016, insurgents killed a mother and her young daughter to lay hands on their motorcycle and use it to launch an attack in October.
At this stage Pairoj has identified the militants behind the explosion as allied with Bukorie Lumsoh, who has been active in the area.
"Now the officers are putting pressure on his father in order to reach him," he said.
Meanwhile, Colonel Pramote Prom-in, the spokesman of the Internal Security Operations Command Region 4, says the attackers had placed improvised explosive devices in two 15 kilogram cylinders together with cut iron bars that would act as shrapnel.
The vehicle was believed to have been placed at the site before sunrise, according to investigators.
Another bomb exploded on Monday morning. Read about that incident in Pattani HERE.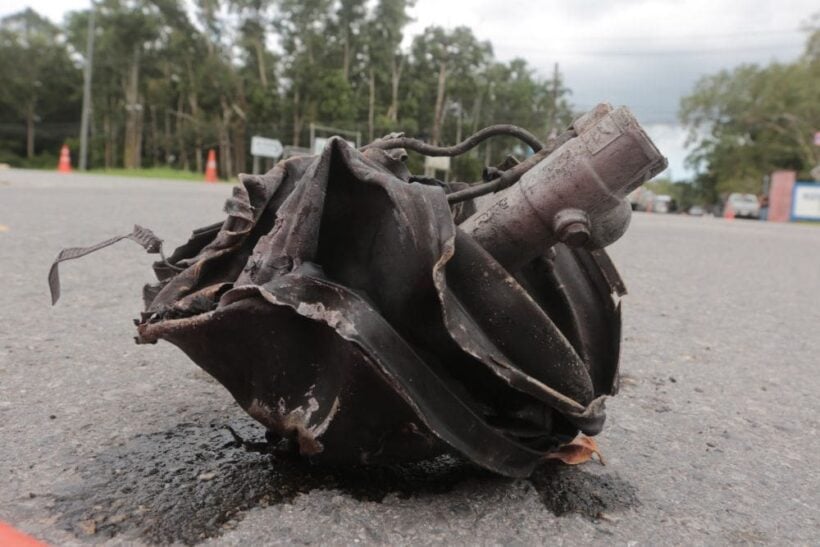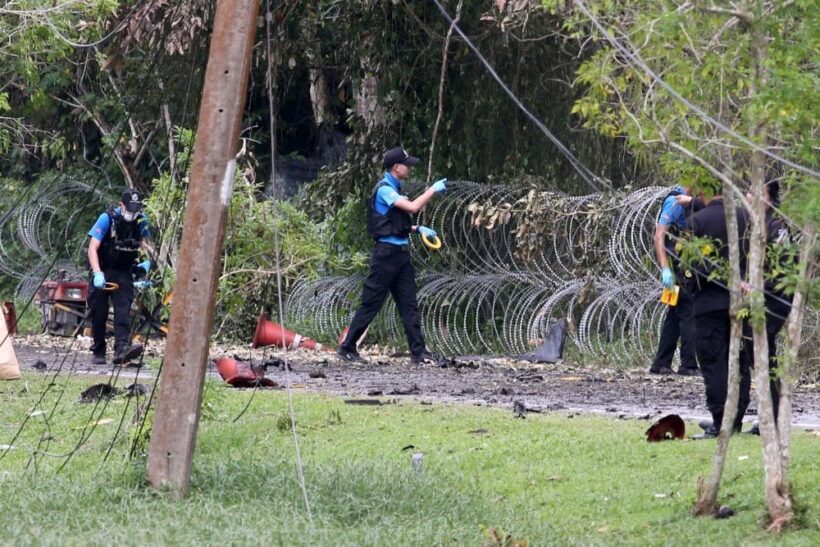 SOURCE: The Nation


Read more headlines, reports & breaking news in South Thailand. Or catch up on your Thailand news.
Six metre king cobra caught by rescue workers in Trang – VIDEO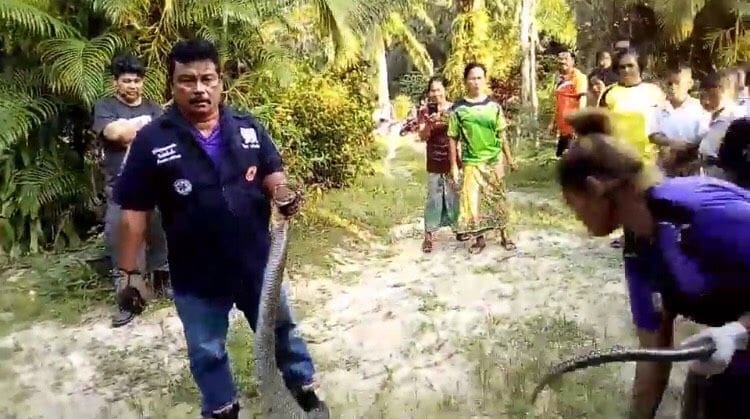 VIDEO/PHOTOS: หน่วยกู้ภัยบรรเทาวังวิเศษ
A 20 kilogram, 6 metres king cobra has been caught in Trang by rescue workers.
77 Kaoded news reports that Sikao Police in Trang were notified of the incident at a house at 4.45pm yesterday. Police decided it wasn't quite in their work contract and contacted rescue workers who headed to the house.
Sawai Kaewjuea, a rescue worker, led his team to catch the cobra. It took about 20 minutes to catch the feisty king cobra which 6 metres long.
23 year old Sunata Duangkleang says, "While I was talking with my friends in the house, I saw the king cobra. We immediately ran out of the house and called the police."
Good advice!
TRANGRescue worker catches a king cobra in Trang, southern Thailand, yesterday. Yikes!VIDEO: หน่วยกู้ภัยบรรเทาวังวิเศษ

Posted by The Thaiger on Tuesday, January 15, 2019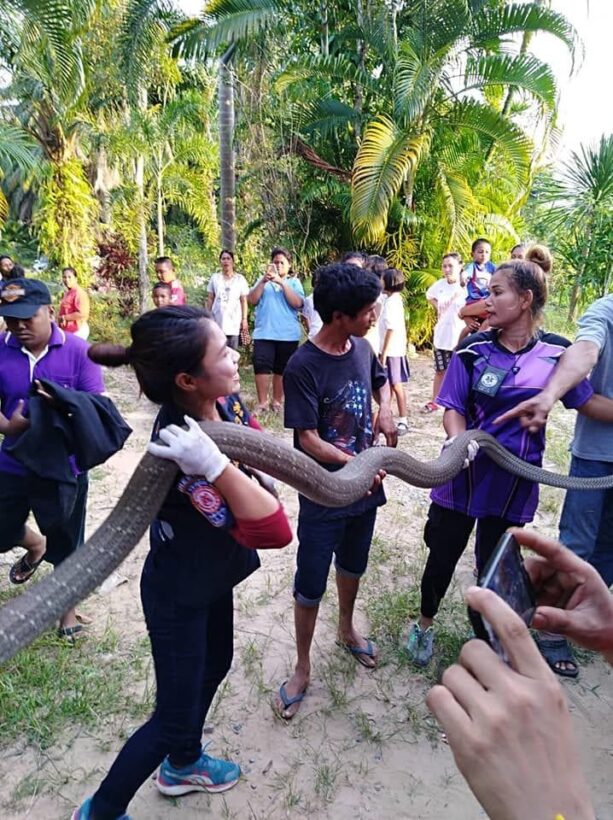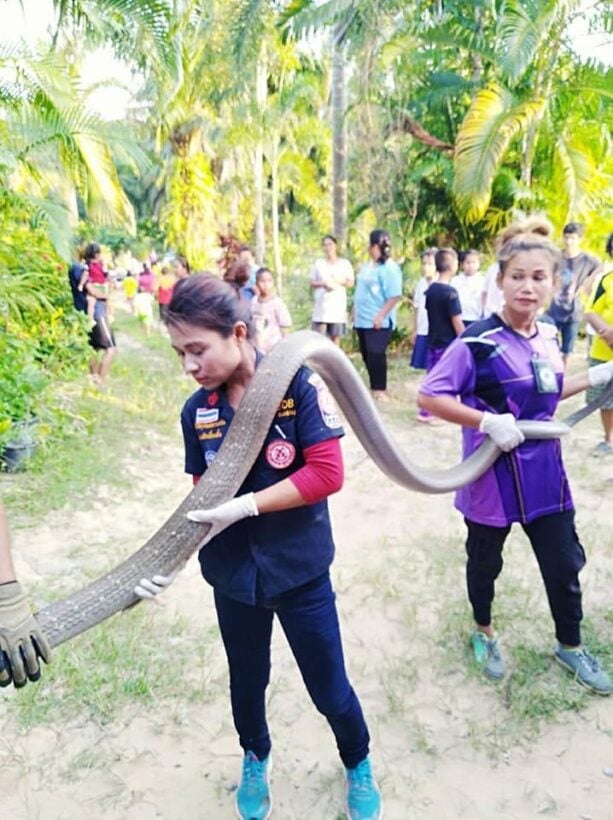 SOURCE: 77 Kaoded
Air quality for Thailand – January 16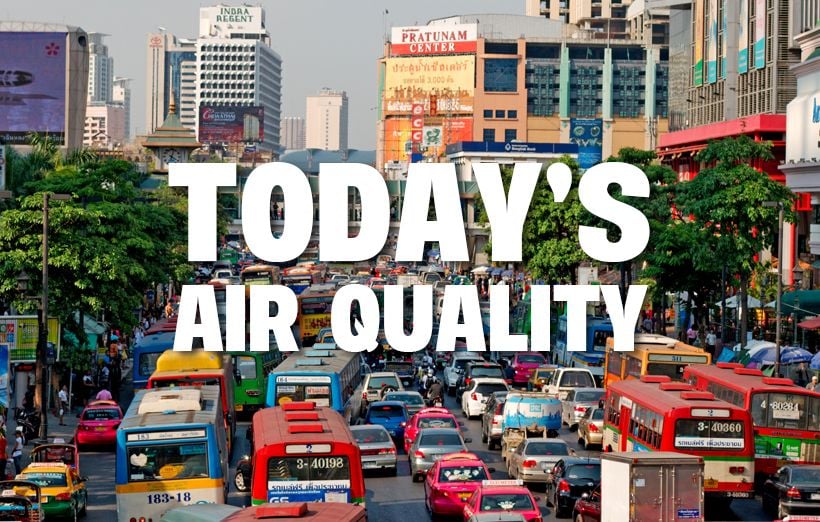 Northern Thailand



Central Thailand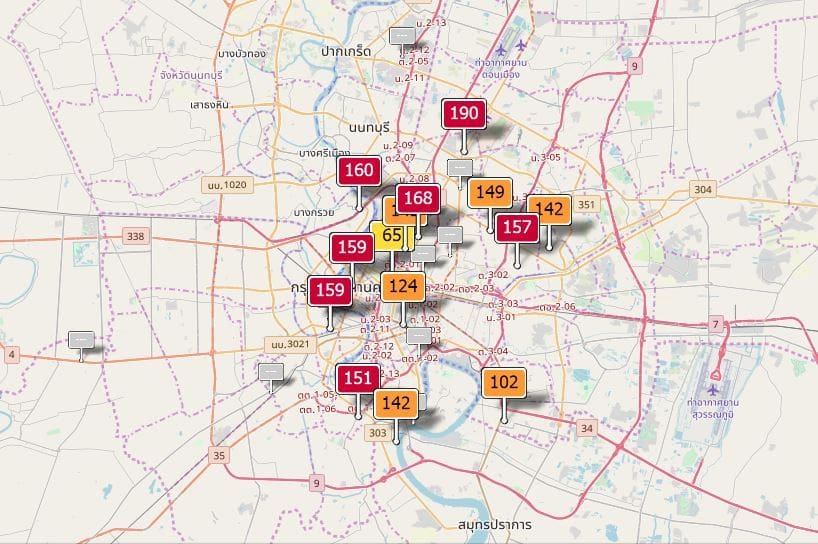 Southern Thailand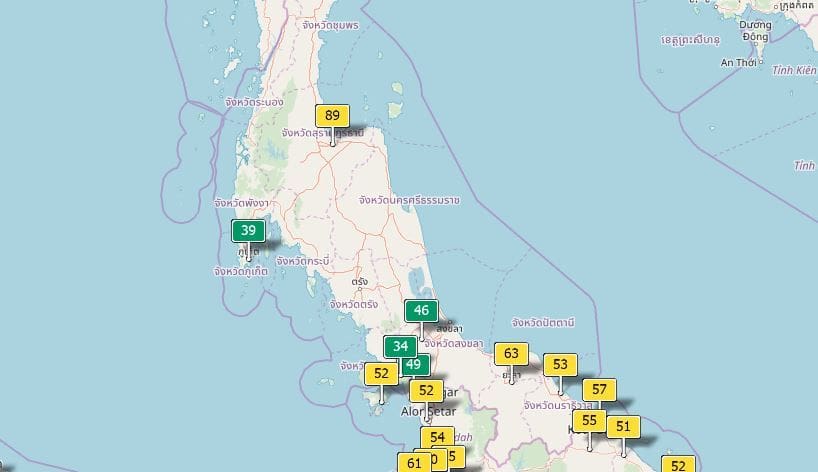 Driver charged in Chumphon tour bus accident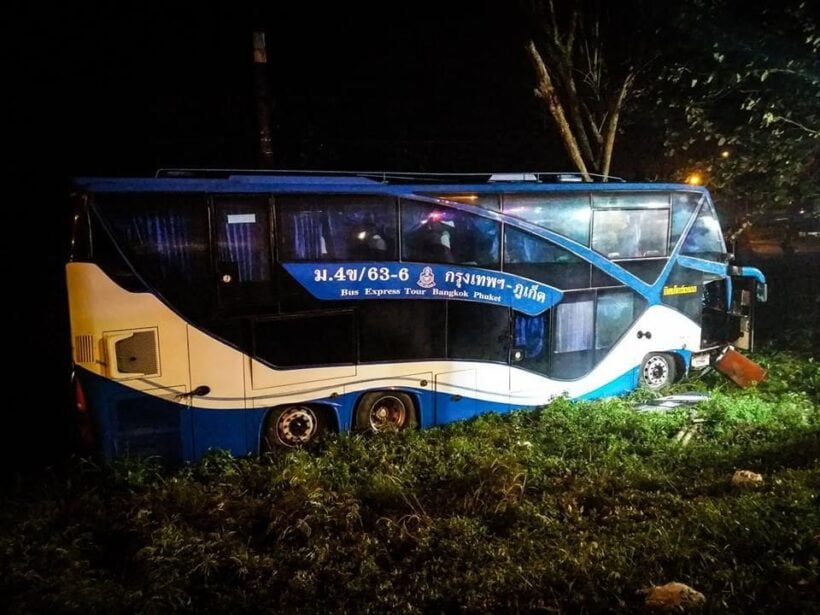 PHOTOS: หน่วยกู้ภัยมูลนิธิชุมพร //บางหมาก 02 / MulnithiChumphrKarKuslSngKheaaH
A tour bus driver has been charged for reckless driving after yesterday morning's tour bus accident in Chumphon.
23 Filipino tourists escaped serious injury in the bus crash. The bus was travelling from Bangkok to Phuket.
Read more about yesterday's crash HERE.
Thairath is reporting that the tour bus driver, 36 year old Taweesak Chitchuea from Ranong, has been charged. He had to be removed from the bus with the aid of hydraulic cutters and was taken to Chumpon Hospital with a broken right leg.
At this stage police speculate that the driver fell asleep at the wheel. The bus driver has been charged with reckless driving causing injuries and damages.
All passengers were loaded onto another bus to continue their journey to Phuket. One Filipino passenger was taken to Chumpon Hospital for precautionary examination but was released yesterday.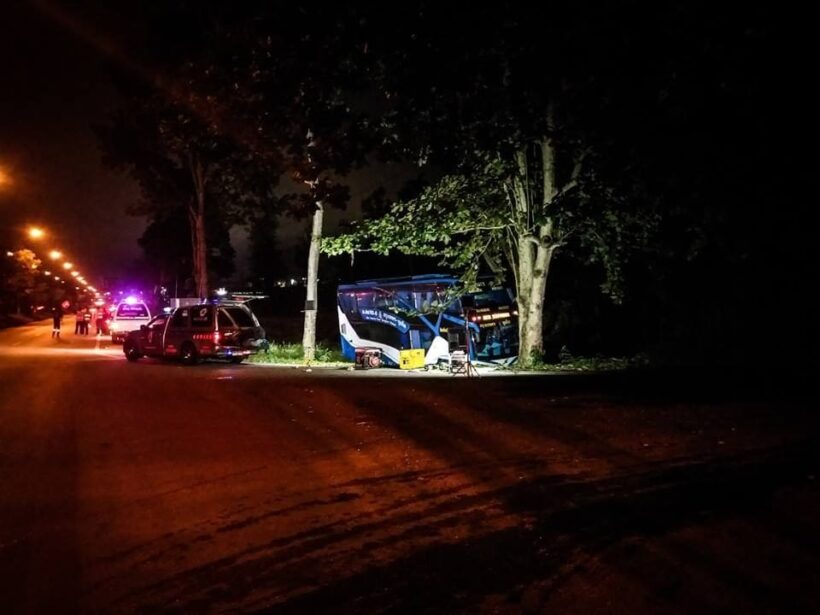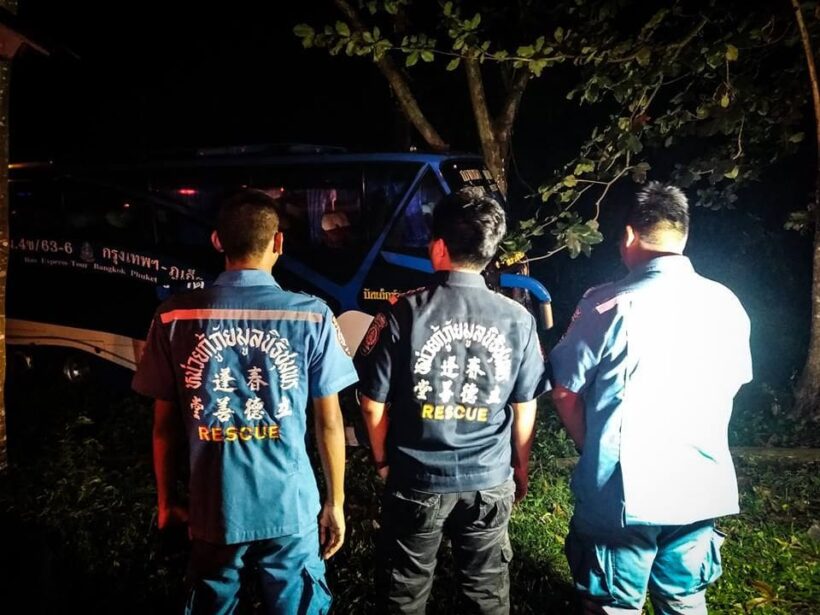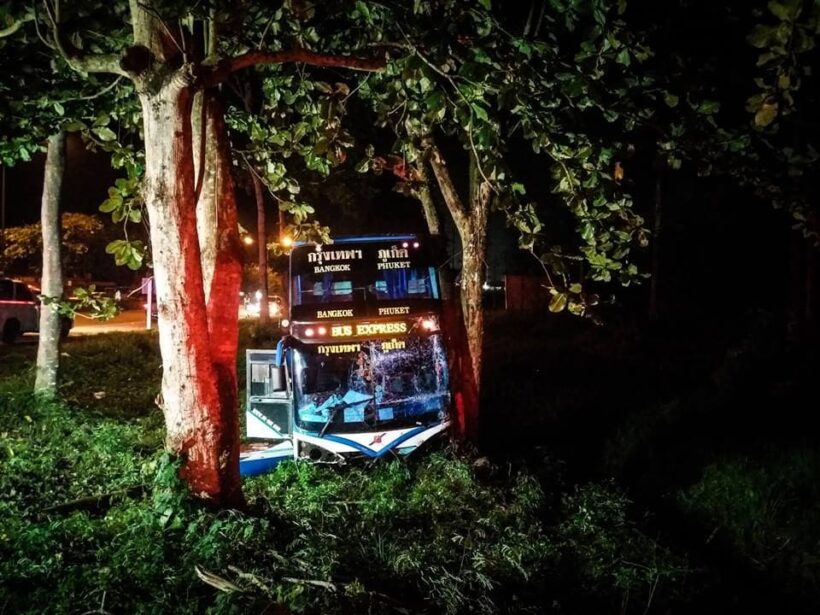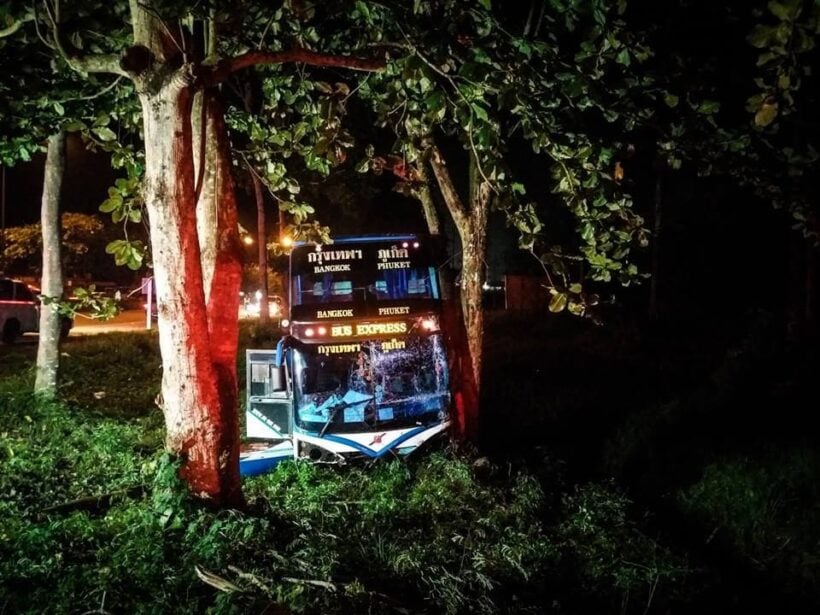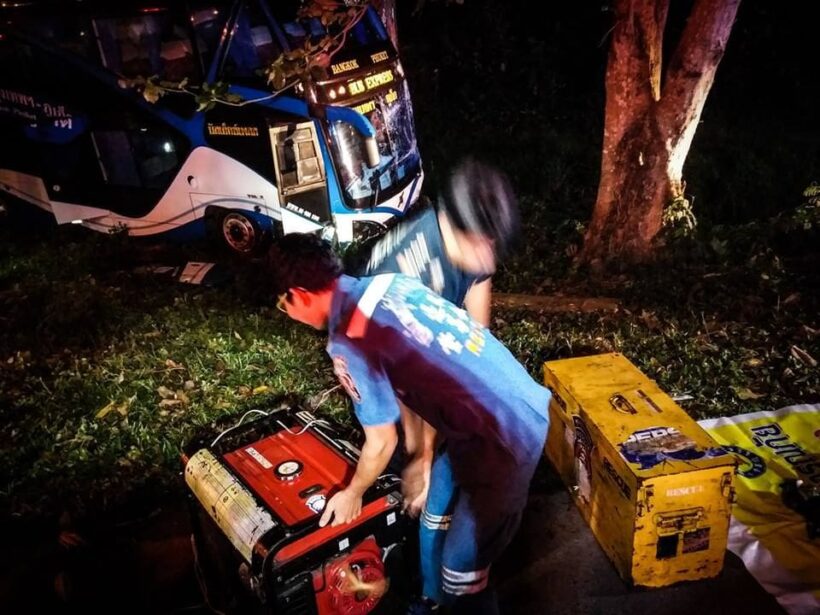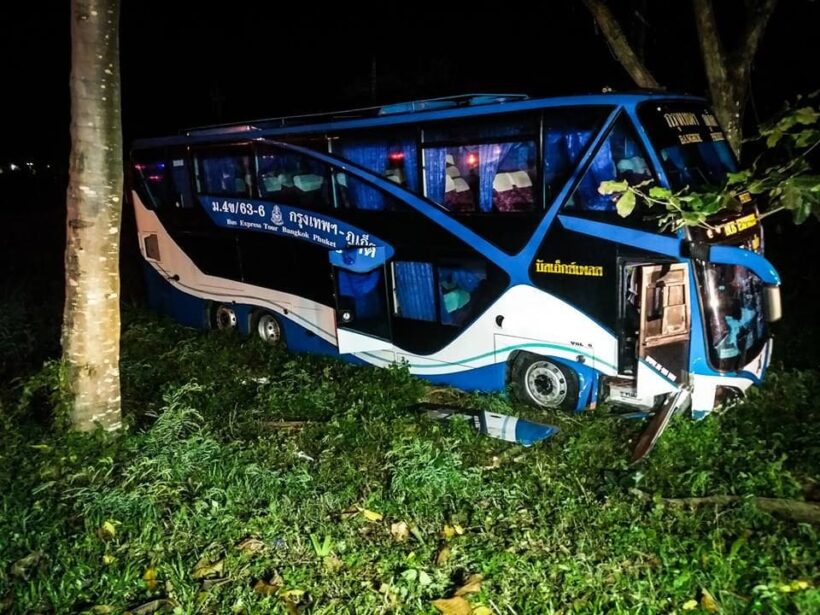 SOURCE: Thairath