Sexual harassment isn't our fault, it's mens' – Sirinya "Cindy" Bishop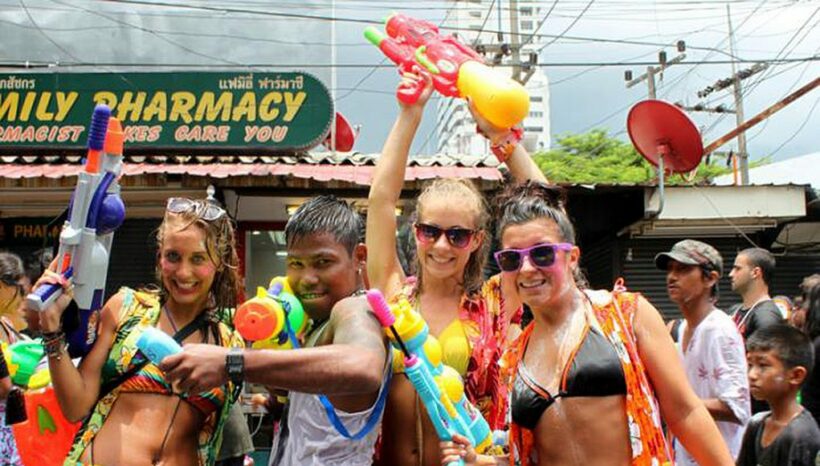 A well-known model has launched a social-media campaign to tackle the widespread and erroneous belief that sexual harassment stems from a woman's choice of clothes.
Sirinya "Cindy" Bishop, who is also an actress, has used social media to counter recent messages propagated by authorities that sexual harassment can be stopped by urging women not to dress in a revealing way.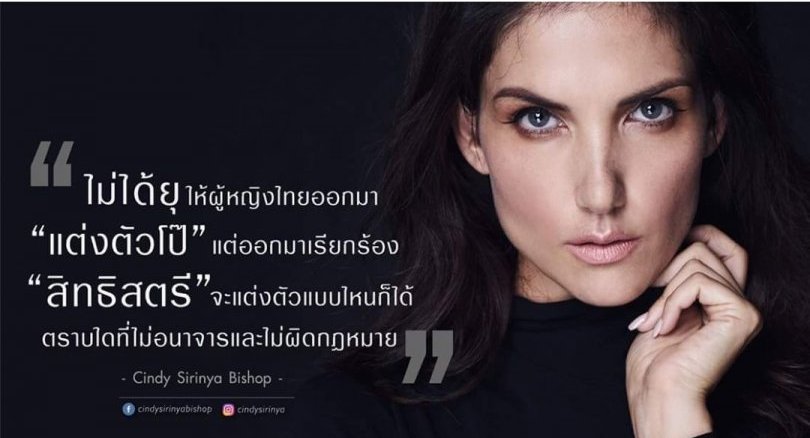 Yesterday the Thai Police reminded women not to dress 'provocatively' during Songkran to help avoid sexual harassment.
Cynthia Carmen Burbridge-Bishop, once professionally known as Cindy Bishop, or Thai name Sirinya Winsiri, is a Thai-American beauty queen, model, host and actress. She represented Thailand at the Miss World 1996 pageant held in Bangalore, India. – Wikipedia
Cynthia says what women wore was not a justification for sexual harassment. Instead, men should respect women and not behave inappropriately, she added.
The campaign started last week when she read a news report about a suggestion from the Department of Local Administration telling women to wear modest clothes during the Songkran Festival to prevent sexual harassment.
Sirinya countered by posting a video clip on her Instagram account, "cindysirinya", highlighting that women had the right to wear whatever they wanted to and men did not have a right to use apparel as an excuse for their behaviour.
Sutthipong Chulcharoen, director-general of the government's local administration department, said authorities throughout the country would ensure there would be alcohol-free zones and information campaigns encouraging women not to wear clothing that was too revealing. – Bangkok Post
Sirinya said she had been a victim of sexual harassment during Songkran even though she was not wearing skimpy clothes, adding the mindset to tell women to dress politely showed protection of women rights in Thailand was very backward.
"Women have the right to dress however we choose, as long as it's not illegal. Sexual assault and harassment is never the woman's fault! Tell men to keep their hands to themselves!" she wrote in the caption to the video clip.
She added in a subsequent Instagram post that dressing in a revealing way did increase the risk for women being victims of sexual harassment. However, she said society focused only on how women dressed without pushing for other solutions, such as teaching men social values and to respect women's rights.
Sirinya urged netizens to participate in the campaign by posting pictures or describing their experiences of sexual harassment, adding the hashtags #donttellmehowtodress and #tellmentorespect.
Her campaign has received positive feedback, with more than 700 people posting with these hashtags on Instagram as of yesterday afternoon.
A Facebook user named "Ellelie Tosuk" supported Sirinya's post by saying: "Nowadays women's rights are lessening each day. They should solve the problem from the root, not the result."
However, a review of opinions from university students found that not everyone agreed with Sirinya.
Some people commented that wearing modest clothes could reduce the risk of sexual harassment, while male students wrote that wearing revealing clothes could send the wrong signal to some men that women were willing to be touched.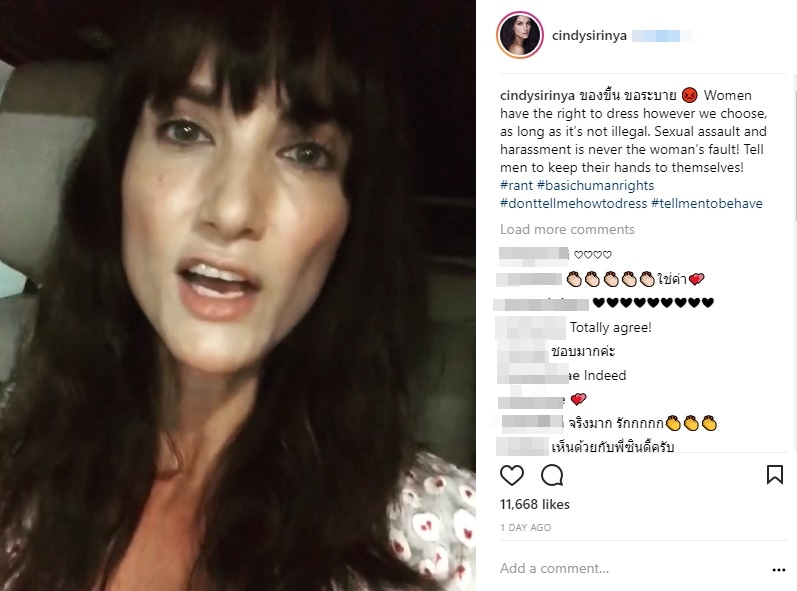 Keep in contact with The Thaiger by following our
Facebook page
.
Professor: Military government too interested in tourism – not people's welfare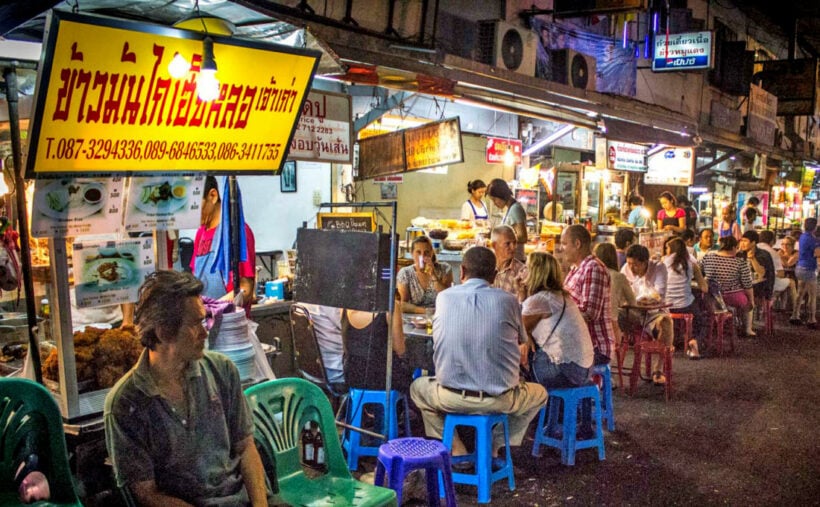 A professor of Rangsit University has criticised the previous military government for focusing too much on tourism and not enough on the welfare of the Thai people. The professor was speaking at Chulalongkorn University at a seminar discussing street stalls and urban development.
She questioned the National Council for Peace and Order's policy of clearing street vendors in all but a few areas such as Yaowarat and Khao San Road that mainly cater to tourists.
She claimed that the NCPO – in power since the coup of 2014 until this year's election – was more interested in economic development through tourism than in the welfare of the public.
Having affordable street food options was not just about tourism, she said, it was vital for poor workers who have migrated from the countryside, adding that it was part of an informal rather than a formal economy.
"For years people had earned their living from selling goods and services, including food, on the streets."
This in turn provided an affordable option to eat for workers who came to Bangkok on for large investment projects. The issue, she said, was not just about tourism but the wider economy that might benefit.
The professor noted that CNN had once called Bangkok the best place in the world for street food but this had changed with the sanitized food trucks that have appeared since stalls and vendors were banned from most areas.
The Thaiger notes that banning street vendors has divided the capital. Many are happy that the sidewalks are easier to navigate, but others – including tourists – have said that the lifeblood and character of the city has suffered.
SOURCE: Naew Na | ThaiVisa Forum
Keep in contact with The Thaiger by following our
Facebook page
.
Thais commemorate the passing of beloved King Bhumibol Adulyadej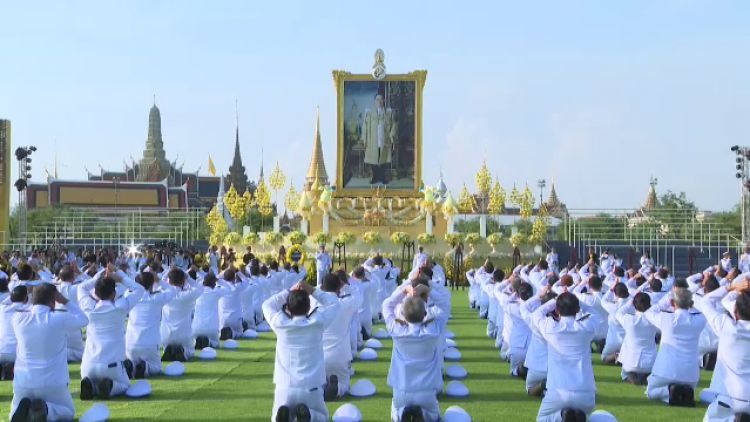 Thousands across the Kingdom, many wearing yellow, attended religious ceremonies and activities yesterday to commemorate the passing of the beloved late King Bhumibol Adulyadej. His Majesty died on October 13, 2016
In Bangkok, a large crowd offered alms to hundreds of monks and novices as PM Prayut Chan-o-cha led ministers, military leaders and officials in paying homage to the late King and placing wreaths in front of a huge portrait of the late monarch.
Similar activities were held at provincial halls throughout the country, and a candlelit ceremony, led by the Prime Minister, was held at Sanam Luang in Bangkok.
In Hua Hin, some 500 people, mostly dressed in yellow, the colour of the late King, joined a charity walk and run on the Phetkasem highway in the morning. In the north-east province of Yasothon, Thanisorn Chittama placed rice crops in his 1 hectare rice field to form an image of the late King, with wording related to the King's philosophy of sustainable economy.
SOURCE: thaipbsworld.com
Keep in contact with The Thaiger by following our
Facebook page
.
"Eat, Shop, Spend" drive reaches registration target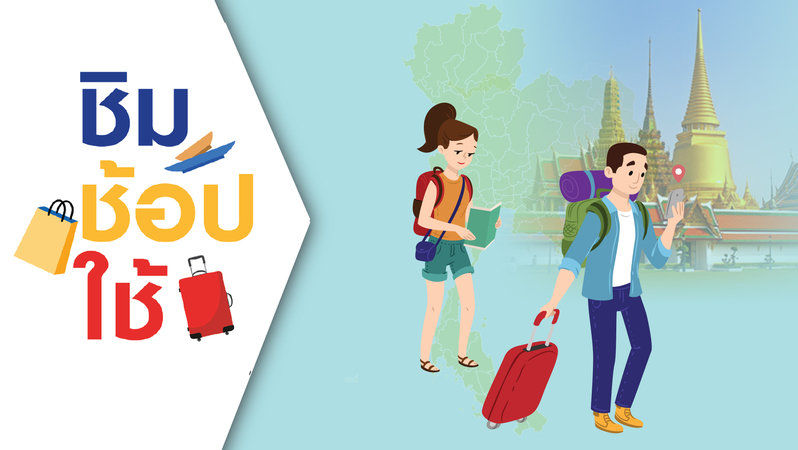 Ten million people signed up for the first Eat, Shop, Spend stimulus campaign since its launch on September 23. The organisers have expressed thanks to all who have participated.
The first phase of the campaign aimed to boost domestic spending by offering 10 million people a 1,000 baht voucher via the G-Wallet mobile application to spend in specific shops, outside their province, before November 30.
The Minister of Finance says the campaign will be extended into Phase 2 but with the criteria and regulations adjusted to attract more people with purchasing power to spend their own money, without the 1,000 baht per person give-away seen in Phase 1. The second phase will take place in November and December.
SOURCES: The Thaiger | The Nation | National News Bureau of Thailand
Keep in contact with The Thaiger by following our
Facebook page
.