Sexual harassment isn't our fault, it's mens' – Sirinya "Cindy" Bishop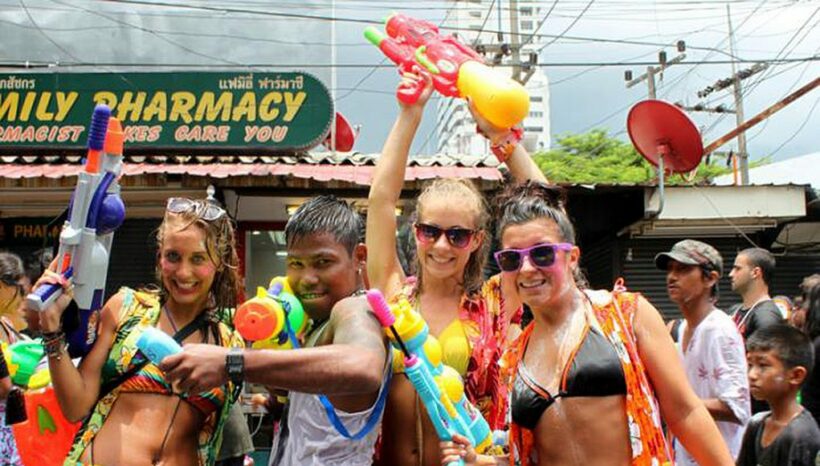 A well-known model has launched a social-media campaign to tackle the widespread and erroneous belief that sexual harassment stems from a woman's choice of clothes.
Sirinya "Cindy" Bishop, who is also an actress, has used social media to counter recent messages propagated by authorities that sexual harassment can be stopped by urging women not to dress in a revealing way.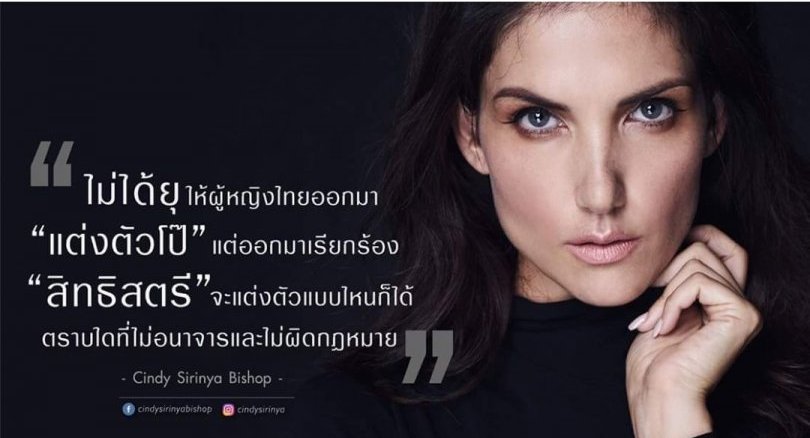 Yesterday the Thai Police reminded women not to dress 'provocatively' during Songkran to help avoid sexual harassment.
Cynthia Carmen Burbridge-Bishop, once professionally known as Cindy Bishop, or Thai name Sirinya Winsiri, is a Thai-American beauty queen, model, host and actress. She represented Thailand at the Miss World 1996 pageant held in Bangalore, India. – Wikipedia
Cynthia says what women wore was not a justification for sexual harassment. Instead, men should respect women and not behave inappropriately, she added.
The campaign started last week when she read a news report about a suggestion from the Department of Local Administration telling women to wear modest clothes during the Songkran Festival to prevent sexual harassment.
Sirinya countered by posting a video clip on her Instagram account, "cindysirinya", highlighting that women had the right to wear whatever they wanted to and men did not have a right to use apparel as an excuse for their behaviour.
Sutthipong Chulcharoen, director-general of the government's local administration department, said authorities throughout the country would ensure there would be alcohol-free zones and information campaigns encouraging women not to wear clothing that was too revealing. – Bangkok Post
Sirinya said she had been a victim of sexual harassment during Songkran even though she was not wearing skimpy clothes, adding the mindset to tell women to dress politely showed protection of women rights in Thailand was very backward.
"Women have the right to dress however we choose, as long as it's not illegal. Sexual assault and harassment is never the woman's fault! Tell men to keep their hands to themselves!" she wrote in the caption to the video clip.
She added in a subsequent Instagram post that dressing in a revealing way did increase the risk for women being victims of sexual harassment. However, she said society focused only on how women dressed without pushing for other solutions, such as teaching men social values and to respect women's rights.
Sirinya urged netizens to participate in the campaign by posting pictures or describing their experiences of sexual harassment, adding the hashtags #donttellmehowtodress and #tellmentorespect.
Her campaign has received positive feedback, with more than 700 people posting with these hashtags on Instagram as of yesterday afternoon.
A Facebook user named "Ellelie Tosuk" supported Sirinya's post by saying: "Nowadays women's rights are lessening each day. They should solve the problem from the root, not the result."
However, a review of opinions from university students found that not everyone agreed with Sirinya.
Some people commented that wearing modest clothes could reduce the risk of sexual harassment, while male students wrote that wearing revealing clothes could send the wrong signal to some men that women were willing to be touched.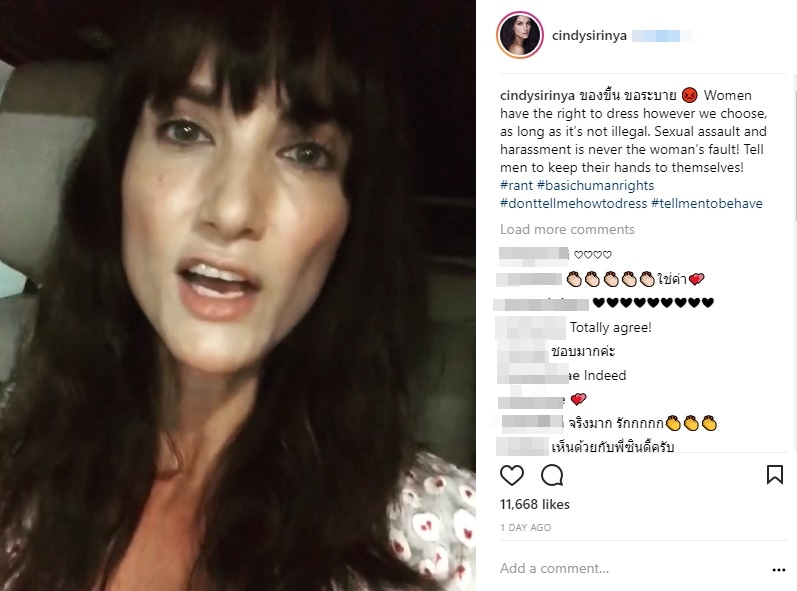 Keep in contact with The Thaiger by following our Facebook page.
Never miss out on future posts by following The Thaiger.
Police shoot and kill man suspected of dealing "K-powdered milk"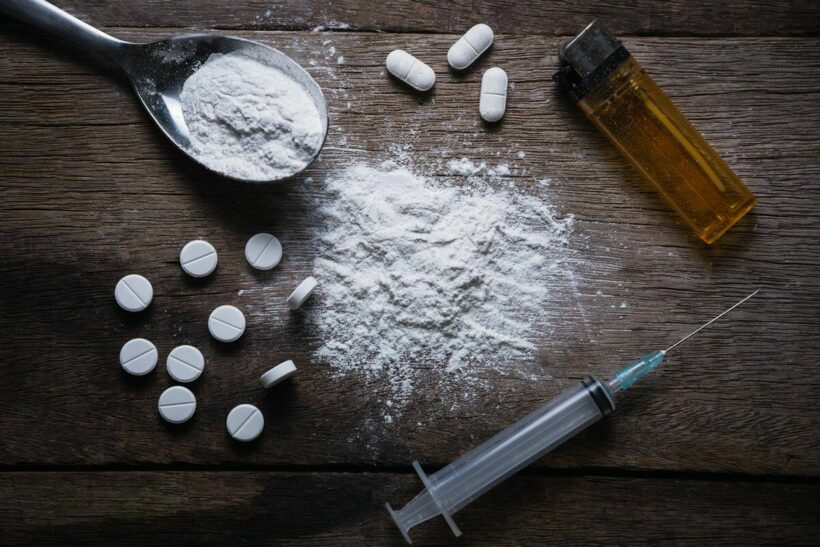 A man suspected of selling the ketamine-based drug cocktail, which is said to be tied to at least 10 deaths in Bangkok, was shot and killed in a shootout with police in Nakhon Pathom, just west of the capital. The narcotic cocktail, known as "K powdered milk," is ketamine laced with methamphetamine, heroin and the anti-anxiety medication diazepam, all crushed up together resembling powdered milk.
Police tracked down 41 year old Wasan Khiaohom yesterday. He was in a pickup truck parked next to another car on a roadside in Nakhon Pathom's Mueang district. As officers moved in to investigate, Wasan, who also went by the name Ple Kampangsaen, got out of a pickup and pulled out a gun, firing shots at the officers. Police fired back, shooting him. Wasan tried to flee the area, but collapsed and died in a wooded area by the road.
Police say they searched Wasan's pockets and found a small bag of "K powdered milk" and 40 ecstasy pills. Police also arrested 2 alleged accomplices who were driving the car and pickup truck.
Police have been cracking down on illicit drugs after 10 people died reportedly after taking the narcotic drug cocktail while others were hospitalised. From January 13 to 18, police arrested 592 people in the drug crackdown. In a series of busts, police say they seized a total of 8,644,825 baht worth of drugs including methamphetamine pills, crystal methamphetamine, cannabis, ketamine, kratom leaves, kratom drink and ecstasy pills.
SOURCE: Bangkok Post
Catch up with the latest daily "Thailand News Today" here on The Thaiger.
Keep in contact with The Thaiger by following our Facebook page.
Never miss out on future posts by following The Thaiger.
AstraZeneca vaccine could be approved for emergency use in Thailand this week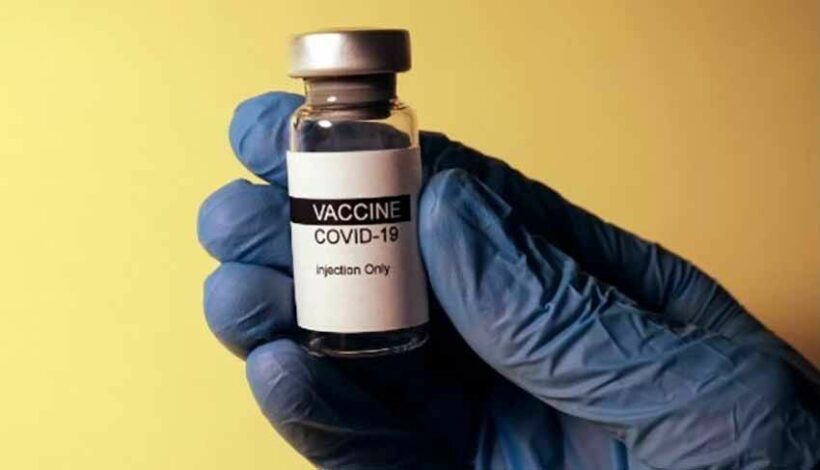 Thailand's Food and Drug Administration is likely to approve a Covid-19 vaccine developed by AstraZeneca in partnership with Oxford University as early as this week. The vaccine, already given the go-ahead in the US and UK, would be approved for emergency use, with administration likely to begin next month. Healthcare workers and those with underlying conditions will be prioritised.
Opas Karnkawinpong from the Disease Control Department says the FDA's review of the vaccine's efficacy and safety is going well. Thailand has fallen behind its neighbours in terms of vaccine administration, with a number of countries in the region already starting their roll-out. Indonesia kicked things off last week, with President Joko Widodo the first to receive China's Sinovac jab.
Thailand is expected to take delivery of 200,000 doses of the Chinese vaccine next month, but questions linger over its efficacy, which was recently revised downwards by researchers in Brazil. The vaccine has not yet completed phase 3 trials and Thailand's health officials say it may not gain FDA approval until February 14, as the manufacturer has no representation in the Kingdom.
Thailand has signed a technology-transfer agreement with AstraZeneca to produce that vaccine locally. The jab will be manufactured by Siam Bioscience, a pharmaceutical company owned by the Monarchy. Surachok Tangwiwat from the FDA says the doses currently subject to approval have been produced by other countries, but did not specify which ones, how many doses have been imported, or at what cost.
The AstraZeneca vaccine has completed phase 3 trials and has been shown to be 70% effective, less than the Pfizer and Moderna vaccines. However, the World Health Organisation has previously stated that a vaccine only needs to be over 50% effective to meet the global threshold for regulatory approval.
SOURCE: Coconuts
Keep in contact with The Thaiger by following our Facebook page.
Never miss out on future posts by following The Thaiger.
Covid-19 test NOT required for visa extensions (at least not today)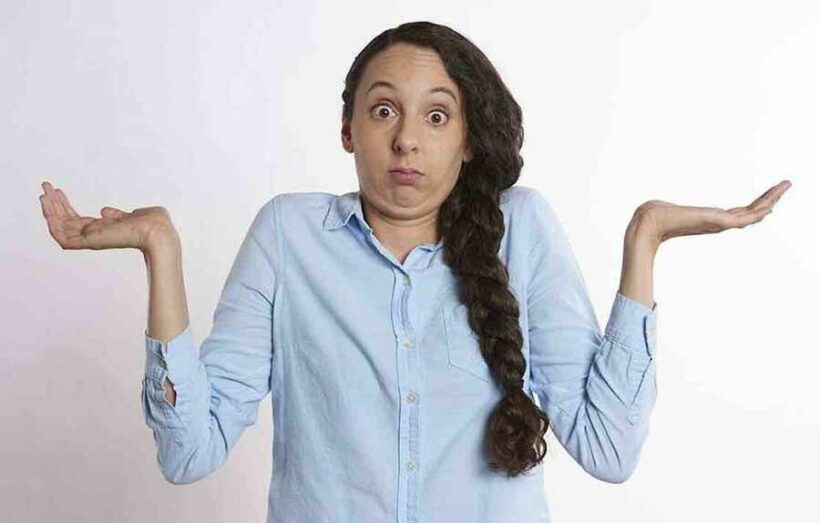 No, you don't, yes, you do… Expats are reeling in shock at the idea that there might be mixed messages circulating in relation to Thailand's immigration requirements, not to mention the announcements (and retractions) published in the nation's English-language media outlets.
It all began over the weekend, when the nation's favourite blogger, Richard Barrow, shared the news that foreigners who wished to remain in the Kingdom would need a negative Covid-19 test. According to his post, this update to the country's immigration law was published in the Royal Gazette on December 25, taking effect from January 25. Needless to say, Richard's post attracted hundreds of comments from the bewildered, the despairing, and the angry, not to mention the usual slew of social media epidemiologists.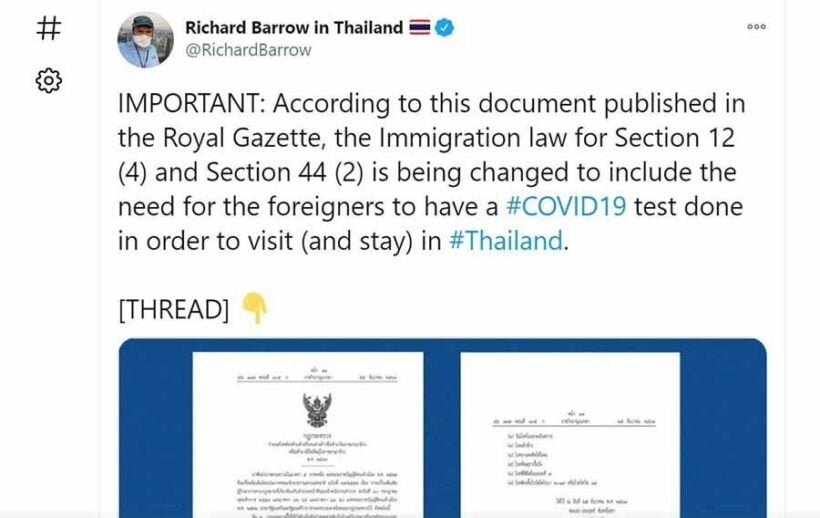 Twitter/Richard Barrow in Thailand
Yesterday, an article published by Khaosod English also stated that Covid-19 testing would be required for all visa extensions. The story has since been removed and replaced with a retraction, following a statement issued by Archayon Kraithong from the Immigration Bureau.
The story was also picked up by The Phuket News, who spoke to the deputy chief of Phuket Immigration, Nareuwat Putthawiro. He confirmed that his office had received no such order from the powers-that-be in Bangkok or from regional headquarters in Songkhla. The immigration chief in Chon Buri said something similar.
Archayon's original statement had claimed a negative Covid-19 test would be a requirement for all types of visa extensions. Within an hour, he was forced to backpedal and apologise for the… well, you guessed it.
"I apologise for the misunderstanding. It will only apply to certain types of visa, most likely the permanent resident visa."
Archayon says his office is now waiting for the Council of State to provide an interpretation of the update published in the Royal Gazette last month, which saw Covid-19 added to the list of diseases foreigners must be clear of in order to take up residency in the Kingdom. The virus now joins other prohibited ailments such as elephantiasis, leprosy, and syphilis.
SOURCE: The Phuket News| Khaosod English
Keep in contact with The Thaiger by following our Facebook page.
Never miss out on future posts by following The Thaiger.