Sexual harassment isn't our fault, it's mens' – Sirinya "Cindy" Bishop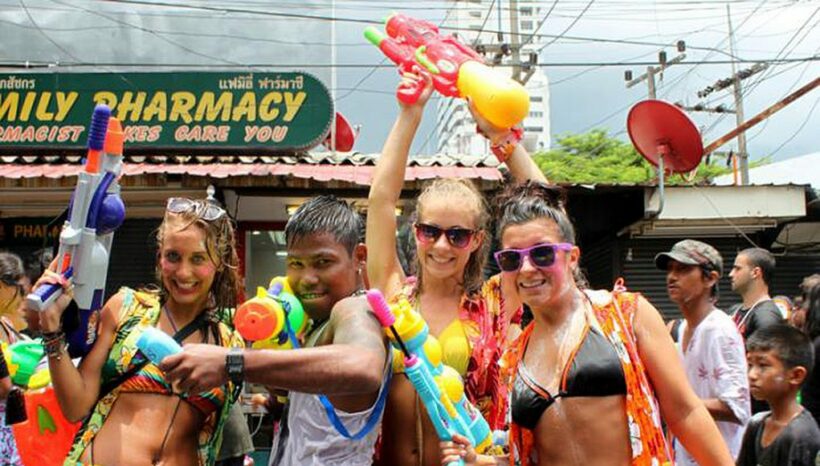 A well-known model has launched a social-media campaign to tackle the widespread and erroneous belief that sexual harassment stems from a woman's choice of clothes.
Sirinya "Cindy" Bishop, who is also an actress, has used social media to counter recent messages propagated by authorities that sexual harassment can be stopped by urging women not to dress in a revealing way.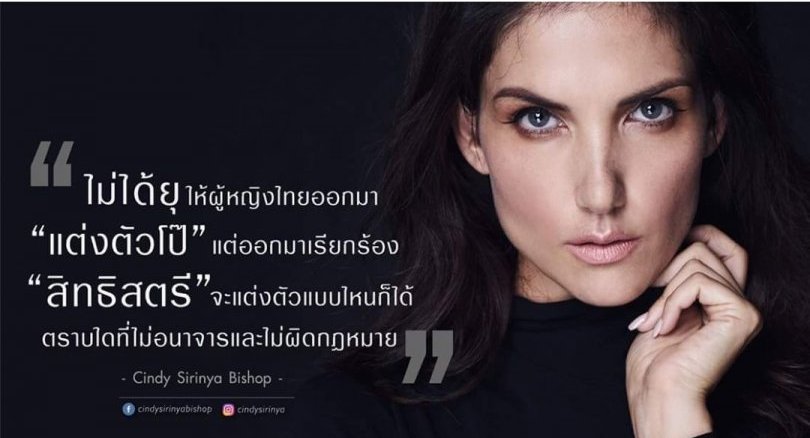 Yesterday the Thai Police reminded women not to dress 'provocatively' during Songkran to help avoid sexual harassment.
Cynthia Carmen Burbridge-Bishop, once professionally known as Cindy Bishop, or Thai name Sirinya Winsiri, is a Thai-American beauty queen, model, host and actress. She represented Thailand at the Miss World 1996 pageant held in Bangalore, India. – Wikipedia
Cynthia says what women wore was not a justification for sexual harassment. Instead, men should respect women and not behave inappropriately, she added.
The campaign started last week when she read a news report about a suggestion from the Department of Local Administration telling women to wear modest clothes during the Songkran Festival to prevent sexual harassment.
Sirinya countered by posting a video clip on her Instagram account, "cindysirinya", highlighting that women had the right to wear whatever they wanted to and men did not have a right to use apparel as an excuse for their behaviour.
Sutthipong Chulcharoen, director-general of the government's local administration department, said authorities throughout the country would ensure there would be alcohol-free zones and information campaigns encouraging women not to wear clothing that was too revealing. – Bangkok Post
Sirinya said she had been a victim of sexual harassment during Songkran even though she was not wearing skimpy clothes, adding the mindset to tell women to dress politely showed protection of women rights in Thailand was very backward.
"Women have the right to dress however we choose, as long as it's not illegal. Sexual assault and harassment is never the woman's fault! Tell men to keep their hands to themselves!" she wrote in the caption to the video clip.
She added in a subsequent Instagram post that dressing in a revealing way did increase the risk for women being victims of sexual harassment. However, she said society focused only on how women dressed without pushing for other solutions, such as teaching men social values and to respect women's rights.
Sirinya urged netizens to participate in the campaign by posting pictures or describing their experiences of sexual harassment, adding the hashtags #donttellmehowtodress and #tellmentorespect.
Her campaign has received positive feedback, with more than 700 people posting with these hashtags on Instagram as of yesterday afternoon.
A Facebook user named "Ellelie Tosuk" supported Sirinya's post by saying: "Nowadays women's rights are lessening each day. They should solve the problem from the root, not the result."
However, a review of opinions from university students found that not everyone agreed with Sirinya.
Some people commented that wearing modest clothes could reduce the risk of sexual harassment, while male students wrote that wearing revealing clothes could send the wrong signal to some men that women were willing to be touched.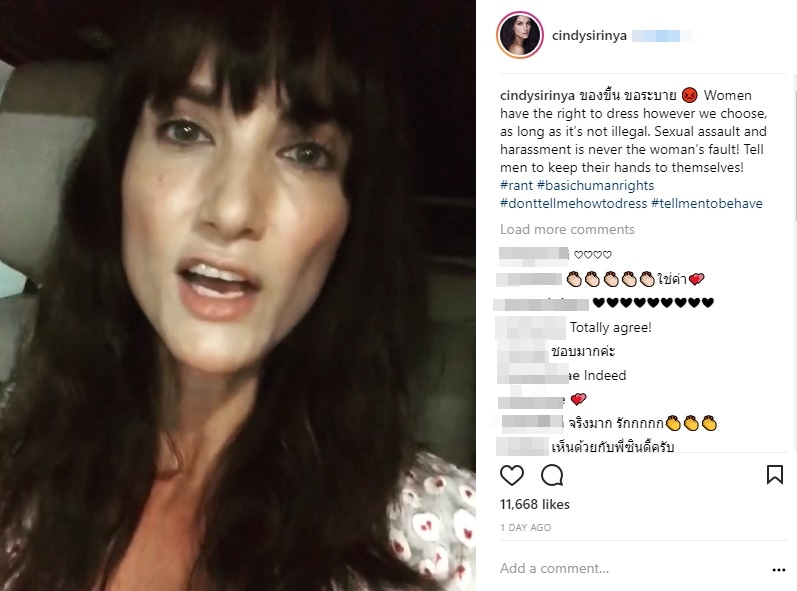 First Kunming-Krabi direct flight landed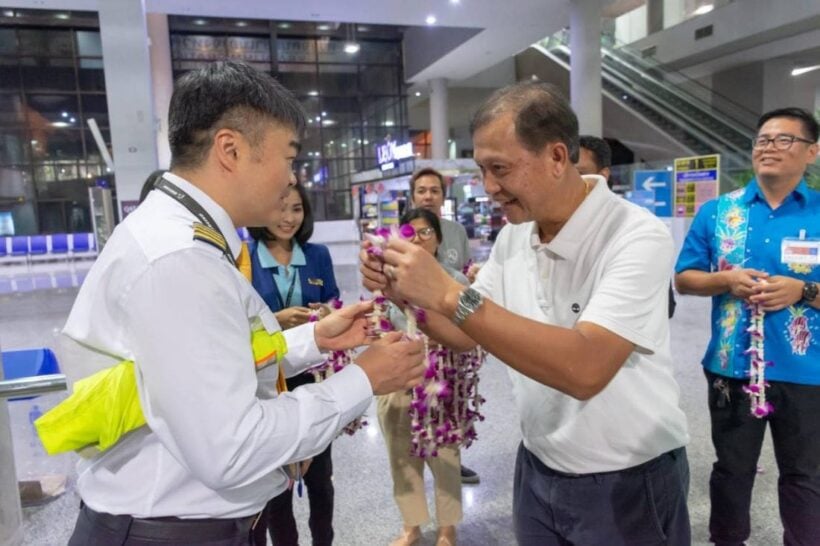 The first direct flight from Kunming, China, full of Chinese passengers, has arrived at Krabi International Airport.
The General Manager of the Krabi International Airport Apichai Aranyik has welcomed the new Lucky Airline (Boeing 737) with its first direct Charter Flight from Kunming to Krabi. The flight carried 162 passengers and arrived in Krabi at 7pm last night (Sunday).
Khun Apichai says, "In the past five year since the movie 'Lost in Thailand' Chinese tourists becoming the top tourists visiting Krabi. At the start they were coming in tour groups."
"After the boat disaster in Phuket in July, Chinese tourists weren't coming to Krabi either. This first direct flight is a good sign to welcome the next wave of Chinese tourists."
The Deputy Director of the Phuket Tourism Authority of Thailand, Montri Manator, says, "Numbers of Chinese tourists visiting Phuket in tour groups have been continuing to decrease after the Phoenix sinking on July 5 this year. But we are seeing a steady rise in the FIT (Free and Independent Travellers) from China"
Read more about the changes in Chinese tourism to Phuket HERE.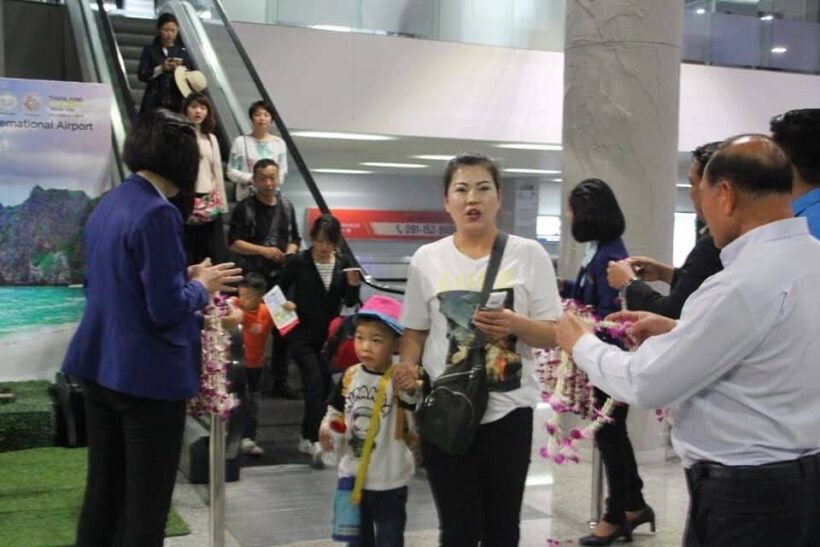 The new visa-fee waiver working in the north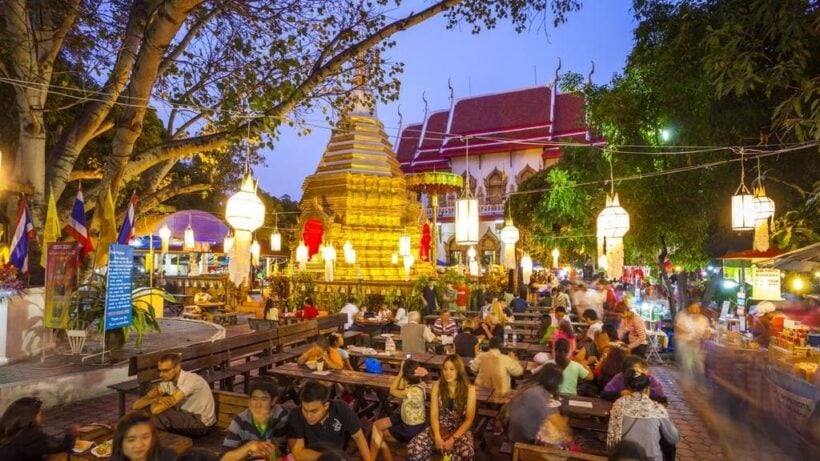 According to the National News Bureau of Thailand, the new visa-fee waiver is working. Well, in the northern provinces anyway.
The northern provinces are reporting an increase in the number of foreign visitors, thanks to the government's free visa on arrival campaign.
Wiwat Piyawiroj , Executive Vice President of Commercial at Thai Airways, says the free visa on arrival scheme for 21 nationalities has boosted the number of foreign visitors in Thailand's north, particularly in the tourist cities of Chiang Rai and Chiang Mai.
He notes that more Thai Airways flights have been booked by Chinese passport holders as many of them will be celebrating the Loi Krathong Festival and the western New Year in Thailand.
Another contributor to the increase in the number of foreign visitors is the secondary destination campaign which offers tour packages to lesser-known attractions, according to Wiwat.
He added that Thai Airways is conducting a feasibility study on its return to the US market with a possibility of adding direct flights to American cities, following a report that the Federal Aviation Administration (FAA) is planning to upgrade the Thai aviation sector to Category 1.
Thailand was downgraded to Category 2 in 2015 because of its failure to comply with international safety standards. The downgrade prohibited Thai carriers from adding new routes or expanding existing services to the world's top aviation markets such as to the US.
SOURCE: National News Bureau of Thailand
ALERT: Amoxicillin use in Thai orange orchards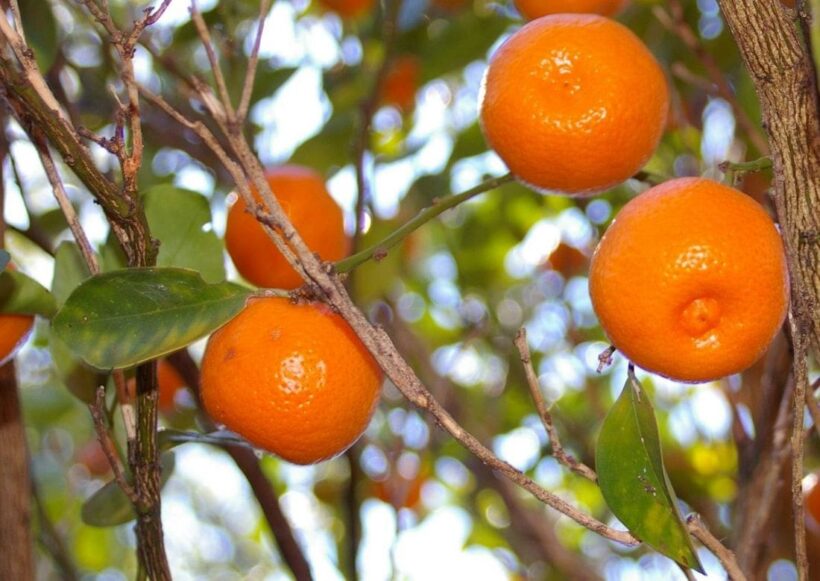 The Thai Public Health Ministry is checking on pharmacies and antibiotics manufacturers that may have distributed amoxicillin (an antibiotic) for farms – reportedly used widely in northern and central orange orchards – as it could lead to drug resistance or even fatal allergies in humans as well as contaminating the environment.
Amoxicillin is an antibiotic often used for the treatment of a number of bacterial infections. It may be used for middle ear infection, strep throat, pneumonia, skin infections, and urinary tract infections among others. It is taken by mouth, or less commonly by injection – Wikipedia
A recent report highlighted the apparent long-standing use of amoxicillin injection into orange trees three to four times a year, to treat Citrus greening disease – caused by a bacteria spread by psyllid insects – and said that orange farmers did not realise the danger of the practice. The Ministry's permanent secretary Dr Sukhum Kanchanapimai says that the abuse must be stopped.
The Food and Drug Administration (FDA) and the Department of Medical Sciences, along with respective health offices have begun to investigate in the jurisdictions involved.
FDA deputy secretary-general Dr Surachoke Tangwiwat said his agency had required respective provincial health offices to check on orange orchards for the distribution of amoxicillin to orange farmers and ensure that the sale of antibiotics is made only at pharmacies with pharmacists.
The agency also warned antibiotics manufacturers to distribute antibiotics to pharmacies and not directly to farmers or they will face legal actions.
Pharmacist Supanai Prasertsuk, coordinator for the pharmacists' follow-up group for borderland medicine issues under the Drug System Monitoring and Development Centre, said his members had identified the issue of antibiotic use in fruit and vegetable farming in the North.
This misuse of amoxicillin – which is among the most-used antibiotics to treat infections in humans and must be prescribed by pharmacists – can lead to environmental contamination, especially at water sources.
The consumers' secondary exposure to such medicine can lead to serious or even fatal reactions among those allergic to antibiotics, and the farmers' direct exposure to such medicine that can lead to allergic reactions, Supanai said.
He said that farms would most likely not use antibiotic capsules but a chemical powder format, which can cause it to scatter. Although there was no research to confirm antibiotic contamination from the use in orange orchards, he said the sensible precaution was to stop such use.
The Public Health Ministry should check farmers' physical conditions as well as samples from soil and water to study for a contamination, while farmers should shift to organic farming guidelines, Supanai said.
Supanai also urged the authority to check on the sale of chemicals (used in making amoxicillin) to farmers as such substances were also considered dangerous medicines. The sale of the drug by non-pharmacists violated the law so the sellers and manufacturers could be held accountable.
Supanai advised those allergic to amoxicillin to avoid consumption while those without allergies should refrain from consuming a large amount and to leave a seven-day gap between consumption.
SOURCE: The Nation