Sexual harassment isn't our fault, it's mens' – Sirinya "Cindy" Bishop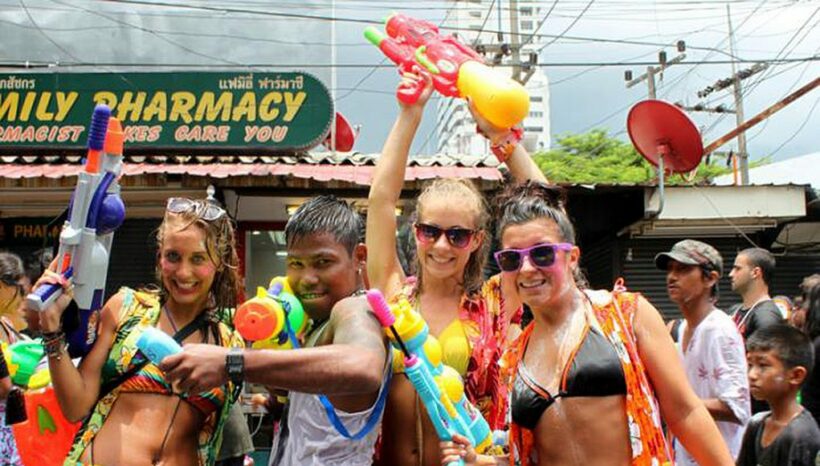 A well-known model has launched a social-media campaign to tackle the widespread and erroneous belief that sexual harassment stems from a woman's choice of clothes.
Sirinya "Cindy" Bishop, who is also an actress, has used social media to counter recent messages propagated by authorities that sexual harassment can be stopped by urging women not to dress in a revealing way.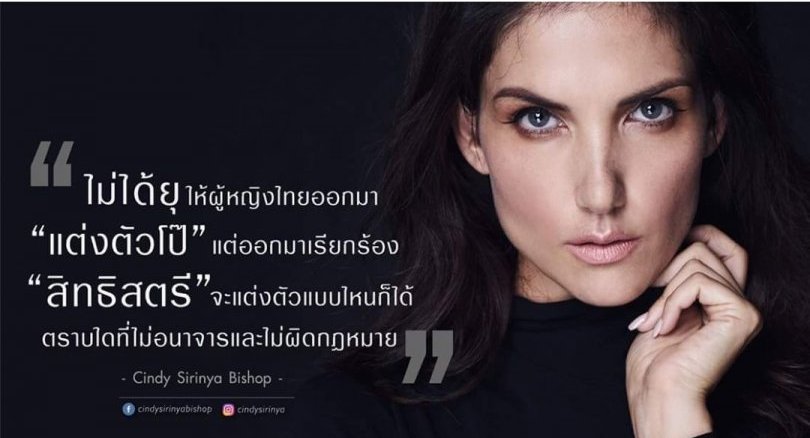 Yesterday the Thai Police reminded women not to dress 'provocatively' during Songkran to help avoid sexual harassment.
Cynthia Carmen Burbridge-Bishop, once professionally known as Cindy Bishop, or Thai name Sirinya Winsiri, is a Thai-American beauty queen, model, host and actress. She represented Thailand at the Miss World 1996 pageant held in Bangalore, India. – Wikipedia
Cynthia says what women wore was not a justification for sexual harassment. Instead, men should respect women and not behave inappropriately, she added.
The campaign started last week when she read a news report about a suggestion from the Department of Local Administration telling women to wear modest clothes during the Songkran Festival to prevent sexual harassment.
Sirinya countered by posting a video clip on her Instagram account, "cindysirinya", highlighting that women had the right to wear whatever they wanted to and men did not have a right to use apparel as an excuse for their behaviour.
Sutthipong Chulcharoen, director-general of the government's local administration department, said authorities throughout the country would ensure there would be alcohol-free zones and information campaigns encouraging women not to wear clothing that was too revealing. – Bangkok Post
Sirinya said she had been a victim of sexual harassment during Songkran even though she was not wearing skimpy clothes, adding the mindset to tell women to dress politely showed protection of women rights in Thailand was very backward.
"Women have the right to dress however we choose, as long as it's not illegal. Sexual assault and harassment is never the woman's fault! Tell men to keep their hands to themselves!" she wrote in the caption to the video clip.
She added in a subsequent Instagram post that dressing in a revealing way did increase the risk for women being victims of sexual harassment. However, she said society focused only on how women dressed without pushing for other solutions, such as teaching men social values and to respect women's rights.
Sirinya urged netizens to participate in the campaign by posting pictures or describing their experiences of sexual harassment, adding the hashtags #donttellmehowtodress and #tellmentorespect.
Her campaign has received positive feedback, with more than 700 people posting with these hashtags on Instagram as of yesterday afternoon.
A Facebook user named "Ellelie Tosuk" supported Sirinya's post by saying: "Nowadays women's rights are lessening each day. They should solve the problem from the root, not the result."
However, a review of opinions from university students found that not everyone agreed with Sirinya.
Some people commented that wearing modest clothes could reduce the risk of sexual harassment, while male students wrote that wearing revealing clothes could send the wrong signal to some men that women were willing to be touched.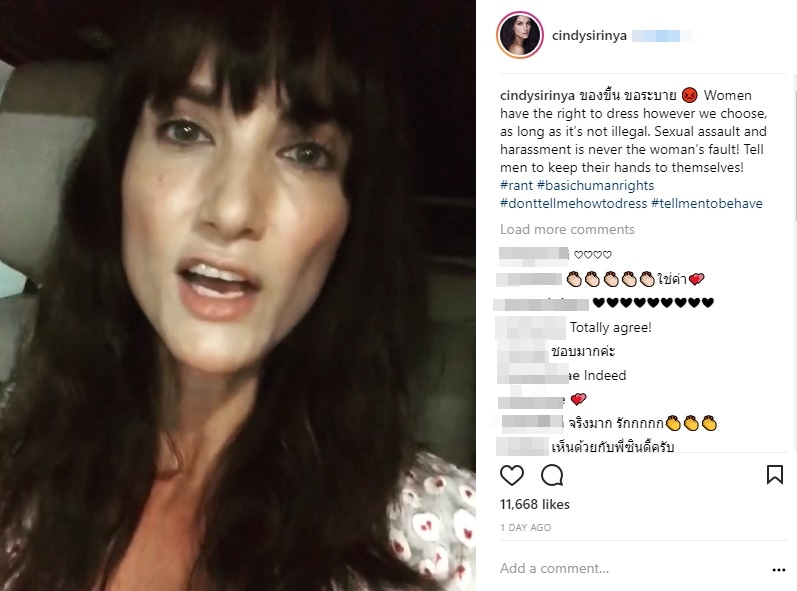 Read more headlines, reports & breaking news in Thailand. Or catch up on your Thailand news.
Pheu Thai wins the Lower House – Unofficial from the EC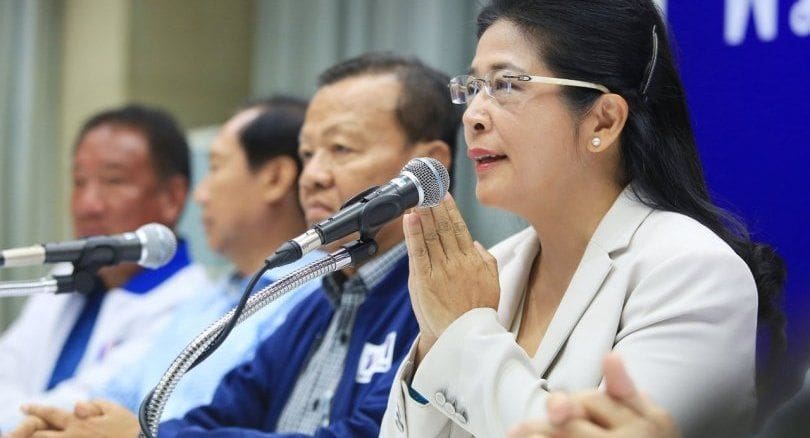 The Election Commission has just announced the official tally for constituency MPs, showing that Pheu Thai Party has won 138 of the 350 seats on offer.

Phalang Pracharat, meanwhile, came in second with 96 seats, trailed by Bhumjaithai with 39. The Democrats only won 33 seats, while Future Forward snared 30.

The rest of the seats were shared between Chartthaipattana (7), Prachachart (6) and Action Coalition for Thailand (1)
Two Future Forward candidates win Pheu Thai strongholds in Chiang Rai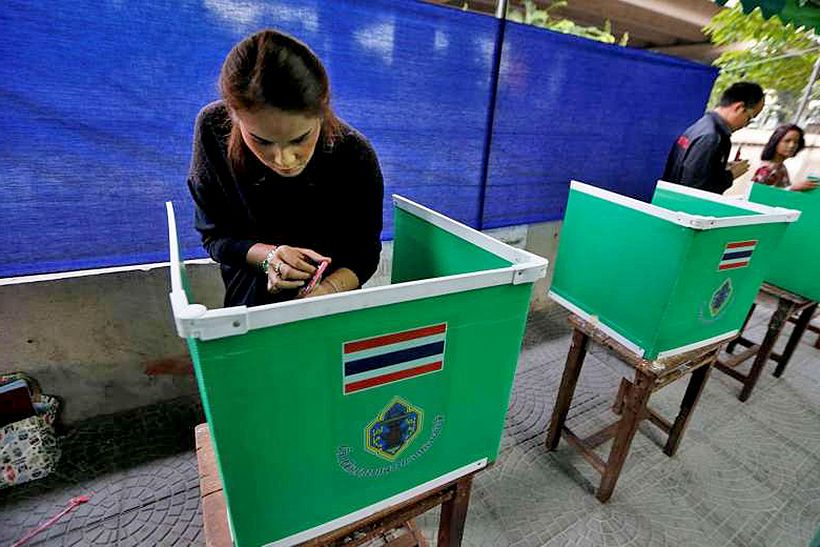 Two long-time champions of the Pheu Thai Party in Chiang Rai have been defeated by candidates of the new Future Forward Party in yesterday's general election.
In Constituency 1, Pheu Thai several-term MP Samart Kaewmeechai was toppled by Future Forward's Ekkapop Pianpiset in a closely run contest.
Ekkapop, who had resigned his position as a doctor at a private hospital in Chiang Rai to contest the election, got 28,916 votes, while Samart received 27,048.
Another veteran politician in the same constituency, Phalang Pracharat's Ratana Jongsutthamanee, came third with 26,745 votes.
In Constituency 6 of the province, Future Forward's Phiradej Khamsamut soundly defeated long-standing Pheu Thai MP Itthidej Kaewluang.
Phiradej received 22,742 votes, while Itthidejl got 16,170.
Phiradej was a businessman running a hotel and a restaurant in Chiang Rai's Mae Sai district, as well as operating a real-estate business before he joined Future Forward.
He said he had not expected his victory because the constituency had a veteran politician with a strong political base. Now that he had won he says he will do his best as an MP.
SOURCE: The Nation
Twin found dead in Pattaya house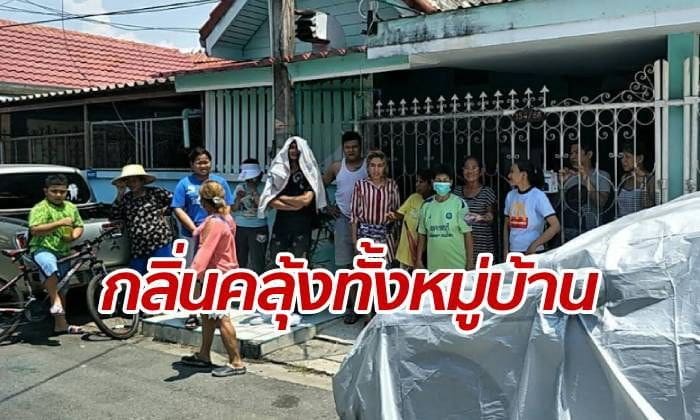 PHOTO: Sanook
Locals from a housing estate in Nong Prue, Pattaya have called police after noticing a foul smell coming from the house of a man, one of two twins, who lived at the address.
Sanook reports that police and emergency responders found the house locked from the outside and had to break in.
Inside they found 23 year old Chinawut naked on the floor lying next to his computer. Police estimate he had died three or four days before. Nong Prue police were unable to say if he had suffered injuries from initial examination.
Neighbours say that the dead man was a loner who like to play computer games. He hadn't been sotted for four days and when the smell was detected they called police.
Police are trying to locate the dead man's twin who lives in Soi Bua Khao. The body was taken to a local hospital for autopsy.
SOURCE: Sanook