SATURDAY MORNING NEWS BRIEFING – All your local news in 3 minutes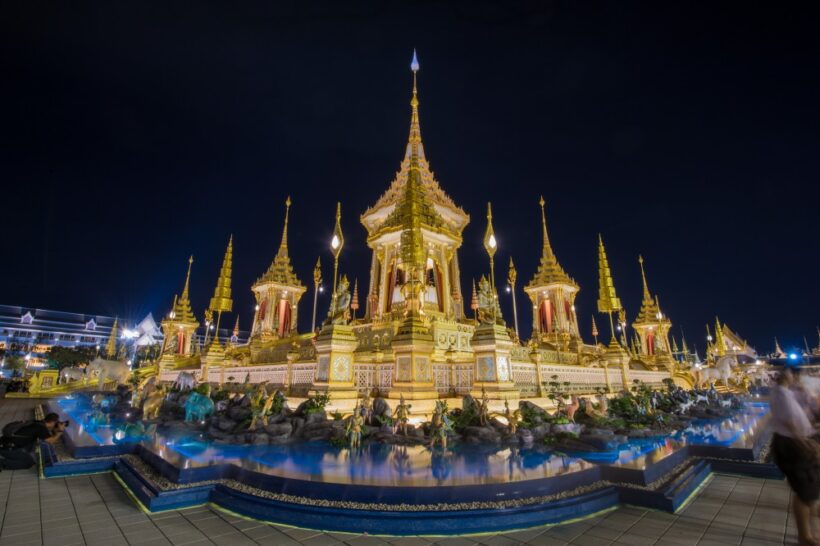 Welcome to your Saturday. A clear, cloudless sunrise this morning across the island but the forecast is for some rain. High-season weather is really trying to breakthrough. Let's enjoy it! Here's your Saturday news briefing…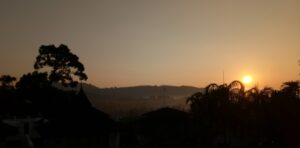 Mekong River projects gather steam
A meeting of the Lancang-Mekong Cooperation has brought together senior diplomats from China, Myanmar, Laos, Thailand, Cambodia and Vietnam. The LMC has identified 45 projects since its first summit in China's Sanya last year and many of them have made significant progress with strong financial support from China.
The plan, the list of projects and other reports of joint working groups, will be forwarded for final adoption when leaders of the six countries meet on January 10 in Phnom Penh.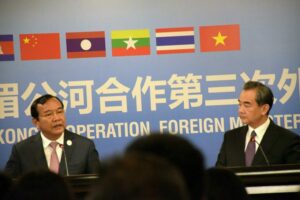 Thai Airways and Airbus investigating maintenance co-operation
Thai Airways and aircraft maker Airbus have signed a cooperation agreement to assess maintenance, repair and operations business opportunities for the Asia-Pacific region at U-Tapao Rayong-Pattaya International Airport.
Deputy Prime Minister Somkid Jatusripitak says Thailand aims to establish an aviation centre in the near future in order to cater to the expected growth in the tourism sector. Airbus says they expect the fleets operated by carriers in the Asia-Pacific region will double over the next 20 years, from around 6,100 to 17,000 aircraft.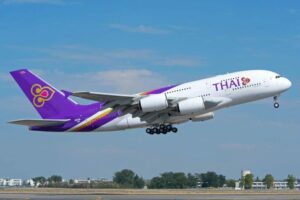 Surat Thani police have had a good year
Police have announced results of a crackdown on a drugs trafficking network in Surat Thani, three hours north of Phuket, resulting in the arrest of 10 suspects and the seizure of 360,000 methamphetamine pills and 8.2 kilograms of crystal methamphetamine or "ice" worth 88.2 million baht, three guns and 100 bullets.
Surat Thani's governor says police had made 30 drugs busts covering 40 suspects in 2017.
Military hands down official report into Meay's death
The military-established fact-finding committee has handed down its findings that the death of 18-year-old cadet Phakhapong Tanyakan was not caused by any punishment. The committee, however, confirmed that Phakhapong was subject to inappropriate penalties at the Armed Forces Academies Preparatory School during the 48 hours before his death on October 17.
Phakhapong's family says the probe results did not provide any new insights. Phakhapong's elder sister Supicha is vowing to continue fighting for justice over her sibling's untimely death. She spoke up after the fact-finding committee held a press conference yesterday.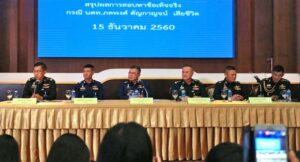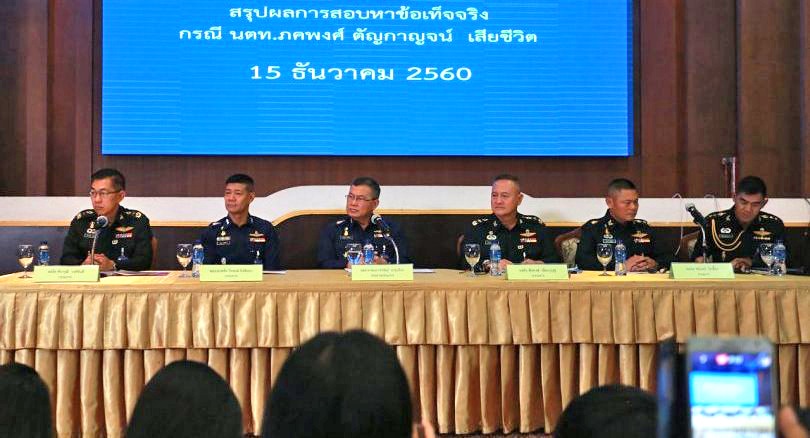 Phuket Marine Office announce new guidelines for high-season
The Phuket Marine Office Chief says there will be a large number of tourists, both local and foreigners, travelling by boat around Phuket's waters over the high season, creating a higher volume of marine traffic. He held a media conference yesterday to outline all the new safety guidelines for boats and tour groups over the high season and is promising to prosecute any captains or crews that stray from the rules including absolutely no drinking whilst they're in charge of vessels around Phuket and the islands.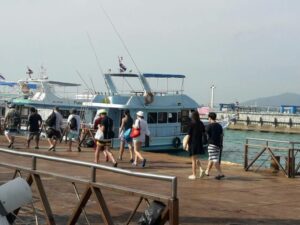 Japan-Thai high speed rail project between BKK and Chiang Mai
Japan is recommending Thailand begin construction of the first 380-kilometre section of the 672km Thai-Japanese high-speed train route.
The first section is from Bangkok to Phitsanulok, covering a total distance of 380 kilometres with an investment cost of 280 billion baht.
For the remaining section of the 672-kilometre high speed train route a Japanese spokesperson says the design of the second section from Phitsanulok to Chiang Mai will be started simultaneously when construction of the first section started.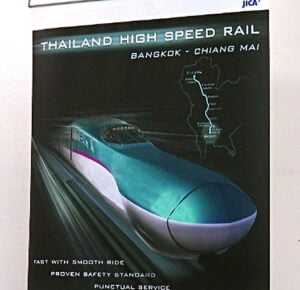 Association presses NACC for answers over Prawit
The Thai Constitution Protection Association has petitioned the National Anti-Corruption Commission to investigate Deputy Prime Minister Prawit Wongsuwon's wristwatch collection.
In the petition, they're submitting as evidence a number of photos circulated on social media showing the deputy prime minister wearing different brands of wristwatch.
Noting that the photos have provided an important piece of information to be probed by the NACC, the Association says it would like the anti-graft body to find out exactly how many expensive wristwatches which are owned by Gen Prawit and whether he has declared them with the NACC or not.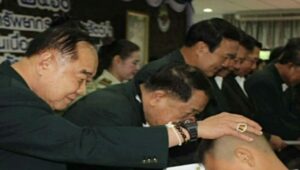 Fine Arts Department prepares for dismantling Royal Crematorium
The Fine Arts Department is making preparations to dismantle the Royal Crematorium after its closure for public viewing on December 31 and to move some of the structures to a new permanent exhibition building in Pathum Thani province.
The new permanent exhibition venue is set to be located on a 10-rai plot of land behind the National Archives in Honour of His Majesty King Bhumibol Adulyadej.
The moving of some structures from the Royal Crematorium, including the Songtham royal merit-making pavilion and the Thap Kaset government officials' pavilion to the new exhibition venue is expected to take about two years to complete.
Keep in contact with The Thaiger by following our
Facebook page
.
Phuket police arrest meth dealer, discover drugs valued at 15 million baht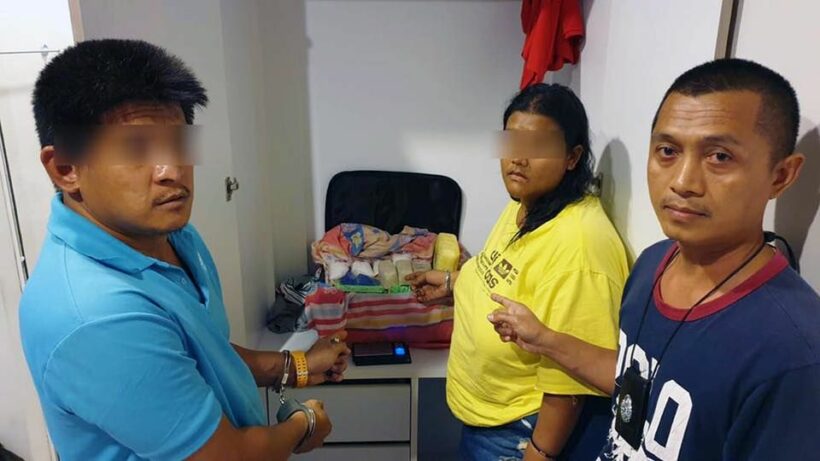 PHOTO: Newshawk Phuket
Drugs valued at 15 million baht have been seized in a drug crackdown in Phuket. On October 22, Phuket police, along with Phuket Governor Pakkapong Tawipat, reported to the media about a drug crackdown that ended up with a total seizure valued around 15 million baht.
Earlier, the police received a report from an undercover agent that a woman named 'Ying' or 'Suthicha Thirawut' was a local drug dealer trading drugs in Phuket area, so police planned to purchase drugs from the woman. They contacted Ying through another woman named 'Noina', Ying's close friend. Around 10pm on October 20, police bought 1 gram of crystal methamphetamine from Noina before arresting Ying and another man, Thanet Thongtan, at the Naka Condominium.
The two confessed that they receive the drug from a man who they weren't able to name, in order to sell in Phuket. They were paid 40,000 – 50,000 baht per time and admitted to police that they have done this for the man three times already. This time, the drugs hadn't been sold to customers as they were arrested before being able to make a sale.
Apart from 2.4 kilograms of crystal methamphetamine, valued around 4.8 million baht, the police also discovered 76,800 methamphetamine pills, worth around 11 million baht.
The three are now assisting Phuket police with their enquires related to the case.
SOURCE: Newshawk Phuket
Keep in contact with The Thaiger by following our
Facebook page
.
Out of 37 countries, Thailand has the worst pension system, says Bloomberg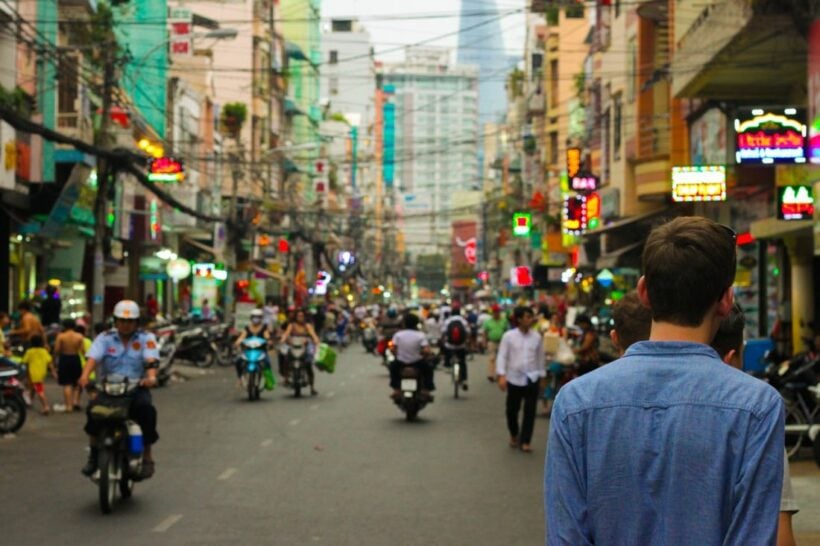 Thai Residents reports that on Sunday, Bloomberg published an article on the world's best pension systems, using information gathered from the 2019 Melbourne Mercer Global Pensions Index.
The survey looked at the pension systems of 37 countries with metrics including employee rights, savings, the number of homeowners, growth of assets, and growth of the economy. The purpose of the analysis was to determine what was needed to improve state pension systems and to gauge the level of confidence citizens had in their state pension system.
The Netherlands and Denmark were found to have the world's best state pensions, with Australia, Finland, Sweden, Norway, Singapore, New Zealand, Canada, and Chile next. Out of all 37 countries, Thailand finished last, with what the report described as an extremely ineffective and ambiguous system.
"Thailand was in the bottom slot and should introduce a minimum level of mandatory retirement savings and increase support for the poorest."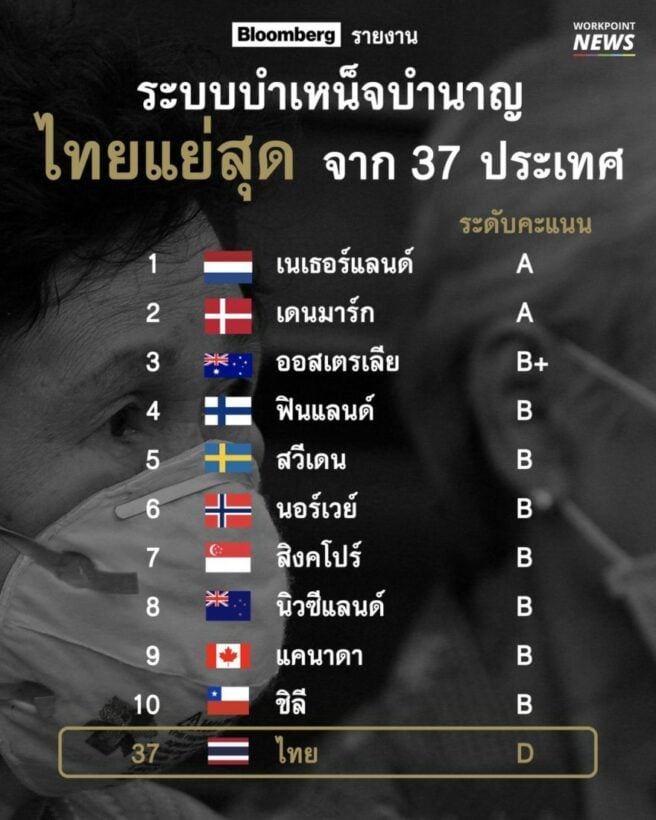 Photo: WorkpointNews
Thai Residents states that only those employed within the government system in Thailand are eligible for a pension based on salary. For most Thai citizens, pension amounts vary from 600 baht to 1,000 baht a month, depending on the recipient's age.
A report carried out by The Securities and Exchange Commission (SEC) advises Thai citizens to have at least 4 million baht saved by the time they retire, but Thai Residents reports that 60% of Thai retirees have less than 1 million baht in savings, with one in three citizens who have reached retirement age are forced to continue working in order to survive.
SOURCE: thairesidents.com
Keep in contact with The Thaiger by following our
Facebook page
.
Immigration police arrest German man in connection with death of German woman in Pattaya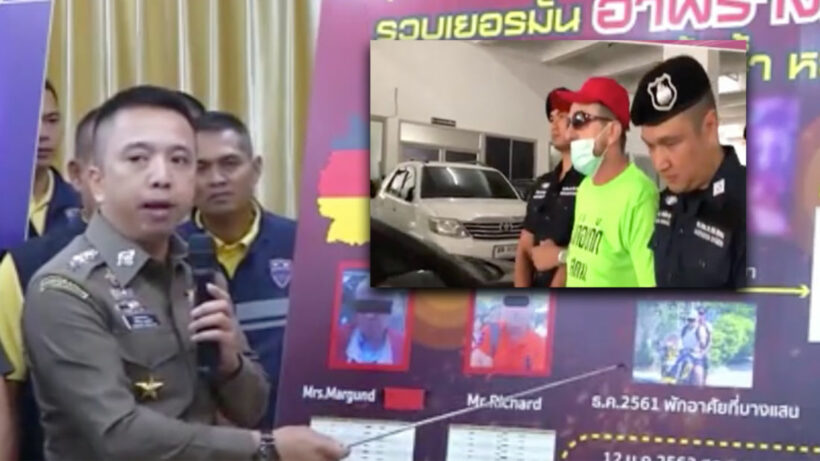 A German man who has overstayed his visa has been arrested in Pattaya in connection with the death of a German woman found dead in a canal in Chonburi province.
The Pattaya News reports the dead woman as 77 year old Marg und Schaefer and says she ran a bar with the man who was taken into custody on Tuesday.
The alarm was raised when Ms Schaefer's family in Germany contacted German police when they were unable to contact her. German authorities then contacted the police in Thailand, who tracked down the man after finding his visa had expired in June 2017. He is believed to be 52 years of age and known only as Mr Richard.
It's understood the arrested man is also facing fraud charges in his home country and fled to Thailand after allegedly conning several elderly women out of more than 6,000 euros.
Police have questioned his Thai girlfriend, who claims Ms Schaefer died in January after falling in the bathroom. She says Mr Richard then disposed of her body in a canal in Chonburi, adding that he had been spending the German woman's pension fund on a daily basis.
A warrant was issued for the man when Ms Schaefer's body was found in the canal on January 12 and he was eventually tracked down to a rented house earlier this week. He denies all charges against him.
It's understood the police will be using DNA testing to confirm how Ms Schaefer died.
SOURCE: thepattayanews.com
Keep in contact with The Thaiger by following our
Facebook page
.