300 flee over border to Thailand from fighting in Myanmar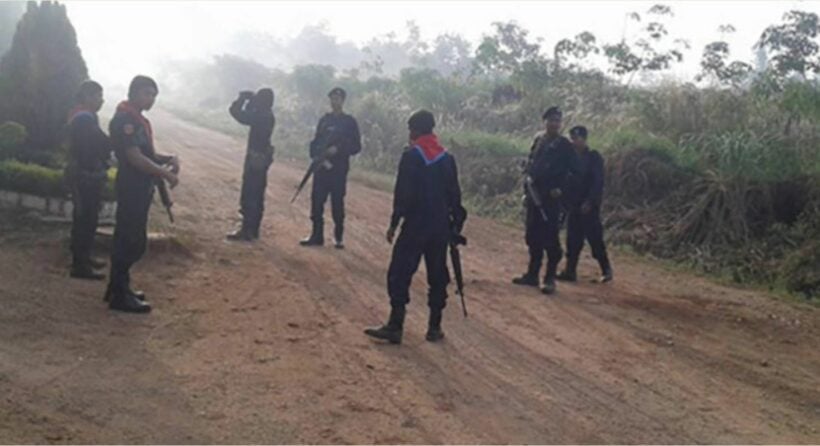 PHOTO: Facebook\Day SA
About 300 ethnic Mon people have fled from Myanmar into Thailand to escape fighting near their village, between Burmese troops and Mon rebels, according to a border source.
Joint forces of Myanmar's army and the Karen Border Force on Wednesday engaged the rebel army near the Three Pagodas Pass on the Thai border. The incident happened in the morning when the Tatmadaw (Army) tried to check the border at an area controlled by the Mon National Liberation Army. The Burmese troops apparently failed to inform the MNLA.
Some of the refugees from Myanmar's Ban Bo Yeepun village, about two kilometres from the Thai border, are staying with relatives in Kanchanaburi province's Sangkhla Buri district. Others are sheltered in Ban Rassadorn Thai, along the border road, according to the source.
Fighting broke out after about 15 Burmese soldiers tried to enter the village and were resisted by Mon troops. One Mon villager was reportedly injured in the fighting and was taken to hospital.
The army has been ordered to stay alert at the Thai-Myanmar border.
SOURCE: Bangkok Post
Keep in contact with The Thaiger by following our
Facebook page
.
Aung San Suu Kyi shows contempt for case against Myanmar army in international court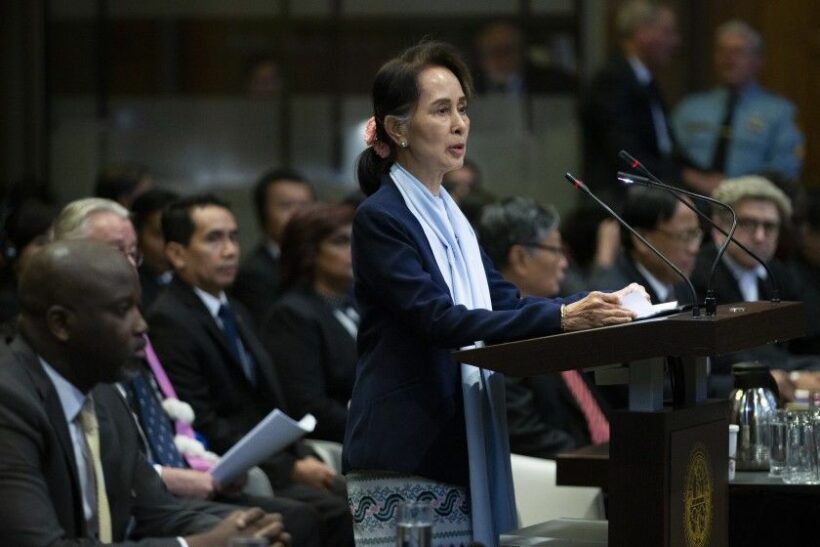 PHOTO: LA Times
Nobel peace laureate Aung San Suu Kyi has shown contempt for UN judges investigating the genocide case relating to the Myanmar army's attacks on the Rohingya in 2017. In her speeches she defended the generals she once defied, for their genocide against the muslim minority living in the Rhakine state, west of the country.
Her supporters gathered outside the court in The Hague chanting as she arrived for the hearing… "We stand with you Aung San Suu Kyi"
She's asked the International Court of Justice to throw out a genocide case against Myanmar, warning it would reignite the crisis that forced around three quarters of a million Rohingya Muslims from their homes, north over the border into Bangladesh. During her speech Suu Kyi refused to refer to the Rohingya muslims by their ethnic name.
The hearing went for three days, but in her six minute closing argument, Myanmar's de facto civilian leader issued a stark warning to judges that allowing a case against Myanmar to go ahead could "undermine reconciliation".
The case could take years to prosecute if accepted by the International Court of Justice.
Wearing traditional Burmese dress and flowers in her hair she hoped that the Court's "wisdom and vision of justice will help us to create unity out of diversity."
"Ending the ongoing internal conflict… is of the utmost importance for our country. But it is equally important to avoid any reignition of the 2016-17 internal armed conflict in northern Rakhine."
The small African, mainly Muslim state of Gambia, is taking majority-Muslim Myanmar to the UN's top court in The Hague accusing it of breaching the 1948 UN genocide convention. Backed by the 57 nation Organisation of Islamic Conference, Canada and the Netherlands, Gambia is seeking emergency measures to prevent further violence against the Rohingya.
Up to 750,000 Rohingya fled across the Bangladesh border into make-shift refugee camps after the Burmese Army (Tatmadaw) launched a huge crackdown in the Rakhine state in August 2017.
Suu Kyi told the court that there was no proof of "genocidal intent" and said the army operation was in response to attacks on Myanmar military posts by Rohingya militants.
Suu Kyi has said little about the incident, or the global condemnation of the genocide, since the UN and other countries independently and officially condemned the violence after corroborated reports emerged of the systematic attacks on the Rohingya muslims.
Gambia's lawyer Philippe Sands condemned Suu Kyi's lack of words.
"Madame agent, your silence said far more than your words. The word 'rape' did not once pass the lips of the agent."
Suu Kyi sat impassively in the courtroom whilst the Gambian lawyer pressed his country's charges.
He recounted incidents included in the UN report including "infants beaten to death or torn from their mothers' arms and thrown into rivers to drown.
"Armed conflict can never be an excuse for genocide."
The lawyer said Suu Kyi had also failed to deny the conclusions of a 2018 UN investigation that found that genocide had been committed in Myanmar against the Rohingya.
A decision on the emergency measures sought by Gambia could take months, while a final ruling if the International Court of Justice decides to take on the full case could take years.
Keep in contact with The Thaiger by following our
Facebook page
.
Booming regional meth industry – Thailand, Myanmar, China and Laos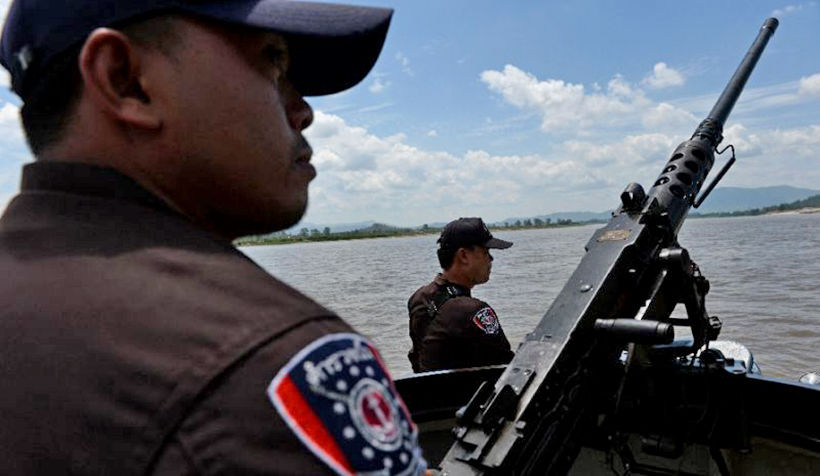 "At the same time significant investment has been made in new highways and bridges in an out of Myanmar, Thailand, China, Laos, Bangladesh and Vietnam. This has provided a boom in movement of products like food and clothing. And drugs."
A UN Drugs and Crime report released this year states that the methamphetamine trade is now worth a staggering US$30-61 billion per year in East and South East Asia, Australia, New Zealand and Bangladesh.
That's a two to fourfold increase from the figures just a decade ago, the last time the UNODC (United Nations Office on Drugs and Crime) estimated the value of the methamphetamine trade in the region.
Better enforcement, co-operation with neighbouring governments, increased manpower, more sophisticated surveillance and increased numbers of seizures have happened whilst the trade in meth has blossomed in the region.
Methamphetamine pills (aka. yaba in Thailand) are now being sold at highly discounted prices, and the well publicised massive seizures and interceptions do little to dent the operations of highly sophisticated and tech-savvy drug traffickers. Even the crystal methamphetamine (ice) from the region is feeding demand as far away as New Zealand.
Experts say the boom in South East Asia's methamphetamine industry is the result of a series of regional and political factors, which have seen Myanmar's lawless Shan State emerge as the regional meth factory.
The Shan State is in Myanmar's north-east and borders Thailand, Laos and China.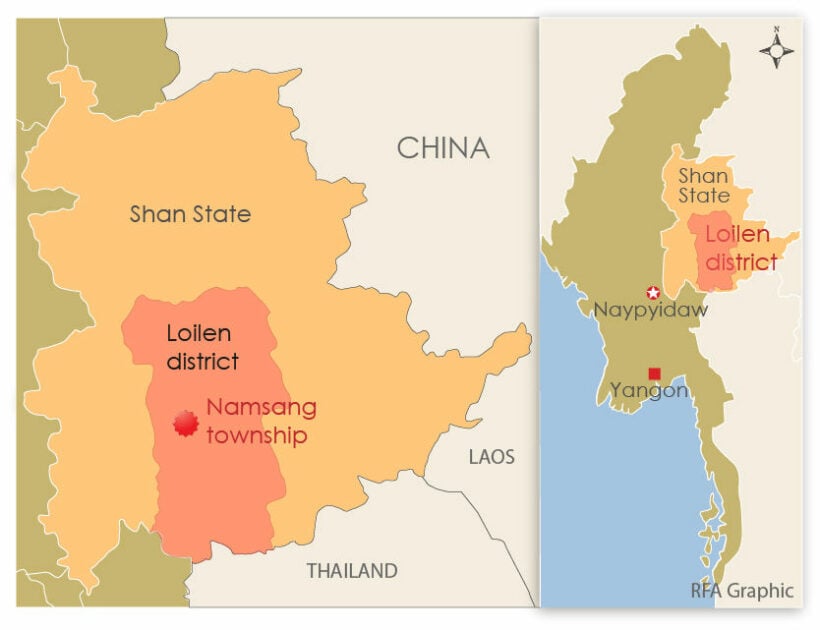 From the 1970s to the 1990s, Myanmar's lawless Shan State warlords, militias and rebel groups typically sold opium and heroin, but subsequently shifted to synthetic drugs after realising how much easier they were to produce and more profitable they could be.
Lax enforcement in Shan State, coupled with porous borders, enabled methamphetamine producers to easily import the chemicals needed to make meth. Poorly enforced money laundering controls then allowed kingpins to easily clean their millions and flourish.
At the same time significant investment has been made in new highways and bridges in an out of Myanmar, Thailand, China, Laos, Bangladesh and Vietnam. This has provided a boom in movement of products like food and clothing. And drugs. In the 'Law of Unintended Consequences', China's Belt & Road strategy to open up trade routes throughout Asia, has inadvertently made trafficking drugs a lot easier.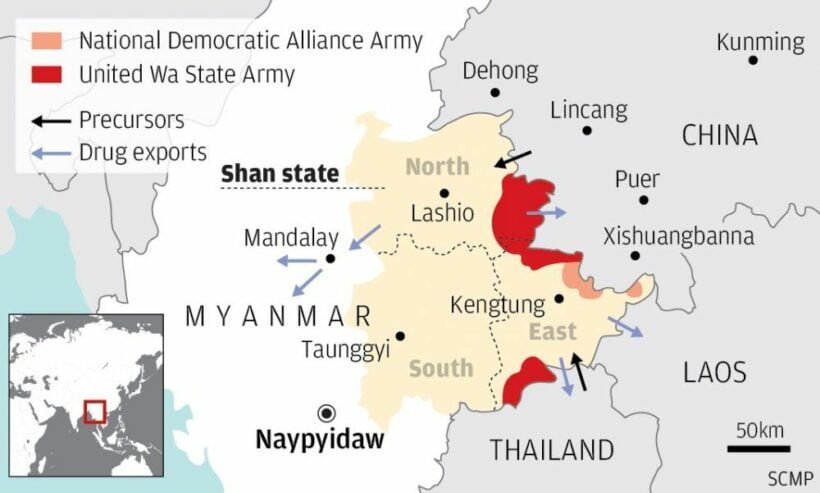 Routinely, seizures of truckloads of 1-5 million meth pills are intercepted then paraded by Thai police. But the biggest drug haul was in 2018 when authorities seized a record-breaking 120 tonnes of crystal meth and methamphetamine pills coming out of the Golden Triangle. More than half of the busts took place in Thailand, where authorities confiscated more than 515 million meth pills.
Now, Laos and Malaysia are also reporting record-breaking busts. In the first eight months of 2018 Chinese authorities reported a 22x increase in crystal methamphetamine seizures in Yunnan province, alone, compared with just three years before.
The UNODC report also states that organised crime groups are not only moving "staggering" amounts of meth to meet demand, they are also trying to increase that demand by flooding the region with cheap product. That's led methamphetamine pill prices to hit historic lows. The flood also creates greater need and a myriad of social problems.
Pills are reportedly selling for less than US$1 (30 baht), even lower than the going price two decades ago.
At the start of this year Thai authorities began an "intensification campaign" along Thailand's northern border with Myanmar. That's where the main route south begins through Thailand. But those efforts, and the vast amounts of international investment to open new routes in and around the region, has just sent enterprising traffickers to use new routes, too numerous for effective enforcement.
John Coyne, a former Australian Federal Police official says the capacity for cashed-up and smart producers to simply ramp up production is allowing meth producers "to write off large seizures as a cost of doing business."
"There needs to be a distinct rethink on what we do."
Keep in contact with The Thaiger by following our
Facebook page
.
Family of Burmese rebel leader arrested in Thailand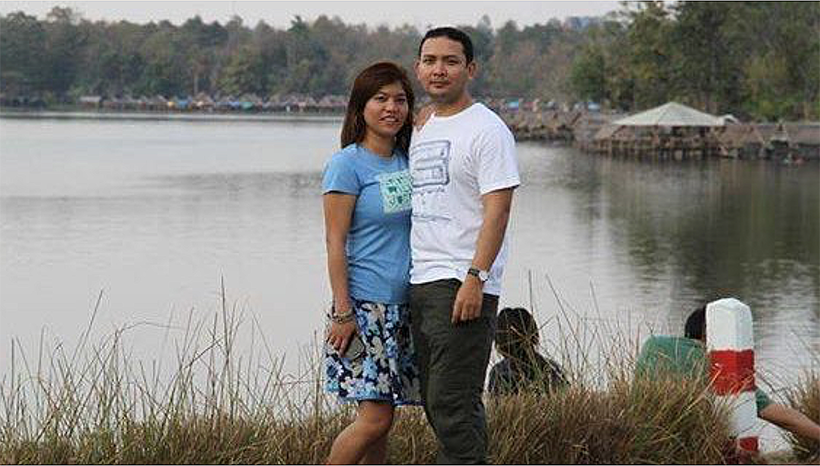 PHOTO: Major General Tun Myat Naing and his wife Ma Hnin Zar Phyu – The Irrawaddy
Thai Immigration police arrested the wife and children of a top commander, Major General Tun Myat Naing of the Arakan Army, an active insurgent group fighting for greater autonomy in western Myanmar. Officials at the Thai Immigration Bureau's Chiang Mai office arrested Ma Hnin Zar Phyu when she went there to extend her visa on December 4. She, and the two children, were sent to the border town of Mae Sai, in Thailand's Chiang Rai province, on Friday afternoon. From there the three are expected to be transferred across the border to Tachileik Township in Myanmar's Shan State, where Burmese Special Branch Police are awaiting their arrival.
"Thai officials said she had been charged with illegal entry because Burmese authorities have revoked her passport."
Rakhine state, also known as Arakan, is in Myanmar's west. It came to global attention when 730,000 Rohingya Muslims fled to Bangladesh to escape a Burmese military crackdown in 2017.
In recent months, civilians there have been caught in the crossfire between the Burmese military and the Arakan Army. According to the UN, more than 35,000 people have been displaced just this year.
Myanmar has designated the Arakan Army a terrorist organisation.
In July, Singapore deported a group of Burmese nationals with links to the Arakan Army over "security concerns". Meanwhile, the head of the Arakan Information Centre says he is deeply concerned by Hnin Zar Phyu's arrest.
Nyi Nyi Lwin told reporters that the mother and children should not be deported to Myanmar because she will be arrested, jailed and persecuted,"
"Arresting Tun Myat Naing's wife is not good. It will create more conflict between the Rakhine people and the government and the Tatmadaw (Burmese army). It will never end, it will go on and on."
Bilateral ceasefire talks between the Arakan Army and the government have been on hold since mid-September, when an alliance of three militias connected to the AA attacked a military technological academy in Pyin Oo Lwin in Mandalay Region, and police checkpoints in the Shan State.
SOURCES: Reuters | The Irrawaddy
Keep in contact with The Thaiger by following our
Facebook page
.