Police look into deaths linked to Lyn-brand weight-loss products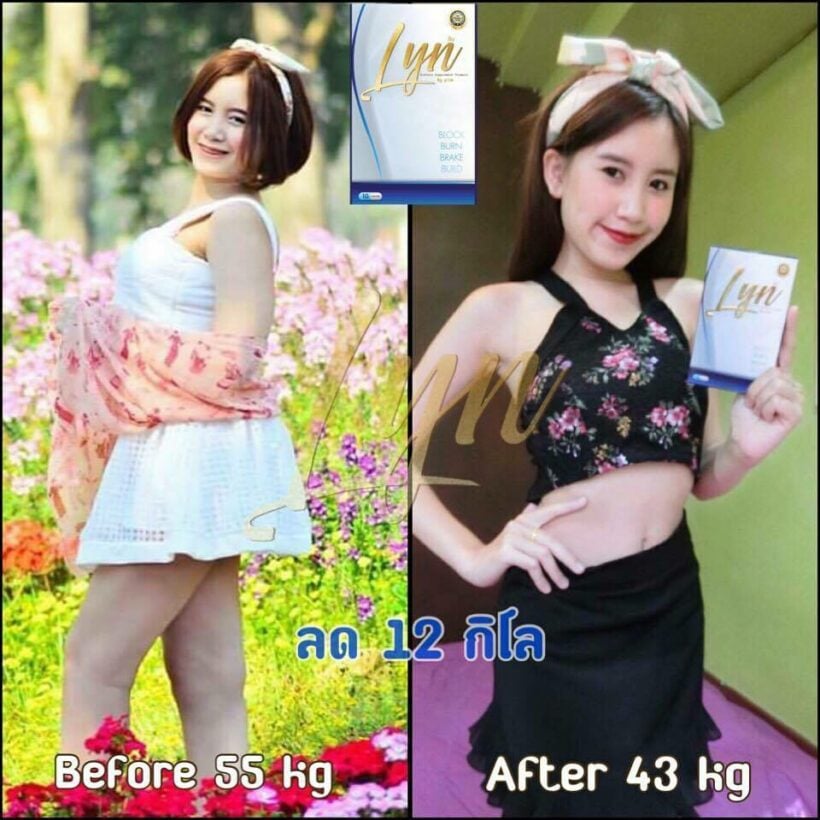 Fresh on the heels of an investigation into Magic Skin beauty products, police are now looking at another well-known brand, Lyn, after its weight-loss products were allegedly found to contain two dangerous substances.
Deputy national police chief Pol General Weerachai Songmetta says the products might contain the appetite suppressant Sibutramine and the laxative Bisacodyl. The Food and Drug Administration (FDA) in October 2010 ordered that production of Sibutramine be discontinued. Weerachai says four people who had ingested the products had died, allegedly, from side effects.
A 31 year old woman in Kanchanaburi had taken the pills for 30 days and died on March 28. The medical examiner's preliminary ruling was that she died of acute heart failure.
A 33 year old Bangkok man who had taken the pills for 10 days died on April 6 after suffering a stroke and losing consciousness.
In another case, a 48 year old Pathum Thani man who had taken the pills for more than a month died on April 27, with preliminary tests indicating acute heart failure.
The fourth person was said in social media posts to have died on April 28 after taking the same pills.
Weerachai says the four were reportedly physically strong, working-age people. The first three had in common tightness in the chest and loss of consciousness before they died, He said the FDA had issued a warning on April 25 that the Lyn product in a white box contained Sibutramine and its product in a black box contained Bisacodyl and both could have dangerous side effects. Weerachai urged anyone taking the products reportedly manufactured by Pathum Thani-based Foodscience Supply Service and distributed by Akeakkarin should stop immediately pending further investigation into the deaths and the products.
Anyone selling the products directly or online could be charged with violating the Food Act, a crime punishable by up to two years in jail and/or a fine of up to 20,000 baht.
Weerachai says police would summon the products' owner, identified as 40 year old Pitapat Akeakkarin, who could be charged with manslaughter if the four deaths are confirmed to be linked to the pills.
The FDA and other agencies are meanwhile seizing food supplements from store shelves whose packaging allegedly carries FDA registration numbers allocated to a different kind of food, fish sauce. Retailers and distributors face charges of handling products whose contents don't match the ingredients listed on the labels, and of colluding to set up a food factory without permission and to manufacture and sell fake food products, Weerachai said.
As is the case with Magic Skin products, celebrities promote these supplements in "product review" advertisements. They are continuing to be summoned for questioning over their endorsements.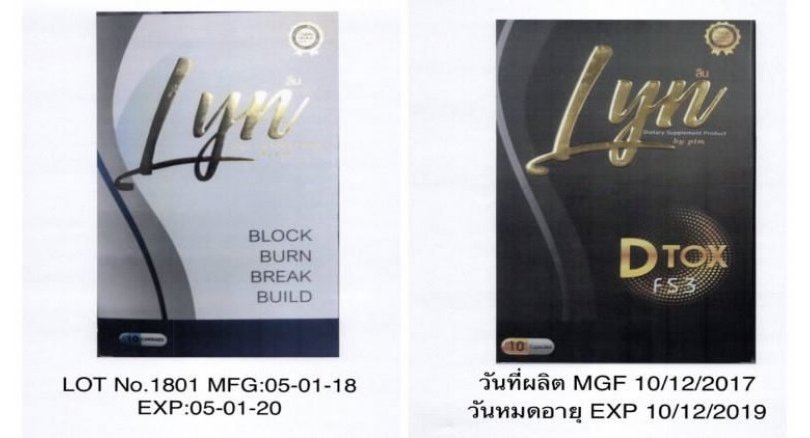 STORY: The Nation
Keep in contact with The Thaiger by following our
Facebook page
.
AirAsia's wings may be clipped permanently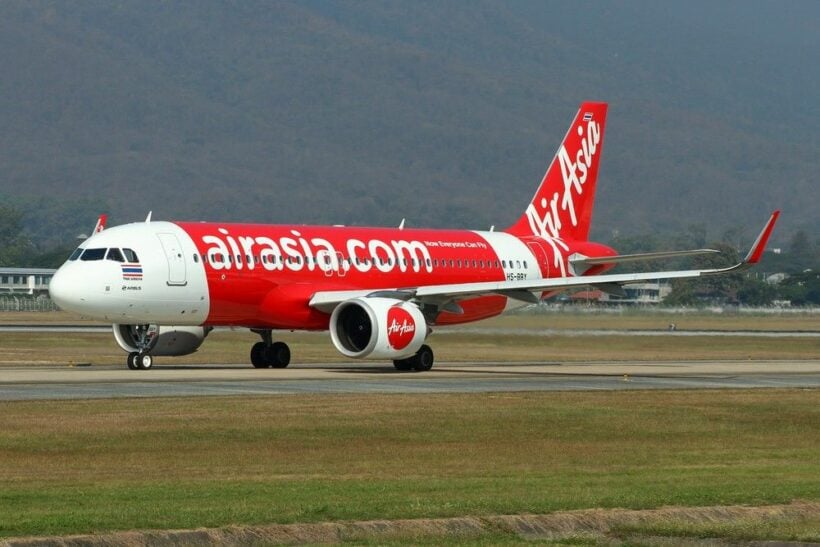 Malaysia's budget airline AirAsia could become the next casualty of the Covid19 pandemic, which has grounded fleets around the world and already forced the demise of NokScoot, another regional budget carrier. AirAsia's auditor is warning that the airline's future is in "significant doubt" due to the collapse in demand for air travel caused by the coronavirus and regional governments closing borders.
The aviation industry is facing its biggest-ever crisis worldwide due to the outbreak, with many airlines laying off vast swathes of staff and some already out of business.
Not so long ago AirAsia shook up south east Asian budget air travel with its slogan "Now everyone can fly." On Monday the company reported a record quarterly loss of 803 million ringgit (5.9 billion baht). Auditor Ernst & Young said Tuesday that "travel and border restrictions implemented by countries around the world have led to a significant fall in demand for air travel, which impacted the group's financial performance and cash flows."
In an unqualified audit opinion statement to the Kuala Lumpur stock exchange, the accountancy firm noted the "existence of material uncertainties that may cast significant doubt on the group's and the company's ability to continue as a going concern."
Trading in AirAsia's shares was halted this morning but resumed in the afternoon. AirAsia Group shares slumped nearly 18% when trading resumed following the suspension. The budget airline pared its loss down to 12% as of 3:40pm local time. Trading was halted Wednesday until 2:30pm local time.
AirAsia's CEO Tony Fernandes said on Monday…. "This is by far the biggest challenge we have faced since we began in 2001." He says the carrier is in talks for joint ventures and collaborations that could result in additional investment, and it has applied for bank loans and is weighing other proposals to raise capital.
Last month, South Korean conglomerate SK Group announced it was reviewing a proposal to buy a small stake in the airline. In May, AirAsia sent a memo to Malaysian banks seeking to borrow 1 billion ringgit, (7.3 billion baht) according to people familiar with the matter.
AirAsia said in an exchange filing Wednesday that Ernst & Young's statement and a decline in shareholder equity triggered the criteria for a so-called Practice Note 17, which applies to financially distressed companies. But the airline won't be classified as PN17, as the Malaysian exchange suspended application of the status from April through June next year as part of relief measures in light of the coronavirus pandemic.
AirAsia needs at least 2 billion ringgit this year to stay afloat, according to an aviation analyst at UOB Kay Hianin Singapore.
"There's not a lot of options, and the best one could be the government stepping in but seeking a rights offering by the company in exchange."
Despite the warnings, there are signs of improvement with the gradual lifting of restrictions on interstate travel and domestic tourism activities in the countries where AirAsia and its units operate.
SOURCE: Bangkok Post
Keep in contact with The Thaiger by following our
Facebook page
.
What will happen to foreigners with expired visas after July 31?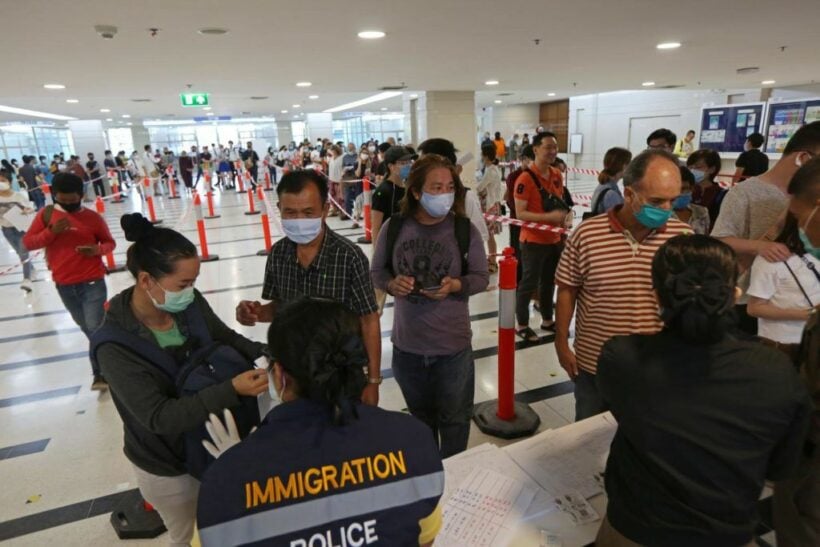 Before you read further, seeking a definitive answer, we don't have one.
But stranded foreigners, who have been able to stay in Thailand via a visa amnesty, have an approaching D-Day – July 31, 2020. This is the sunset of the current amnesty for foreigners who have, through no fault of their own, been stuck in Thailand whilst the borders have been closed. Whilst sitting out the Covid-19 outbreak in the pleasant Thai sunshine, the clock is ticking and the end of the amnesty is in sight.
Whilst there are now a few opportunities for foreigners to leave or return to Thailand, most are still unable either due to a lack of flights or closed borders in their home countries. At the time when the amnesty was announced, and the July 31 date set, it was hoped that the world would have opened back up. Whilst Thailand has largely got its Covid-19 house in order, much of the rest of the world is still battling through its first phase of the disease or coping with isolated spikes in new cases.
Thailand's land borders with Myanmar, Cambodia, Malaysia and Laos also remain officially closed to all foreigners unless they have permanent residency or permission from the Thai government to re-enter.
Even early talk of possible travel bubbles with a bespoke handful of low-risk countries appears to be on hold for now as Thailand continues to repatriate citizens and allow its first foreigners in under special conditions. Certainly the process of re-opening Thailand's borders is not going to allow all stranded foreigners to magically return home before July 31.
Now Thai immigration officials are battling with other government departments about how to deal with the tens of thousands of affected visitors who have been able to remain in Thailand until the end of July. It's a complex situation where individuals will have varying situations for Immigration to sort out. Even a quick trip across a land border to re-new a visa is unlikely under the current situation.
The existing amnesty allowed foreigners to remain in Thailand without any new paperwork, payments or additional reporting.
So what will happen to foreigners whose visas are long expired, after July 31?
The prospect of madness at Thai Immigration offices on August 1 is surely something on Thai Immigration officials' minds at the moment. Even the need to do 90 reporting has been put on hold until July 31, another possible headache for August 1.
An extension of the amnesty is likely but the current situation leaves tens of thousands of foreigners 'untracked', an anathema to Thai Immigration who have always made tracking of foreigners a hallmark of policy.
Short of actually expelling foreigners with expired visas, there will have to be some sort of system to either extend the current amnesty or find a way for foreigners to report their location, and possibly having to pay for another extension. Actually communicating any decision to affected foreigners will be a herculean task too.
With much of the visas processed by shuffling paper around busy offices, land checkpoints and airports, the actual tracking of the foreigners left in Thailand will be difficult.
Expect a decision in the next few weeks, and expect some sort of extension. But also expect that the gracious generosity of your hosts will not last forever. All foreigners with expired visas would be well advised to gather information about flights out of Thailand and to make contact with their country's Embassies and Consulates in Thailand to register their current whereabouts and keep track of the situation.
The Thaiger would warmly suggest that foreigners become aware of their options as the end of the current amnesty draws closer.
For locals, required to do 90 day reporting, it would also be advisable to visit your local immigration office before July 31, or report online (if you've registered), to avoid a crush on August 1.
The Thaiger will continue to follow this important story and report any formal announcements from Thai Immigration.
Keep in contact with The Thaiger by following our
Facebook page
.
Thai activist cries foul on government over US diplomat skirting quarantine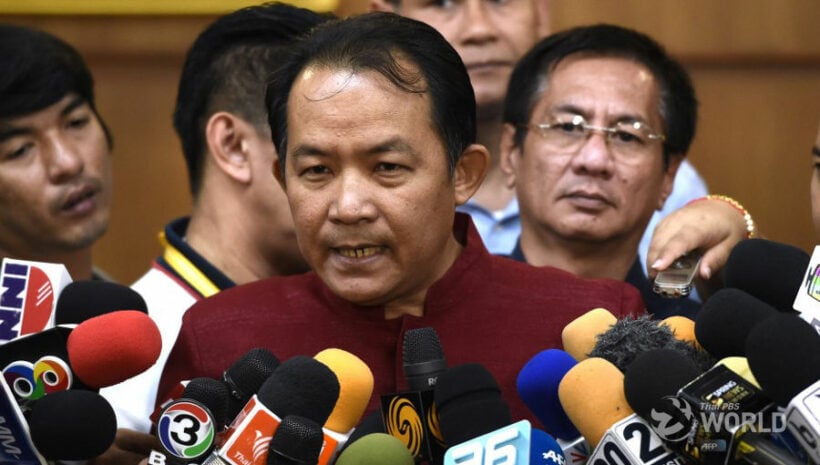 A transparency campaigner dubbed " Thailand's complainer-in-chief " is accusing the government of negligence for allowing the chief of the US army to enter the country without having to go through a mandatory quarantine upon arriving. Activist Srisuwan Janya says he fears the visit of a delegation from the country with by far the most Covid-19 cases (not to mention deaths) in the world might reintroduce the virus to the Thai population.
"The US army chief and his delegation will come from the country with the world's highest confirmed cases. We can't be certain whether they will be free of the virus. The government has taken the promised measures for granted, to exclusively subserve the delegation's benefit. " The delegation, led by the US army chief of staff James McConville, will visit Thailand tomorrow and Friday, but the government says they'll be required to follow strict measures.
Thailand began a partial border reopening on July 1 , in which limited groups of foreigners are permitted to fly into the country with the condition of a mandatory 14 day quarantine at specified facilities. However, exceptions are made for official guests and business people traveling on a special agreement with the government.
Srisuwan says he'll file a complaint tomorrow against the government's Center for Covid-19 Situation Administration at the Anti-Corruption Commission. He also criticized Deputy PM and Health Minister Anutin Charnvirakul for not wearing a mask and failing to observe social distancing measures during the Fourth of July party held by the US embassy in Bangkok on Saturday.
"The government has repeatedly preached to the people to not let their guard down, but it turns out that people within the government have the privilege to be spared from those measures."
American diplomats also did not wear masks in photos posted online by Anutin. The photos have since been deleted.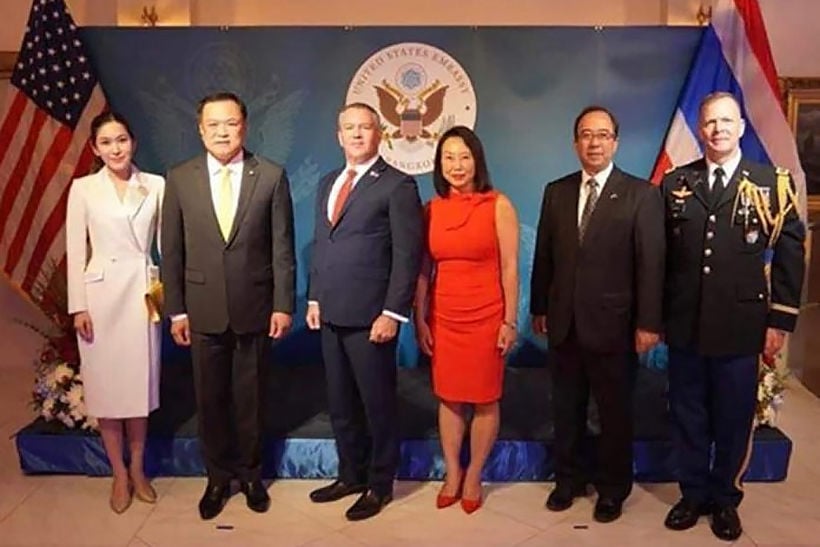 Taweesin Visanuyothin, the spokesman of the CCSD, says the Thai government could not impose a mandatory quarantine for the delegation because it is only a short visit. The US officials will still be required to take virus tests before and after their arrival in Thailand, and to wear masks at all times. Health and security officials will follow them throughout the trip and they won't be allowed to stray from the itinerary during their 2 day visit.
The American delegation will be the first group of foreigners to pay an official visit to Thailand on a special agreement during the pandemic. The group is scheduled to meet PM Prayut Chan-o-cha and the army chief Apirat Kongsompong on Thursday.
The US ambassador to Thailand, Michael George DeSombre recently paid a courtesy call on Deputy PM Somkid Jatusripitak at the beginning of his tour of the Kingdom. DeSombre chose not to wear a facemask during the visit.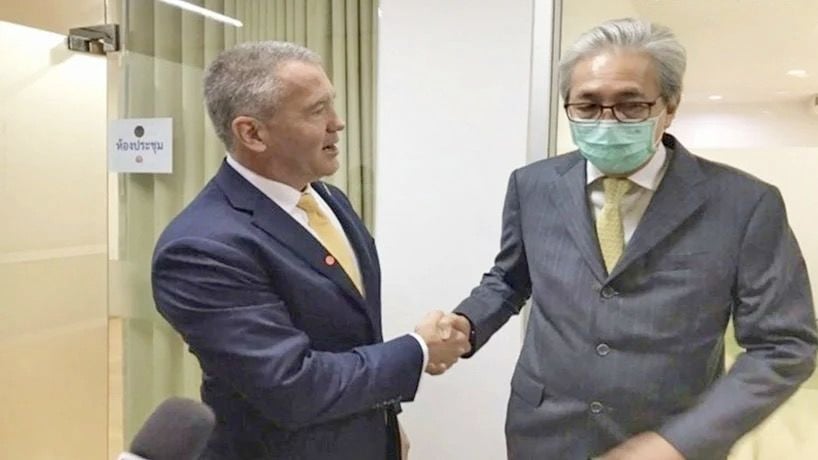 SOURCE: Khaosod English
Keep in contact with The Thaiger by following our
Facebook page
.