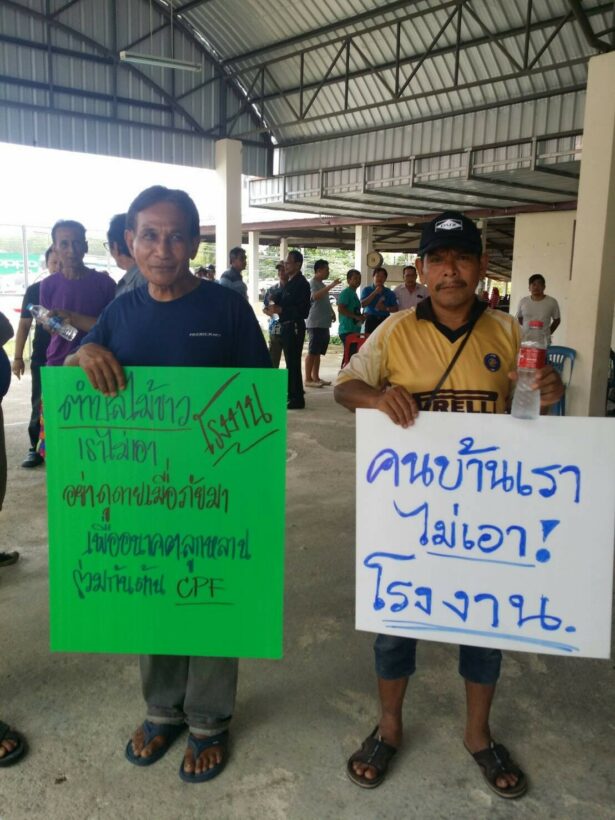 The plans to construct a pork processing factory in Mai Khao have been changed to a refrigeration and storage facility after a three hour discussion yesterday (June 28).
Locals in Mai Khao are protesting against the company who was planning to construct a pork processing factory in the north section of Phuket island. Locals at Baan Dan Yid and Baan Dan Yut protested against the private company's plans after a notice was placed on June 8 at the area to build the processing plant.
Read the earlier story HERE.
The discussions were held in Mai Khao yesterday with staff members of CPF (Thailand) company, relevant offices and more than 200 locals.
Staff members of the company explained that the public hearing had already been held on Nov 4 last year in Mai Khao to discuss the land use and pork processing factory. Locals claim they didn't know about the plans and were seeking an explanation of how that happened and more information about the project.
A previous pig farm covered an area of 40 rai on the same land. The company has submitted plans to construct the factory on 10 rai of that land. The company claims the building will cover 1,300 square metres. It will be a 'closed loop' factory, recycling their own waste. The factory will have a waste water system meeting the Good Manufacturing Practice (GMP) standard.
The discussion took about three hours with the conclusion that the company will cancel the previous construction license to build a pork processing factory. A new construction license will be submitted to build a refrigeration and storage facility.
The process will start again, including a public hearing.