Phuket's Governor follows up on stray dog shelter renovations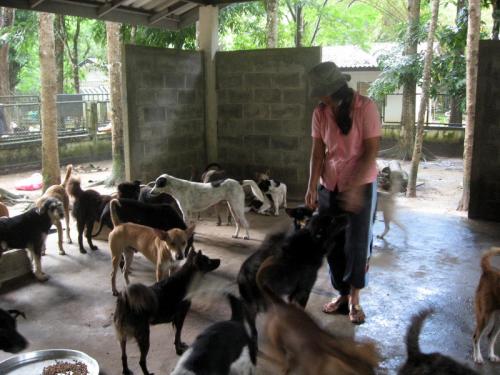 Phuket's Governor hosted a meeting with the Phuket Dog Shelter Management Committee today (December 29) at Provincial Hall in Phuket Town to follow up on the progress of its renovation, together with the Chief of Phuket Provincial Livestock Office and a representative of Phuket's Soi Dog Foundation.
"There are 460 dogs in the shelter by now and the shelter opens its door to all the stray dogs, especially those that are reported to have attacked people on the street. The shelter receives about 20 – 30 dogs per month, under the project 'Keep Phuket Clean by Our Hands and Hearts'," said the Governor.
The meeting reported about the progress of building a new cement floor in the dog enclosures to make it easy to clean and reduce the smell, making the dogs less stressed.
According to the 2018 budget year plan, the Governor mentioned that they have planned to reorganise the shelter with a committee of 7 officials who will work on the different aspects of the daily operations, including fundraising, food donation, neutering and health care.
Earlier, the budget of 1.3 million baht was approved to renovate Suan Pa Bang Kanun Stray Dog Shelter. The dog cage roofs will be renovated as well as the staff compound, clinic and food storage room. One additional staff member is being recruited too.
Want to help?
People who are interested to donate to the shelter can donate to account number 805 0 83191 4 (named in Thai: Phuket Stray Dog Shelter Project).
Food donations can be given at the shelter, the Phuket Provincial Livestock Office and Damrongtham Center in the Provincial Hall. Donors will be given a certificate of donation.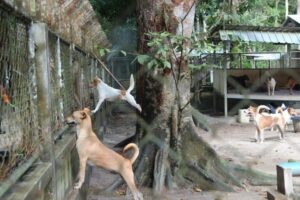 Keep in contact with The Thaiger by following our
Facebook page
.
Cabinet reshuffle coming as 4 economic ministers resign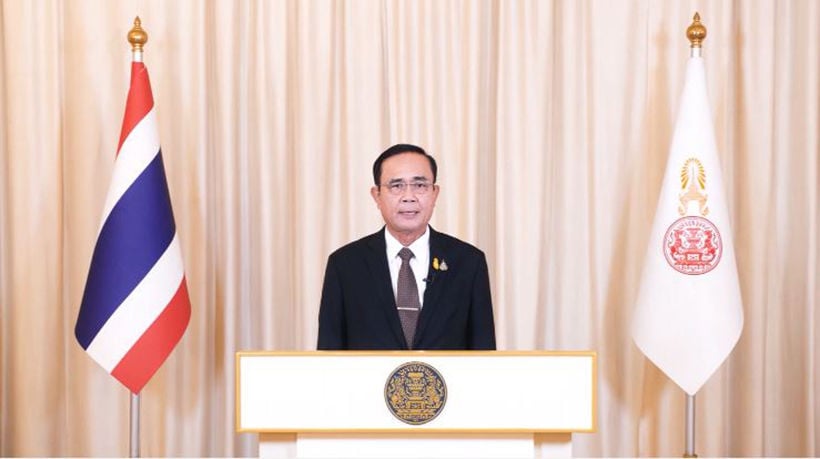 PM Prayut Chan-o-cha says he'll reshuffle the Cabinet following the resignations of 4 economic ministers from the ruling Palang Pracharat Party. The finance minister, energy minister, the minister of higher education, science, research and innovation and the deputy secretary-general to the PM and secretary to the Council of Economic Ministers held a joint press conference to announce their resignations.
Political observers say the move by the 4, who are credited with running Thailand's economy, comes after weeks of Palang Pracharat Party infighting among factions vying for power. Responding to the resignations, Prayut says that he "respects the decisions."
"But I have to move the country forward and will talk with coalition parties about a Cabinet reshuffle."
Prayut didn't confirm reports that the reshuffle is happening in September. He says the timing will depend on the political process, which he will discuss with parties in the government coalition. He confirmed that all 4 ministers who quit the party were under his patronage when he took the post of premier last year.
Asked if outsiders will be invited to participate, he said he'll consider all options.
Prayut also said today's meeting of the Council of Economic Ministers meeting has been postponed so he can meet with his team of economic advisers instead. He will then put their proposals to the CEM.
SOURCE: Nation Thailand | Nation Thailand
Keep in contact with The Thaiger by following our
Facebook page
.
Immigration official says visa amnesty extension "is unlikely"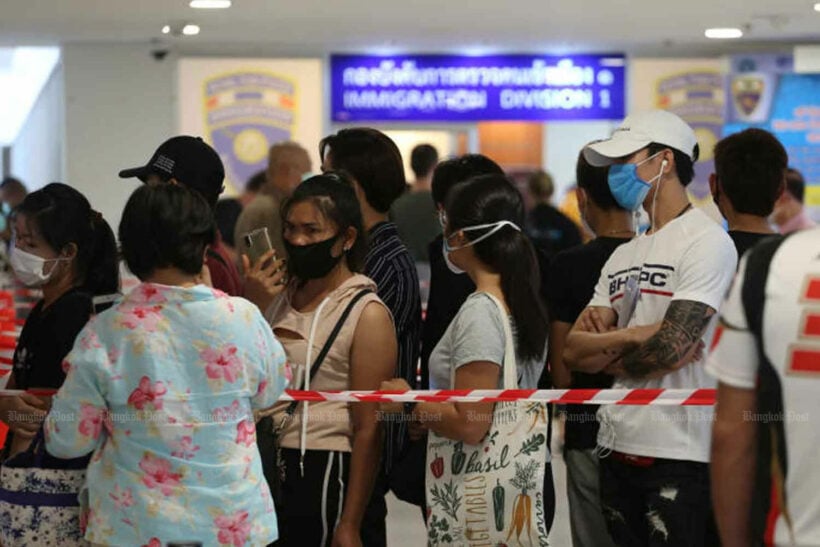 As the deadline for the visa amnesty draws closer, conflicting whispers are emerging from Immigration offices around the country.
The Thaiger is privy to a discussion with an Immigration officer this morning where an extension was said to be likely, for 1 month beyond July 31. But just this afternoon Khaosod English has published a contrary story saying that an extension of the visa amnesty for foreigners "is unlikely".
The amnesty, extended back in April, will expire at the end of this month (July 31).
Immigration spokesperson Col. Phakkhaphong Saiubon is quoted as saying that there's a need to "clear out people" as the situation of global pandemic "starts to wind down". The spokesperson's reading of the international Covid-19 situation appears to ignore the latest figures which indicate an acceleration of the global infection numbers and recently "low risk" areas firing up with "second waves" of infections.
The government issued a general amnesty which gave automatic extensions of stays earlier this year, and then extended again in April, after crowds of foreigners were queueing up at immigration offices around the country. The amnesty allowed foreigners whose visas expired between March 26 to July 31 to stay in the Kingdom without applying in person for an extension at immigration offices.
"There most likely will not be an extension. It's all quiet on that front. It's been a long time and we need to clear out people. Thailand and the Thai government are already generous. No other country has this long of a visa amnesty (another false assertion)."
If there is no extension to the visa amnesty after July 31, overstay fines as well as the 90 day report requirements will likely resume unless other measures are put into place before that date.
The spokesperson also warned foreigners "who plan to continue staying in Thailand are advised to renew their visas and 90 day reports before then".
"I recommend you do it within this month."
The bottomline, without any news of an extension to the amnesty, is that foreigners, whose visas have expired, should apply to extend their visa or, if they are unable to, contact their Embassy for a letter explaining the reasons they are unable to leave the Kingdom.
"It also depends on the flights available for you. But if your embassy won't issue a letter for you, then you may have to leave since there's not much we can do."
Before the visa amnesty was granted, immigration officials required as many as nine separate documents for foreigners to extend their stay for up to 30 days. They include land deeds, rent contracts, and even selfies of foreigners with their accommodations.
SOURCE: Khoasod English
Keep in contact with The Thaiger by following our
Facebook page
.
Mayor of Seoul dead in apparent suicide after harassment allegations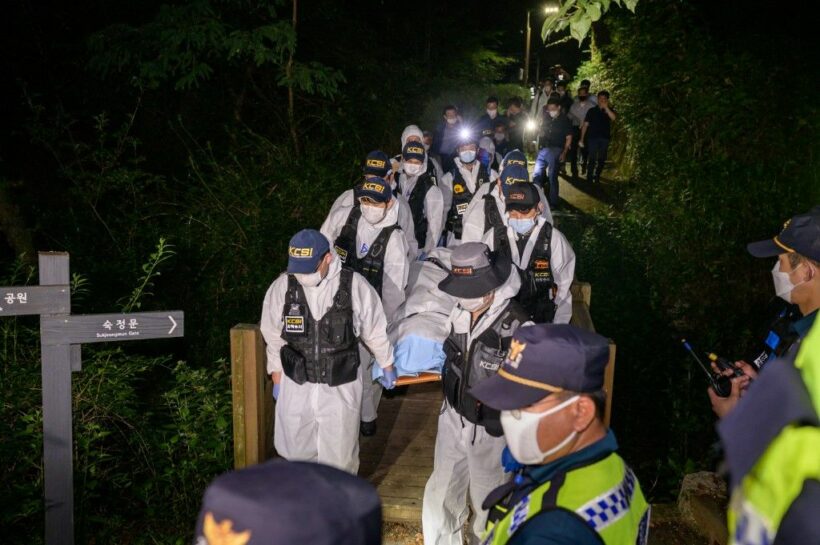 Seoul's mayor has died in an apparent suicide the day after a former assistant made allegations of sexual harassment against him. Park Won-soon, a former human rights lawyer and potential presidential candidate, was found dead earlier yesterday on a mountain in the South Korean capital.
The death is by far the most dramatic end to a #MeToo case in the nation, a male-dominated culture where the women's movement has brought down dozens of prominent men in various fields. If Park's death does prove to be a suicide, he will be the highest-profile politician to do so since former president Roh Moo-hyun jumped off a cliff in 2009, after corruption allegations swirled involving family members.
Police say there were no signs of foul play, and according to Yonhap news agency, Park is presumed to have taken his own life. His daughter reported him missing yesterday, saying he had been unreachable after leaving a message that "sounded like last words".
A heavyweight in the ruling Democratic party, Park ran South Korea's vast capital – home to nearly 20% of the nation's population – for nearly a decade. He won 3 elections while promoting gender and social equality, and wasn't shy about his ambition to replace incumbent President Moon Jae-in in 2022. His death comes a day after his former secretary filed a police complaint, reportedly involving sexual harassment, against him.
South Korea remains extremely patriarchal despite recent economic and technological advances, but in the last 2 years has also seen a widespread #MeToo movement, sparked by a prosecutor who publicly accused a superior of groping her at a funeral. Perpetrators have included a former provincial governor and presidential candidate who was jailed last year after his female assistant accused him of repeatedly raping her.
According to a document purporting to be the statement by Park's victim, his personal secretary from 2015, he committed "sexual harassment and inappropriate gestures during work hours". After work, she reports, he sent her "selfies of himself in his underwear and lewd comments" on a messenger app.
"I brainwashed myself, bearing tremendous fear and humiliation, that all of this was in the interest of Seoul City, myself, and mayor Park."
The police confirmed a complaint had been filed but declined to confirm the details. Park's death means the investigation will automatically be closed.
Park was a student activist in the days of South Korea's military dictatorship – he was jailed for his part in a rally against then-president Park Chung-hee – and later became a human rights lawyer. He defended many political activists and ironically, in the 1990s won South Korea's first sexual harassment conviction, in a landmark judgment.
The Seoul city government said a memorial altar will be set up in front of the city hall for citizens to pay respects.
SOURCE: Bangkok Post
Keep in contact with The Thaiger by following our
Facebook page
.