Thai young gun Varanyu leads by eight shots at Singha Laguna Phuket Open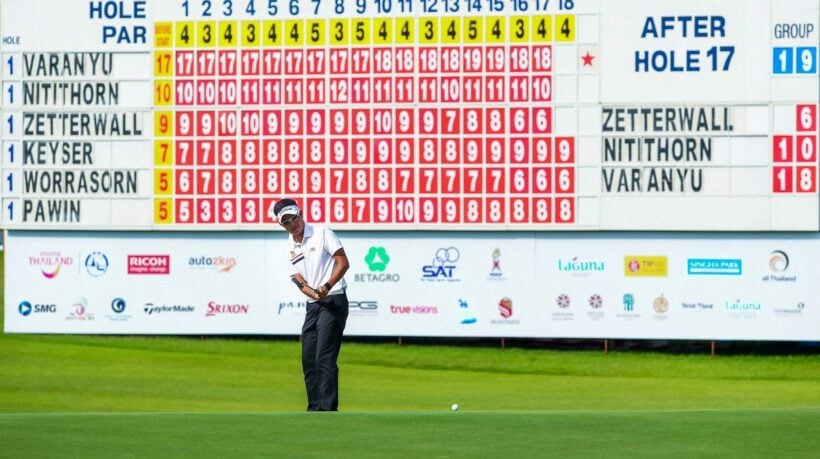 Thailand's Varanyu Rattanaphiboonkij extended his lead by eight shots after shooting a one-under-par 69 in the third round of the Singha Laguna Phuket Open on Saturday.
The 21-year-old Thai, who has led since round one, put himself in prime position for his first professional win. He leads on 18-under-par 192 at the award-winning Laguna Phuket course.
New Asian Development Tour winner Nitithorn Thippong, who was victorious last week, posted a 70 to sit in second place while Mathiam Keyser of South Africa returned with a 68 for third place, nine shots back of the leader.
Pawin Ingkhapradit registered a 67 for fourth place in a leaderboard which was mostly dominated by Thai golfers in the event sanctioned by the ADT and the All Thailand Golf Tour.
Varanyu played superbly in the first two rounds but he struggled with his tee shots and a cold putter in a round of two birdies against one bogey.
"I was struggling with my drives today and hitting it left and right. I couldn't make any birdies in the first nine too so when I made the 15-footer for birdie on hole 10 I was very relieved. I hit a really good approach on hole 14 with my five-iron but I missed the five-footer for eagle. Overall my putting was not as good today," said Varanyu.
"I think hole 16 was a tough hole because the pin position today was crazy. It was right in behind a bunker so you had to hit it to the middle of the green and play it safe. I hit my shot left of the green and duffed my first chip, so I had to two-putt from off the green," added the Thai who is nicknamed 'Bank'.
Compatriot Nitithorn was disappointed not to close the gap on his compatriot Varanyu after trading three birdies against as many bogeys. The young Thai currently sits in third place on the ADT Order of Merit and hopes to cement his position with a solid result on Sunday.
"A lot of the pins today were on slopes and I had to play it safe and hit it to the middle of the green a lot. I struggled with my driver today too and I only made six fairways," said the 21-year-old Nitithorn.
Nitithorn will apply the same game plan which helped him to victory on the ADT in Malaysia last week.
"I enjoyed playing and watching Bank today. He played so well and I am happy to be playing with him in the final group tomorrow. I just need to think like how I did last week and make as many pars as I can and we'll see how it goes tomorrow," added the Thai.
Thailand's Phanuvich Onchu had reason to celebrate after acing the eighth hole from 188 yards with a six-iron. He returned with a round of 70 but his hole-in-one earned him a bottle of wine, a two-night stay at Cassia Hotel and a complimentary round of golf at Laguna Golf Phuket.
The Singha Laguna Phuket Open is the eighth leg of the 2018 ADT. Official World Golf Ranking points are offered on all ADT events with the winner earning a total of six OWGR points while the top-six players and ties earn points on a sliding scale.
The leading five players on the ADT Order of Merit at the end of the season will earn playing rights on the premier Asian Tour for the 2019 season.


Leading round three scores
192 – Varanyu RATTANAPHIBOONKIJ (THA) 62 61 69
200 – Nitithorn THIPPONG (THA) 64 66 70
201 – Mathiam KEYSER (RSA) 66 67 68
202 – Pawin INGKHAPRADIT (THA) 66 69 67
204 – Worrasorn SUWANPANANG (THA) 68 67 69
205 – Kasidit LEPKURTE (THA) 75 66 64, Kwanchai TANNIN (THA) 69 68 68, Hein SITHU (MYN) 68 68 69, John Michael O'TOOLE (USA) 65 71 69, Oscar ZETTERWALL (SWE) 64 67 74


Read more headlines, reports & breaking news in Phuket. Or catch up on your Thailand news.
Belarusian 'Anastasia' will be in Moscow detention another 3 days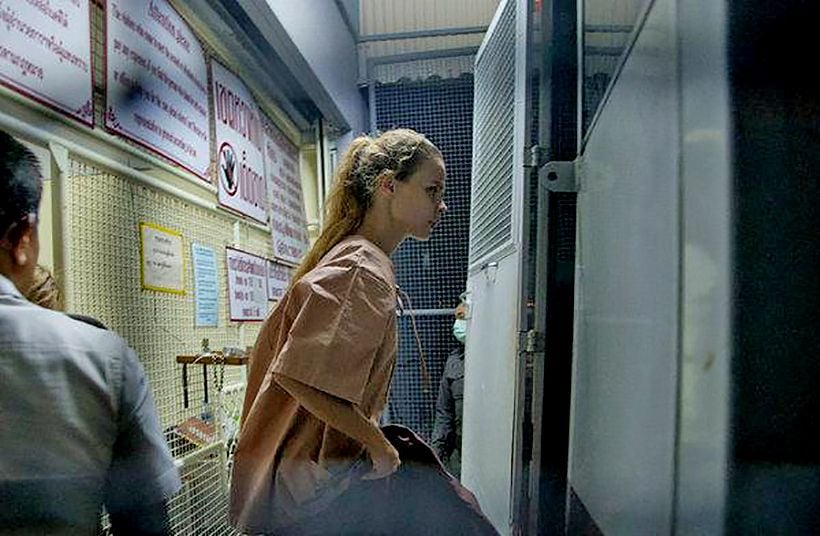 Anastasia Vashukevich, aka. Nastya Rybka, the Belarusian model/sex-educator/Instagramer who spent a year in a Thai jail awaiting last week's Court case, and was then deported, remains in a Moscow jail as of last night after the presiding judge decided to extend her detention by 72 hours.
She was arrested at Moscow airport on Thursday after being deported from Thailand on Tuesday night. She, and seven others, pleaded guilty last Tuesday for participating in a "sex training course" in Pattaya nearly 12 months ago.
During a hearing yesterday in Moscow, she said she did not want to "in any way compromise aluminum mining magnate, Oleg Deripaska".
According to Interfax she said in the hearing, "I have had enough."
Her lawyer Dmitry Zatsarinsky, told reporters that his young client "has committed no crime" and had "nothing to do with" Deripaska and "still less with US President Donald Trump".
On Friday her lawyer denounced Anastasia's arrest, which was made while she was in transit in Moscow after a flight from Thailand on her way to Belarus.
The Belarusian gained notoriety last year when she claimed she had proof of Russian collusion with the Trump Presidential election campaign. She has now had her detention in Moscow extended by three days by a Russian court.
According to Interfax reports, she told the court she denied the accusation of prostitution, telling the court that "I am not guilty of what I am accused."
She unexpectedly pleaded guilty in a Bangkok court to charges of prostitution relating to last February's sex training course in Pattaya. The Thai judge suspended the group's sentences but deported them, effective immediately.
Anastasia had been in custody in Thailand since a police raid in what AFP described as the "sleazy seaside resort of Pattaya" last February.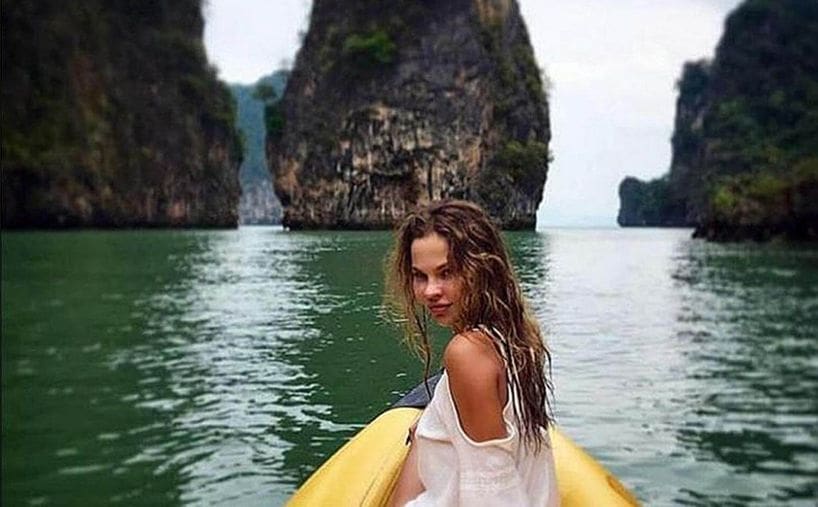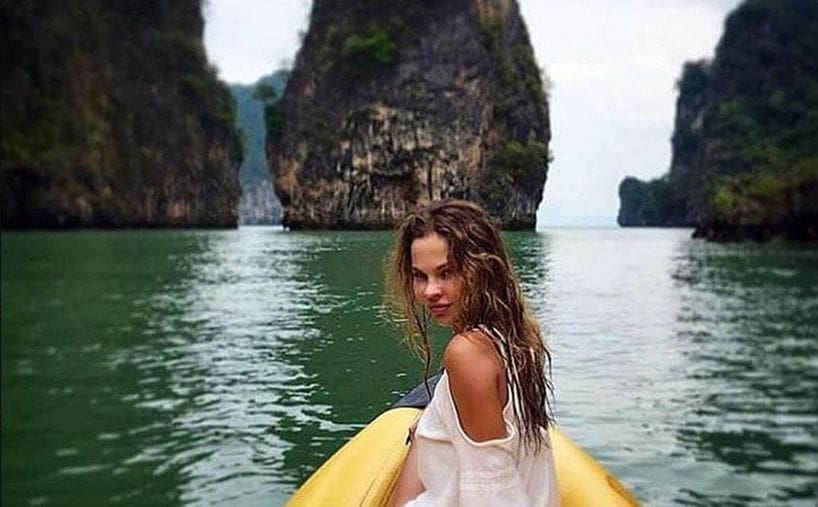 Anastasia cruising around Phang Nga in 2017 – Instagram
New 500 baht fine for drunk cycling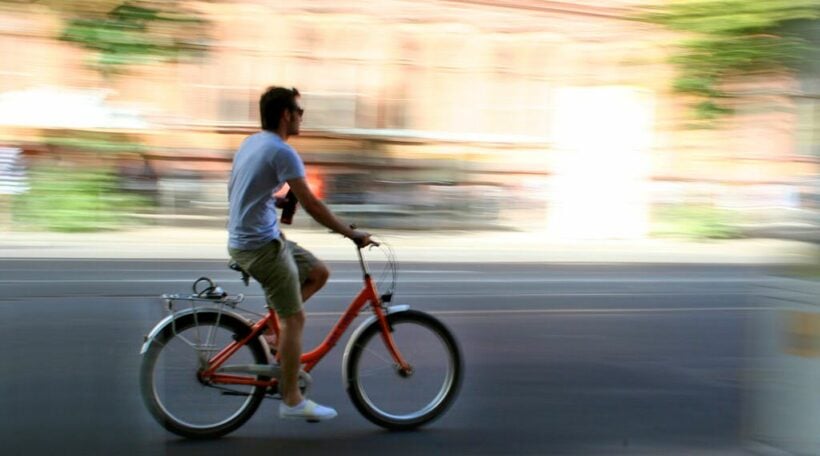 Up to now drink-driving cyclists have not been included in the laws governing drunk drivers of other vehicles in Thailand. But with the rising popularity of cycling as a fitness trend, that's about to change with a new 500 baht fine if bought drunk in control of a bike.
Drunk bicyclists who are currently immune to litigation because there is no law to make drunk cycling an offence. The new laws are covered in the upgraded traffic bill which passed the first reading of the National Legislative Assembly last week.
But, according to the Bill drafters, riding bicycles in public while being drunk is still regarded as a petty offence and the penalty would be just a 500 baht fine.
The same new traffic bill also seeks to empower traffic police to seize driving licenses of drivers found to be drunk behind the wheels and judged incapable of driving.
The bill will also merge the Land Transport Department and police databases to coordinate and share information on backgrounds and traffic violations records of drivers and motorcyclists.
A score system is being introduced under which law-breaking drivers will have their scores cut for every traffic violation.  Everyone will start a 12 month period with 12 points. If the scores are down to zero, the drivers will have their driving licenses suspended for up to 90 days.
Bangkok smog: Police get out their hoses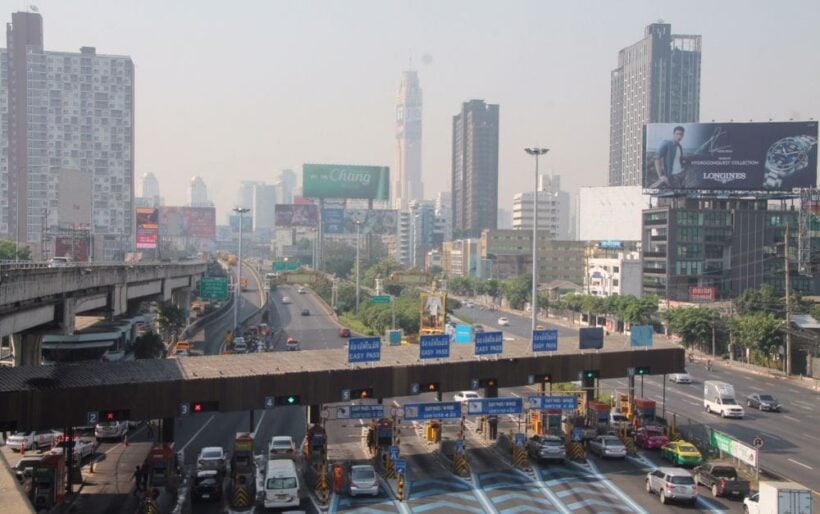 by Kornkamon Aksorndech 
Traffic police and volunteers sprayed water at four locations in Bangkok this morning in a bid to curb the dust and smog pollution.
Pol Maj General Nithithorn Jintakanon, commander of the Traffic Police Division of the Metropolitan Police Bureau, presided at the dispatch of 150 police officers and volunteers from his headquarters on Vibhavadi-Rangsit Road.
They chose four high-traffic locations and sprayed water in front of the Government Complex on Chaeng Wattana Road, the Din Daeng expressway toll gates and at the Ratchadapisek-Lat Phrao intersection on Lat Phrao Road and a Ramkhamhaeng Road intersection.
#pissinginthewind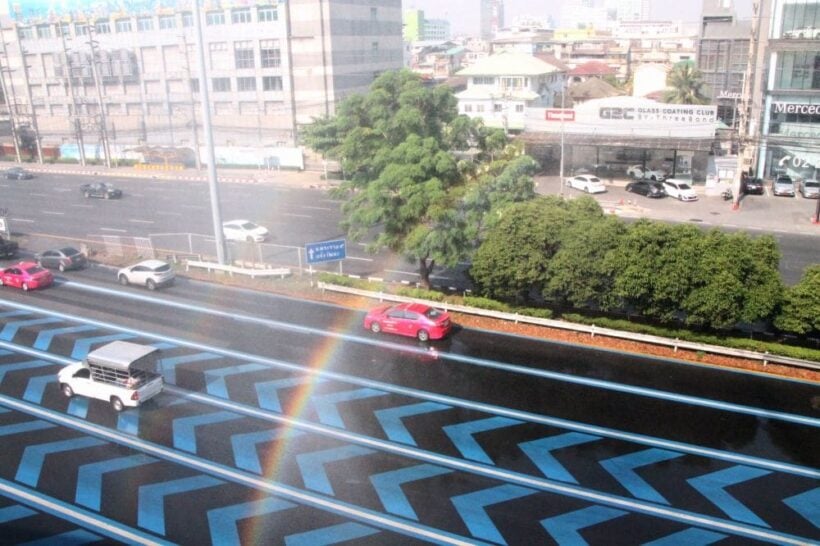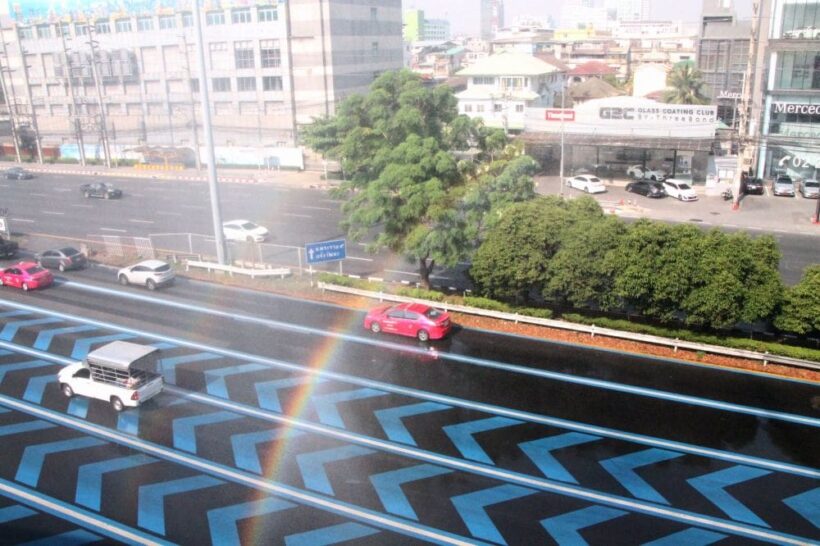 SOURCE: The Nation