Suspect arrested with 180 kg kratom in refrigerated truck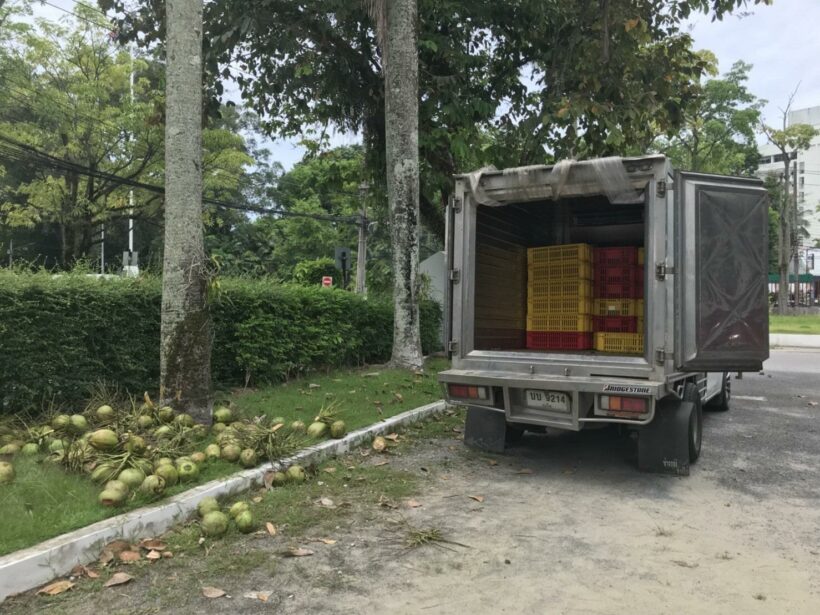 A man has been arrested with 180 kilograms of kratom which were being transferred by a coconut refrigeration truck yesterday in Rassada.
Police arrested 28 year old Tanabat Petmanee from Songkhla. They then seized 180 kilograms of kratom leaves inside his refrigerated truck.
The arrest came after police received a tip-off that Tanabat was transferring kratom to Phuket. Police were notified that Tanabat was driving back to his house in Rassada after delivering coconuts for his employer. Police arrested Tanabat at his house.
Tanabat was taken to the Phuket City Police Station where he has been charged with illegal possession of Category 5 drugs with intent to sell.


Train derails heading south from Bangkok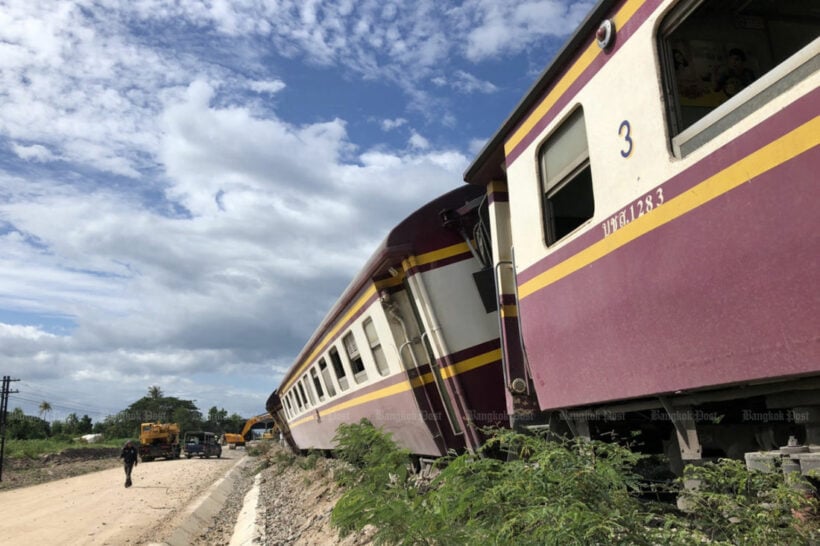 PHOTO: Chaiwat Satyaem
Rail services between Bangkok and southern provinces were delayed yesterday after a passenger train jumped tracks in the Cha-am district of Phetchaburi province, about four hours south of the capital. There were no injuries reported.
The incident happened around midday yesterday.
The State Railway of Thailand reports that train 55 from Thonburi to Lang Suan station in Chumphon province became derailed at 12.04pm after departing the Huay Sai Tai station in Cha-am.
They confirmed that six carriages had jumped off the rails. They believed that the theft of steel nails used to fix the tracks to the sleepers had been stolen. Railway teams and cranes went to the scene to lift the carriages back on the tracks and assess the damage.
The Hua Hin station mater noted that there were some of the large steel nails missing from the accident scene.
Trains in both directions were affected for the rest of the afternoon but were able to resume early last night.
SOURCE: Bangkok Post
Environment Ministry wants to increase dugong populations by 50% over a decade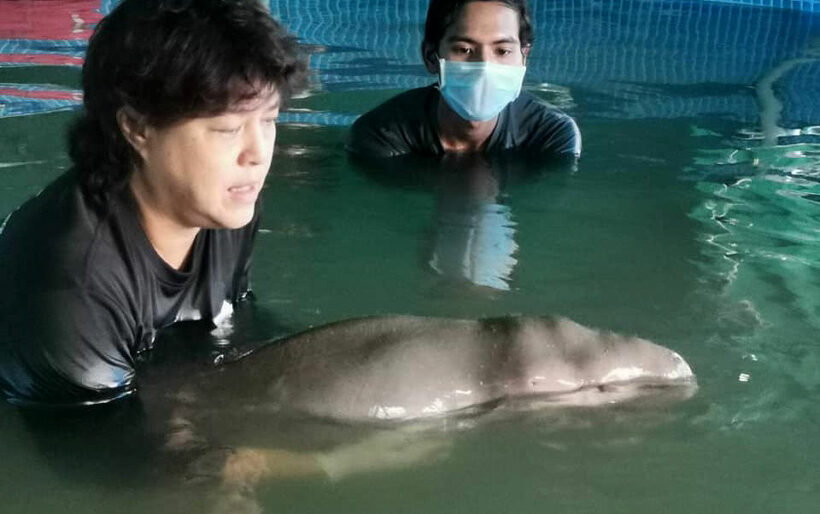 "Dr. Thon Thamrongnawasawat says that trash in the seas was the main cause of the death of many endangered marine species."
Pinsak Suraswadi, deputy director-general of the Marine and Coastal Resources Department, says the Ministry of Natural Resources and Environment wants to increase the population of dugong in Thailand's waters by 50% in the next ten years.
The effort will be applied to areas other than Koh Libong in the southern province of Trang, which is home to most of the dugongs, such as Koh Phra Thong in Phang Nga province, Koh Si Boya in Krabi province, Koh Lidee and Koh Sarai in Satun province, Koh Kood, Koh Mark and Koh Kradan in the eastern province of Trat, Kung Krabane bay in Chanthaburi, the Prasae estuary in Rayong province, Sattahip bay in Rayong and Pattani bay in Pattani province.
Pinsak said that the efforts to increase the population of dugongs would be jointly undertaken by officials and communities, with a plan to ban the use of fishing gear which poses a threat to endangered marine animals, including dugongs, in order to reduce the fatality rates from such fishing gear. They also plan to preserve sea grass, the main source of food for dugongs.
Pinsak chaired the first meeting of a working committee to protect rare marine species yesterday following last week's tragic death of Mariam the baby dugong, after she had been cared for by officials of the Department of Marine and Coastal Resources for the past four months.
Nanthrika Chansue, director of the Veterinary Medical Aquatic Animals Research Centre at Chulalongkorn University, said at the meeting that plastic waste in the feeding grounds of the dugongs must be removed before they pose an even greater threat to the rare animals.
Dr. Thon Thamrongnawasawat, vice dean of the Fisheries Faculty at Kasetsart University, said that trash in the seas was the main cause of the death of many endangered marine species, adding that about 80% of the trash in seas around Thailand originated from the mainland and has been washed into the sea in rivers.
SOURCE: Thai PBS World
Hong Kong's protests have been good for Bangkok's luxury condo market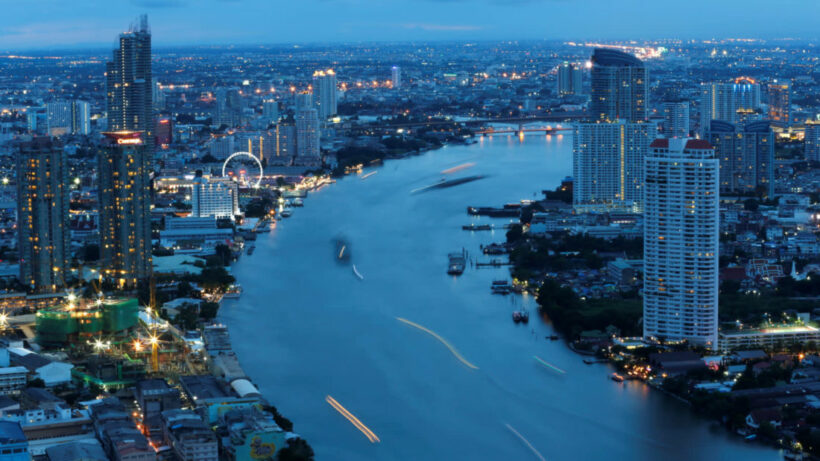 High end Hong Kong investment is turning away from the Chinese business hub and looking outside for new investment opportunities.
Thailand's high-end luxury condo market has been one of the beneficiaries.
Keerin Chutumstid, from the Bangkok-based Magnolia Quality Development, says about 40% of the condos in a 52 storey Bangkok luxury tower development that opened last week have already been sold to buyers from mainland China, Hong Kong, Taiwan and Singapore. Among those, mainland Chinese and Hong Buyers are the top foreign customers.
The new luxury tower on the Chao Phraya River has 146 units, which are managed by 5 star managers Mandarin Oriental Hotel Group. Prices start at 65 million baht (US$2.9 million) and go up to 533 million baht for the larger penthouses.
Keerim says that the protests give them an advantage for the project.
"If you look at Thailand right now, compared to other countries, we have a good level of political stability."
Meanwhile, Thailand leading property portal FazWaz says there has been a noticeable surge of enquiries in the past few months. CEO Brennan Campbell says a lot of the new interest is coming out of Hong Kong and Mainland China….
"FazWaz has noted an influx of investment inquiries over the past two months. The city's high-end market offers some of the best condominium properties in the world at prices still well below other mature property markets. We're also seeing a lot more inquiries into the medium-level condo market from 6-15 million baht as well as for the ultra-luxury market over 35 million baht."
Last week, Hong Kong's CK Asset Holdings and Sun Hung Kai Properties decided to postpone sales of new multi-billion-dollar projects, and transactions in the secondary market are down sharply, especially for luxury homes. The slump follows two months of protracted and often violent street protests by Hong Kong's pro-democracy movement.
It's believed that the circumstance could add another tailwind to the luxury market in Bangkok, where the last decade's tourism boom has put the city on the map for investors, especially mainland Chinese who have buying up big.
Bangkok real estate has also been attractive to international investors because, even after years of gains, prices are still often cheaper than in less travelled-to cities such as Jakarta, Kuala Lumpur, or Vietnam's Ho Chi Minh City.