Statement from Tiger Marine Charter Phuket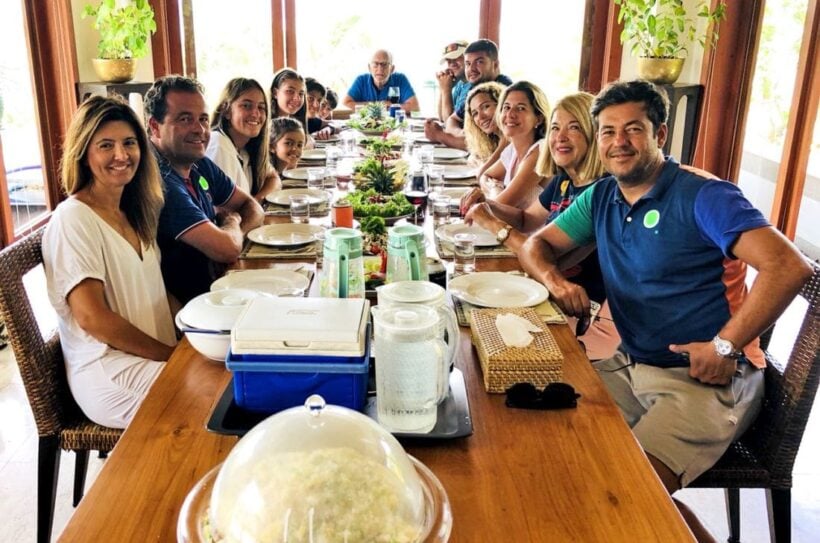 Following the incident over the weekend where a 70 foot charter yacht from Tiger Marine ended up stranded off Koh Phi, necessitating the Spanish tourists to swim over to another vessel to be taken back to shore, Tiger Marine have contacted The Thaiger (no connection) and asked us to post their response.
The original story HERE.
Here's the Tiger Marine letter of response…
It has been widely reported by Thai TV and the press regarding our incident on one of our boats near the Phi Phi Islands on Saturday, September 15.
We would like to put the story right as we have been receiving some facetious remarks .
First of all, I would like to report that at no time was our boat, crew or passengers in any danger whatsoever.
SHANGANI was on a 6 day, 5 night charter when she was on her way back from Phi Phi to Phuket in the afternoon of Saturday, September 15.
On September 11, when the charter began, the weather was good, and there were no government warnings. It was September 15 when this incident occurred.  The warnings were issued on September 16 but we were already on our early return journey to back to Phuket on 15th as we knew the weather would be bad on the 16th.
The seas were not smooth but perfectly OK for a boat of this size.
The boat suffered dual engine failure a few miles off Phi Phi due to contaminated fuel, which left it motionless at sea. The engines are brand new.
Attempts by the crew to restart the engines were fruitless and passing boats just took photos and videos of the boat instead of offering help, despite the fact that our crew let off flares, which signals request for help.
Phone and radio signals was disrupted due to the weather circumstances, hard downpours and strong wind at the time.
Our crew and a couple of our passengers took the ship's large dingy to Phi Phi to search for a tow back.
This was achieved with the help of the headman of Tonsai bay.
The passengers themselves wanted to get off the boat and go back to shore as it was uncomfortable on the big boat due to uncomfortable seas and it was their decision to leave our boat and board the rescue speedboat.
Due to the sea state the small boat could not raft up to the big boat. It was the customers themselves that wanted to transfer by the method they did, and did not come with the crews recommendation.
Rightly or wrongly the transfer was successfully made although I reiterate that there was NO danger staying on board albeit uncomfortable.
The movies taken from the passing boats was what was released to the press and incorrectly described.
Our 14 passengers reached Phi Phi a short while later where we had already booked their rooms ready for check-in at the Cabana hotel. The rescue boat then went back and towed our boat back to Tonsai bay.
Safety is our main priority, and having achieved their safe arrival onto land, we then organized their luggage to be delivered to their hotel.  All guests came back to Phuket by ferry the next day (Sunday, September 16)
We met them at the ferry and took them to our Villa in Surin for a sumptuous lunch and listened to their comments and concerns in an apologetic manner.
Lovely people and my description above is their words.
By the afternoon when we transported them to the airport for their journeys back to their homeland we were all solid friends with hugs and fond farewells and invites to Spain and their wishes to return and for another charter with us when their time permits.
They had nothing bad to say and left as happy returning tourists. We have been thanked profusely for the way we handled it all.
They were Spanish from the Grand Canaries and love Thailand. The leader of their group is a Boeing 787 Captain with Air Europe. We have been in contact with the Spanish consulate in Bangkok regarding the safe arrival of all guest back home.
To sum up the situation, incidences sometimes happen at sea, and providing for the safety for our passengers is our utmost priority. A successful outcome was achieved.
The fuel contamination problem is being sorted out and the boat will return to Phuket soon.
Sincerely
Duangjai Meejanphat
Director
TIGER MARINE CHARTER




Read more headlines, reports & breaking news in Phuket. Or catch up on your Thailand news.
Man found dead in pickup with charcoal burner in Rassada, Phuket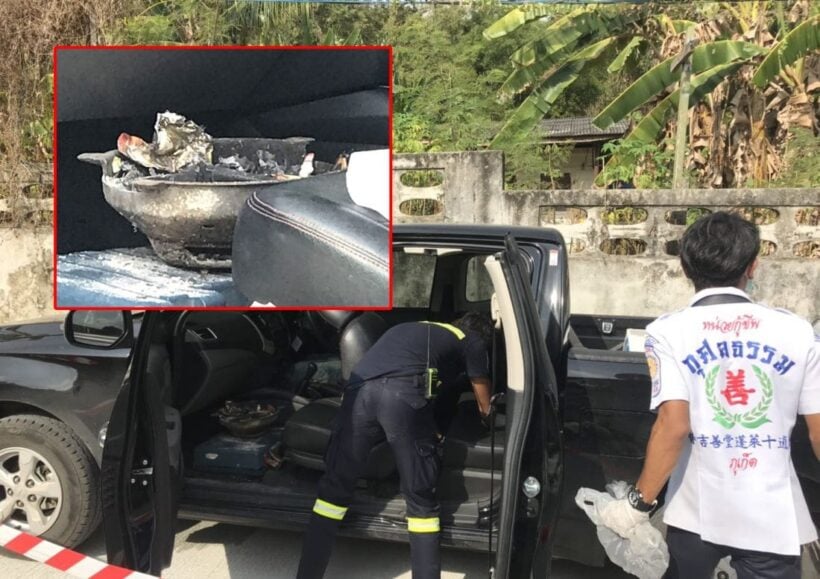 A man has been found dead inside a pickup truck with a coal burner also inside the vehicle in Rassada this morning. Police were notified of the situation in Soi Muen Sri in Rassada.
Police and emergency responders arrived to find the man's body in the parked pickup truck. The man was identified as 28 year old Weerawat Pakdeewirot from Phuket.
A coal burner was also found inside the vehicle. A suicide note addressed to his girlfriend was also found. The letter stated that he was facing financial problems. His body was taken to Vachira Phuket Hospital.
Police says that Mr Weerawat is a CCTV camera and internet contractor. His home was only 50 metres from the scene. Yesterday locals noticed his pickup parked at the scene. Today they saw the pickup in the same location and went to check out the situation.
Police are continuing their investigation.
If you or anyone you know is in emotional distress, please contact the Samaritans of Thailand 24-hour hotline: 02 713 6791 (English), 02 713 6793 (Thai) or the Thai Mental Health Hotline at 1323 (Thai).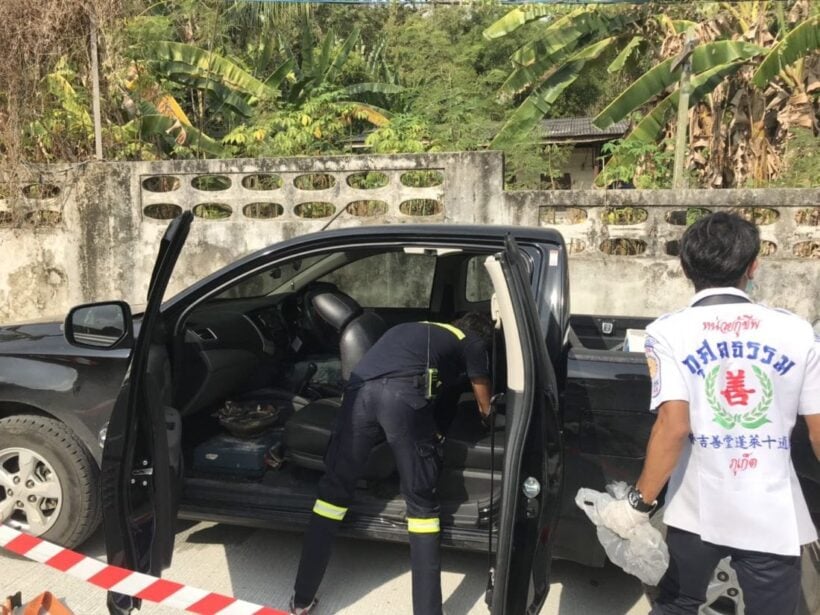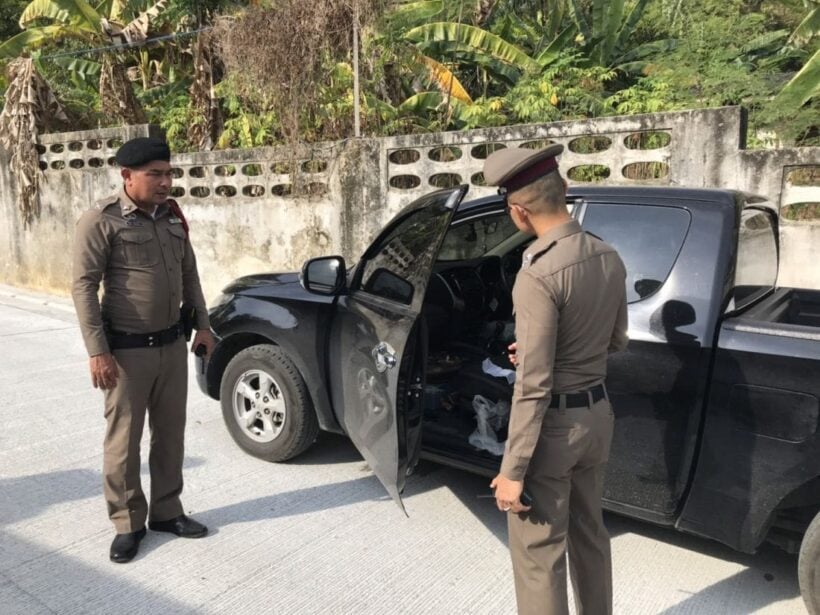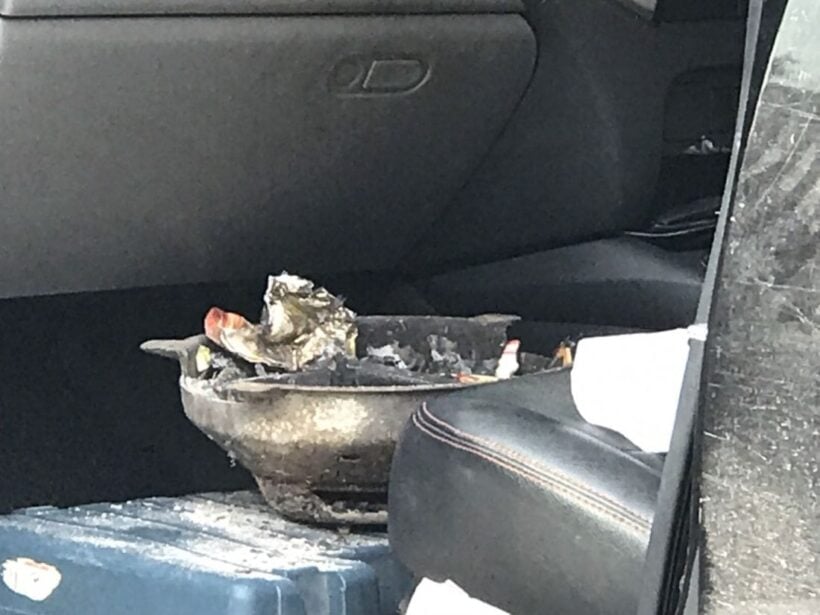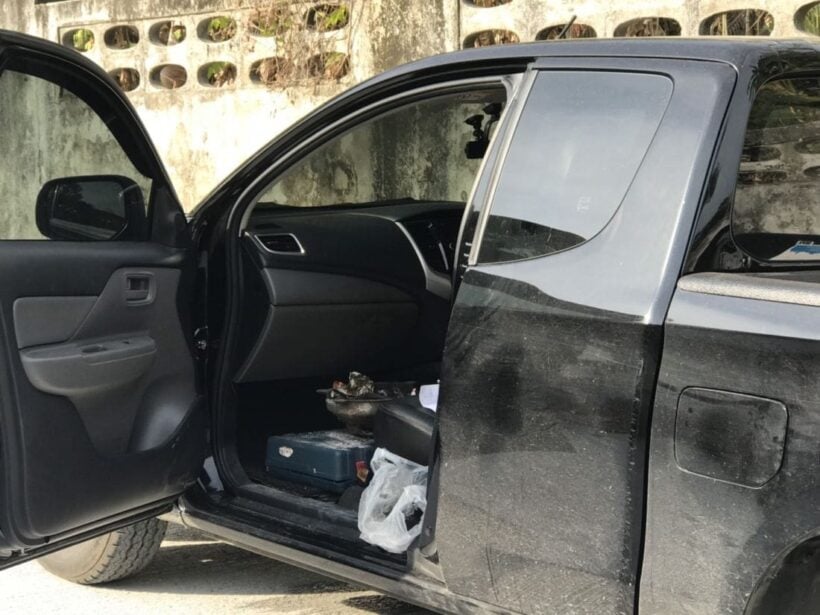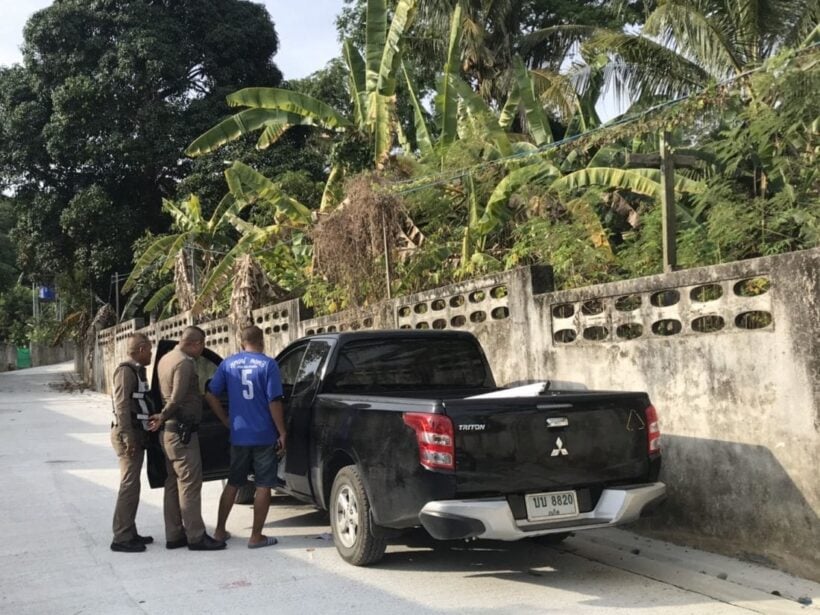 Injured Brahminy Kite (bird) rescued in Karon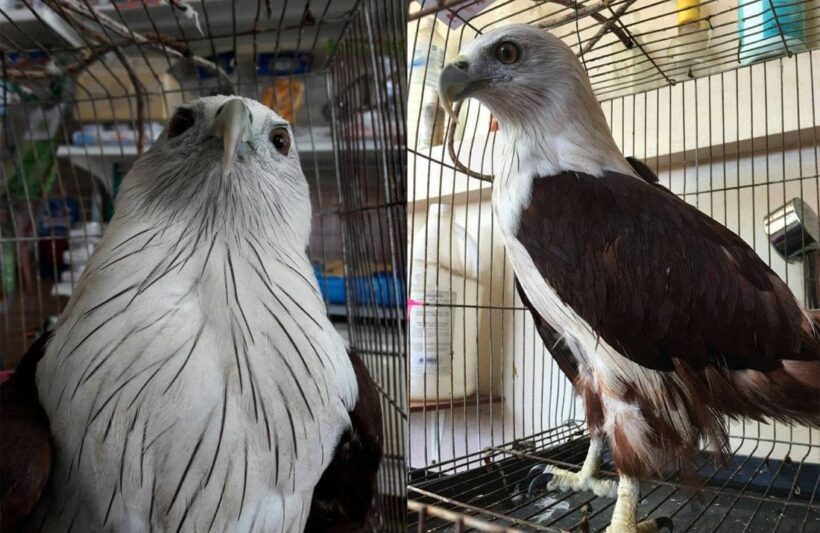 An injured Brahminy Kite has been rescued by locals in Karon, Phuket.
The mature Brahminy Kite was found in Karon this week. Locals who found the bird contacted the head of Khao Phra Thaeo Non-Hunting Area, Pongchart Chueahom.
The Brahminy Kite had a wound similar to a bite wound under its wing. It was unable tp fly. It is now being treated at a pet hospital in Thalang until it is ready to be set free.
The Brahminy Kite is a protected species in Thailand.
The brahminy kite (Haliastur indus), also known as the red-backed sea-eagle in Australia, is a medium-sized bird of prey in the family Accipitridae, which also includes many other diurnal raptors, such as eagles, buzzards, and harriers. They are found in the Indian subcontinent, Southeast Asia, and Australia. They are found mainly on the coast and in inland wetlands, where they feed on dead fish and other prey. Adults have a reddish-brown body plumage contrasting with their white head and breast which make them easy to distinguish from other birds of prey – Wikipedia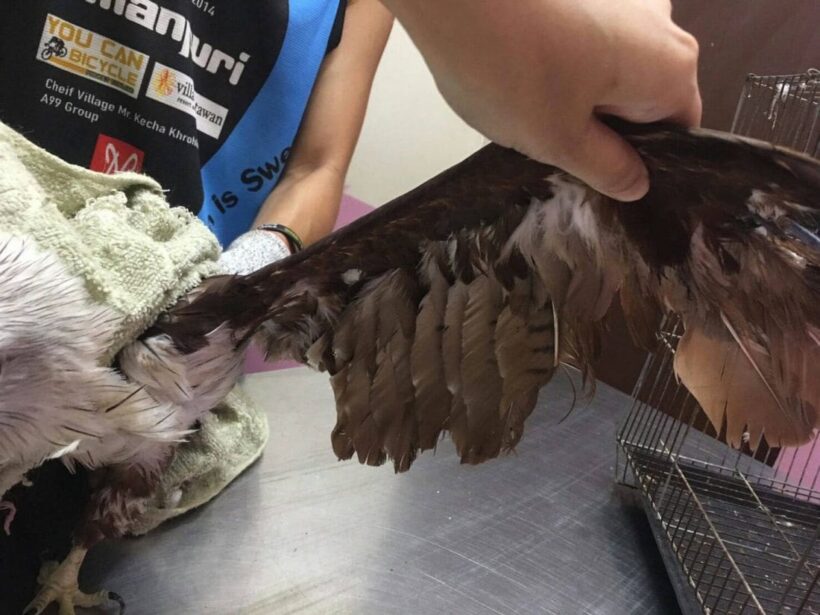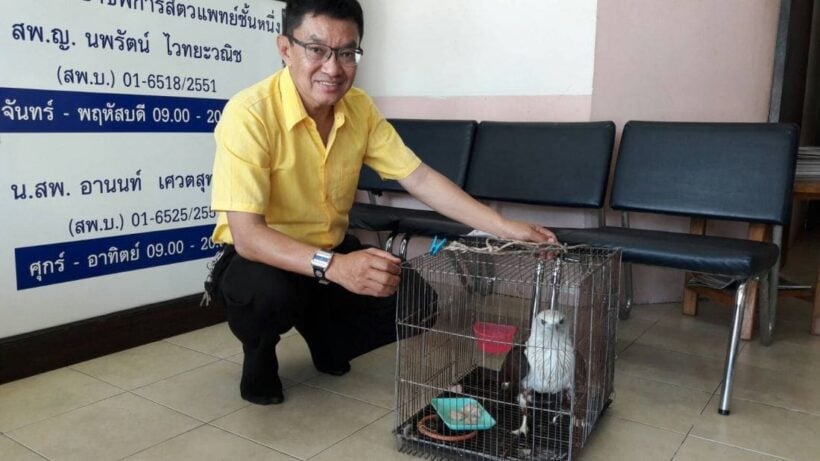 Army commander visits Phuket residents to discuss water shortage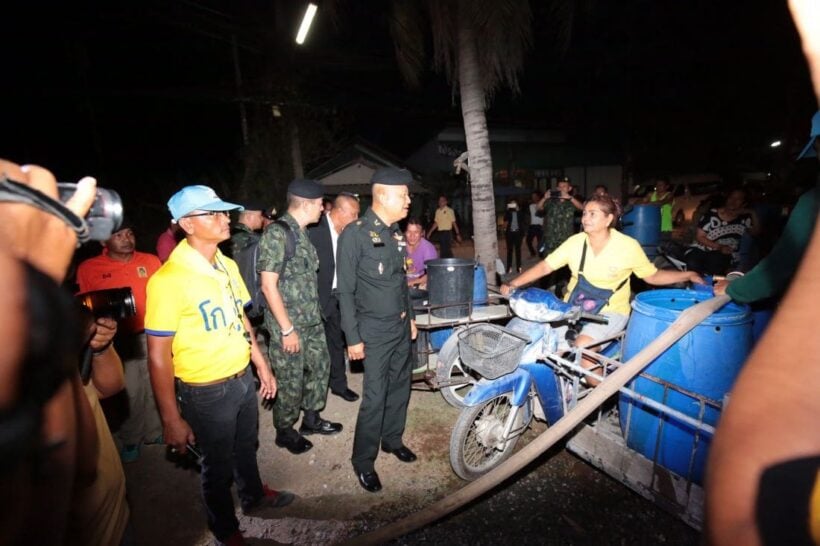 Lt Gen Pornsak Poonsawat, the Commander of the Fourth Army Region (Southern) in Nakhon Si Thammarat, came to Phuket to visit residents over water shortage issues in Rassada.
Lt Gen Pornsak says "we were contacted from the Phuket Governor that Phuket is facing serious water shortages. We have come here with water trucks to help residents to join with other government agencies in Phuket.
There are now 23 water trucks which are delivering free water to residents around Phuket. However we need cooperation from every one to save water."