Special Report: Full moon fever more contagious on East Coast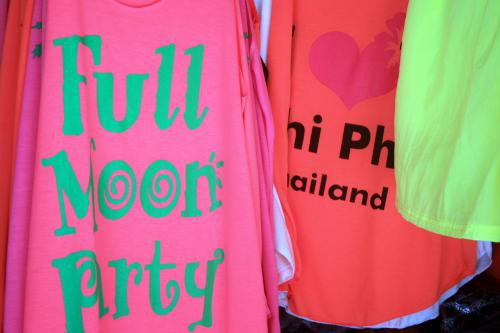 Special Report

In a country that markets itself to the world as "fun", the debaucheries of Thailand's full moon parties have stolen the spotlight as concerns mount over the safety of young partygoers seeking to break loose from reality and walk on a moonbeam.

The Phuket Gazette's Chutharat Plerin reports

PHUKET: Australia's Honorary Consul in Phuket condemned all full moon parties in Thailand last week, citing them as the catalyst for deaths, rapes and robberies of youthful party-goers.

"I will say to you that every full moon party is dangerous, especially the main one in Koh Pha Ngan. There are some bad people looking to take advantage of the tourist relaxing," Australia's Honorary Consul in Phuket Larry Cunningham told the press.

However, authorities on another island with full moon parties, Phi Phi, deny that there are increased risks during the full moon. They explained that the island actually sees a decrease in the number of revelers during the full moon.

"Phi Phi doesn't have a big party when there is a full moon. Most of the tourists who stay here will go to the party on Koh Pha Ngan, and come back here the day after the party," the head of the Phi Phi Police Station, Danai Niyomdecha, told the Phuket Gazette.

Mr Cunningham's allegations against all full moon parties were made in an attempt to balance the alluring images presented in the Australian press, which recently ran a story by a journalist extolling Thailand's "must experience" once-a-month nightlife.

"An Australian journalist has written in a newspaper that everyone should go to the full moon parties, because they are fantastic. He did not mention any of the dangers," Mr Cunningham said. "All I did was give balance, saying that it is not all good at these parties."

"Nobody wants to stop young people from having fun. Thailand markets itself as a place of fun, but people need to be very careful," Mr Cunningham said.

One major concern cited by Mr Cunningham was the prevalence of illegal drugs at full moon parties. Most notably, cocktails made from leaves of the mild narcotic kratom and some chemicals similar to DEET.

"We have Australian undercover agents go to these parties to see what they are like. We have information that at some of them, people poison the drinks and mix something like DEET and kratom into the mixer," he said.

Frequent raids of bars in Phi Phi do uncover stashes of kratom, ya bah (methamphetamine), ya ice (crystal methamphetamine) and marijuana, said Lt Col Danai. However, many of the party drugs associated with full moon parties in places such as Koh Pha Ngan are not found on Phi Phi, he said.

"Most drugs we find are sold by hotel staffers, because of our strict penalties against bars found selling drugs," Col Danai said.

If police discover that drugs are being sold from a bar, the entire bar will be closed down, he said.

Phi Phi Hospital Director Duangporn Paothong agreed with Col Danai that Phi Phi full moon parties were not nearly as big as those found on Koh Pha Ngan.

"Bars here offer drink promotions, and encourage dancing on the beach, but it's not anything like Koh Pha Ngan, where the whole beach celebrates together," said Dr Duangporn. "And since the parties are not so well-known here, the number of accidents that send people to the hospital are low."

"On September 20, the day after the Phi Phi full moon party, we had nobody connected with the revelry brought to the hospital," he said.

Steps are being taken to ensure the safety of full moon partygoers, said Superintendent of the Koh Pha Ngan Police, Prachoom Rueangtong.

"We have 100 CCTV cameras keeping an eye on the party areas. There are more cameras across the island," explained Col Prachoom. "Right now, we are also finding ways to get more CCTV coverage across the beach."

Most cases that the police deal with concern missing property.

"The majority of injuries during the party are minor, and caused by falls, and we do not keep track of them," said Koh Pha Ngan Public Health Office Prasit Ritthidet.

"Mobile offices in the party area that staff police, rescue workers, health and medical officers and also some volunteers who can speak English are making a big difference to tourist safety," Mr Prasit said.

When speaking about the full moon parties on Koh Phan Ngan, Mr Prasit touched on the subject of drug use.

"I've never heard about DEET being mixed into drinks, but I do know that spurious whiskey and psilocybe mushrooms have been found in the past. However, police and our officers have become more strict about cracking down on these things," he said.

The Surat Thani Excise Office inspects every bar before the night of a full moon party to ensure that potentially harmful low-grade alcohol is not being mixed into other bottles, said Mr Prasit.

"This alcohol can harm your eyes, brain and liver," he said.

Psilocybe mushrooms, which are powerful hallucinogenics, are a popular drug choice at the full moon parties, and offer a high rate of return on investment.

"The cost of the mushrooms is about 8,000 baht per kilogram, but by mixing them into 500-baht drinks, one kilogram could earn a person nearly a million baht. At the moment you can't find them on the island because of police raids," he said.

Three police teams have been established on the island to prevent tourists from smuggling illegal drugs into the party. These teams run checkpoints at the pier and mainland bridge; station undercover police on the paths to the party and officers at the entrance of the party, said Col Prachoom.

"We are constantly fighting to keep drugs off our island, especially mushrooms and marijuana. We conduct raids regularly, but the problem keeps returning every full moon," Col Prachoom said.

STAYING SAFE

• Never go alone. Always attend parties with a group of at least half a dozen friends.

• Don't bring valuables, including your passport.

• Only order drinks that are opened in front of you. Stay away from mixed drinks, which can easily be drugged.

• Have one or two friends stay sober and "babysit".

• Don't dress too sexily.

• Go back to your room after drinking.

• Don't invite strangers back to you room.

• Don't go to people who call you from their car.
— Chutharat Plerin
Keep in contact with The Thaiger by following our Facebook page.
Never miss out on future posts by following The Thaiger.
Thailand government promotes cannabis as a cash crop at Buriram festival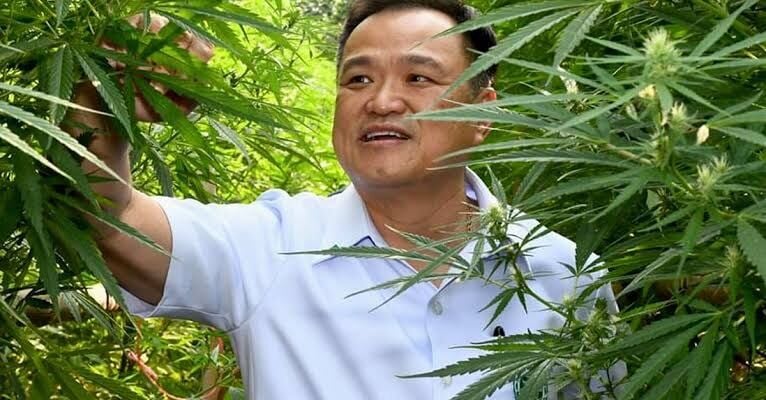 Thailand's government is pushing for cannabis use in all kinds of foods and products, as long as the plant's psychoactive component, which causes the "high," isn't used. Over the weekend, people flocked to the Cannabis 360 festival held by the government in the Isaan province Buriram. Those at the festival could get a cone of hemp soft serve ice cream or taste other food and beverages seasoned with cannabis leaves.
The country's public health minister Anutin Charnvirakul, an avid cannabis and hemp supporter, promoted the event, posting a photo on his Facebook page of himself surrounded by cannabis plants.
The director of the Buriram public health and organiser of the event, Withid Sarideechaikoo, told Reuters that cannabis is "the rising star to bring our good quality of lives and money back in our purses as good (economy) as before and even better."
The festival also promoted growing hemp, a variety of cannabis which has a low concentration of the psychoactive component tetrahydrocannabinol, or THC, and a high concentration of the non-psychoactive component cannabinol, or CBD, which has been used to treat anxiety and muscle pain.
Thailand was the first country in Southeast Asia to legalise medical cannabis back in 2018. Recently, parts of the cannabis plant with low traces of THC were removed from Thailand's narcotics list. The THC-rich buds are still classified as a Category 5 narcotic, carrying fairly hefty penalties for possession and consumption.
SOURCES: Reuters
Keep in contact with The Thaiger by following our Facebook page.
Never miss out on future posts by following The Thaiger.
Cannabis could generate 8 billion baht for Thai pharmaceutical industry by 2025, expert says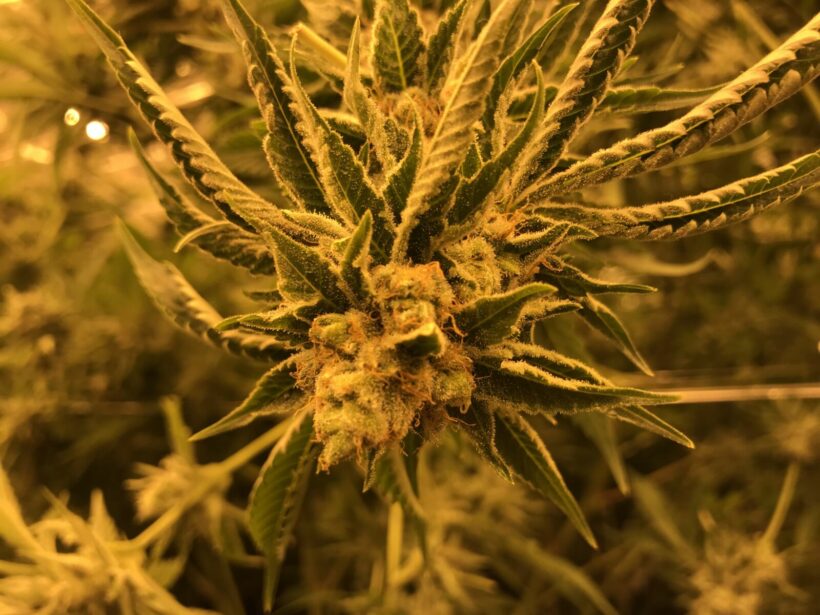 Cannabis could become a major cash crop in Thailand. An expert says the cannabis-based medicinal products could generate up to 8 billion baht for the Thai pharmaceutical industry by 2025. Medical cannabis has been legal in Thailand for the past couple years, but recently the government agreed to allow parts of the plant with very, low traces of the "high-inducing" component tetrahydrocannabinol, or THC, to be in medicinal products and food.
Cannabis-based medicines have been used as palliative treatment for some cancer patients in Thailand. Last year, nearly 1 million patients used cannabis-based medicines, according to an economist at Kasetsart University's Agricultural and Resource Economics Department, Ravissa Suchato.
Around 1.2 billion baht worth of medical cannabis was consumed last year, according to Ravissa, who led a recent study on the economic impact of commercial cannabis cultivation in Thailand. If the average consumption rises as expected, medical cannabis could generate 8 billion baht within the next 5 years.
"We believe marijuana has great potential as a cash crop because more patients will start using marijuana-based drugs soon."
In the past, Thai officials have discussed the opportunity to tap into the global cannabis market by exporting medical cannabis, but Ravissa says Thailand still has a way to go.
"Globally, the recreational use of marijuana has risen a lot faster than pharmaceutical use, so the prospect of exporting marijuana-based medicines from Thailand is still a long way off."
Parts of the cannabis plant that are rich in THC, like the buds, are still illegal and classified as a Category 5 narcotic. Trafficking the plant is still heavily criminalised. Just over the past few days, border patrol police in the Northeastern province Nakhon Pathom seized hundreds of kilograms of dried, compressed cannabis believed to have been trafficked across the Mekong River from Laos and destined for the South, possibly to Malaysia.
SOURCE: Thai PBS
Keep in contact with The Thaiger by following our Facebook page.
Never miss out on future posts by following The Thaiger.
Another drug bust near the Mekong River, 500 kilograms of cannabis seized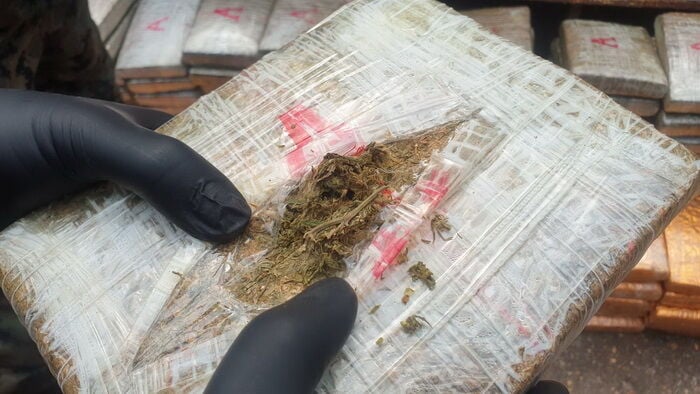 In another drug bust in Northeastern province Nakhon Phanom, police arrested a man and seized 500 kilograms of compressed cannabis. Just yesterday, border patrol police in the province seized 920 kilograms of compressed cannabis from a boat on the Mekong River. In both cases, police suspect the cannabis came from Laos, just across the river.
Police say they searched a black Nissan Navara pickup around 1am in the province's Na Kae district. Police opened the truck's bed cover and found 12 sacks with 500 packages of dried, compacted cannabis. Each package of cannabis weighed 1 kilogram, similar to the previous bust on the river.
28 year old Saravut Butngam was arrested. Saravut previously worked in construction, but has recently been unemployed. He allegedly told police that a man called him with an opportunity to make 50,000 baht. He was told to drive the pickup truck from a petrol station in the Na Kae district to a specified location in the neighbouring province Sakon Nakhon, police say. From there, another driver would take over.
Border police commander Sippanan Sornkhunkaew says he suspects the cannabis seized in the province was trafficked from Laos across the Mekong River. He says he believes the cannabis was planned to be trafficked to Southern Thailand and then smuggled across the border, possibly to Malaysia.
On Sunday morning, police confiscated 920 kilograms of cannabis from a boat on the Mekong River. When police approached the boat, men jumped off onto a smaller boat and fled the scene. The dried, compacted cannabis was wrapped in 1 kilogram packages.
SOURCE: Bangkok Post
Keep in contact with The Thaiger by following our Facebook page.
Never miss out on future posts by following The Thaiger.