Phuket
Shotgun ends Phuket rooftop brawl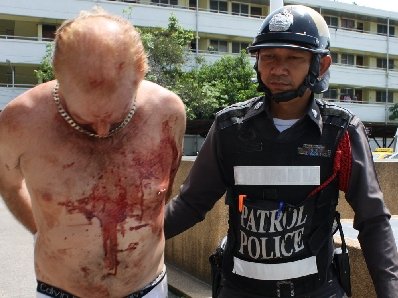 PHUKET: A morning drinking session on a Karon guesthouse rooftop today resulted in a bloody brawl that ended only after someone fired a homemade 12-gauge shotgun into the air.
Chalong police arrived at the Medi Cerrino Guesthouse on Taina Rd after receiving a report called in about 10am.
On the roof level of the three-story guesthouse officers found Joseph James Patrick, 34, from Canada, covered in blood.
Strewn across the roof were shards of shattered glass, the remains of smashed whiskey bottles.
Officers also found the shotgun and two spent cartridges.
Chalong Police Duty Officer Lt Col Boonlert Onklang explained that by the time the officers arrived, German national Paul Wilson, 35, had been taken to Patong Hospital by Karon Municipality Disaster Mitigation officers.
There, Wilson received 20 stitches to bind the wounds to his head.
In relating to police how the fight started – and ended – Patrick spoke in a slow, drunken slur.
Before the fight broke out, Wilson was drinking with Patrick and other men on the roof, Lt Col Boonlert explained.
But the two men started arguing furiously with each other until fists began to fly.
Then Patrick repeatedly hit Wilson on the head with a bottle, and someone fired the 12-gauge to end the fighting, he said.
Forensic police are conducting gunpowder tests to determine who fired the weapon, he said, adding that whoever is found to have fired the shotgun will be charged with possession of an illegal firearm and ammunition.
Both Wilson and Patrick were fined 500 baht each for fighting, he added.