Phuket
"Serenata" recovered as evidence in the July 5 boating tragedy in Phuket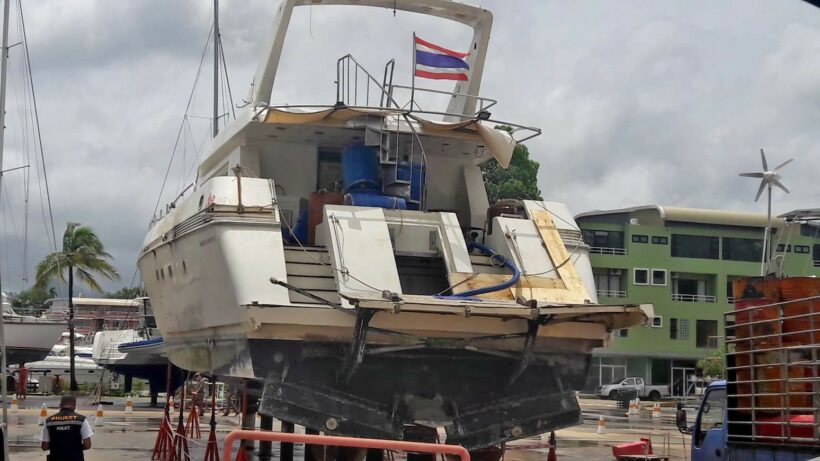 The boat "Serenata" has been recovered from the waters to the south-west of Phuket and is now sitting as a falorn figure in the Boat Lagoon hard stand area. The boat has been recovered as part of the ongoing investigation into the two boats that sank back on July 5 resulting in the death of 47 Chinese tourists who drowned. "Serenata" sank but all its passengers were recovered.
The engine area hatch is missing – whether the hatch was lost before the sinking, during the sinking or during recovery is not known by The Thaiger. There are more than ten Army officials guarding the boat which will be evidence in the upcoming court cases.
Meanwhile, a 24-hour marine rescue centre was officially opened in the province yesterday. The move is an effort to prevent a repeat of the July 5 accidents while authorities pursue legal actions against the operators of the vessels.
Phuket Governor Noraphat Plodthong said yesterday that the centre would operate round the clock with three lifeboats on standby. The Ao Chalong Marine Safety Centre, which was operational yesterday, will soon be followed by a similar centre in nearby Phang Nga province. Both centres will be equipped with communication systems that connect with all relevant agencies to provide early warning and efficient co-ordination. Diving and rescue equipment will also be available.
Noraphat said relevant officials would also check all boats and their crew before allowing them to leave shore.
"We also are also implementing a tracking system to ensure we know where they are going," he added.
Phuket and Phang Nga are a major attraction for tourists and many boat tours are offered.
On July 5, the Phoenix and Serenata tour boats sank after allegedly leaving shore despite a warning about rough sea conditions.
Although many tourists were rescued, 47 Chinese tourists aboard the Phoenix were killed. Several tourists on Serenata were injured but survived. Authorities have now taken legal actions against the operators of the two boats, the captains and the owners of the companies running the tour boat businesses.

SOURCE: The Nation, The Thaiger