Phuket's Kingdom crew fly high at Platu TransWorld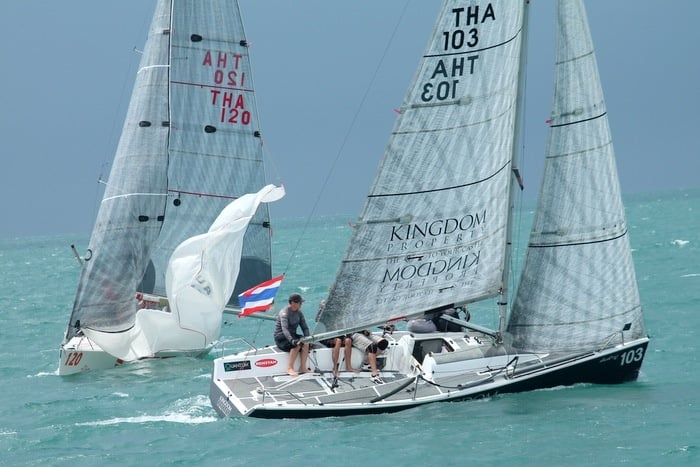 PHUKET: Phuket-based yachtsman Scott Duncanson and his crew Trent Pedersen, Alfie Rowson, Tony Harman and Paul Burke on Kingdom Property have won second place in the inaugural Platu TransWorld Invitational.
The four-day international competition based at the Ocean Marina Yacht Club in Pattaya featured crews from Sweden, Russia, Singapore, Japan, Holland, the United Kingdom and Australia, but was ultimately won by Platu 017 skippered by professional match-racer Matti Sepp from Estonia.
Day one of the regatta started in near-perfect seven to 10-knot sailing conditions. Four races were held, with Sepp jumping to an early points lead over Kingdom Property, followed by Platu 154, Rolf Heemskirk and world number-five match racer Bjorn Hansen from Sweden getting off to a slow start.
The results were subject to a reshuffle, however, after a protest lodged by Platu 154 saw Kingdom Property disqualified for a marginal rules breach and pushed down the leader board.
The Kingdom Property crew responded well in fresher 10 to 15-knot conditions on day two, with 3-3-1-1 placings to win boat of the day.
Hansen also found form to record a 1-2-2-4 and move into third place, but it was the ever-consistent Sepp who continued his march to the title by finishing every race on the podium, with 2-1-3-3 placings.
Very humid and almost-still conditions greeted sailors on the final day, but after a short postponement, racing was underway in a 10-knot breeze that quickly faded, resulting in a mixed bag of results.
Chris Way's Easy Tiger finally found some form to win Race 9, followed by the 'all-ladies' crew from Singapore on The Ferret in second place, and Platu 114 finishing third.
Sepp, knowing that he had only to finish in front of Kingdom Property to win the regatta, applied some very close covering and blocking tactics to sail Kingdom down through the fleet to eighth – and himself to fifth place – thus edging himself closer to victory.
Heemskirk won Race 10, but Sepp again sailed almost flawlessly to claim second place and seal first place overall with a race to spare.
In a building breeze and with one race remaining, the fight was on for the remaining podium positions. A major wind shift 60 seconds before the start caused a quick change of tactics, and in the fresher conditions Kingdom Property jumped to an early lead that they never relinquished.
Easy Tiger followed in second place to win boat of the day and Hanson placed third to claim the remaining podium position.
Final standings: 1st Platu 017, Matti Sepp (22 points); 2nd Kingdom Property, Scott Duncanson (29); 3rd Platu 131, Bjorn Hansen (32).
The Platu TransWorld invitational was the first regatta of the overall Platu Championship for 2015, which comprises four events throughout the year.
The next scheduled event, the royally affiliated Coronation Cup in early May, is held in celebration of His Majesty the King Bhumibol Adulyadej's accession to the throne.
"Kingdom Property will be attempting to defend the title they won last year, a feat no crew has achieved in the 19-year history of the class," Duncanson told the Phuket Gazette.
Sattahip drug addict arrested and jailed after threatening wife and children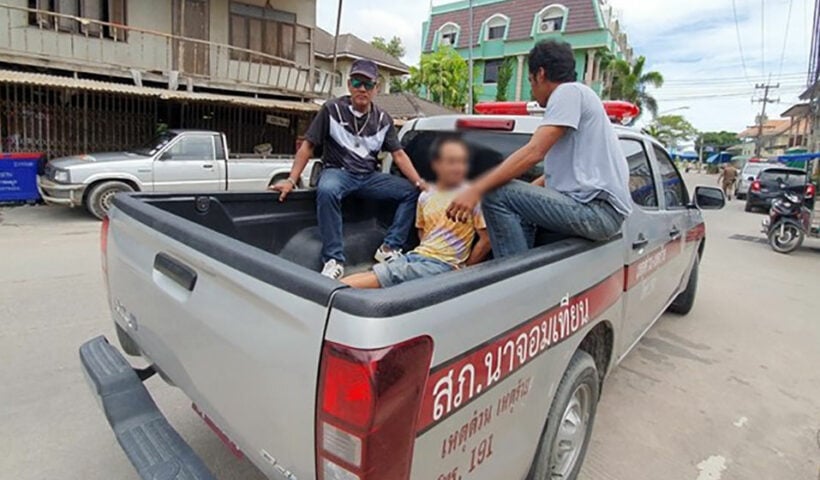 PHOTO: Pattaya Mail
Sattahip police have arrested a person with drug problems who allegedly threatened to kill his wife and two children. 39 year old Jarat Injom was found hiding in the bedroom of his Moo 4 village house where he had barricaded himself after 34 year old wife Sangwein Prasannet called police.
The wife told authorities she'd been married to Jarat for eight years and they had two children, aged 5 and 8. But for the past two years he has been addicted to crystal methamphetamine (ice).
She told police that he often acted crazy and aggressive but she had never sought help in the past. But today he threatened both her and her children with a knife, so she called police.
The man has been arrested and is currently in detention pending further legal proceedings.
SOURCE: Pattaya Mail
Indian and Pakistani rob foreigner on road trip to Pattaya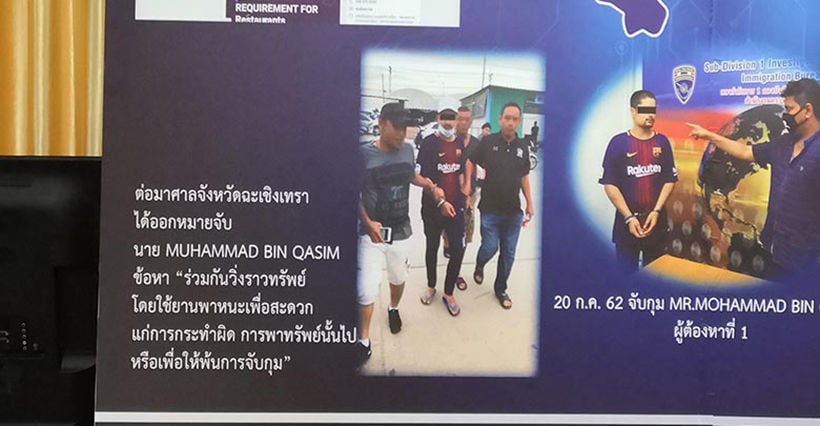 PHOTOS; INN News
The Immigration Police have arrested a pair of foreign criminals after robbing a fellow foreigner on a road trip to Pattaya from Bangkok. The two men made friendly contacts with their victims before arranging to meet and robbing them.
Mohammad, a man from Pakistan, and Kuldip, a man from India, have been charged with robbery. In this case the victim was another Indian who wanted to work in Thailand.
The traveller from India asked for help on a Facebook Page called Tesco Man Power PVT Ltd Thailand. This page aims to assist Indian citizens in Thailand and is a go-to blog for Indians working, retired or looking to work in Thailand.
The victim was contacted by the 2 suspects who made friendly overtures. After talking online for a while the man decided to travel to Thailand on June 25. The three met on Sukhumvit Road and agreed to travel together to Pattaya.
Things started turning sour during the road-trip. The suspects forced the victim to hand over his phone, and cash worth 100,000 baht. After they robbed him, they threw his luggage and passport out the car window before kicking him out of the car. The suspects then drove away leaving the man stranded in Nong Nan sub-district in Chachoengsao Province, basically the middle of nowhere.
Immigration Police contacted the Nong Nan Police to help investigate the case after the victim came in and reported what had happened to him. They eventually arrested Mohammad in a village in Samut Prakarn, south of Bangkok.
After arresting Mohammad, he told police more information that led to the arrest of Kuldip at a condo at Lad Krabang, Bangkok.
The pair will be prosecuted and deported back to their countries. Police suspect that the current victim wasn't their first victim falling for the same plan and ending up stranded somewhere between Bangkok and Pattaya.
SOURCE: INN News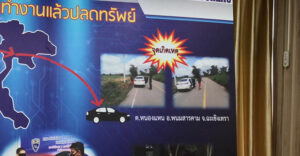 Pattaya bar owner arrested on human trafficking and prostitution charges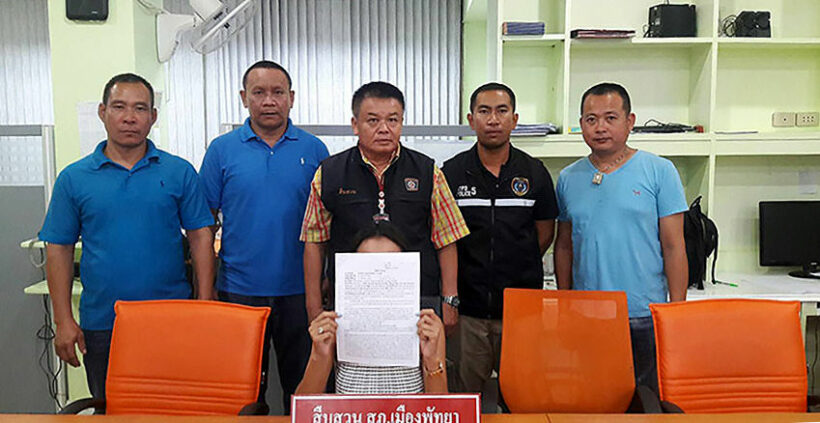 ORIGINAL PHOTO: INN News
A bar owner in Pattaya has been arrested on Saturday whilst on the run from police trying to arrest her over a string of human-trafficking and prostitution charges.
The Anti-Human Trafficking Division eventually arrested the 31 year old Pattaya bar owner, also known as 'Sudarat', 'Om Leelabut', and 'Nanthachai'.
Sudarat had an arrest warrant out in her name relating to human trafficking, seeking people persons to work as prostitutes, engaging underage persons between the ages of 15-18 to work work as prostitutes.
INN News reports that Sudarat also had charges waiting for her after owning a bar that "supports prostitution", including the sale of sexual services by persons over 15 years old but not exceeding 18 years old. In 2013 Sudarat and her foreign husband invested in a bar named "Sad Bar" which was providing prostitution services.
Police set up a sting by offering the "sale" of a person under 18 years old. But Sudarat evaded capture and continued hiding in the region. Sudarat was eventually arrested in a Chonburi restaurant and delivered to the Pattaya Police Station for formal charging.
SOURCE: INN News