Phuket's first purpose-built school mindfulness centre opens at UWC Thailand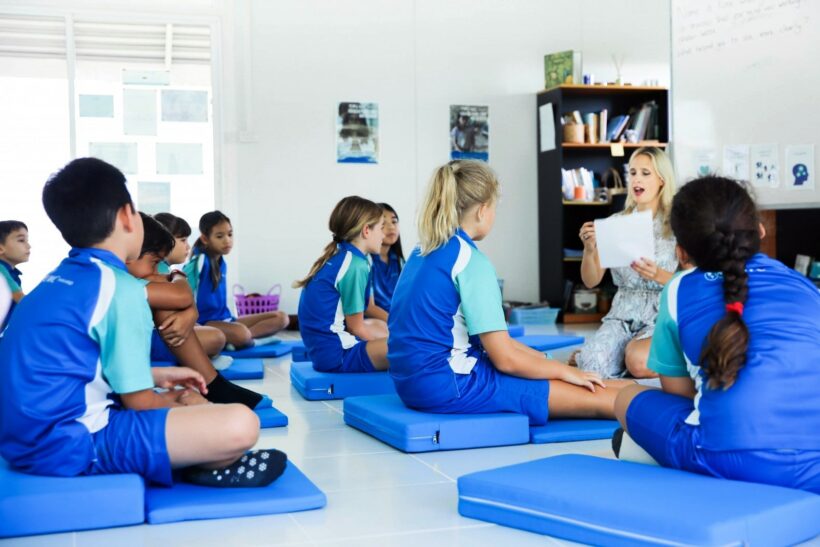 UWC Thailand (UWCT) welcomed its community back last week with a brand-new addition to its campus: a purpose-built, student-centric Mindfulness Centre. As the island's leader in mindfulness-based education, the addition – intentionally situated at the school's main entrance – has been well-received by students, staff and parents alike.
"Mindfulness is integral to a UWCT education, and has been an ongoing focus since the school was founded in 2008. When deciding where to locate the new centre, we chose the entrance of the school so that it would be the first thing guests at UWCT encountered and enquired about," explained Jason McBride, UWCT's Head of School. "It highlights our commitment to integrating mindfulness into campus life with a dedicated space for practicing."
The centre is used each day for secular mindfulness practice by classes ranging from Nursery to Grade 12, where students explore how to 'pay attention to the present moment, on purpose, with kindness and curiosity,' with the school's Mindfulness Mentor Kru Lucy Keller. UWCT's boarding students also use the space for meditation and yoga in the evenings to ready themselves for a restorative night's sleep.
"With mindfulness, students learn to give themselves the breathing room they require to take in what's happening in and around them, see it more clearly through a positive lens, and react more intentionally. By being curious about, and attending to, present moment experiences students learn about their reactions, patterns, and themselves. They begin to understand that they have a choice and can take space to respond rather than react to everyday stresses. Mindfulness also supports students in developing self-compassion and through this, compassion for others," said Keller.
In fact, Daniel Goleman and Richard. J. Davidson's recently published book 'Altered Traits-Science Reveals How Meditation Changes Your Mind, Brain and Body' finds that there are five main ways mindful meditation impacts us in a positive way when practiced over time: it improves our resilience to stress, increases our compassion for others, improves attention and focus, increased selflessness, and a variety of health benefits including increased pain tolerance, reduced inflammation and cortisol, as well as an increase in an enzyme called telomerase known to increase cell life.
Mindfulness at UWCT goes beyond the students and is embedded into how the school's teachers teach. It requires staff to be grounded in present moment awareness with an attitude of non-judgment, kindness, and curiosity. UWCT staff learn this first by participating in mindfulness training under the guidance of Keller and others through ongoing staff sessions. Teachers are encouraged to spread mindfulness throughout the day with short moments of stillness where relevant, particularly before and after special events, challenging news, testing or exams.
To assist in this endeavour, Keller co-plans with the teaching staff to help them look at other subject areas through a mindful lens. While during mock and final exams, students receive an exam along with a mindfulness schedule, where pre- and post-exam meditations of five and fifteen minutes take place to calm nerves and increase focus and then let go of any residual post-test stress.

Kru Lucy Keller explaining mindfulness techniques to UWCT's Grade 4 students
While Keller is delighted to have the centre as a place to teach, her role is to ensure mindfulness is happening everywhere on campus, whenever needed throughout the day. One way this is done is through the practice of a morning "Time In" session in the secondary school and through 'Morning Meetings' in the Primary school.
Keller explained: "'Time In' is an invitation to pause, and pay attention with kindness and curiosity to things as they are.' This is an ideal way to set the tone in creating a positive and productive learning environment by allowing students time to be present, self-aware and reflective. By training attention in this way, they create the space needed to be able to see more clearly and make more intentional decisions about how they move forward in their day. This is not only supportive to their own well-being and learning but also impacts the whole community as kindness is at the core mindfulness.
The practice of a "Morning Meeting" is based on the Responsive Classroom model, these meetings help create a sense of belonging and respect, allocating time at the start of the day for students to focus on developing their social-emotional skills using self-awareness and mindfulness practices, alongside team building and time to connect with others."
The school also offers mindful parenting sessions so that the community can support UWCT students' mindfulness practices at home. The school's focus on mindfulness has attracted attention and visits from some of the world's experts on mindfulness including Buddhist Monk and writer Matthieu Ricard – dubbed "the happiest man on Earth"; and B. Alan Wallace, one of the foremost Buddhist scholars and teachers on the planet.
In fact, Wallace – who has a study also referenced in 'Altered Traits' – will be at UWCT this November 17th and 18th to deliver a two-day seminar on his four aspects of mental balance framework from 9am to 3pm each day. All UWCT staff will be in attendance, as well as a number of secondary students and parents. For mindful Phuketians, this is an incredible opportunity to learn from a world-class expert, compliments of UWC Thailand and Thanyapura Sports & Wellness hotel. Those interested in attending should contact the school directly via rsvp@uwcthailand.ac.th. Spaces are limited.
For more information, please contact Samantha Gayfer, Sr Manager of Communications & Philanthropy .
EMAIL: samantha.gayfer@uwcthailand.ac.th | PHONE: +66 6-5061-4780
Keep in contact with The Thaiger by following our
Facebook page
.
Southern Thailand braces for rough weather and rain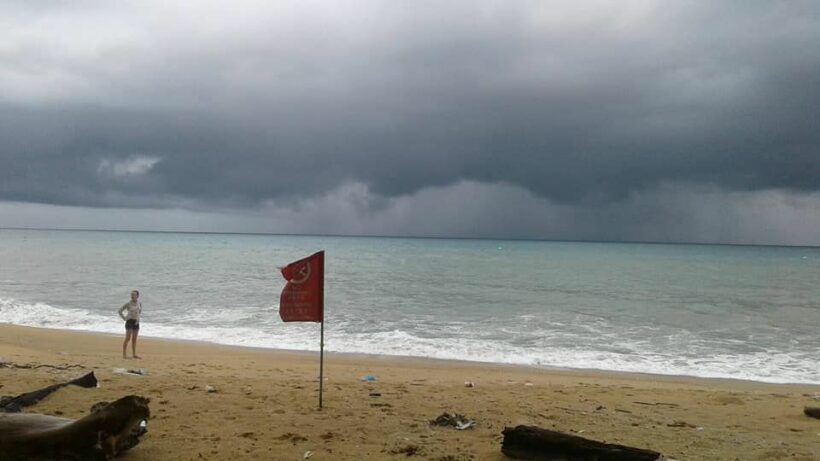 The Thailand Meteorological Department issued a weather warning for southern Thailand with torrential rain forecast to hit the region throughout the weekend. The heavy monsoon over the Gulf of Thailand and south of the country is being blamed for the rough weather, with the TMD predicting flash flooding in many areas.
(Phuket, Hat Yai and Hua Hin's forecast below)
"Waves are expected to reach 2 metres in height in the lower Gulf of Thailand and possibly higher at the height of the storm. Ships are advised to proceed with caution."
For the north and northeast of Thailand, the TMD forecasts strong winds and cooler mornings as the arrival of the "winter" season, coupled with a moderate high-pressure system, causes temperatures to dip.
Hua Hin's five day forecast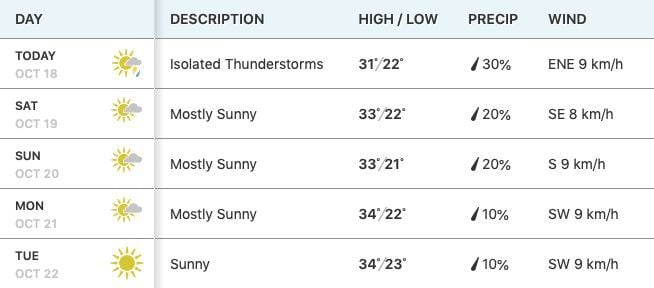 Phuket's five day forecast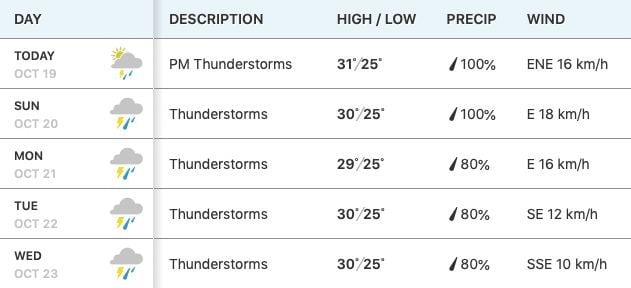 Hat Yai's five day forecast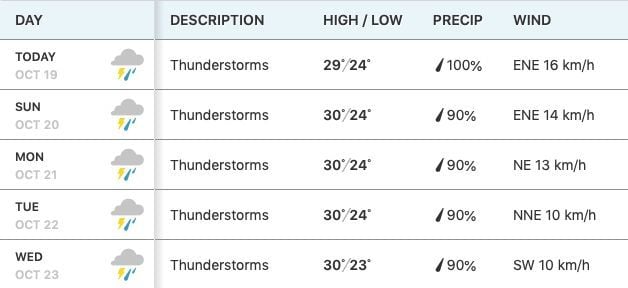 SOURCE: The Nation | weather.com
Keep in contact with The Thaiger by following our
Facebook page
.
Now you see him, now you don't… Patong Police hunt foreigner over $30k theft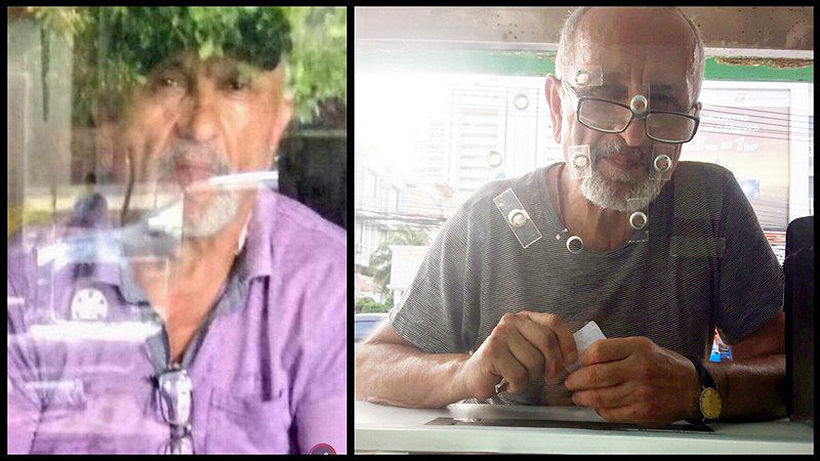 PHOTO: Patong Police
Patong Police have yet to develop any tangible leads tracking down a foreigner who made off with US$30,000 in cash from a currency exchange booth in Kalim, north of Patong in Phuket, last Tuesday.
The man is about 168 centimetres tall with grey hair and around 60 years old, Patong police told The Phuket News.
"We have no clue what nationality he is."
He was last seen at the currency exchange booth wearing a purple polo shirt, blue jeans and black cap. Police have checked hotels in the area, police stations across the island and Phuket Immigration, but have yet to join the dots and come up with firm leads.
"Investigators have checked CCTV in the area and collected what evidence we have but we still do not know the man's name or where he was staying."
The man had visited the booth several times before Tuesday, when he disappeared with the $30,000 in US banknotes, according to police.
"It was always small amounts", he added, noting that the amounts didn't warrant staff at the exchange booth to check the man's passport before making the exchange.
The man arrived at the booth again at about 1pm on Tuesday, saying that he had 900,000 baht cash to exchange.
SOURCE: The Phuket News
Keep in contact with The Thaiger by following our
Facebook page
.
Mystery surrounds security guard found dead in his Phuket room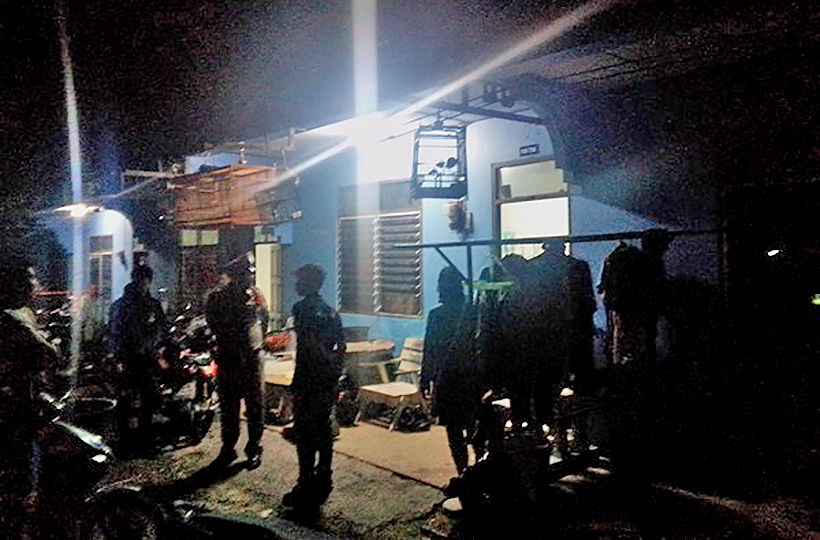 PHOTOS: Phuket Hot News
The security guard of a hotel in Nai Yang, northern Phuket, 52 year old Yingyot Butsabong, from Maha Sarakham province, was found dead yesterday (October 16) in his room. Police remain mystified how the man came to grief.
A woman named Supattra received a call from the hotel he worked at and was informed that he didn't show up at work yesterday, so she went to his apartment to check on him.
She saw that his room was locked from the inside, so used the key she had in her possession to open the room and found Yingyot laying on the floor, face down. She thought he was just sleeping so she tried to wake him up but once she flipped him, she found that he already passed away.
She immediately called Saku police, and once on the scene, police found that there was some blood on the floor. The man had a 2 centimetre wound on his left eyebrow which was deep into his skull. There was also a wound on his chin about 1 centimetre long and about a centimetre deep. His left eye had a bruise which looked like he was attacked by a hard object.
Police report that he had been dead for around four hours in the room.
The room was not ransacked and there was no sign of fighting or theft. His body has been sent to Thalang Hospital for a detailed autopsy and to look into the cause of death.
SOURCE: Phuket Hot News
Keep in contact with The Thaiger by following our
Facebook page
.