Phuket's Chinese, Ukrainian visa-runners allowed unlimited re-entries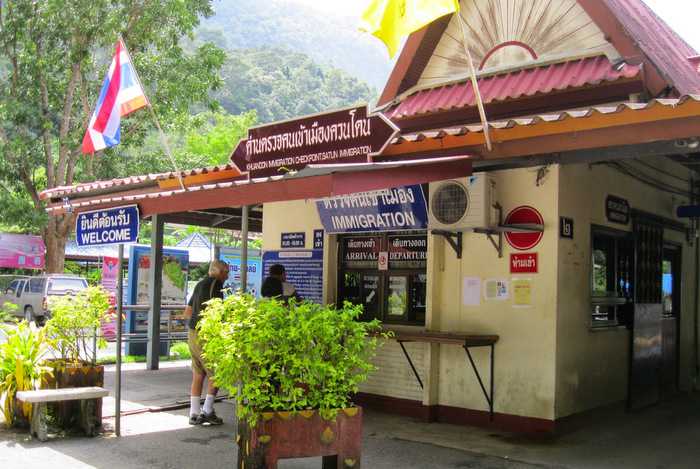 PHUKET: Phuket's Chinese and Ukrainian tourists are now allowed an unlimited number of re-entries through the popular visa-run checkpoint at Khuan Don in Satun, on the Malaysian border.
However, the same privilege has not been extended to foreigners who enter Thailand on "visa-exemption" status, the same form of entry that sparked the visa-run crackdown earlier this year, confirmed Col Peemadej Sarakul, superintendent of the Satun Immigration Office.
The news comes after 10 checkpoints nationwide were approved to issue visas on arrival to tourists entering the country as of last Wednesday (December 10), Col Peemadej explained.
"Expanding the number of border checkpoints that are permitted to allow visa-on-arrival entries is part of the move to encourage more tourists to visit Thailand in light of the Asean Economic Community [AEC] coming into effect next year," he said.
There is no limit to the number of times a foreigner may enter Thailand on a visa on arrival, Col Peemadej explained.
"Although people entering the country on a visa on arrival can stay only 15 days, unlike visa exemptions, there are no clear regulations about the number of re-entries a tourist can make on consecutive visas on arrival," he said.
China and Ukraine are two of 19 countries whose nationals may enter Thailand on a visa on arrival, along with Kazakhstan, India and Taiwan, Col Peemadej explained (click here).
However, Col Peemadej was adamant his officers were checking all foreigners entering the country as tourists, and that the conditions of the visa-run crackdown earlier this year remain in effect (story here).
"Tourists entering Thailand on visa-exemption status are still under the same rules. We will allow only three consecutive entries – and that's to genuine tourists only," he warned.
"There might be tourists trying to 'benefit' illegally by re-entering the country on a visa on arrival, but we will surely check that their visit is for tourism purposes only. We will ask to see evidence of travel itineraries, hotel bookings, tour bookings or other travel documents."
Chinese and Russian-speaking nationals in particular have come under increasing scrutiny in Phuket, with recurring protests in Phuket Town against Chinese working as tour guides (story here) and Russian-speaking nationals caught working illegally as guides (stories here and here).
"Chinese, in general, are issued more visas on arrival than any other nationals visiting Thailand," confirmed Col Peemadej.
"And we will keep an eye on all Russian, Korean, Laotian and Vietnamese tourists entering the country – as nationals from these countries have a long-established reputation for abusing the visa-exemption privileges."
So far, the relaxation of the entry rules for visas on arrival has not spurred a growth in the number of foreigners conducting visa runs to Satun, said Preeyapan Adithepwrangkul, owner of KBV visa run.
"The recent visa-on-arrival change has not yet had any effect on our business, as most of our customers are Russians, who are on the visa-exemption list," she said.
Ms Preeyapan noted that her business had yet to fully recover from the impact of the visa-run crackdown.
"The visa run is certainly not as popular as it was before the crackdown earlier this year," she said.
— Khumpee Prasertphol
Keep in contact with The Thaiger by following our
Facebook page
.
Never miss out on future posts by
following The Thaiger
.
Burmese man busted with 20 kilograms of kratom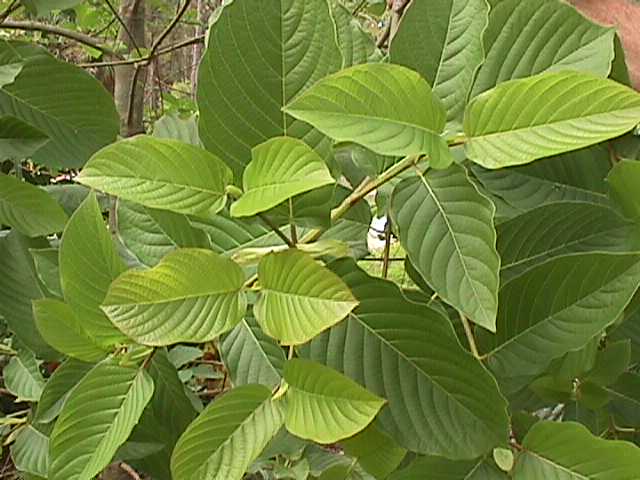 A Myanmar man has been busted with 20 kilograms of kratom after he illegally crossed a natural border into Thailand in the southern Muang district in Prachuap Khiri Khan. Border patrol police and administrative officials were patrolling Ban Hup Phueng, a village near the natural pass on the Myanmar border, when they noticed a man walking with a shoulder bag.
45 year old San Nyunt was then arrested after police found his shoulder bag containing the kratom leaves. Kratom, is a mild narcotic, which has been categorised as an illegal drug in Thailand. San was then charged with illegal entry and possession of illicit drugs.
Such arrests of illegal border crossing have been more prevalent in recent months as the province has stepped up surveillance of the border due to the Covid-10 pandemic.
Source: Bangkok Post
Keep in contact with The Thaiger by following our
Facebook page
.
Never miss out on future posts by
following The Thaiger
.
The Pattaya to Hua Hin bridge. Government discusses 900 billion baht investment.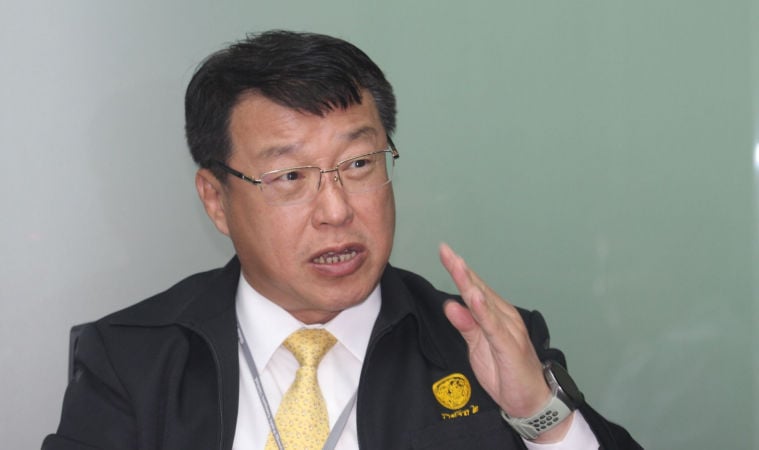 The government is looking into a so-called "Thai Bridge" that would connect Pattaya to Hua Hin, an estimated 900 billion baht investment. The project would be part of the Eastern Economic Corridor development plan aimed at improving the transportation and infrastructure in Thailand.
The 900 billion baht investment is expected to take 10 years to financially implement, according to chairperson of the government's committee for the Mobilisation of Economic Management Measures, Pailin Chuchottaworn. The Centre for Economic Situation Administration has approved the investment project to move forward with a pre-feasibility study by the EEC's policy committee.
"We have to admit that 900 billion baht is a huge amount of money, but it is reasonable when considering its final results. It is also cheaper than some other mega projects that are currently being accelerated. We also planned to hire local Thai people and buy local materials for the construction to reduce the cost as well."
The bridge would join other mega-projects by the EEC like a high speed rail that will link the major airports in Bangkok… Don Mueang Airport, Suvarnabhumi Airport and U-Tapao Airport (south of Pattaya). The train is expected to travel at 250 kilometres per hour. Another project is the renovation and extension of the U-Tapao International Airport. The EEC says the project will bring in 60 million passengers a year and is expected to be in operation by 2024.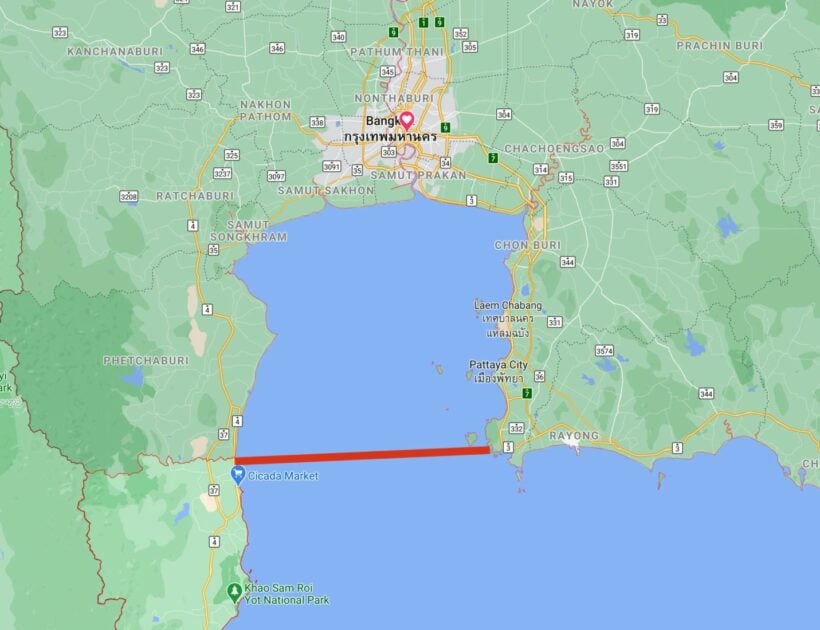 The 80 to 100 kilometre bridge will most likely connect Pattaya to Hua Hin (likely to be just south of Pattaya in Sattahip), but also connect many provinces in the South. The bridge would likely increase tourism in Hua Hin. Pattaya draws in a larger crowd than Hua Hin with 10 times more tourists than the southern district, Pailin says.
The bridge will also need to allow shipping to traverse the Gulf of Thailand to Laem Chabang in Chon Buri.
"In truth, the tourists want to travel to both cities but they choose Pattaya first partly because Chon Buri has more attractions and more convenient transportation options. Many projects are also being built in Chonburi and the EEC in the coming future, such as a three-airport monorail and a city monorail which will potentially attract more travelers to the area, while none of the projects in the other tourist cities in the Gulf of Thailand were discussed."
SOURCES: Pattaya News | EEC
Keep in contact with The Thaiger by following our
Facebook page
.
Never miss out on future posts by
following The Thaiger
.
8,000 homes inundated in Nakhon Ratchasima after 2 days of torrential rain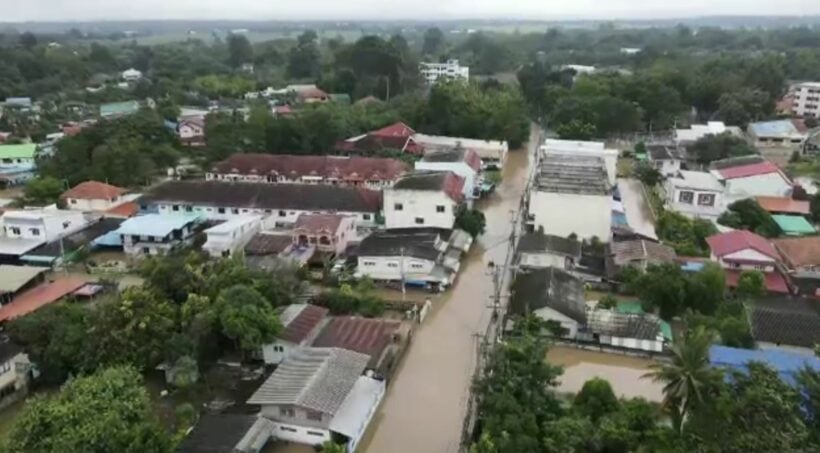 The Thai PM Prayut Chan-o-cha is urging emergency services and the Department of Disaster Prevention and Mitigation in the Pak Chong district of Nakhon Ratchasima, in Thailand's north east, to urgently attend to the suffering of the region's flood victims. Flooding has cut electricity and water supplies to several areas around the district.
8,000+ houses have been flooded after the overflowing Lam Takong River inundated nearby farming and residential communities. The flooding follows days of heavy rain, especially in the Khao Yai mountainous area, in the province's south west.
Nakhon Ratchasima Governor Vichien Chanthanothai has attended the region's worst hit areas today to distribute relief supplies, lunch boxes and survival kits to flood victims. Most have stayed in their flooded homes with family and to protect their property.
"It will take another day for flood waters to recede and the situation will gradually return to normal."
But Thailand's Royal Irrigation Department reports that the recent rains in Pak Chong have been an enormous help to the Lam Phra Ploeng and Khun Dan Prakanchon dams, which were almost empty earlier this year.
• Lam Phra Ploeng reservoir is now 93% full, with 145 million cubic metres of water
• Khun Dan Prakanchon reservoir is 96% full, with 216 million cubic metres of water
In Phetchaburi, south of Bangkok, more than 400 homes in the Nong Ya Plong district, north of the province, along with the Petkasem highway near the main Cha-am intersection, were flooded earlier today after 2 days of heavy rain in the province. Flood waters, in areas north west of Hua Hin, have now receded after train tracks through parts of Phetchaburi were inundated under 10 cm of floodwater earlier today.
SOURCE: Thai PBS World
Keep in contact with The Thaiger by following our
Facebook page
.
Never miss out on future posts by
following The Thaiger
.