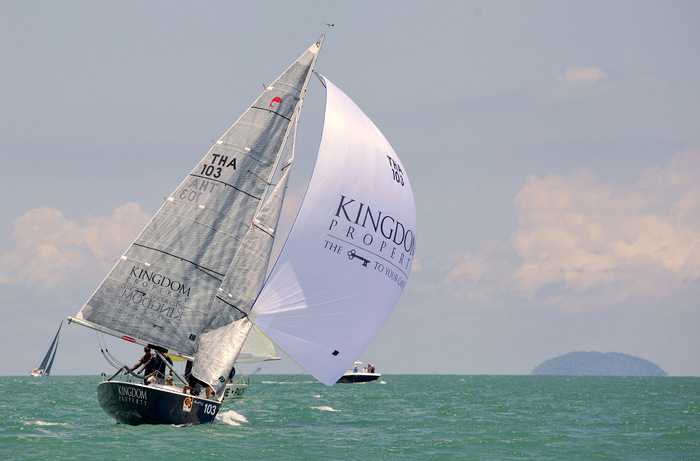 PHUKET: Fresh from his team's 2014 Platu One Design Championship victory, Kingdom Property helmsman Scott Duncanson has announced his intention to compete in the Platu Trans World Invitational.
Held from March 18-22 out of the Ocean Marina Yacht Club in Pattaya, up to 20 crews will compete for the internationally recognized trophy. Five European teams have entered, including current world champion Sandro Montefusco from Italy, as well as crews from New Zealand, Australia, Hong Kong and Singapore.
The 7.5 meter Platu class yacht was designed specifically for Thai waters by world renowned yacht designer Bruce Farr in the early 1990s and continues its global success offering affordable one-design racing in New Zealand, Asia and Europe.
With over 20 boats based in Thailand, it still remains one of the Kingdom's most competitive one-design sailing classes.
The Kingdom Property team – consisting of Phuket-based sailors Duncanson and Alfie Rowson, along with Trent Pedersen and Tony Harman – won the 2014 championship placing third in the Platu Open and three consecutive first places in the Coronation Cup, National Championship and Platu Cup.
The 2013 champion – a Sydney-based team aboard Easy Tiger skippered by Chris Way – finished second with Tim Browne's The Weasel in third place.
It was a very successful racing year for the Kingdom Property crew who bought a second-hand boat in December 2013, completed a full refit in Phuket then hauled the boat by trailer over 1,000 kilometers to race at Jomtien, Pattaya.
"We sailed in over 30 individual races throughout the year," said Duncanson. "So to come out on top is a real testament to onshore boat preparation and the crews ability to mix it with some world-class competition.
"On reflection the Coronation Cup was probably the highlight of the year, but our ultimate goal was always to win the 2014 overall trophy, so the whole crew and our sponsors are feeling pretty pleased at the moment."
Moving into 2015, the crew intend to compete in the 2015 SB20 Asia Pacific Championships held in Singapore from January 27-31.
Duncanson noted that although there is no SB20 class racing in Thailand, it is very strong in Singapore, and vital to keep his crew's one-design sailing skills sharp.
"Unlike mixed fleet racing, the boats are nearly identical, so additional speed can only be found with superior sail trimming, crew work, strategy and tactics," he explained.
Nearly 30 SB20s are expected to compete in Singapore, making the regatta one of the largest one-design meetings in Asia.