Phuket Police bust heroin dealers in Cherng Talay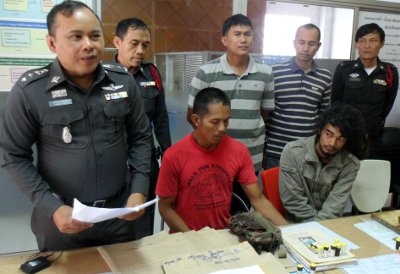 PHUKET: Police in Phuket yesterday arrested a heroin dealer from Narathiwat, in Thailand's troubled Deep South, seizing more than 80 grams of the drug as well as a stash of dried marijuana from one of his agents.

The arrest was announced at a press conference led by Cherng Talay Police Superintendent Jirasak Siangsak yesterday morning.

Col Jirasak presented to the press two suspects: Wissanu "Wit" Dumnoy, a 40-year-old resident of Tak Bai District in Narathiwat; and Teerayut Gaysorn, 30, from Takua Thung District, Phang Nga.

The arrests followed an investigation by undercover police who caught Mr Teerayut in the act of chopping up some marijuana at Lepang Beach, immediately north of Cherng Talay, at 2am yesterday.

A search of his rented flat nearby uncovered 22.1 grams of heroin, 200 grams of dried marijuana and drug-taking paraphernalia. Police estimated the value of the recovered powder at 50,000 baht.

Under questioning at Cherng Talay Police Station, Mr Teerayut identified his supplier as Mr Wissanu, residing at a home on Soi Pasak 5 in Cherng Talay.

Police raided the home, where they found 12 vials of heroin weighing a total of 60 grams stashed in a shoulder bag hanging in the kitchen. Police estimated the value of the heroin at 120,000 baht.

Under questioning, Mr Wissanu confessed to having sold drugs in the Thalang area "for a long time".

He originally rented a house in Baan Don, but then moved to his current home in the Pasak area in order to avoid arrest after he began to fear that Cherng Talay Police had been informed of his activities, police quoted him as saying.

Mr Wissanu told police that he sourced the heroin from a "big supplier" in Tak Bai, who sent the drugs to Phuket stashed inside reams of documents that were sealed in addressed manila envelopes. These were then transported on air-conditioned buses plying the Su-ngai Kolok to Phuket route.

His customers would pay him through electronic transactions made into a bank account opened under his mother's name, he said.

Both men were charged with possession of a Category 1 drug with intent to sell.
— Thawit Bilabdullar
Keep in contact with The Thaiger by following our Facebook page.
Never miss out on future posts by following The Thaiger.
Another drug bust near the Mekong River, 500 kilograms of cannabis seized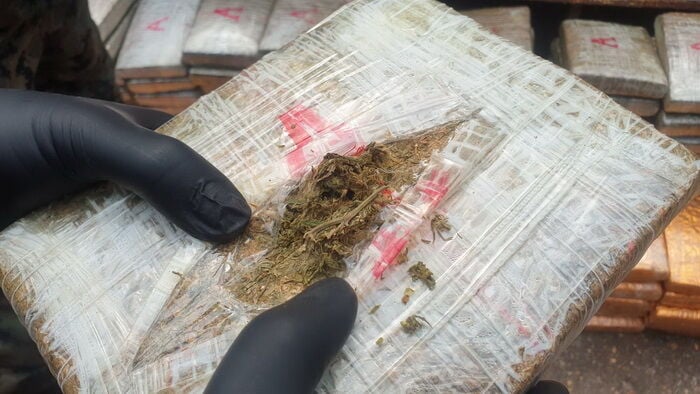 In another drug bust in Northeastern province Nakhon Phanom, police arrested a man and seized 500 kilograms of compressed cannabis. Just yesterday, border patrol police in the province seized 920 kilograms of compressed cannabis from a boat on the Mekong River. In both cases, police suspect the cannabis came from Laos, just across the river.
Police say they searched a black Nissan Navara pickup around 1am in the province's Na Kae district. Police opened the truck's bed cover and found 12 sacks with 500 packages of dried, compacted cannabis. Each package of cannabis weighed 1 kilogram, similar to the previous bust on the river.
28 year old Saravut Butngam was arrested. Saravut previously worked in construction, but has recently been unemployed. He allegedly told police that a man called him with an opportunity to make 50,000 baht. He was told to drive the pickup truck from a petrol station in the Na Kae district to a specified location in the neighbouring province Sakon Nakhon, police say. From there, another driver would take over.
Border police commander Sippanan Sornkhunkaew says he suspects the cannabis seized in the province was trafficked from Laos across the Mekong River. He says he believes the cannabis was planned to be trafficked to Southern Thailand and then smuggled across the border, possibly to Malaysia.
On Sunday morning, police confiscated 920 kilograms of cannabis from a boat on the Mekong River. When police approached the boat, men jumped off onto a smaller boat and fled the scene. The dried, compacted cannabis was wrapped in 1 kilogram packages.
SOURCE: Bangkok Post
Keep in contact with The Thaiger by following our Facebook page.
Never miss out on future posts by following The Thaiger.
Police seize 920 kilograms of cannabis smuggled across the Mekong River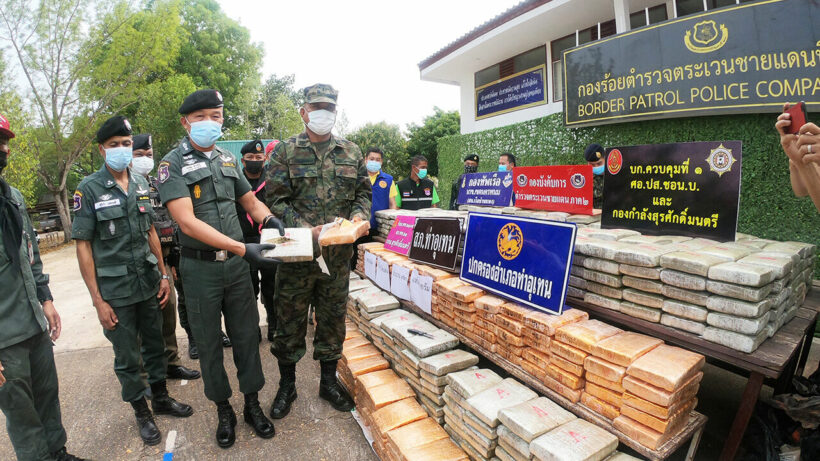 In a major bust on the Mekong River, notorious for drug smuggling, border patrol police seized 920 kilograms of dried, compacted cannabis from a boat along the Nakhon Pathom riverbank, bordering Laos.
Police were tipped off about a large shipment of drugs being trafficked across the Thai-Laos border. Police spotted a boat around 4am yesterday. When police moved in, men onboard the boat jumped onto a smaller boat and sped off. Police found 23 sacks filled with 1-kilogram packages of compressed cannabis.
In the recent months, police have seized more than 5 tonnes of cannabis. While the Thai government has been loosening measures on cannabis, allowing parts of the plant with low traces of the psychoactive component tetrahydrocannabinol, or THC, to be used in food and medicinal products, trafficking cannabis is still illegal. Cannabis with high amounts of THC is still classified as a Category 5 narcotic.
SOURCE:Bangkok Post
Keep in contact with The Thaiger by following our Facebook page.
Never miss out on future posts by following The Thaiger.
Thai FDA expedites the process to list cannabis as an "essential medicine"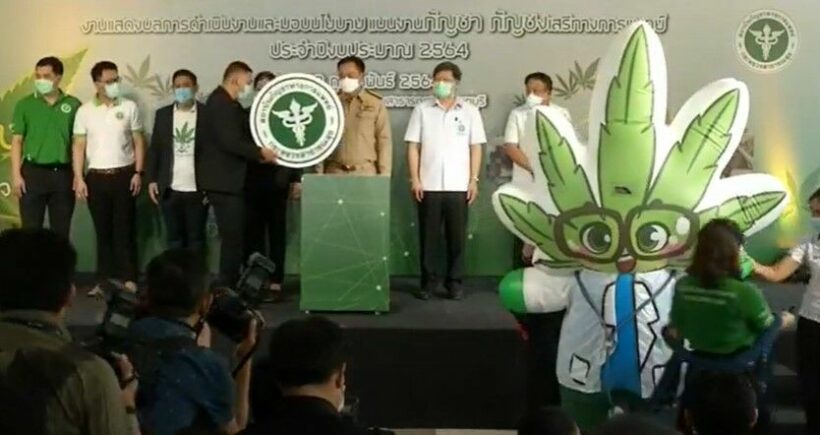 Cannabis could soon become an "essential medicine" in Thailand. While the plant's euphoria-inducing buds are still illegal and classified as a narcotic, other parts of the plant that do not cause a "high," like the leaves, are being pushed into the food and medicine industry.
The Thai Food and Drug Administration is even trying to speed up the process to include cannabis on the National List of Essential Medicines and to also allow it to be used in food, according to the FDA secretary general Supattra Boonserm. Yesterday, the FDA committee approved a draft ordinance to allow the once-criminalised plant to be on the essential medicines list as well as to be an ingredient in food.
"Users can put oil extracts from cannabis in breakfast cereals, bakery products, beverages, snacks or butter as well as in food supplements."
There are 2 main components in cannabis: tetrahydrocannabinol, known as THC, and cannabidiol, known as CBD. THC is the psychoactive component which causes the "happy-hungry high" while CBD is understood to have health benefits and has been used to treat anxiety and insomnia. THC is still illegal in Thailand.
Since the Public Health Ministry approved the use of cannabis and hemp for medical and research purposes, more than 50,000 patients in Thailand have been prescribed cannabis-based treatments, according to Public Health Minister Anutin Charnvirakul.
Anutin says the FDA's move to expedite the process of listing cannabis as an essential medicine is intended to make sure there is a sustainable supply of cannabis and the products are available to those who need it.
"The efficacy and safety of medical cannabis will continue to be reviewed, and the findings will be used to support further changes to medical cannabis laws."
The health minister spoke at the official opening of the Ministry's Institute of Medical Cannabis, which will be the coordinating agency to make sure cannabis-based products are in line with government policies.
"The institute will also provide accurate information about the plants and their use, as public interest in the plants have grown."
More than 300 community enterprises have joined with the ministry to grow cannabis for medical and research purposes, Anutin said. He adds that households with permission from a local hospital can grow up to 6 cannabis plants on the property.
SOURCE: Bangkok Post
Keep in contact with The Thaiger by following our Facebook page.
Never miss out on future posts by following The Thaiger.