Phuket FC give local expats a lickin' – soccer superstars get ready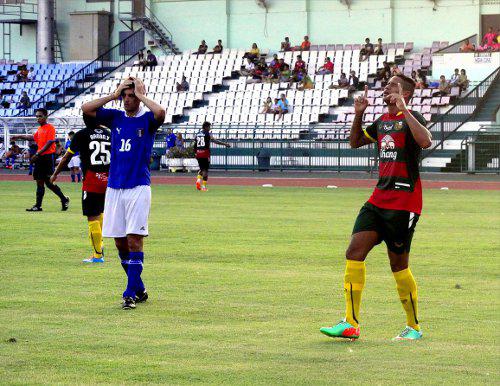 PHUKET: Following their epic 1-1 draw with Thai Premier League powerhouse Chonburi FC last weekend, (click here for video highlights), the island's pro soccer outfit Phuket FC had a much easier pre-season friendly work-out this past weekend, squashing local expat team Pluto Ice Cream in a 5-1 drubbing at Surakul Stadium.

With only several scattered pockets of supporters turning out, the late Saturday afternoon match-up was a low-profile consolation match for the canceling of a Southern showdown with the TPL's Songkhla United, initially scheduled for Sunday night.

Nonetheless, Phuket FC were careful not to underestimate their opponents, comprising of many Italians, some Frenchmen, Myanmar players and a handful of Thais.

For the third match in a row, it was Ney Fabiano to break the ice, scoring on one of his early touches, this time with his right foot, from just top of the box after charging through the line.

Phuket's lead was soon doubled by attacking midfielder Arthit Wisetsin, with the expat-boys able to ward off numerous Phuket attacks through to the half-time whistle.

The Italian-blue clad players looked a little more confident in the second half; however, Phuket had too much to lose and prove, the pressure eased a bit after a brilliant header by defender Yusuke Sato put his side up 3-0.

But, the Pluto Ice Cream outfit (sponsored by a local business of the same name) had some fight left in them, and charged on. Their diligent efforts finally found fruition when Thai footballer, Makkan "Dew" Dongdeng penetrated Phuket's defenses, jumping on a lovely through pass from comrade Jumroong "Noom" Kaewiet, to net the ball and bring his team back into contention, at least in theory.

Giving Ney and Eber a break in the second half, Brazilian midfielder Cristian Alex was fielded for the first time this year. Eager to shine, Cristian proved to be comfortable in his original position of midfield, skillfully feeding the ball to Eakartit Somjit, Pyne So and Anon Yangkham on the flanks.

And it would be Alex to score the next goal, chipping the ball over and out of reach of the advancing keeper. At this point, it was all Phuket who dominated the attack, eager for another goal.

Great evasive passing was exactly how the Ronins would break down their defenses for the fifth and final time of the match, when Anon easily found the back of the net from just in front of the goal line.

The 5-1 score would sustain itself through to the final whistle.

Click here for more photos and video highlights of the last three friendlies.

Looking ahead to their season opener against Pattaya United on February 22, Phuket FC have one more pre-season friendly match on the cards – next Saturday, February 15, against Southern Thai division 2 upstarts, Surat Thani FC.

That match will conclude a double-header evening for the inaugural "Phuket Superstars Soccer Championship 2014" event.

With the opening ceremony to commence at 5:30pm, the first match of the event will be contested between a VIP Phuket All Star squad and Manport Lorkloen – comprising a number of famous Thai celebrities and TV personalities.

The match will be broadcast live nationally on NBT (Thai Channel 11), and is set to kickoff at 6:50pm following a "Pom Pom Cheerleader" show courtesy of Daorung Wittaya School.

The 35-minute match will be followed by a meet-and-greet session with the celebrities, while Phuket's friendly match with Surat Thani kicks off 7:45pm, with the night to wrap up around 9:30pm.

The Phuket Gazette is a proud media sponsor of the Phuket Superstars Soccer Championship 2014.

Tickets are available for 200, 500 and 1,000 baht. For more information, contact organizers Chor Changkid Chor Changtham Co Ltd, by calling 076-241114 or 086-470-6649 and 081-607-6177.

A portion of the net proceeds of the event will go towards local sports development and student scholarships.

Stay tuned for more details.
— Steven Layne
Keep in contact with The Thaiger by following our
Facebook page
.
The body of an unidentified foreigner found floating south of Pattaya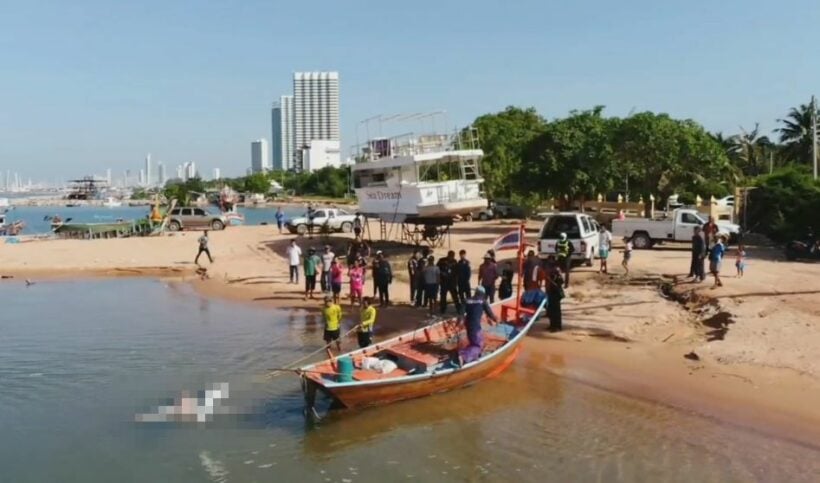 A fisherman has recovered a body, thought to be a foreigner, from the Gulf of Thailand off Sattahip.
Na Jomtien Police were notified of the body by 24 year old Teerapong Boonwat, a fishing boat captain plying the waters around Sattahip, south of Pattaya.
Mr. Boonwat had recovered the body found floating near Koh Ped (Duck Island), about three nautical miles from the Sattahip shore. Police and emergency responders rushed to the scene near Amparam Temple.
Police report that the male body appears to be a foreigner aged around 40 years old with a beard and little head hair. He was wearing a white T-shirt, long jeans and black sneakers.
No identification was found on the man. It is believed that he had died at least 7 days before his body was found floating in the water. The police didn't state if there was any signs of foul play or the condition of the body.
Police are investigating the incident and reviewing missing person reports to establish identification.
SOURCE: The Pattaya News
Keep in contact with The Thaiger by following our
Facebook page
.
Pattaya City's Police Chief dies from sudden heart attack on way to Bangkok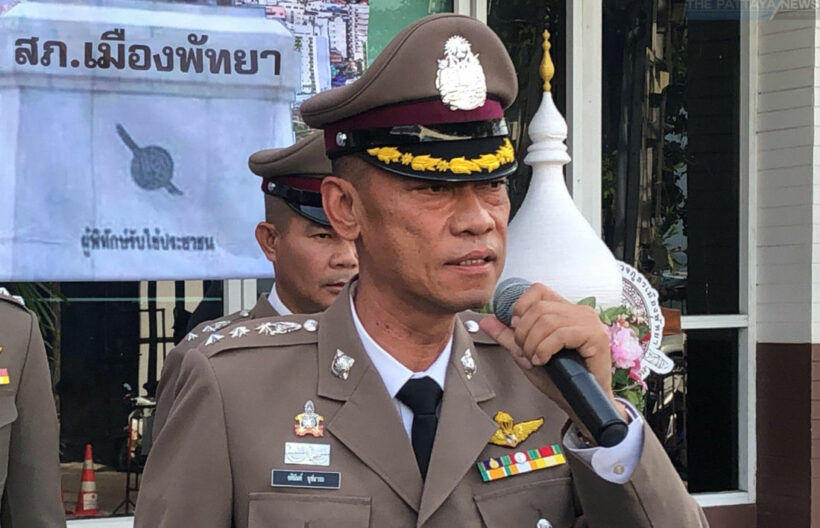 PHOTOS: The Pattaya News
The Pattaya City Police Chief Col. Atinan Nuchanart has died from a heart attack yesterday morning (Friday) while he was on the way to a meeting. 59 year old Col Atinan was the Pattaya City Police Acting Chief, new in the position, and died at the Chonburi Hospital from a heart attack.
Yesterday morning he and his team were heading to Bangkok from Chonburi for a meeting when he started complaining of chest pains before falling unconscious in the car. The Chief was rushed to the Chonburi Hospital by other officers in the vehicle. He was pronounced dead by doctors at 2pm.
Col Atinan was born in Lopburi and was the previous Police Chief of Mueang Chonburi Police Station. He was later transferred as the Pattaya City Police Acting Chief on September 2. He had only been in the top job for little over a month.
The previous Pattaya police Chief was removed from the position pending an investigation into large drug raids at local discos open after legal closing hours during this year.
A full funeral for the well respected veteran officer will take place in the near future but has not been announced at this time.
SOURCE: The Pattaya News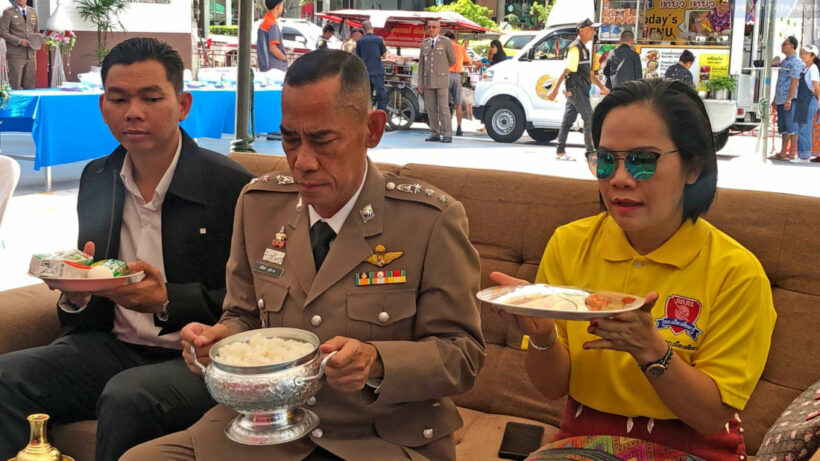 Keep in contact with The Thaiger by following our
Facebook page
.
Local residents and vendors demand action on Pattaya Beach erosion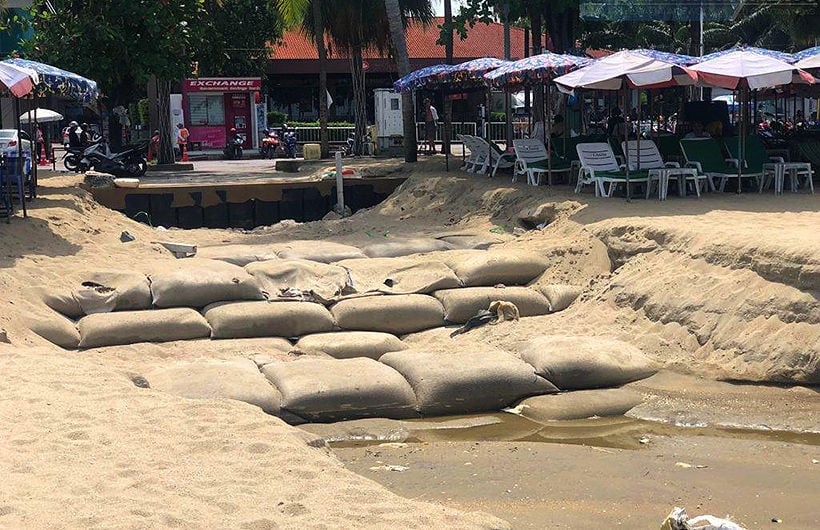 PHOTOS: The Pattaya News
Recent heavy rains over the past week in Pattaya have caused significant deep erosion and gaping holes on Pattaya Beach that have now been sitting in plain view for nearly a week. The situation is an unsightly embarrassment and a potential hazard for tourists, according to local residents and beach vendors.
The Pattaya News reports that, earlier this week, storm waters were flowing onto Pattaya beach into the Gulf after torrential rains, notably at the beach area near Central Festival Pattaya, and have been washed away.
The erosion is at least a metre deep in places, exposing some of the underpinning sand-bag foundations that were placed there doing the re-instatement works last year. Local vendors are complaining that tourists were avoiding the beach.
Beach vendors say this erosion has happened nearly a week ago and is very dangerous especially at night time. They are asking for city officials to speed up repair work and fix the problem.
Earlier this week residents were complaining about an unknown white sediment floating around some of the areas where the erosion had occurred. Last year some 400 million baht was spent re-building some of Pattaya's beaches which end up damaged and washed out to sea any time there are heavy rains.
SOURCE: The Pattaya News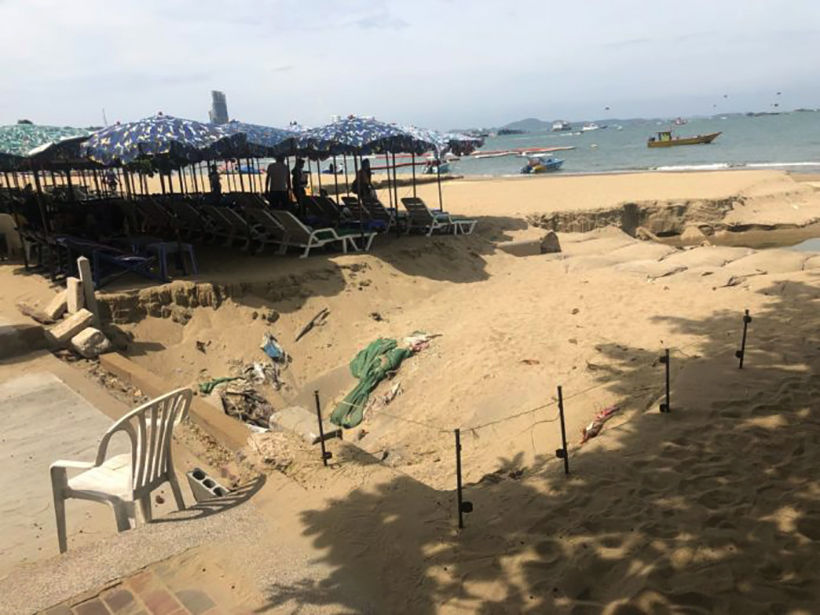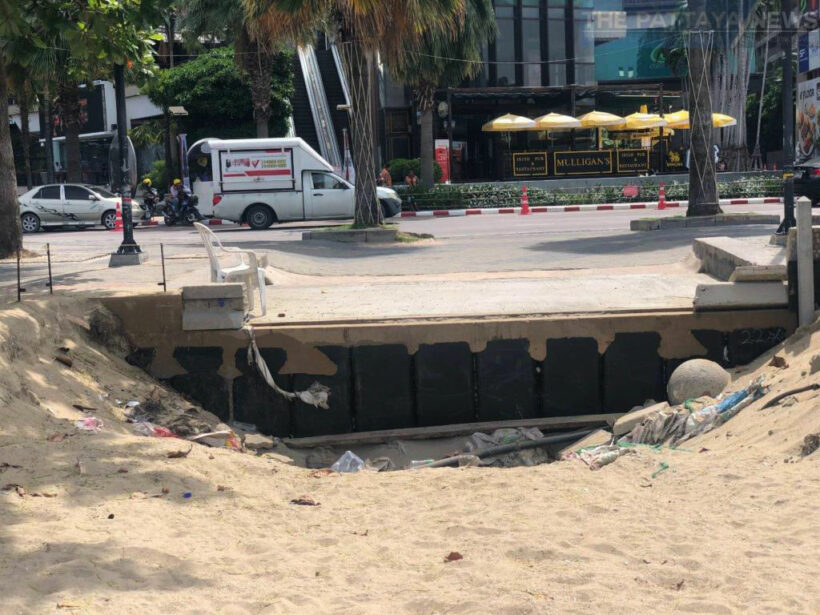 Keep in contact with The Thaiger by following our
Facebook page
.