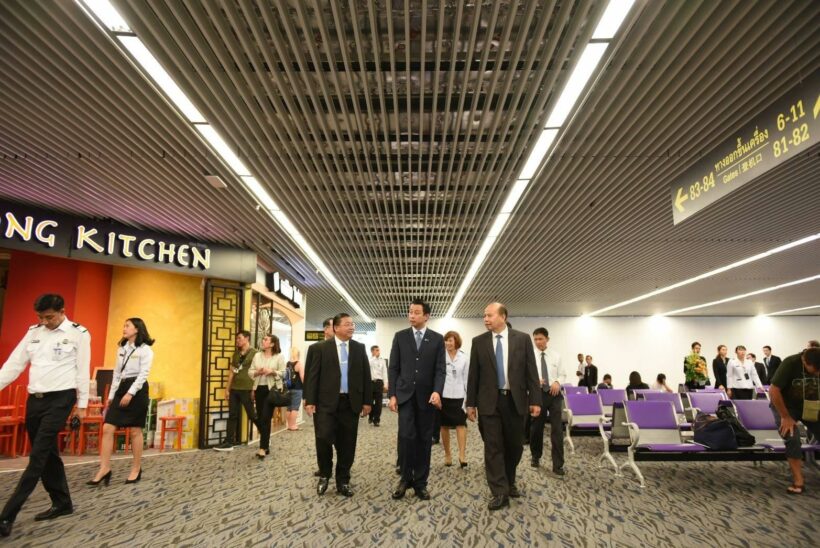 Phuket airport's domestic terminal renovation was officially launched yesterday (June 25).
The opening ceremony was held at the Phuket International Airport and hosted by the Airport of Thailand (AOT) president Nitinai Sirismatthakarn.
Khun Nitinai says, "The Phuket International Domestic Terminal upgrade project is now complete with new facilities and world standard security services. The airport is now available to service up to 7,200 passengers at a time and includes 2,660 passenger seats."
"The new domestic terminal covers 30,339 square metres, divided into three floors. The first floor is for arriving passengers and covers 12,100 square metres. The new baggage claim area covers 4,200 square metres and there are six more toilets areas."
"The second floor covers 10,500 square metres with 66 check-in counters, seven x-ray machines, seven boarding gate and five toilet areas. The third floor covers 3,500 metres with shops and two toilets areas."
"The airport is available to service 20 flights per hour and up to 12.5 million passengers per year. We have a new service slogan too… 'Safety is standard Service is heart'."
The Phuket International Airport General Manager Petch Chancharoen took the Phuket media pack on a tour of the full service domestic terminal back on June 1.
Read more HERE.