OPINION – The devil is in the detail. Phuket tourism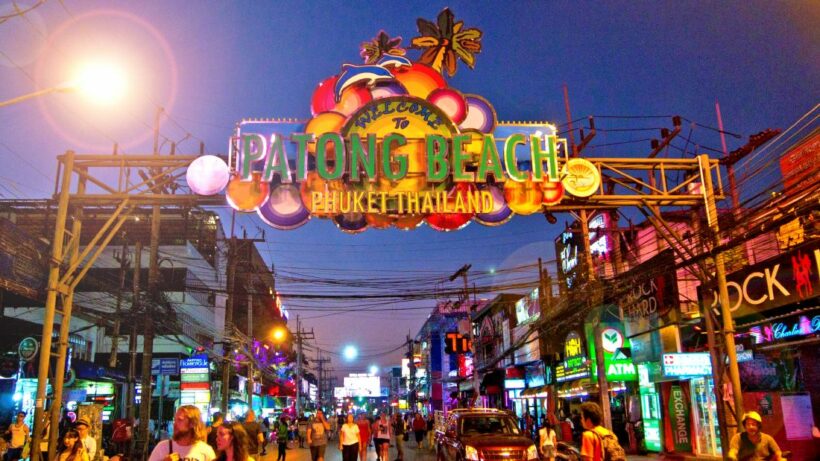 "Last year Phuket International Airport hosted a record number of passenger arrivals both on overseas and domestic flights exceeding 8.4 million." – Bill Barnett, c9hotelworks.com
An article appeared this week providing a misleading, dare I say 'fake', impression about the current tourist situation in Phuket. Given the highly selective and well-timed photos you would think that Phuket has been deserted by tourists and the place is a ghost town.
"The streets are barren and the high season has failed to arrive."
"A devastating analysis – mostly via pictures – appeared on Facebook."
"Expensive Phuket dead as a dodo this high season."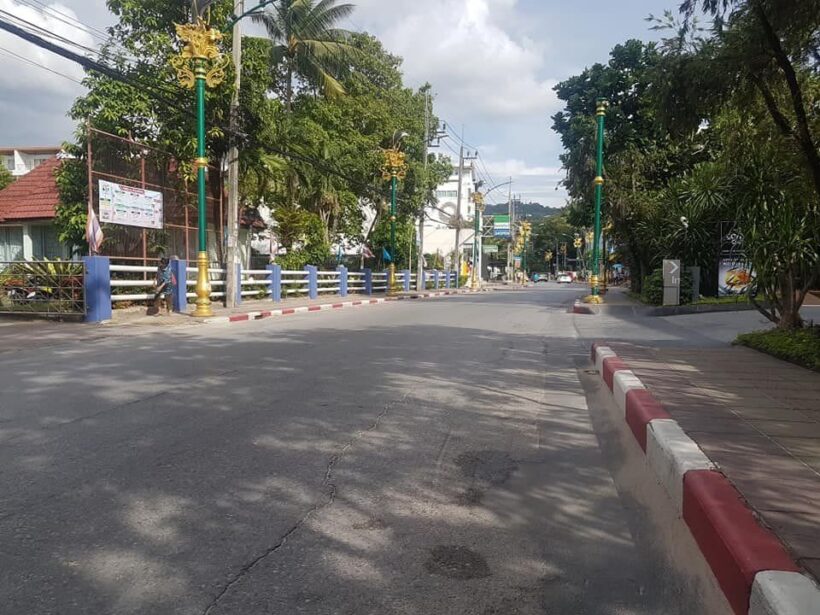 PHOTO: Facebook Jimmy Elizabeth
The article was high on opinion and anecdotes but low in facts or information from industry players.
Far from being an apologist for the 'enthusiastic' numbers sometimes provided by Thai authorities, The Thaiger is simply interested in the facts. So let's just state the actual situation for the public record.
Phuket's high season, so far, appears anecdotally, to be down on recent record years. But we're talking up to 10% max, a long way from the 'ghost town' status that was painted by the article. Phuket has recorded a steady growth in tourists – 10-20% annually – for the past decade.
As usual, the situation is 'lumpy' with many hotels reporting that they're booked out for the Christmas/New Year period, others still have rooms available. There has been an adjustment in the tourist mix, for sure, with some of the high numbers of Chinese tourists softening with other markets, including past European, Indian and Japanese tourists, filling spaces left by the Chinese.
The Thaiger can confidently assert that tourists are still coming to Phuket, in high numbers. We contacted a random selection of hotels and got the following anecdotal responses…
Mat Christie Hindmarch, Director of Hotel and Resorts, AKSARA Collection, noted that it was lovely to see Patong so busy both daytime and nighttime last weekend during his daily drive-through the coastal tourist town.
"It has been slightly sluggish this year in comparison with last. Thai tourism is facing challenges with, for example, the very strong Thai Baht, BREXIT (to a small extent as UK guests are holding onto their cash at the moment waiting to see what actually happens), Scandinavia, especially Sweden too has seen issues with their own currency making overseas travel more expensive than ever.
"The Russian market has fallen with very last minute sales and some heavy discounting needed to attract customers. Some operators put this down to the lack of slots at HKT international airport resulting in them having to head to Krabi instead," said Mat.
"We've had a strong 2018, except for the past two months when we've seen about 15% drop in our numbers year-on-year. But bookings are strong from now to Christmas, about the same as last year, and then booked out until mid-January with strong bookings up until April. Certainly the Chinese numbers have dropped off but we're still getting a lot of the FIT travellers from China who book us through Chinese travel Apps. – Phoebe Collins
Another hotel operator, who asked not to be named, said, "For this year, we are actually seeing the same 'average room rate' as for 2017 however the number of occupied rooms is down approximately 10% year on year. We are also seeing a swing towards a third adult sharing a room more than before.
"November, one of our resorts closed the month OVER budget and over last year figures, whilst the other did see drop in occupancy mainly due to some markets being maybe over confident with their start of high season projections", he said.
Speaking about the Chinese market, Mat Christie Hindmarch said that the drop in Chinese tourists was been mostly affected by recent events, "however, we have already closed out during the Chinese New Year at one of our resorts with the Chinese agents trying to secure 'pre buy' during this time.
"Recent trips to China produced positive results and new agents are coming to work with us here in Phuket. Agents told us that they expect a strong bounce-back at Chinese New Year to previous figures.
c9hotelworks.com Managing Director Bill Barnett says that, while total numbers have fallen slightly, Phuket is still a lot busier than the 'dead as a dodo' article makes out…
"Last year Phuket International Airport hosted a record number of passenger arrivals both on overseas and domestic flights exceeding 8.4 million.Putting 2018 into perspective, we have looked at latest actual numbers for January through October and factoring in current trends anticipate that full year 2018 will see close to 9.0 million passenger arrivals. This would be an 8% increase in year-on-year traffic. and not bad. considering the impact of the mid-year boat sinking episode. Good news, Phuket is far from dead."
Last Saturday night this writer had to drive around Patong to get to the opening of a new rooftop club and it took about 35 minutes to get along Beach Road to the venue, opposite Loma Park. The traffic was as bad as usual during a bust period.
We also note that Phuket's roads are as busy as would be expected for this time of the year so the roads are clogged with the usual tour coaches and passenger vans ferrying tourists to various destinations. There's certainly no drop off in the number of vehicles on the road.
TEAFFIC ALERT- PHUKETSlow, slow traffic coming into and leaving Patong on the Patong Hill Road. Patience needed. It's moving but going to be a slow plod in either direction for a few hours.

Posted by The Thaiger on Thursday, December 20, 2018
We've also had people sending us pictures of long Immigration queues, a sign that the planes are certainly still arriving full of tourists. The airport was certainly busy on Monday evening – these photos sent to us by a reader around 10.30pm. He reported that he's seen the airport busier but said it was still busy.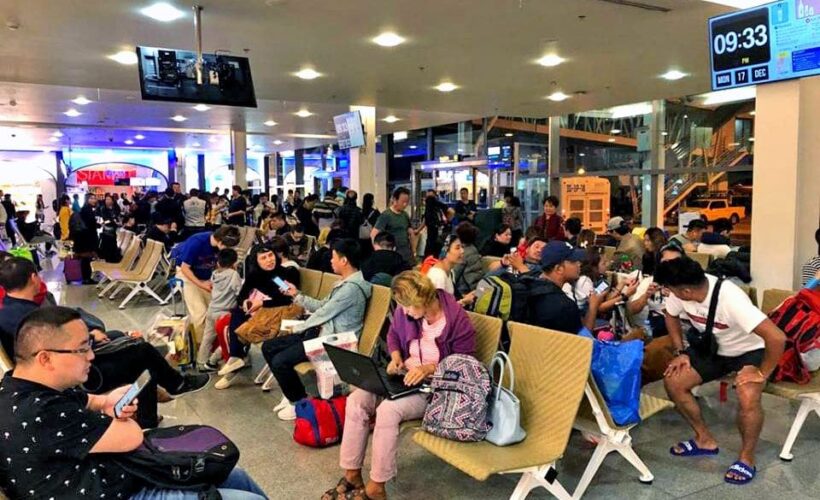 PHOTO: Phuket International Airport passenger departure lounge area
But we acknowledge that there are some businesses who are finding it difficult to attract customers. Businesses who have operated in places like Patong for the past decade have seen a remarkable change in the tourist mix, shopping habits and expectations of tourists. Many have failed to adapt and shun the changes necessary to keep up with the evolving arrivals.
We should also acknowledge that there is huge room for improvement in many of the services and infrastructure. Did anyone say 'taxis' or 'public transport'?
At the same time there has been a huge surge in new hotels, tour operators, tour boats AND island traffic. There is a lot of new infrastructure underway and many new investments in the pipeline over the next five years.
Addressing the 'expensive' label, Phuket's costs have risen, along with all major Thai holiday venues. You can cherry pick a few examples of high costs (taxis, tuk tuks and beach road restaurants) but, as an eight year expat, I can't really notice any huge changes in the general cost of living for weekly food shopping, accommodation or daily costs.
We enjoy a bit of good-spirited Pattaya v Phuket competition but the article was simply incorrect and designed to give a false impression of the tourist situation in the Pearl of the Andaman.
Keep in contact with The Thaiger by following our Facebook page.
Never miss out on future posts by following The Thaiger.
ASQ + Vaccine in Thailand proposal gets the thumbs down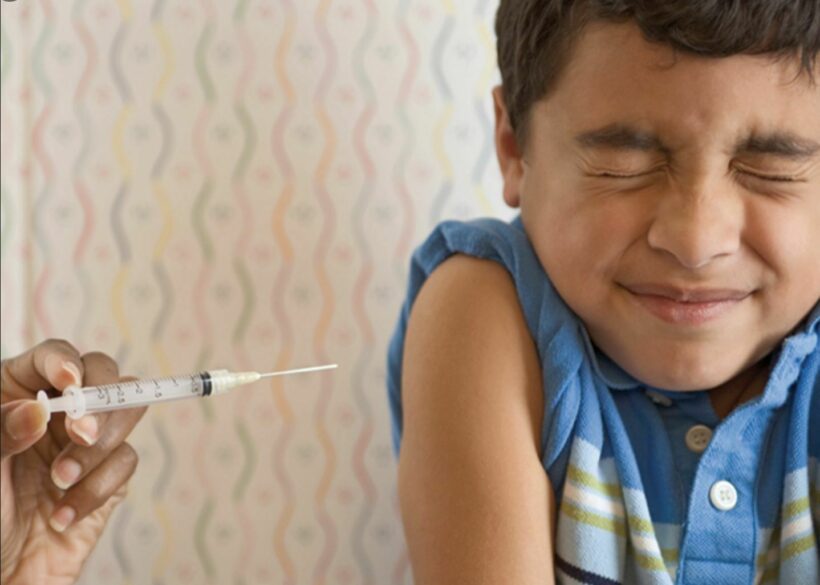 OPINION
A spokesperson from a Thai tourism association came up with the "cunning idea" yesterday to propose a ASQ + Vaccine package to travellers and tourists. So not only do you get your 14 day mandatory quarantine at an expensive hotel in Bangkok, the opportunity to submit copious amounts of paperwork and drill through the red tape. NOW you get a jab of Covid-19 vaccine included. All for the all time low starting price of 150,000 baht. Read the original story HERE.
Bargain!
Of course The Thaiger readers and viewers raced to congratulate the rocket scientist who came up with this brilliant piece of tourist marketing. Suffice to say, it's dead in the water even before the ambulance arrives…
Ron Rossington
Until the ditch the 14 day quarantine and end the ineffective lockdowns, Thailand will not get the tourist numbers they are in dire need of to stabilize the economy.
k tara
Another brilliant idea for tourists which will be dead on arrival. Do these people live in reality.
rickdangr
Tourism will NOT return until the 14 day quarantine is gone! Get the vaccine out to the Thai people, then start with allowing tourists in without quarantine, that have been vaccinated. This would be a smart way to open, and to get it done by April 1st, before the Songkran holiday.
Paul D
Hello Thaiger Team, the story with regards to vaccinations tagging on with the STV, seems to me as another of Thailands false hope stories. But I am sure the Government powers may have overlooked the strong suggestions many Airlines have voiced, "that no traveller will be allowed on the flight unless they have proof of vaccinations". Even this is not 100% at this point. Some countries will not even allow their citizens to leave right now. I think the Thai government, even though are doing as much as they can right now, needs to not provide false hope to travellers at this point.
Energy3
another gimmick by thai officials – free vaccine with STV – sounds like you're getting a happy meal with a free toy
Sai Sai
This is ridiculous!
Tyler Durden
These Thai officials need to wake up. The reason us tourists aren't coming to Thailand is because of the 2 week quarantine, adding extra vaccination costs on top of an already expensive STV visa ain't gonna get me over there that's for sure. If these officials don't drop the 2 week quarantine, there once popular visitors are going to be popular visitors elsewhere, as already I know many people traveling to South America.
And this gentlemen, J German, who went to all the trouble for little return…
I went to Bangkok in Dec. for the holidays. I did my 2 weeks of ASQ during which the shrimp market outbreak started. By the time I got out of quarantine, I had 4 nights of fun, but it was far from what the scene once was. I had a fun NYE, then it all got shut down. I went there to be in a country that was "safer" and not on lockdown. I lost that bet. Then Taiwan closed to international flights, cancelling my trip home. I got on the next plane to the US, leaving several weeks early so as not to get stuck there with nothing to do. My advice is, don't waste your money or your time (like I did) until vaccinations are widely distributed and quarantines are over.
Keep in contact with The Thaiger by following our Facebook page.
Never miss out on future posts by following The Thaiger.
Thailand's tourism in the Covid 2021 era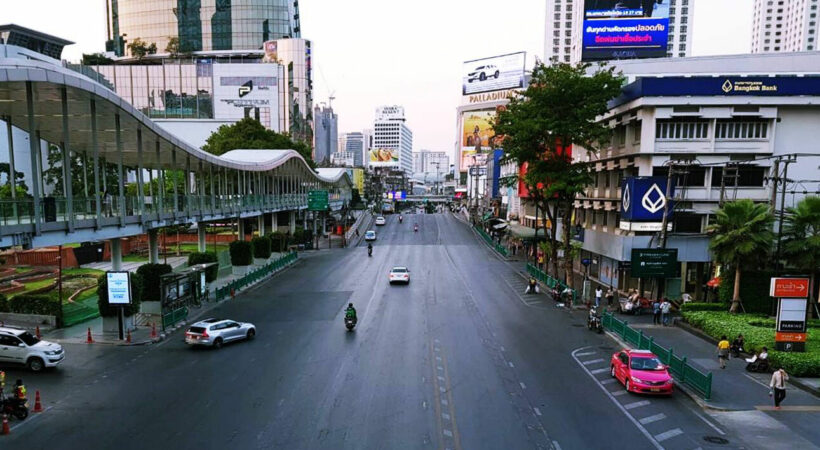 OPINION by Andrew J Wood
Thailand's Food and Drug Administration is expected to approve the Oxford-AstraZeneca Covid-19 vaccine this week for emergency use in the country. Two private hospitals are also ordering millions of doses of coronavirus vaccines ahead of this regulatory approval. This is in addition to the government's order of 63 million doses from two main sources as Thailand rushes to implement vaccinations for the majority of its population.
With regard to it's non-Thai residents it is still unclear if this includes the substantial expat community or whether they will be excluded, as the country tackles a second wave of the virus.
The future of travel in Thailand is to open borders while mitigating the risk. This can be achieved by ensuring illegal border crossings are tightly controlled and all travellers tested. Tourists arriving should not only be tested showing they are free from covid, but to avoid quarantine, must also have been vaccinated. The numbers will be small to start with but the industry is at a complete standstill. I have never experienced anything close to the devastating effects of the coronavirus.
The tourism industry has ground to a halt and is currently battling a spate of infections brought about by poor Burmese workers searching for work and sneaking across the border and spreading infections before restrictions were put in place. As a counter measure to reduce the spread the government has restricted everyone from high risk areas from travelling freely around the country. Putting a firm brake on domestic tourism in addition to international arrivals.
The introduction of colour-coded zones has been put in place since a major outbreak occurred in Samut Sakhon at a seafood market with illegal Burmese migrant workers. In addition to restricted domestic travel an amnesty for the illegal entrants has been offered by the Thai government in a serious effort to reduce infections and have all illegal migrants registered and tested.
Qantas is also toying with requiring vaccinations and was the first airline to announce it will require international passengers to be vaccinated. Singapore is also considering relaxing its quarantine rules for vaccinated travellers if clinical trials show vaccines lower transmission risks. (However short-term visitors will need to show evidence of insurance to cover medical treatment and returning Singapore citizens from Britain and South Africa will be subject to additional restrictions).
Until there's an abundance of approved and delivered vaccines, it's all but impossible for anyone outside government to get a shot. However there will be a market driven by those with money to jump queues as we saw recently. Once the UK approved the Pfizer/BioNTech vaccine, travel agents in India started seeing an increase for quick vaccination trips to the U.K. Attention is now on the US and Russia as possible vaccine destinations.
But it's not all about money. In Thailand according to a Reuters report, a million doses of the Sinovac vaccine has been ordered by the Thonburi Healthcare Group, with an option to buy 9 million more. The hospital group plans to use half to inoculate staff in its network of 40 hospitals.
The Thai government has separately ordered 2 million doses from China's Sinovac Biotech and expects delivery of 200,000 doses with plans to inoculate frontline workers and medical professionals in high-risk areas next month.
The government has also ordered 61 million doses of the AstraZeneca vaccine, which will be produced by local firm Siam Bioscience for domestic use and export.
For patients, Thonburi's medical centres plan to offer 2 vaccine injections for 3,200 baht ($106) and say they cannot take a profit because it is a humanitarian issue for the country.
However it is claimed that rich nations are stockpiling the most promising coronavirus vaccines, and people in poorer nations could miss out as a result. Campaigners are urging pharma companies to share technology so more doses can be made.
Just 1 in 10 people in dozens of poor countries will be able to get vaccinated against the coronavirus because wealthy countries have hoarded more doses than they need, said the People's Vaccine Alliance, a coalition including Oxfam, Amnesty International and Global Justice Now.
They claim that rich nations have bought 54% of the total stock of the world's most promising vaccines, despite being home to just 14% of the global population, said the Alliance.
Those wealthy nations have purchased enough doses to vaccinate their entire populations three times over by the end of 2021 if the vaccine candidates currently in clinical trials are approved for use.
The head of the World Health Organisation, Tedros Adhanom Ghebreyesus warns that the world is on the brink of a "catastrophic moral failure" over Covid-19 vaccine distribution, he urges countries and manufacturers to share doses more fairly across countries. Mr. Ghebreyesus said this week that prospects for equitable distribution are at serious risk. "Ultimately these actions will only prolong the pandemic."
Safe and effective Covid-19 vaccines mean that life, including travel, are likely to get back to normal one day. Assuming that vaccines also protect against most virus mutations as well as against spreading the virus, Covid restrictions should end once *herd immunity is achieved. The whole world needs immunity, and achieving that in 2021 is unlikely.
Herd immunity is a form of indirect protection from infectious disease that occurs when a sufficient percentage of a population has become immune to an infection, whether through vaccination or previous infections, reducing the likelihood of infection for individuals who lack immunity.
Not all businesses have been forced to close down but widespread financial uncertainty means the tourism industry has struggled over the last year. It is grim, however I think even if we get a small fraction of the 39 million tourists of 2019 we can survive and prosper.
The short term goal is survival and then to start to thrive in the 'new world' of tourism. Getting back ALL that was lost is not realistic or achievable nor should it be a goal.
Our focus on combating the virus and providing relief to our tourism industry should be the goal of all travel and tourism associations here in Thailand. Unity and leadership is so desperately needed if we are to look forward to recovery including the introduction of stimulus measures.
Accelerating the distribution of vaccines is the key to getting travel back to normal, and to get as many people vaccinated as quickly as possible.
For many travel business owners and hoteliers the challenges are to ensure a positive cash flow and GOP (a company's profit from selling goods or services in a particular period before costs not directly related to producing them). Any asset value increases would be welcome but unlikely just now as property prices are currently turning south. Property maintenance and equipment replacement will be a real challenge in the future as Return On Investment fall short.
Government assistance on tax and payroll would be really helpful at this juncture but our industry is so fragmented and 'unorganised' in a collective sense. Governments consider hospitality and service industries in general as good employees of the grey areas of the workforce, that have a way of "sorting themselves out" with little need for government help.
Any cries for help are often ignored as the political will is simply not there. Our voice is drowned out by louder more organised industries that offer opportunities of jobs and local investment.
The tourism industry is called an invisible export…
However government grants and loans to small businesses are essential, the economic hardships of the pandemic will persist, so it is important that struggling businesses receive assistance to maintain operations and keep workers on payrolls.
Travel will play a vital role in Thailand's economic recovery in the months ahead, but businesses will need lifelines by the government to survive until regular travel can fully resume.
Also a key lesson I see from other industries is that they be able to adapt quickly, look at noodle sellers here in Bangkok. Lines of Grab Bikes delivering take away food — changes are happening overnight and there's no time for long deliberations and discussions. Those that can react quickly to these big shifts in consumer demands and priorities are going to come out on top.
As to jumping on a plane anytime soon, well that appears most unlikely. My birth country the UK, according to it's current rules, once the lockdown is over, Brits could legally go on holiday abroad if they live in tiers one or two. However, holidays are effectively off the cards for the UK until at least April 2021.
As for Thailand our seven steps to navigate before anyone may be granted permission to enter, greatly impact the process of entering the country.
The ASEAN Tourism Association warned last week that 70% of travel agents in Thailand would cease to operate this year if the Thai government did not step in with assistance.
It is clear the second round of the Covid-19 epidemic has severely affected faith in the future inbound tourism industry, many agents have to decide to either suspend or close operations. The Thai government has not offered the private sector any substantial assistance, short or long term. There is considerable confusion about whether to invest in keeping a business going or whether to close. The government must be clear in its policy to help or not help the travel industry.
ANDREW J WOOD
Andrew J Wood was born in Yorkshire England, he is a professional hotelier, Skalleague and travel writer. Andrew has 48 years of hospitality and travel experience. He is a hotel graduate of Napier University, Edinburgh. Andrew is a past Director of Skål International (SI), National President SI Thailand and is currently President of SI Bangkok and a VP of both SI Thailand and SI Asia. He is a regular guest lecturer at various Universities in Thailand including Assumption University's Hospitality School and the Japan Hotel School in Tokyo.
The content of this article reflects the views of the writer and does not necessarily reflect the editorial stance of The Thaiger.
Keep in contact with The Thaiger by following our Facebook page.
Never miss out on future posts by following The Thaiger.
Thailand threw a tourism party. No one arrived.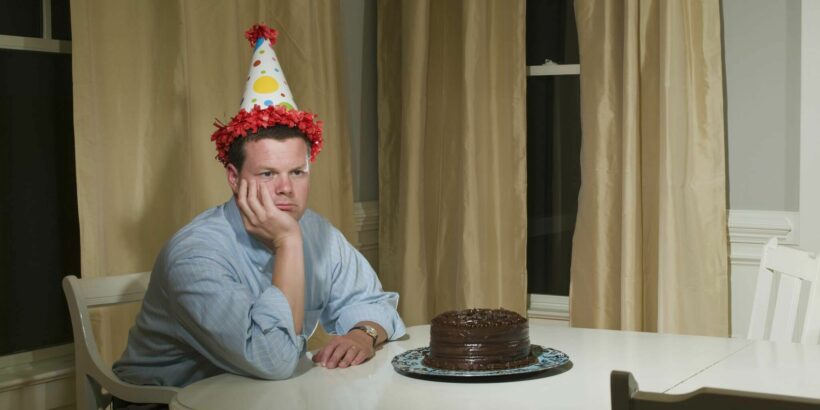 OPINION
The Thai Government, flushed with the success of their containment of Covid-19, decided to market the Land of Smiles to the world as the safe place to travel. With the annual wet season starting to weaken the tourists would flock back to the S E Asian country that had such remarkable success containing, then almost eradicating, itself of the coronavirus.
They floated the Phuket Model – a chance to visit Phuket and do your mandatory quarantine in a luxury hotel with walks along the almost deserted beaches. But Phuket's locals didn't like that idea. It was floated again just before the annual Vegetarian Festival on the island, because piercing yourself with sharp objects and wandering around the streets in big groups isn't dangerous, but a few foreign tourists in hotel quarantine is.
Then they came up with the STV – the tourist visa which would have the world's eager travellers packing their sun cream for up to 270 days of Thai tourism.
There were promises of plane loads of tourists and even published flights and carriers. A few flights arrived, most didn't.
In fact, since the start of the STV, the Special Tourist Visa, with its long list of restrictions and requirements, was floated, along with a re-vamped Tourist Visa, less than 400 people have arrived per month, on average, since the end of October. In the October and November of the year before more than 3 million people arrived in Thailand. Even the government's limit of 1,200 new tourist arrivals per month was even slightly tested.
The government had bought all the streamers and a pretty new dress for the party but no one came.
For the Army generals and public servants who ran the country it was a devastating loss of face. But they had other things to worry about at the time as the Thai youth were revolting, literally. Anti-government protests, whilst modest in size, were inconveniently demanding democracy at the same time as the government was trying to figure out how to attract tourists. They were also targeting, for the first time, the country's revered monarchy and the man who currently sits on the Thai throne.
Suddently it was high season, the annual onslaught of tourists from the end of November, but popular spots like Phuket, Samui, Krabi, all the other islands, even Chiang Mai, just remained mostly devoid of tourists.
Meanwhile the STV wallowed in its own failure – another failed response to the reboot of Thai tourism.
What went wrong?
Where was the much-anticipated pent-up demand and people banging on the doors of the world's Thai embassies?
It was the European winter and the 'snowbirds' would surely be back to soak in some Thai sun rays. But no.
The first problem was there wasn't much for them to come back to. They would have the beaches of the islands all to themselves, they wouldn't have to wait in line for anything, the domestic airlines were still selling low fares to travel anywhere around the country.
But otherwise there wasn't a lot for them to do. The tourism magnets were a shadow of their former selves. Walking Street, Bangla Road, tours and tour boats, all the tourist-strip restaurants. The buzz of the crowds was gone and more than 90% of the tourist-related business had closed up.
Their staff, their families, their bank loans, their stock and investments – all on hold and forced to find some other means to make ends meet. 931 of some of the larger official tourism operators have now gone out of business, according to Bloomberg News. There would be thousands more of the smaller family operations that have also been swept aside by the Thai government's responses to the world pandemic.
The industry players wanted action, changes and some sort of stimulus to bring back the tourists. For a country that relied on up to 20% for its GDP, getting the tourists and travellers back was THE only thing on their mind. 2019's tourism revenue of US$60 billion had vanished from their, and their employee's, pockets.
But the government wouldn't relax the quarantine rules and maintained the restrictions and paperwork that has turned off even the keenest Thai-ravellers.
An outbreak of clusters to the south of Bangkok and the nearby eastern coastal provinces since December 20 hasn't helped. In less than a month Thailand's number of Covid-19 infections more than doubled. Initially the latest outbreak was tracked down to the illegal import of Burmese migrant workers by greedy seafood businesses wanting cheap labour. Then it spread to eastern provinces – Rayong, Chan Buri, Trat and Chanthaburi – through illegal gambling dens. In both cases the practices were things the local officials turned a blind eye to. The use of cheap, illegal migrant labour and illegal gambling were both popular pursuits but 'underground'. It was a rude awakening for Thai officials that, this time, the enemy was within.
Street after street in Pattaya is deserted, shops shuttered. Parts of Phuket's Patong are a ghost town. The island's ubiquitous tuk tuks, taxis and tourist vans have vanished (where?!). Most of Bangkok is 'sort of' back to normal but there are few tourists topping up the retail till or booking rooms in the tens of thousands of hotels. Average occupancy rates, even for the brave hotels that have re-opened their doors, has been less than 30% – bottomline, they're losing money.
On the upside, if you are living in Thailand, the plane fares remain cheap, hotels have slashed their prices and, for the first time, many renters will consider a discount. The Thai government has been active in stimulating the domestic tourism but apart from circulating the local currency, the country's tourism industry remains on-hold until the pandemic passes. And that, as we've seen, won't be any time soon.
The world's travellers, now a much smaller groups than the masses that fuelled the world's aviation industry in the past few decades, are not heading to Thailand to front up to a 14 day quarantine. They're going to the Maldives and Costa Rica, and a handful of other resorts who have thrown caution to the wind – some with greater success than others. Just about every survey indicates that tourists, even business travellers, are not willing to stare down 14 days couped up in a 20-30 square metre hotel room. For many of the hotels that rushed to be registered as ASQ (Alternative State Quarantine) facilities, many have dropped out, some of them are now closed.
The stakes are now really high for Thailand and its tourism industry. The government, despite demands, is refusing to reduce the quarantine time or lessen the long list of restrictions and paperwork. The country has now lost it's glossy veneer as the 'safe country to visit' and the annual high season will be coming to a close in a month or so.
Chinese New Year and the annual flood of Chinese visitors to Thailand? Won't be happening in 2021, the Chinese year of the Ox.
The other 'elephant in the room' was the high value of the Thai baht against the currencies of some of the traditional feeder markets. Whilst the Thai baht has been relatively steadfast, many of these currencies have dropped in value against the THB. The perception was that Thailand as becoming too expensive to travel. But 2019 was still the biggest year for tourism on record, despite this often-wheeled out prediction of a tourism apocalypse.
The only hope on the horizon is the vaccine, or vaccines. The early global roll out is just that, early. It will take 6 – 12 months to see if the hard work of the world's medical and scientific community will be the great saviour.Certainly, a risk-averse Thailand will be limiting any tourism in the immediate future to vaccinated customers. only, and (as stated policy) they will still have to do the 14 day mandatory quarantine, at least in the short-to medium term. Same with the world's airlines. So Thailand's tourism woes, especially in the hotspots – Pattaya, Phuket, the islands, Chiang Mai and Bangkok – will reverberate throughout 2021 as well.
Thailand's economy contracted 6% in 2020 but some economists are predicting a positive turn-around to a 3.5 – 4.5% improvement in 2021. Even the ever-optimistic Thai Tourism and Sports Minister, Phiphat Ratchakitprakarn, says that there will be 10 million arrivals in 2021. The actual numbers, even in the best of circumstances, will fall well below that prediction. Exactly where the tourists would come from, under the current circumstances and a global depression, is difficult to imagine.
In 2020 the buzz word in the tourism industry was 'closure'. In 2021 it will be 'management'.
Keep in contact with The Thaiger by following our Facebook page.
Never miss out on future posts by following The Thaiger.