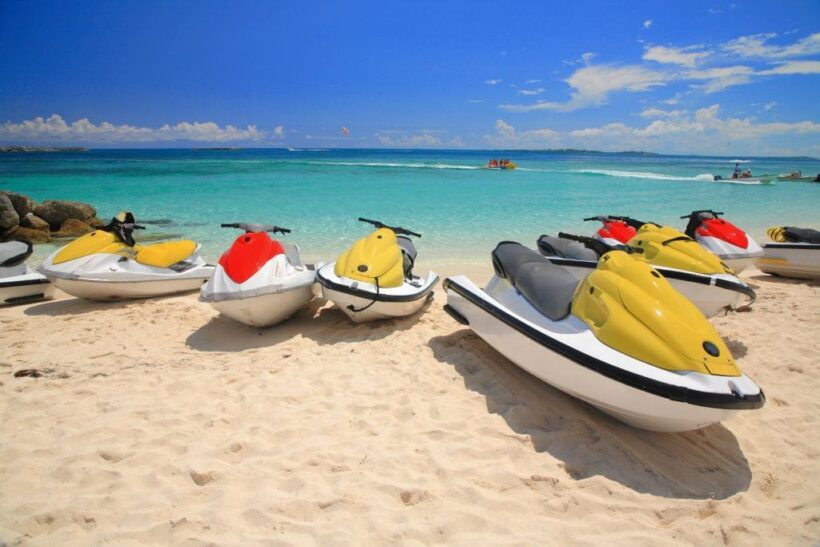 OPINION
"Andrea Kotas Tammathin, who is to be officially appointed as Switzerland's honorary consul for Phuket on Friday… Mrs Tammathin will be joining a group of honorary consuls from Europe who have asked questions for the past two years about scams among jet-ski operators on Patong beach and the continuing high fares demanded by Phuket tuk-tuk and taxi drivers." – Phuket Wan, May 2012
"Governor Chamroen said. "Most of the concerns raised today were about tourist safety, jet skis, taxis and Patong over-charging tourists, which is already our top priority." – Phuket Gazette, 2014
"…the European ambassadors called on Phuket authorities to ramp up measures against scams operating in Phuket; taxi and tuk-tuk drivers overcharging tourists; unscrupulous motorbike and jet-ski rental agents; and sea pollution, as well as improve beach and water safety and traffic congestion on the island." – Phuket Gazette, 2013
"…the Honorary Consuls called for better control of the island's jet-skis, sewage flowing into the beaches, tuk-tuk scams and taxis overcharging." – Phuket Gazette 2011
New Phuket Governors come and go but the key issues never seem to change. Promises are made, commitments are given, lip-service is paid. And nothing seems to change. 'Investigations' are conducted, budgets are allocated but nothing ever seems to change with the same old issues.
As the song goes "Everything old is new again".
And so Phuket's new Governor struts onto the local stage and, we are sure, will proudly boast how he will 'tackle the outstanding issues' and 'not let anyone stand in his way' in fixing the issues other governors couldn't.
But, please, prove us wrong.
Jet skis, whilst being pulled into line from time to time, are still a nuisance to tourists along with their para-sailing buddies who hog the beaches and take up swathes of space conducting their lucrative businesses.
Patong, despite many attempts to reign in the corruption, is still run by two or three 'powerful people' in concert with the local constabulary. Businesses in key tourist zones still have to fork out 10s of thousands of baht in tea money every month, just to keep their doors open.
The raw sewage flowing into the bays… sorry the 'black water' flowing into the bays… at beaches keeps flowing – Patong, Karon, Surin, Bang Tao, Kamala. 'We are locating the source of the pollution and will prosecute them'.
No you won't.
Or 'we have applied for budget for new water treatment works and just waiting for approval before we start work'.
Blah, blah.
Taxis and tuk tuks, whilst the services have improved a bit over the years, are still extortionately high in price when compared to EVERYWHERE else in Thailand and almost three times the cost of the same services in Bangkok. That's just a fact. But why?
'We will form a working party to investigate the reasons for the high prices and take action.'
Even the full force of the military and police have tried to enforce restrictions and some price caps on the island's taxis and tuk tuks. The edicts are announced, the photos are taken, three people are 'prosecuted', media releases sent out and everything just returns to 'normal'.
Try getting a parking space in Patong, or heaven-forbid, taking on a tuk tuk driver who tells you not to park in 'their' spaces. And strangely, despite man going to the moon, the meters in Phuket taxis will never, ever work.
So, we wish our new Governor the very best for a pleasant time as the Government's representative as the head of Phuket Provincial Hall.
Don't worry about sending us any media releases. We'll use all the old ones from 10 years ago.