Multihull Solutions Regatta wraps up with 'Fugazi' claiming top honours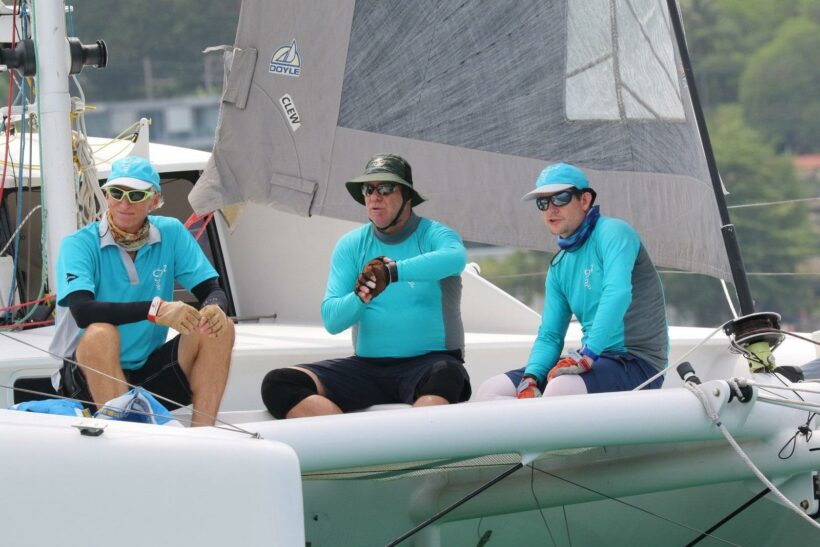 The 10th annual Multihull Solutions Regatta wrapped up today with another good day of sailing. Principal Race Officer Simon James ran two races today, a three-lap windward-leeward and then a triangle course for all classes except Cruising, which did a loop around nearby Koh Lon. 
Dan Fidock's trimaran Fugazi claimed the Racing Multihull division winning six of the eight races it sailed in, finishing with 10 points. Fugazi claimed line honours in every race and was a sight to behold in full throttle. Bob Garner's Blade Runner claimed the other two victories on handicap, which along with their other finishes, gave them second place overall in Racing Multis with 21 points. 
Peter Wilcox christened his new Stealth Cosmo with a third-place finish and 30 points. Mick Tilden's Pixalux had the same amount of points but settled for fourth as Cosmo had a greater number of higher finishes. Andrew de Bruin's Multihull Solutions H30 came in fifth overall with 37 points. while Glywn Rowlands' Twister 2 rounded out the class with 40 points.         
In the final race of the Firefly series, positions two and three overall were still undecided. As John Newnham's Twin Sharks had won every race up until then it had already captured the division with eight points After the first mark, Surf Patrol took a commanding lead with Blue Noze, Mamba and Twin Sharks trailing in that order, Positions two through four changed throughout the next lap until the final run when Twin Sharks jumped into the lead and Blue Noze finished in third place to take second overall with 21 points to Surf Patrol's 25.
Voodoo' two DNS's  (Did Not Start) on day two hurt it and it slipped back to fourth overall with 36 points. Mamba, which also had two DNS's on day two came fifth with 41 points, while Jonathan Kingdon's Moto Inzi had to retire from the regatta after its mishap and finished with 50 points, including four DNS's and a DNF.     
Mick Tilden and Derek Sheppard's Pixalux defeated lead sponsor Andrew de Bruin and crewmate Zeam Bevan on their Multihull Solutions H30 in seven of the eight races in the two-boat Pulse 600 division accumulating nine points to MS H30's fifteen.


The Cruising Multihull three-boat class saw Rick Fielding's Mojo beat Bill Kane's The Sting on tie-break. Even though The Sting finished with fewer points (9 vs. 10) both were allowed a drop race, as they had both sailed five races. This allowed Mojo to drop its third-place finish then tying it with The Sting at seven points each (The Sting never finished lower than second). Anthony Passmore's DaVinci ended up in third spot with 15 points, including a DNF & DNS.
Jonathon Kingdon's Firefly Moto Inzi was the only casualty of the regatta when it nosedived during the second race of the second day. Captain Brent McInnis of the Phuket Cruising Yacht Club's preformed heroic work orchestrating the rescue.  
Good sportsmanship was displayed when crew members from both Twin Sharks and Mamba jumped in the water to aid Moto Inzi. And Blue Noze and Surf Patrol both reefed during those winding conditions, demonstrating good seamanship, earning themselves podium positions.  
Liz Schoch and her initiative Responsible Rubbish (www.facebook.com/ResponsibleRubbish) made a big impact in the event as many sailors used Liz's refillable bottles during the regatta instead of disposable plastic ones, thereby saving 500 plastic bottles from being used during the event. Lizzy, by the way, sailed on Blue Noze in the regatta. 


A big thank you must go to Andrew de Bruin and Multihull Solutions for being the principal sponsor; Phuket Boat Lagoon for sponsoring day one's racing; Octopus Electrical Service for sponsoring the second day of racing. East Marine, Java Yachting and Regattas Asia were generous support sponsors, while SEA Yachting was the media partner and Rainman Watermakers (Bob Mott) kindly supplying skipper bags. Kim Mitchell and his staff did a super job of keeping all the sailors fed and hydrated with delicious meals and drinks.     
Kudos to Commodore Scott Duncanson of the Phuket Yacht Club for organizing the regatta along with his two able lieutenants Tom Cracknell, the on-shore Manager, and Alfie Rowson, a driving force on the organizing committee. 


Read more headlines, reports & breaking news in Phuket. Or catch up on your Thailand news.
Phuket faces critical water shortages if the monsoon doesn't arrive soon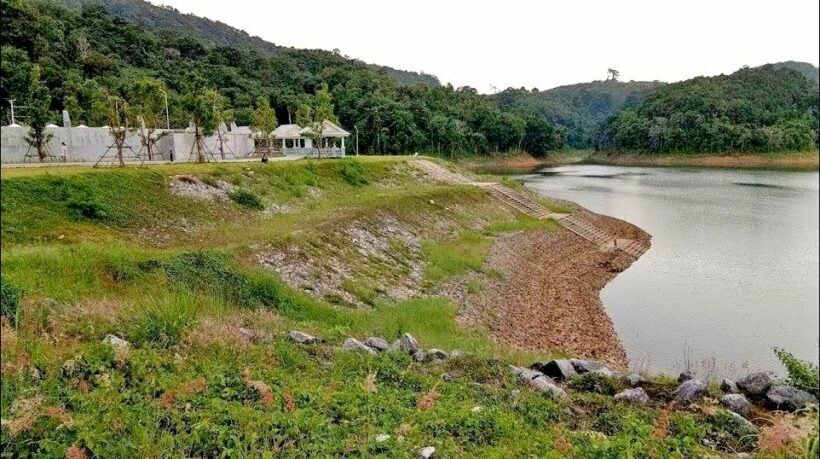 Phuket is now, officially, experiencing water shortages, with water in the province's three catchments just enough for the supply of tap water until May and the condition is expected to get worse if the annual monsoon doesn't kick in soon. The annual south-west monsoon usually starts dragging in moist air and the 'wet season' sometime around Songkran each year.
Mr Kraison Mahamad, manager of the Phuket-based provincial waterworks authority (PWA), admits that tap water production would be affected if there is no heavy rain as water in Bang Naeo Dam, Klong Katha and Bang Wad would be enough for use until May at the latest, adding that his office had been told by irrigation officials to limit supply to prolong the supply of tap water to consumers on the tourist island.
As a contingency plan to ease water shortage problems, he said his office had contacted several independent suppliers for water supply, but also suggested that consumers should use water sparingly as well.
Phuket city mayor, Ms Somjai Suwansuppana, says that the municipal has been providing free water to about 18,000 households each day, with 70% of the water accessed locally and the rest bought in from private suppliers.
She said the municipal had contingency plans in place in case there are no rains next month by buying more water from water suppliers to meet consumption needs, adding that there will be sufficient water to meet the need of all the households if they use the water economically.
Ms Somjai says, for long-term measures, the municipal administration is mulling water salination projects or recycling of used water (like Singapore) which may not be acceptable now but may be unavoidable in the future if water shortage problems turns critical due to city expansion and increased population.
Mr Kongsak Khoopongsakorn, president of Southern Thai Hotels Association, said that hotels are hard hit by the water shortage problem and many of them have resorted to independent suppliers for water supplies to make sure there is water for guests even though the water fee is expensive at between 100-120 baht per cubic metre (The Thaiger has had reports of some people being charged up to 400 baht per cubic metre).
He admits that it is beyond the capability of hotels to secure huge raw water sources for water production, adding that the state should step in for help for sustainable tourism growth in the province.
Over the past months hundreds of residents had taken to social media complaining that their water supply had been randomly cut off or severely reduced, without notice. Some residents have had no water supply for over a month.
The PWA announced odd/even water restrictions on February 2 only to cancel them the following day on the recommendation of the Irrigation Department that there was adequate supplies of water on the island.
SOURCE: Thai PBS
Soldier attacked and killed by her husband over alleged affair in Rawai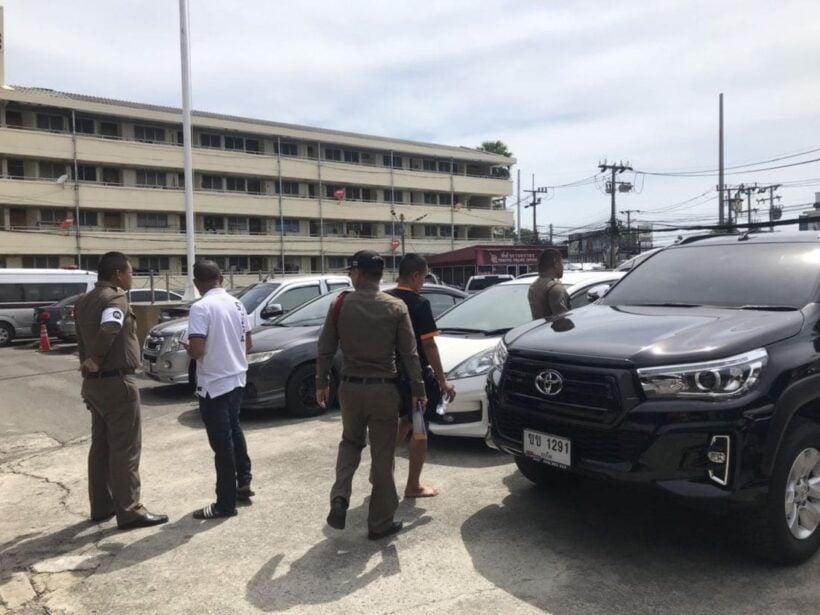 A female soldier has been attacked and killed by her soldier husband over an alleged sexual affair in Rawai today.
The Chalong Police were notified of the incident at 8.30am this morning at a hotel on Patak Road in Rawai.
Police arrived at the room to find the 39 year old woman, Ratchadaphon Mongkonrung, a Squadron Leader with the Thai air force. She was unconscious when police arrived and rushed to to Vachira Phuket Hospital where she was pronounced dead upon arrival.
A 40 year old man from the air force (Master Sergeant), the husband of the woman, was waiting for police at the scene. He was taken to the Chalong Police Station.
Police say they checked with the hotel and found that they had been arguing as Nop-anan thought that his wife was having an affair with another man. He kicked her with his feet before calling for help.
The were married and had two children. Nop-anan is facing charges of attacking and killing another person.
Phuket's water supply in a critical situation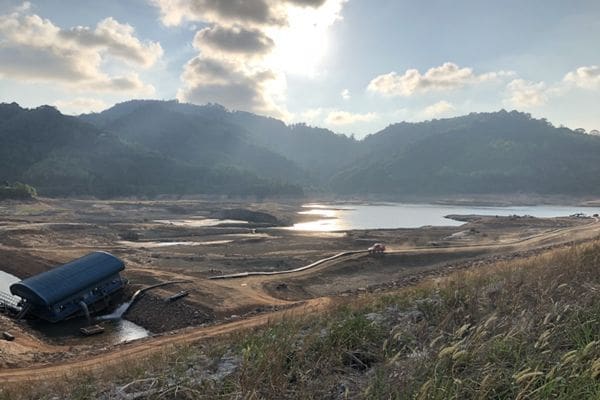 Phuket's water lords are now admitting the island's water situation is in a critical situation – a situation they have had the power to avert but have chosen instead to 'hope' for monsoonal rains and go in search of alternative water sources to top up the dwindling catchment resources.
Phuket is now in the throws of a water shortage. The PWA says the water supply in Bang Ward Dam is only enough for the end of next month if no rain arrives.
The Phuket Water Work Authority manager Kraisorn Mahamat says, "The water in Bang Wad Dam (Kathu) is only enough up to the end of next month if there is no rain, while the other two reservoirs are enough until the rain comes.
Meanwhile some residents around the island have randomly had their water supply wither cut off completely or reduced to an useable trickle. Many are being forced to buy water from private water services. The sight of water trucks driving around the island's roads has become common over the past month.
Phuket Irrigation says that authorities will now have to decrease the water supplies for residents to ensure that there is enough water until the end of this dry season. The issue of Phuket's water management has become a hot topic on social media as residents and business question the management of the island's water resources.
"We are solving the problem by buying water supplies from the private sector. We hope that we can handle the situation during this drought. Residents must help us to save water too."
"Hope". Yes, we checked. He said 'hope'.
The Phuket City Mayor Somjai Suwansuppana says, "In the future we might have a project that can change sea water into freshwater or change wastewater into clean water if these water shortages continue."