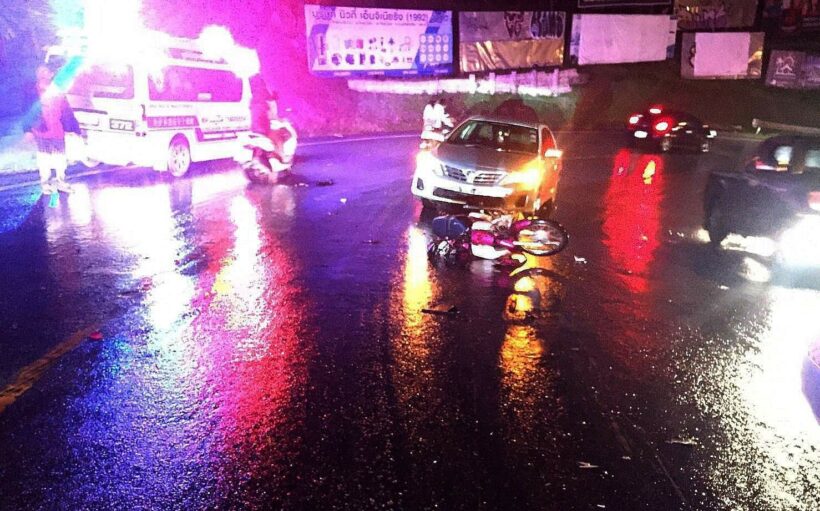 A female motorbike driver has died after she lost control of her vehicle and collided with two cars on Patong Hill early Sunday (July 1).
Kathu Police were notified of the accident on a curve on Phra Baramee Road at 4am.
Police and rescue workers arrived at the scene to find a Honda motorbike, whose driver was later identified as 32 year old Tippawan Sangmanee from Loei, northeast of Thailand. Ms Tippawan was taken to Patong Hospital where she was later pronounced dead.
A Nissan car and its driver, 24 year old Atitayut Sukguea, was found nearby. He hadn't sustained any injures. No alcohol was found during a subsequent breath test.
A Toyota car whose driver was 41 year old Pohnthep Sangjan was also found nearby. No alcohol was found in his breath test either.
Kathu Police report that Ms Tippawan was driving her motorbike, heading east from Patong to Kathu. When she arrived at the scene, near the Patong City sign, she lost control of her motorbike and skid 50 metres along the road. She was then hit by the two cars which were travelling in the opposite lane.
Kathu Police have already submitted documents to the Patong Hospital for Ms Tippawan's alcohol blood test. They noted that the road conditions were quite poor with light rain and slippery roads at the time of the incident.


PHOTOS: Kathu Police