Man arrested for stealing Hindu statue
A Thai man has been arrested after stealing a Hindu god statue in Thalang yesterday (July 4).
A team at the Thalang Police have arrested 47 year old Montri Sawettadun from Trang. He was arrested at 7pm at a worker's camp in Panason housing estate. Police seized the 'Brahma' (four faces Hindu god statue).
The arrest happened after police were notified by a 36 year old female, Surarak Hasapak, from Nakhon Sri Thammarat, about the theft .
Ms Surarat told police that at 4am on same day, a thief stole the 'Brahma' which was placed in a shrine inside Mueang Mai PTT gas station.
Police tracked the man down from CTTV footage and identified him as Montri. Police went to the worker's camp and found Montri and the stolen 'Brahma' statue.
Montri was taken to Thalang Police Station where he was charged with theft.


Facebook page
.
Never miss out on future posts by
following The Thaiger
.
Constitutional Court official files contempt charge against protest leader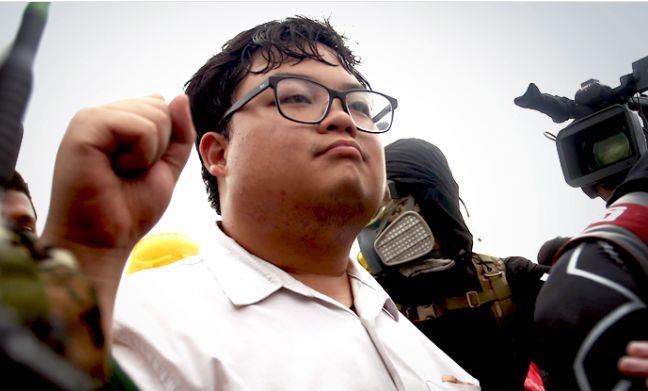 A student protest leader is facing charges of contempt after he made statements on Facebook critical of the Constitutional Court ruling to acquit PM Prayut Chan-o-cha, allowing him to continue occupying a military-owned residence. Critics have argued that allowing Prayut, a retired general, to say at the Army residence is a conflict of interest.
Director of the Constitutional Court's litigation office and police officer, Montri Daengsri, filed the charge against pro-democracy protest leader Parit "Penguin" Chiwarak. Montri says the Facebook posts made by Penguin were defamatory to the court and had tarnished its reputation.
In addition to the Facebook posts, Montri says the protest leader made an offensive speech following the court ruling at the Lat Phrao intersection in Bangkok. He says the speech was defamatory and violated Thailand's Criminal Code. Police are investigating the claims to determine if charges should be pressed.
Prayut occupies a military reception house at the 1st Infantry Regiment residential area on Phahon Yothin in Bangkok, according to the Royal Thai Army. Tenants in army welfare houses have to pay for utility bills while those who live in the reception houses, like retirees, do not pay for household expenses and the utility bill is covered by the Army.
The Constitutional Court ruled this week that Prayut did not violate the Charter by occupying the residence. The court says under military regulations, former officers can remain at their Army residence after their retirement at the discretion of the Thai Army commander.
SOURCE: Bangkok Post
Catch up with the latest daily "Thailand News Today" here on The Thaiger.
Keep in contact with The Thaiger by following our
Facebook page
.
Never miss out on future posts by
following The Thaiger
.
Schoolgirl bursts into tears meeting Panasaya, fearing for activist's safety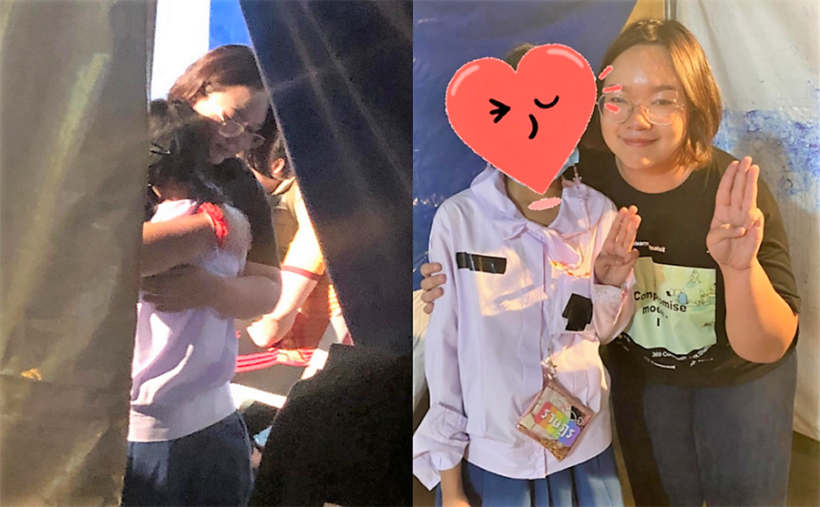 Protest leader Panusaya Sitthijirawattanakul, aka, "Rung", has been pictured consoling a young schoolgirl who broke down in tears, concerned about the activist's safety. Rattapol Kaiipah Promsuwan, who witnessed the exchange, has shared a photo of the moment on social media. She says the girl, who is in Grade 6 (making her around 11 years old), had gone to the organisers' area during Wednesday's rally at the Lat Phrao intersection in Bangkok. There, she asked to meet Panusaya, a hero of hers.
The girl's sister says her sibling has an interest in politics and is concerned about reports that Panusaya faces lèse majesté charges. Thailand's lèse majesté law prohibits insulting, defaming or threatening the nation's revered Monarchy, and carries a punishment of up to 15 years' imprisonment. During her meeting with Panusaya, the girl cried for half an hour, with the student activist trying to console her, and a Facebook photo showing her hugging the child.
Panusaya has received a new summons from the Technology Crime Suppression Division, as a result of a police complaint lodged by royalist supporter, Nitipong Honark, a music composer. She is now being summonsed on December 9, to hear additional charges of lèse majesté and violating the Computer Crimes Act .
Meanwhile, the BBC has named her in its list of the world's 100 most influential and inspirational women of 2020.
SOURCE: Nation Thailand
Keep in contact with The Thaiger by following our
Facebook page
.
Never miss out on future posts by
following The Thaiger
.
Top medic says Thailand can become Southeast Asia's foremost medical hub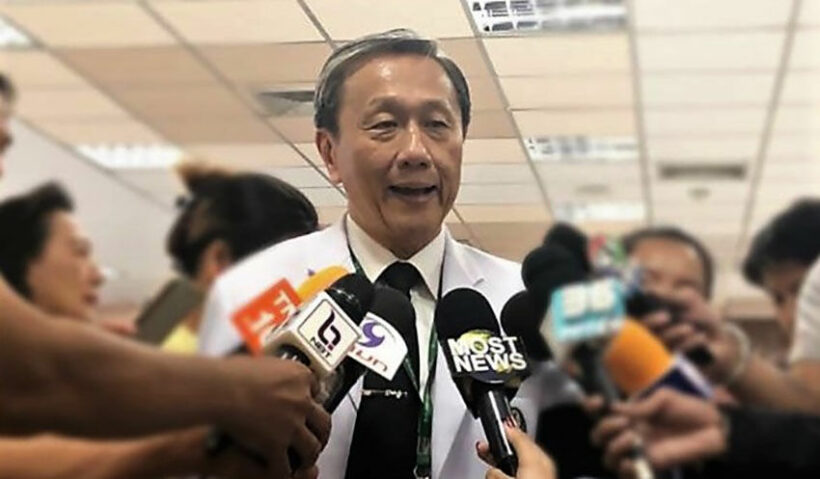 One of Thailand's most prominent doctors says the country should aim to become the leading medical hub in Southeast Asia, before any future pandemics arise. Prasit Watanapa, from Siriraj Hospital's Faculty of Medicine, has called on the Kingdom to seize the opportunity, in a speech at "Thailand's Mega Trends Forum 2020" in Bangkok. The event was organised by Forbes Thailand.
Prasit says since the start of the 21st century, the world has already endured 5 virulent diseases: SARS in 2002, swine flu in 2009, MERS in 2012, Zika in 2015, and now Covid-19. He points out that there will, inevitably, be more.
"Humans, animals and the environment are intertwined. As long as we cause climate change, we will face new diseases, as the migration of (animal) vectors brings about the rapid spread of viruses. Covid-25 and Covid-30 will come. 3 months ago, I warned of a second wave (of the coronavirus). We should learn to tackle it and identify an opportunity."
In the age of a connected world, physically and digitally, the spread of human-borne viruses becomes particularly easy, and the spread of misinformation even easier. As more people travel, exacerbated by the rise of budget aviation, pandemics will develop faster and become more difficult to mitigate.
The Bangkok Post reports that in his address, Prasit has called on Thailand to further improve its disease prevention measures. He points out that each of the Covid-19 vaccines currently in development, particularly the ones in the US, are being fought over by countries that are richer and more developed.
"Our local development is very limited because we still import vaccines from abroad. However, vaccination is now a matter of national security."
He adds that he can't see the any vaccine production being set up in the neighbouring countries of Vietnam, Myanmar, Cambodia or Laos, and that this provides a potential opportunity for Thailand. For Thailand to be known as the foremost medical hub in the region however, it needs to get better at diagnostics and embrace the technology that enables this.
"If we can enhance our health literacy, everything will become much more convenient. We can predict the risk of cancer, drug allergies, and optimise medical procedures. With the help of AI technology we have received from China, we have been able to diagnose Covid-19 much faster and with increased accuracy. 5G technology has helped support telemedicine. Currently, we are collaborating with Huawei to develop AI and Deep Learning technology for healthcare, which other countries in the region are not able to do. Thailand is a leader."
SOURCE: Bangkok Post
Keep in contact with The Thaiger by following our
Facebook page
.
Never miss out on future posts by
following The Thaiger
.