Gotcha! Phuket's crocodile caught at Layan Beach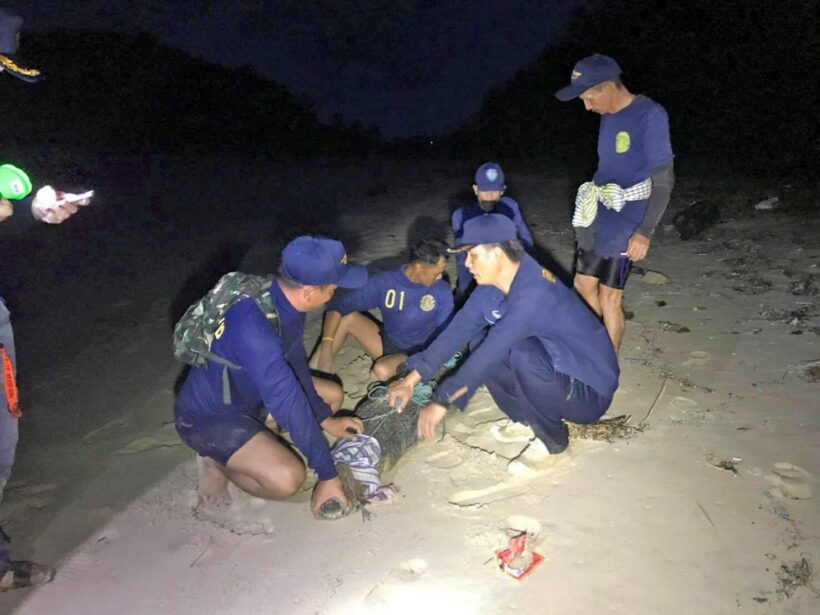 Phuket's elusive crocodile has finally been caught at Layan Beach. The 'Yanui' crocodile (named by local Phuket reporters after the original beach it was sighted) has been caught at Layan Beach early today after more than ten days of search operations, sightings, drone photos and lots of people pointing out to sea.
The crocodile was eventually caught by the Surat Thani-based crocodile catching team and local fishermen at 4am with a fishing net near Koh Kata off Layan Beach. The crocodile is now being taken to the Phuket Coastal Fisheries Research and Development Centre in Pa Khlok.
Last year during August 'Laypang', a much larger crocodile, was caught at an inland lake in the same area after being sighted swimming offshore.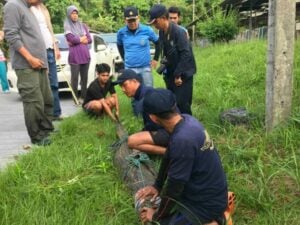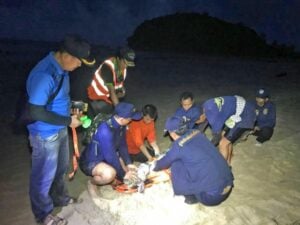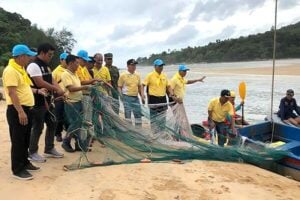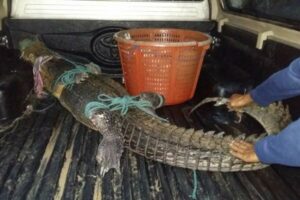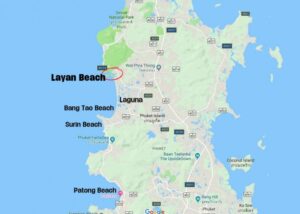 More cocaine being discovered in Patong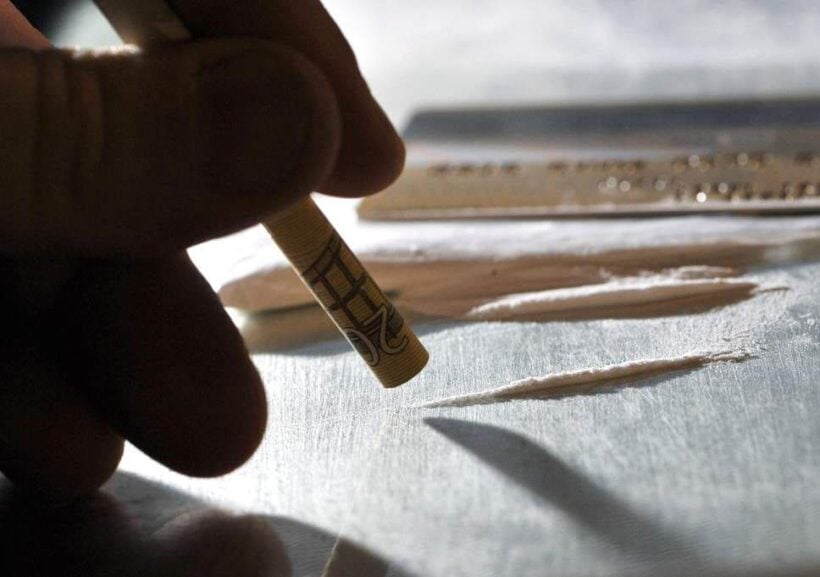 More cocaine has been discovered in Patong while more heroine has been seized in a major crackdown on 'hard' drugs. Police and authorities say they are concerned about the rise in drug seizures and the amounts flowing around Phuket's seaside party town.
Phuket Vice Governor Supot Rodrueang Na Nong Khai says, "Nowadays drugs price have decreased, especially the cost of methamphetamine pills, because the production has been increased and the supply is exceeding demand."
"Many suspects have been arrested and drugs have been seized but the smuggling continues."
"Kratom is still most found in Phuket on a daily basis whilst marijuana is being spread by both tourists and local teenagers. Alarmingly more heroine is being seized in a 'specific group of people'. (We have been unable to clarify the Vice Governor's 'code' in this statement.)
"Cocaine is also spreading in parts of Patong through a particular community."
Officers will continuing an increased suppression on illicit drugs, off all types."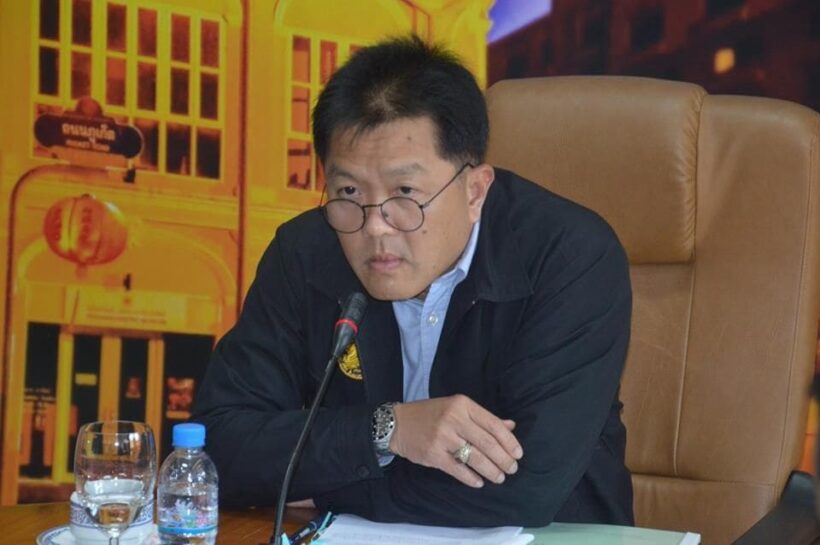 Phuket Vice Governor Supot Rodrueang Na Nong Khai – PHOTO: Phuket PR Office
Woman stages an accident and lies to police about gold theft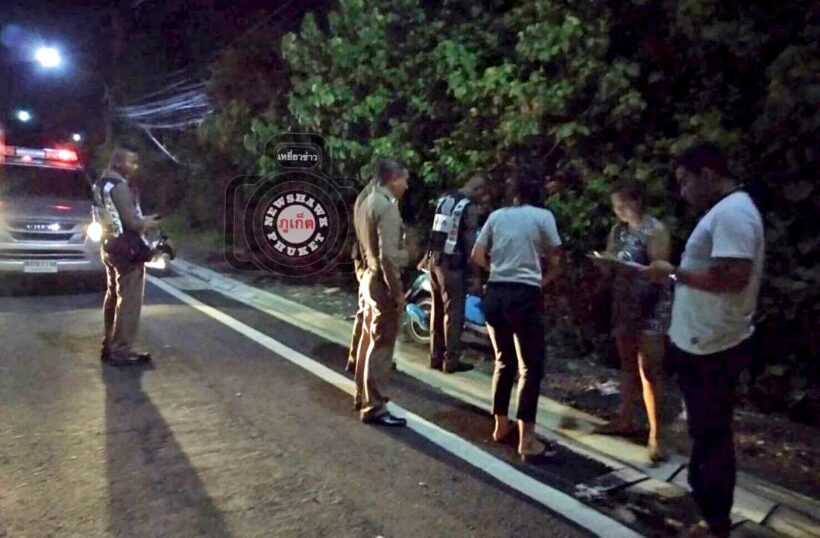 PHOTOS: Newshawk Phuket
A woman has confessed to lying to police about two thieves that snatched her gold necklace and bracelet on Sakdidet Road in Wichit.
On Tuesday, 'Newshawk Phuket' reported that two thieves snatched the gold necklace and bracelet weighing around 30g of gold, worth 40,000 baht, on Sakdidet Road in Wichit.
Patrol police arrived at the scene to assist the woman and investigate her claims.
Yesterday, Phuket City Police say that the woman, 25 year old Rattana Kraiwan from Songkhla, had been taken to the Phuket City Police Station for questioning.
Rattana hadn't filed an official report to police and she eventually admitted to police that she made the story up.
Police say she's admitted to staging the fall off her motorbike into a ditch nearby and pawning off the two gold items, which belonged to her husband, to pay for her personal debts. She said she was afraid that her husband would be angry so she made the story up.
Rattana has promised to police that she will not do things like this again. It is unclear if police pressed any charges or just closed the case with a warning.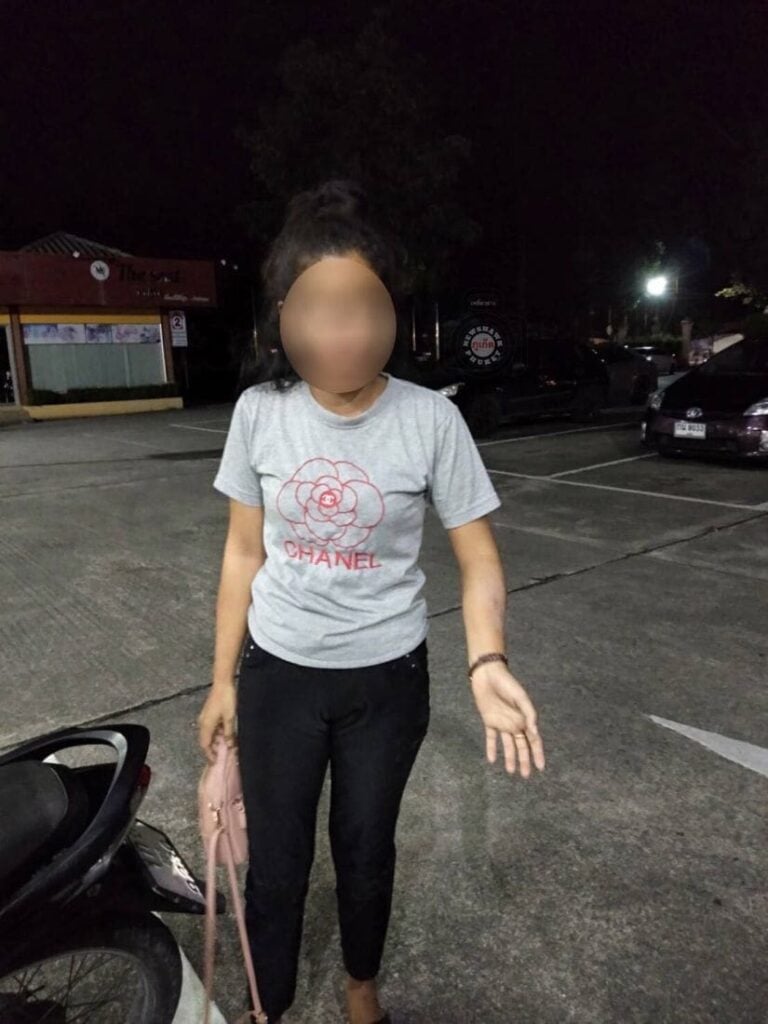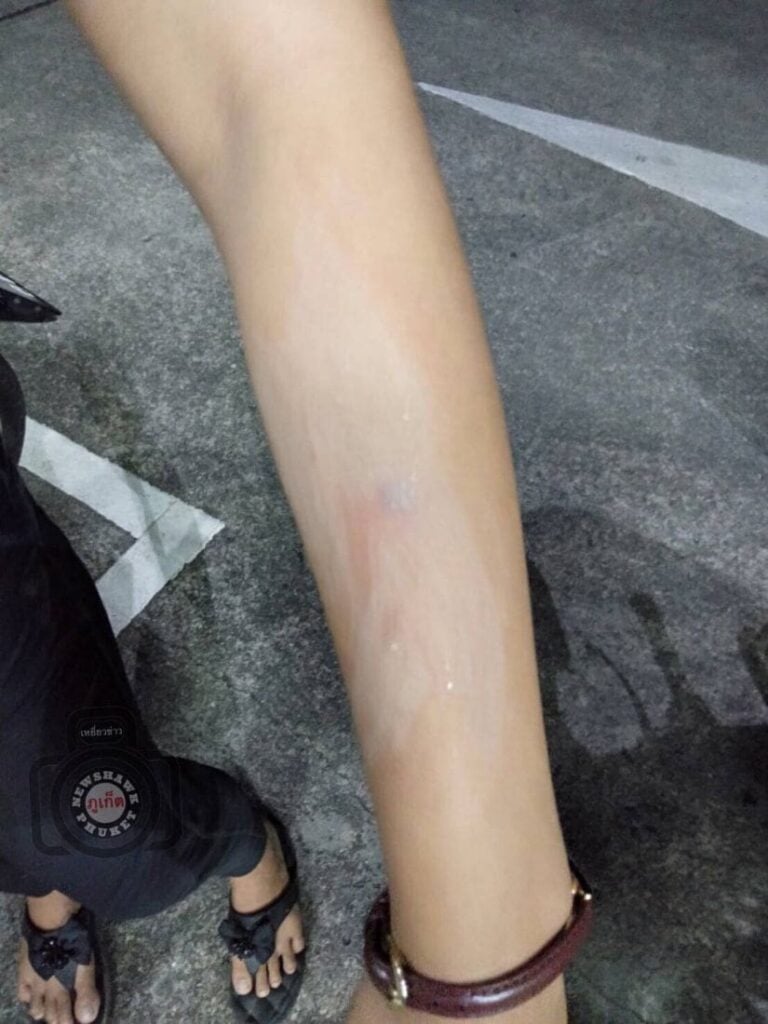 The art of Thai massage – Chann Wellness Spa, Kamala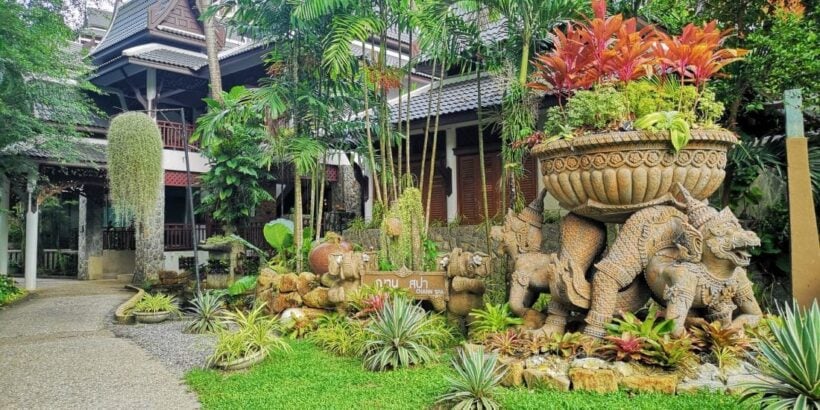 Time to relax, time to be pampered. You deserve some 'me' time to get refreshed and be indulged at the Chann Wellness Spa at Thavorn Beach Village Resort & Spa, Phuket in Kamala. Tim Newton headed to Kamala for an hour of well-deserved pampering.
Chann Wellness Spa is one of the island's most established spas combining experienced staff, the right 'mood' and a perfect location on the shores of Phuket's west coast.
Chann Wellness Spa has their own Signature Massage which is a full body traditional Thai massage using essential 'energising' oils containing lemongrass, ginger and verbena.
Find out more about the art of the Chann Spa massage HERE.

The spa is visited mostly by guests of the Thavorn Beach Village Resort & Spa but is becoming increasingly busy with locals who know about Chann's quality and experience. Many guests from the Thavorn Palm Beach Resort also visit the Kamala property to enjoy some relaxing therapy.
Massages come in many varieties as well as 'soft, medium of strong'. I like a 'medium' which I can dial up to 'strong' when needed. My masseuse was Khun Natty who did her training with official Chiang Mai Government masseuse training. Lots of experience makes all the difference.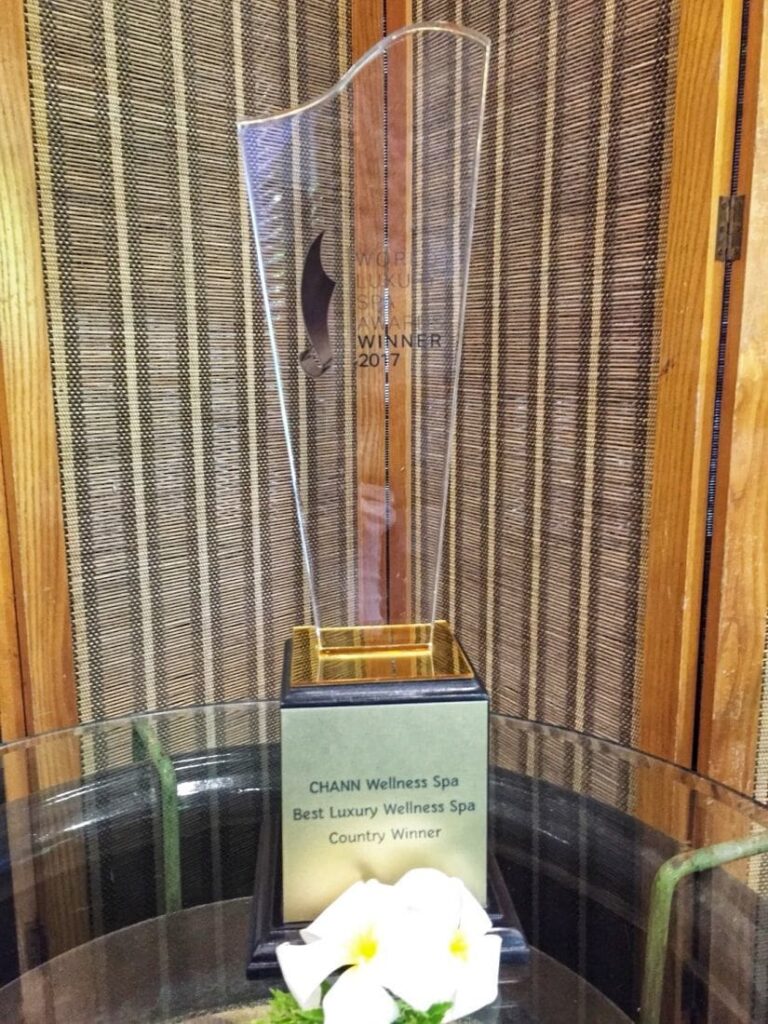 Chann Wellness Spa operates from its own building amidst the sprawling Thavorn Beach Village Resort & Spa facility, just moments away from the beach. The spa has been operating for over 10 years, bringing pleasure, comfort and relaxation to its customers.
Chann Spa features 10 individual treatment rooms and a Relaxation Sala. All of the treatments use bespoke signature spa products, with ingredients to soothe, rejuvenate and invigorate your body leaving you feeling totally relaxed. And in today's hurly burly world sometimes it's exactly what we need.
The spa was a deserved winner of the "Best Luxury Wellness Spa" from the World Luxury Spa Awards in 2017 – a culmination of the decade perfecting the craft of relaxing and rejuvenating tired, sore and stressed bodies. 

I had the Signature massage, a traditional Thai massage where Khun Natty perfectly tuned the pressures and techniques to my requests. An hour of total relaxation where I turned off and just let Chann Spa take care of me.
But how trying their Mango Sticky Rice skin treatment package? It blends a Thai favourite with the known benefits of antioxidants, vitamins and energy.
Getting a Thai massage is almost ubiquitous in Thailand. There are many options but few that can boast a decade developing a reputation and experience that Chann Spa can offer.
Finishing my treatment with Natty, I was floating on air and quite happy just to 'chill' with the sounds of nature and the music maintaining me in the 'relax' zone for a just a little longer.
Find out more about the Thavorn Beach Village Resort & Spa experience HERE.

Tim and Masseuse 'Natty'
Tim Newton was a guest of the Chann Spa and the Thavorn Beach Village Resort & Spa, Kamala.